New York High School:

Kamille Ejerta
January, 11, 2012
1/11/12
10:50
PM ET
By
Robert Abruzzese
| ESPNNewYork.com
It's been two weeks since Nazareth has taken the court, but once the Lady Kingsmen finally did it was like the game didn't even matter.
"This game was so emotional, said Nazareth's
Brianna Butler
. "Losing our coach was a big toll, but playing, being out here on the court, it was just something that he would have wanted us to do. It didn't feel right not playing this past week. We felt like we were almost letting him down."
The Lady Kingsmen finally took to the court Wednesday night for the first time following the death of their coach
Apache Paschall
, who was dealing with skin cancer when he passed away of a heart attack on Jan. 3. Since that time they had two games cancelled against their wishes, but they finally got a chance to play Molloy, beating them 77-63 at home, in a game that was both highly emotional and cathartic at the same time.
"We were just upset, all week we wanted to play but they wouldn't let us play," senior guard
Darius Faulk
said. "It was just very upsetting."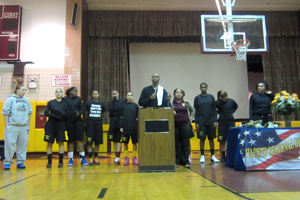 Robert Abruzzese/ESPNNewYork
Before the game there was a ceremony held in Apache's honor. Principal
Providencia Quiles
introduced his mother,
Elaine Bartlett
, and his daughter,
Nytaea Satava Paschall
, who both fought back tears as they spoke to the crowded gym. Then assistant coaches
Ron Kelley
and
Lauren Best
addressed the gym with a lineup of crying girls behind them. Afterwards the girls each put a rose on the seat where Apache normally would have sat before going into the coach's office to take a break before starting the game.
"I didn't say much at that time," Kelley explained. "I was crying myself so I didn't say too much. I just said, 'ladies, let it all out. Let it out now.' After about 10 minutes I said, 'let's go, let's get back to business,' and that's exactly what they did."
HOW THE GAME WAS WON
: The game was like an afterthought. Everybody involved was just relieved that they finally got a chance to get out on the court again and start to put this behind them so it didn't matter if they won or lost.
When the game started things were a little sloppy. In the first two minutes there were turnovers all over the court, bad shots, missed passes. Molloy struck first going up 5-0 on a pair of baskets by
Amani Tatum
and
Kamille Ejerta
, two girls who played for Apache's Exodus AAU squad.
It didn't take long until Nazareth's immense talent took over though.
Jazmine Belk
hit a layup that eased the tension and started the ball rolling. Then
Bianca Cuevas
started raining three's as the Lady Kingsmen went on an 11-0 run that put them up 22-13 after the first quarter.
There was more tension in the second quarter as the girls struggled through their emotions to find consistency. They found it in the second half though as Nazareth started the third quarter out with a strong 12-2 run that gave them a commanding 52-33 lead that they would never relinquish.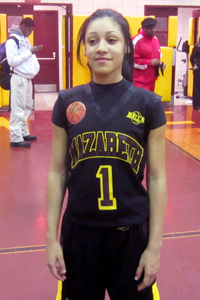 Robert Abruzzese/ESPNNewYork
Bianca Cuevas
PLAYER OF THE GAME: Bianca Cuevas
was often the center of Apache's attention for both good and bad reasons. Apache mentored her because of her immense talent, but he also had to spend time with her because of both on and off the court shenanigans she gets herself into. She was also the first one to break down in their first practice the Wednesday following his death.
So it was almost appropriate that the sophomore took over the game with her long distance three-point shots that would make an NBA player jealous. She led the game with 28 points and always was there with a big basket anytime it looked like Nazareth had fallen into the trap of just going through the emotions. Without her stellar play it is hard to imagine Nazareth winning this game.
UP NEXT
: Nazareth will head to Bishop Ford this weekend as it will participate in the Rose Classic against St. Anthony's on Sunday. Molloy will also take part in the Rose Classic when it takes on Bowie (Md.) on Saturday afternoon.
December, 22, 2011
12/22/11
8:03
PM ET
By
Rob Abruzzese
| ESPNNewYork.com
Bishop Ford had already beaten Christ the King and The Mary Louis Academy this season so the Lady Falcons didn't look at this week's game against Molloy as an early test. Instead, it was more of a warm up for their next regular season game coming up against No. 1 Nazareth.

"It really wasn't," Ford's Shanice Vaughan said when asked if the team's 61-49 victory was a big win for her team. "We're waiting for our big game against Nazareth."

The Lady Falcon's head coach Mike Toro added that they aren't just looking to play Nazareth though, they are looking to prove a point – that Bishop Ford is one of the top teams in New York City.

"We're hungry," Toro said. "We want to prove everybody wrong. Even though we had a disappointing season last year, we are still one of the best teams and we want to prove everybody wrong. I wasn't even worried about the girls overlooking Molloy because we aren't out to beat one team.

"It's time to put up or shut up and let people know that we are really legit in this area."

HOW THE GAME WAS WON: No. 3 Bishop Ford (7-1, 4-0 Brooklyn/Queens Division I) got the early jump on No. 4 Molloy (5-2, 1-1) behind eight first quarter points from Vaughn and six points from Brittany Lewis as the Lady Falcons led 18-6 after one.

It looked like Bishop Ford would continue to control the pace of the game in the second quarter, but in the last few minutes before the half it started to get sloppy. Molloy went from down 20 points to down by just 13 after a 9-2 run.

"We just got out of everything," Ford's Aaliyah Jones explained. "The last play when (Molloy's Carolyn Gallagher) got the wide open layup, it was when we were trying to switch from man-to-man defense to zone. We just kind of got confused."

Bishop Ford got its act together at half time and came out on a 11-1 run that left it with a 23-point lead with just 10:38 left in the game. Jones led the charge in the third quarter when she scored seven of her 17 points.

PLAYER OF THE GAME: Vaughan led the team in the first half, but she was effectively shut down in the second half, held to just four points. That's when Aaliyah Jones, who is just a sophomore, took control of the game. She came out and set the tone hitting a big three that put her team up by 16 points immediately to start the second half.

"That's one of our kids that we count on," Toro said. "Even though she is a sophomore, the kid knows what she's doing, she can play. She's not only one of the best sophomores, but one of the best players in New York City."

STATS: Bishop Ford was led by Jones who had 17 points including four three-pointers, Vaughn had 16 points, eight rebounds, four assists, and four steals, Aaliyah Lewis had eight points and seven assists. Gallagher led with 19 points for Molloy. Kamille Ejerta was another big contributor with 12 points.

UP NEXT: As soon as this game ended all anyone could talk about was Bishop Ford's next game. That's because it has already beaten some of the top teams in the city and face Nazareth next, who is ranked No. 1 in the nation by ESPN HoopGurlz.

"Now that the next game is against Naz, they want to be in the gym, they want to get ready, they want January 5th at 6:00 to come like tomorrow," Toro said.
December, 21, 2011
12/21/11
1:28
PM ET
WHO: No. 3 Molloy vs. No. 4 Bishop Ford

WHEN: Thursday, 6:45 p.m.

WHERE: Bishop Ford

WHY THIS GAME IS IMPORTANT: Everyone wants to know who is going to be the team that can give Nazareth the best run for its money this season and this game can go a long way toward finding out. Bishop Ford and Molloy have both gotten off to great starts this season and this game will give one of these teams a foot up on the competition in trying to establish itself as a top competitor in the league.

Bishop Ford is off to a 6-1 start on the season that includes a win over New Jersey power St. John Vianney. The Lady Falcons have beaten Mary Louis Academy and Christ the King and will be going for their third big win in the division when they take on Molloy.

Molloy is 5-1 in the season, losing its last game to a non-conference foe in Ossining. Just one day prior to that loss, Molloy had a nice win in conference play against Bishop Loughlin. The Class A champions last season, the Lady Stanners are looking to make some noise in the AA this year.

KEY PLAYERS

Bishop Ford senior forward Shanice Vaughan
Bishop Ford junior guard Aaliyah Lewis
Bishop Ford junior guard Jill Conroy
Molloy junior forward Carolyn Gallagher
Molloy sophomore guard Kamille Ejerta
Molloy junior guard Amani Tatum

COACHES

Bishop Ford: Mike Toro
Molloy: Scott Lagas

HOW THEY GOT HERE:

Bishop Ford (6-1, 3-0 Brooklyn/Queens Division I)
Nov. 26: 44-33 win vs. JFK
Nov. 27: 60-40 loss to St. Anthony's
Dec. 3: 48-35 win vs. Sachem East
Dec. 5: 52-52 win vs. Christ the King
Dec. 14: 52-39 win at Mary Louis Academy
Dec. 16: Win vs. St. Francis Prep
Dec. 17: 62-56 (OT) win vs. St. John Vianney

Molloy (5-1, 1-0)
Nov. 26: Win vs. Sacred Heart
Dec. 3: 50-40 Win vs. Spotswood (Virginia)
Dec. 5: Win vs. St. Mary's
Dec. 7: 57-49 win vs. Holy Trinity
Dec. 17: 61-56 win vs. Bishop Loughlin
Dec. 18: 92-75 Loss to Ossoning
January, 29, 2011
1/29/11
9:55
PM ET
New Rochelle 58, No. 9 Molloy 52: New Rochelle used a 16-1 run to knock off Molloy in one of the opening games of the PSAL/John F. Kennedy Challenge. Molloy (8-8) led 30-23 early in the third quarter, but a 16-1 run by New Rochelle turned the tide and the Huguenots never tailed again. Aliya Hayes led New Rochelle with 13 points, while Iayna Abrams and Mary Miceli each scored 12. Kamille Ejerta led the Stanners with 16 points, the only player on her team to score double digits.

Manhattan Center for Science & Math 58, National Christian Academy 37: Manhattan Center picked up a rare non-conference win as it stomped National Christian Academy. The Lady Rams continuously built on their lead throughout the game before exploding in the fourth quarter. Eight different players scored for Manhattan Center (8-11), including 13 points each from Brea Castro Gambrell and Cashmir Fulcher. National Christian Academy's Brittany Murray scored 20 points.

"We know we're a good team and we know we have what it takes to win, it's just that we weren't together," Castro Gambrell said. "It's we finally got together and acted like a team and played like a team and we didn't let one mistake mess us up and we kept going and kept pushing,"

Long Island Luthern 69, No. 8 John F. Kennedy 66: In one of the most exciting games of the season, Long Island Lutheran defeated the host team in a game that came down to the final shot. Long Island Lutheran led for most of the game, but JFK (14-7) came roaring back in the fourth quarter to cut the lead to 67-66 with 22 seconds left.

With about 10 seconds left, Dmitria Abbott missed a 10 footer that rimmed in and out and Lutheran won the jump ball possession. After two Lutheran free throws, JFK's Deaisia Acklin missed a long 3 at the buzzer, with the shot bouncing out of the rim, and Long Island escaped with the win. Point guard Boogie Brozoski led Lutheran with 16 points, while JFK's Joyalevern Mcfarland led all scorers with 26 points.

"It was a good shot, it just rolled out," Mcfarland said. "It should've went in. this is our gym, we should've got that.

"We felt like we had that win from the very beginning, even when we were down, we came back and we came out so intense in the second half that we thought we had the win. And we lost it."

Murry Bergtraum 61, H.D. Woodson (Washington DC) 56: Led by 21 points from Cori Coleman, the Lady Blazers (12-3) pulled out a win against H.D. Woodson. Murry led 19-7 after the first quarter, but the Lady Warriors made a game of it by slicing the lead to 31-27 at halftime.

No. 1 Nazareth 49, Archbishop Wood (PA) 41: The Lady Kingsmen survived eight 3-pointers from Archbishop Wood to win in the nightcap. Nazareth (16-2) was led by 18 points from Taylor Ford.

OTHER SCORES

No. 5 South Shore 57, St. Anthony's 50

Bedford Academy 50, In-Tech 34

Holy Trinity 61, Midwood 22

Brooklyn Collegiate 38, West 50th St. Campus 30

Kellenberg 46, Amsterdam (NY) 24


Riverdale Baptist (Washington DC) 71, St. John Vianney (NJ) 63