New York High School:

Mairega Clarke
May, 16, 2012
5/16/12
11:40
AM ET
Mairega Clarke is puzzled.

A talented forward for Holy Cross, he helped guide the Knights to the Catholic High Schools Athletic Association Class AA title game this winter. He thought he had played well enough to earn a Division I scholarship.

Yet, the Division I offers he thought would roll in never came. Some schools were interested, but none pulled the trigger. Thus, with a rapidly closing window of opportunity to remedy the situation, Clarke turned to AAU.

"I want to play to show coaches that I deserve that offer from then," said Clarke, who plays for Raising Champions.

While most seniors skip AAU because they have scholarships, for unsigned seniors like Clarke, playing in the spring and the summer is a final chance to impress college coaches and potentially earn that coveted scholarship.

"I think it's a great opportunity for them," New Heights Athletic Director Kimani Young said. "It's a last look. Maybe a school missed out on these guys. These guys can improve over their senior years. I think it helps."

Young said there's an advantage in playing as an unsigned senior as college coaches will be seeing players just months before they would head to campus. Instead of guessing how a player will develop during his senior year in high school, coaches basically see the player in April that will arrive on campus in August.

Young also added that seniors play with a chip on their shoulder.

"I just know that a kid playing in April in his senior year, he's hungry for that scholarship," Young said. "Kids that are playing now feel like this is their last opportunity to have access to that college scholarship."

For Clarke, he still has not received that offer he wanted, although Florida Atlantic is interested in bringing him in after a year of prep school. Other New York City players have had a little more success, although they're still waiting for their dream offers.

St. Raymond senior Myron Hickman played at the Providence Jam Fest in April with the Jersey Jayhawks to see if he could get a Division I offer, as he only had Division II schools extending. A few schools were interested after seeing him, but wanted him for 2013. He has a visit set up with a Division II school and may try to walk on at Delaware State.

Cardinal Hayes and New Heights teammates Jalen Jenkins and Naasir Williams both saw a rise in interest, but they still don't have that slam-dunk offer. Williams also had schools interested in him for 2013, but schools want to see how he plays this summer.

Jenkins has mid-major offers but wants to grab a Big East scholarship. He has interest from Providence and Cincinnati, as the Bearcats were interested after seeing him in Las Vegas.

Jenkins and Williams had both been planning to attend prep school but have backed off on those plans because of the interest they garnered from AAU. Williams said it's still up in the air, while Jenkins is more committed to the idea of walking on at a school.

"I figure playing shows that I'm able to play at the point where schools that high-major schools will look at me," Jenkins said. "Instead of just playing for the low Division I and the mid-major schools to look at you."

Team SCAN Program Director Terrence "Munch" Williams likes the opportunity seniors have through AAU, but worries that some will get too caught up in trying to get that dream offer instead of focusing on more realistic options.

"It sometimes strings kids along. A kid might be more of a Division II or Division III player and they don't want to jump into that situation," Williams said. "They keep hoping they'll get that dream team. Everyone thinks they are Division I until the last minute. Sometimes you wait too long and it doesn't come."

March, 30, 2012
3/30/12
10:59
AM ET
The Catholic High Schools Athletic Association is advising its boys basketball players to not play in Funsport Inc.'s "Battle for the City" all-star game pitting the CHSAA's best against the top Public Schools Athletic League players this Saturday at Baruch College.

The league is wary of the ramifications the game might have on its athletes' eligibility in the future, as it says the game is unsanctioned. The event is also scheduled to include a freshman vs. sophomores contest, and Funsport Inc. CEO Rickey Rivers said the game will not harm the eligibility of the underclassmen.

"It's a non-sanctioned event and underclassmen can lose eligibility in high school," Archdiocese of New York President Rich Tricario said. "We're not involved with this and they're using our name, we never gave them permission. What happens if someone gets injured? If we sponsor something, we'll do it right. We can't sponsor something that isn't sanctioned."

The CHSAA Brooklyn/Queens league had a meeting Wednesday night and that's when the problems concerning the game came to light. Following the meeting, the entire CHSAA advised its respective schools to tell its players it would not recommend playing in the game.

Selected players like Holy Cross senior Mairega Clarke and Mount St. Michael senior Malik Gill said they are uncertain if they will play due to the league's recommendation.

Molloy sophomore CJ Davis will not play unless the game is sanctioned, according to Molloy head coach Jack Curran, while St. Raymond senior Daniel Dingle said he would honor his commitment to play.

The biggest concern of the league seems to be the eligibility issues of the underclassmen. League officials maintain that underclassmen are not allowed to participate in an all-star game unless there is a tryout, and it could cost them games next season. On Funsport Inc.'s website, the game lists the players as being selected for their achievements during the season.

"We don't want them to jeopardize their eligibility," Holy Cross coach and Brooklyn/Queens Chairman of Basketball Paul Gilvary said. "Only seniors are allowed to be chosen based on their performances in high school."

Rivers, who has organized the event, said he has not broken any rules or violated any bylaws. He added this the game would not affect seniors' eligibility for the NCAA as they are permitted two All-Star games to play in.

"Those who know the rules know there are no eligibility concerns for underclassmen, it's a control thing with them," Rivers said. "This doesn't put the underclassmen in jeopardy, there's no rule about participating in this game for NCAA or high school eligibility. The catholic league is trying to create things to make people think there is a rule."

The league has also taken umbrage with its name being used to promote the game.The Funsport Inc. website recently posted a statement to reflect that the CHSAA and PSAL have no affiliation with this game and should not be held responsible for it.

The Public Schools Athletic League, meanwhile, sees no issue. Boys & Girls head coach Ruth Lovelace, who is coaching the PSAL team, said her players will be involved in the game, although she planned to do some research in light of the CHSAA's advisory.

"This event is separate from the PSAL," New York City Department of Education spokeswoman Margie Feinberg said in an email. "It has no affiliation with either league. The event organizer made an error in the way it promoted the game saying it was between the two leagues as if the PSAL was part of the decision to hold the game. This is not an event the PSAL is sponsoring or is running. Since this is happening after the basketball season, the game would not violate PSAL or NCAA rules."

The game is scheduled to tip at 4 p.m. with "The Future Game" pitting the freshman vs. sophomores at 3 p.m. Admission is $5. The PSAL team is scheduled to feature Boys & Girls senior Leroy Fludd, Jefferson senior Thaddeus Hall and Lincoln sophomore Isaiah Whitehead, among others.
February, 24, 2012
2/24/12
10:36
PM ET
By
Christopher Hunt
| ESPNNewYork.com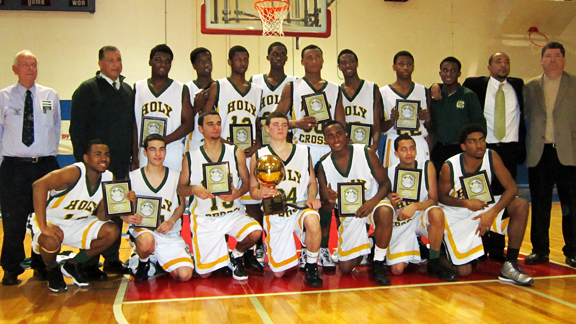 Chris Hunt
The 2011-2012 Holy Cross Knights and coaches pose with the CHSAA Brooklyn/Queens Diocesan championship trophy.
Holy Cross senior
Mairega Clarke
said this game was extra special. Not just because his senior-laden squad was clamoring for a CHSAA Brooklyn/Queens Diocesan title after losing to Christ the King last year and not just because they were playing against a Bishop Loughlin team stacked with sophomores who could have their time -- even if they needed to wait.
Clarke's team wanted to honor their coach
Paul Gilvary
, who lost his mother earlier in the week. And they did. No. 2 Holy Cross beat No. 5 Bishop Loughlin, 60-57, for the Brooklyn/Queens Diocesan title Friday night at St. Francis Prep in Queens. Holy Cross has made the title game five times in the last seven years and this is its second win.
Gilvary didn't talk to the team about his mother. Clarke said he probably just wanted them to focus on the task ahead. But the players meet and decided that the best thing they could do for their coach was win.
"At practice yesterday I told the guys let's do this for Coach Gil," Clarke said. "This could be big. Everyone just came together and went out and gave it their all."
HOW THE GAME WAS WON:
Bishop Loughlin jumped on Holy Cross early. The Lions led 18-6 with 6:48 left in the first half after sophomore guard
Michael Williams
broke loose for a thunderous right-hand dunk. But Holy Cross showed all the poise of a veteran team, clamped down on defense and went into halftime trailing 28-24.
"At halftime we talked and just told each other that we had to play together," said Clarke, who finished with 10 points, 8 rebounds and 8 blocked shots. "We just needed to share the ball and play together. Everyone was out there going for themselves for a little while."
The game stayed close in the third. The Knights went ahead 35-34 when Clarke drove through the middle for a layup and Holy Cross carried a two-point lead into the fourth. Free throws hampered both teams in the stretch. Bishop Loughlin missed five free throws in the fourth quarter.
Elisha Boone
led the Lions with 18 points but shot 4-for-11 from the line.
Holy Cross almost coughed up the game when
Eddie Roscigno
and Clarke each missed a pair of foul shots in the last 26 seconds.
WHEN FREE THROWS COST YOU:
Bishop Loughlin had a change to tie the score at 58 after Roscigno and Clarke faulted. But
Khadeen Carrington
missed the second of two free throws. Boone gathered the rebound but put the ball on the floor and Holy Cross senior
Marquise Moore
dove on it, forced a jump ball and the possession went to the Knights with 3.6 left to play. Moore then converted a pair of free throws to seal the game.
STAR OF THE GAME:
Moore plugged every whole for Holy Cross and provided every clutch play down the stretch, leading all scorers with 21 points. When Clarke earned his fourth foul with 2:24 left in the third, Moore scored six of the team's next 11 points. Moore scored eight points in the fourth, including the clutch free throws with 2.8 left.
Senior teammate
Anthony Libroia
also finished the game with 10 points, 9 rebounds and 9 assists.
KEEPING IT TOGETHER:
Bishop Loughlin coach
Ed Gonzalez
said the loss would serve as a learning experience for his young team but acknowledged that his team was hungry to start. The Lions lost three transfers before the season started,
Joel Angus
and
Tyliek Kimbrough
to Boys & Girls and
Travis Charles
to Lincoln.
Many expected that the Lions would be rebuilding this season. Instead, they upset Christ the King in the semifinal, and Carrington's halfcourt shot at the buzzer came within inches of sending the game to overtime.
"These kids, they're going to be a force to be reckoned with down the road," Gonzalez said. "There's not doubt. And that's if the people would leave my guys alone and let me build a program."
UP NEXT:
Both teams will get ready to the CHSAA Intersectional championships next week.
January, 17, 2012
1/17/12
11:33
PM ET
By
Christopher Hunt
| ESPNNewYork.com
Holy Cross coach Paul Gilvary told his team to stay connected to Christ the King's Omar Calhoun during Tuesday night's game. Don't give him much room.

The Knights wouldn't go away and the crowd began to stir, sensing a Holy Cross comeback. Then Calhoun found daylight behind the arc and pulled up and punched in a 3-pointer that carried No. 3 Christ the King to a 64-60 road win over No. 9 Holy Cross at William J. O'Meara Memorial Gym in Flushing Tuesday night. He backpedaled and held out two steady hands, motioning to settle down, as if to say, "Don't worry. I got it."

"The crowd was getting a little hectic, you know, and we got a young team so I've got to make sure that everyone is under control.," Calhoun said. "A lot of times they might get erratic because of the crowd so I was telling everyone to calm down it'll be alright."

So was he talking to his team or to the frenzied crowd?

"The whole gym," he said. "It was getting crazy in there, had to calm it all down."

HOW THE GAME WAS WON: Both teams played almost even in the first half. Mairega Clarke paced No. 9 Holy Cross in the first quarter, scoring nine of his team-high 17 points. The Knights (13-3, 4-2) led 25-19 before going scoreless in the last 3:07 of the second quarter. No. 3 Christ the King (10-5) responded with a 9-0 run and took a three-point lead into halftime.

Holy Cross ran off a 10-0 spurt to start the second half but Calhoun started to find his range at the end of the third. The UConn-bound guard scored six points as part of a 10-2 response, highlighted by a soaring reverse layup and another quick drive to the basket that put the Royals ahead 43-39 going into the fourth quarter.

Isaiah Lewis sparked Christ the King with his penetration early in the fourth and Calhoun looking for shots in the post. But Calhoun's 3-pointer but his team up 57-50 with 1:59 left and forced Holy Cross to scramble to stay in the game in the closing minutes.

ROUGH ON THE ROAD: Christ the King coach Joe Artibello said the win showed the character of his team, playing on tired legs after a grueling road schedule that saw the Royals play 5 games in 3 different states over the course of 6 days. That includes getting routed, 88-50, by No. 22 Mater Dei (Calif.) Monday at the Hoopball Classic in Springfield, Mass.

Artibello said he expected a close game with Holy Cross, tired legs or not. But he took responsibility for the loss to Mater Dei and for the scheduling the marathon schedule. But he couldn't pass up an opportunity for his team to play on national television.

"That is not on them that is on me," he said. "We don't make excuses. I will take that 100 percent on me. That was the dumbest thing. If I was a basketball player you guys would be killing me. It was the most ridiculous thing."

TWITTER BIRDS CHURPING: The loss to Mater Dei, aired on ESPNU, sparked a tons of criticism of Calhoun on Facebook and Twitter. Reporters asked about the talk after the game.

"I don't know what was on Twitter, I don't know anything about it," Artibello responded. "But I think his record speaks for itself. He's going to be our all-time leading scorer. He has the state championship – first one in 22 years. He has back to back Brooklyn/Queens championships and the CHSAA. So anyone taking shots at him are just either jealous that they're not him or jealous that they're not playing at Christ the King. That's all I'm going to say about that."

FUCHS SITS OUT: Jordan Fuchs went down hard after attempting a follow-up dunk on a missed fast-break layup by Lewis. Artibello said that the 6-6 junior forward could have returned to the game but tweaked his neck when he hit the floor. Artibello said it was precautionary and Fuchs is expected to play Friday against Molloy.

STAR OF THE GAME: Calhoun finished with 32 points and 7 rebounds. He also hit 5-of-6 free throws in the last 37 seconds to keep Holy Cross at bay. Will Davis scored 20 and Clarke had 17 points and 9 rebounds for the Knights.

UP NEXT: Christ the King travels to Molloy Friday at 7:30 p.m. while Holy Cross will host St. Francis Prep at the same time.
February, 12, 2011
2/12/11
10:56
AM ET
By
Christopher Hunt
| ESPNNewYork.com
NEW YORK --Corey Edwards scored one basket in the game but it changed everything for Christ the King. Right after Edwards drilled the three-pointer and CK coach Joe Artibello called timeout, Omar Calhoun bounced in a three. Then he curled off a screen and popped another jumper that hit front rim and rattled in.

Three straight baskets completely changed the game for No. 1 Christ the King in a 57-53 road win against Holy Cross Friday night at William J. O'Meara Memorial Gym in Flushing.

"No matter what happens in the first three quarters, big-time players step up in the fourth quarter," Edwards said. "That's crunch time.."

HOW THE GAME WAS WON: The teams played each other about dead even until the forth quarter. Christ the King threw the first punch in the opening quarter, building a 21-16 lead, behind 11 first-quarter points for OCalhoun. But Holy Cross clamped down in the second half and, more importantly, zeroed in on Calhoun, to hold the Royals to just six points in the second.

From then on, the game played out like the filling of an air balloon. One strong push would burst it open. That's when Edwards scored his first points of the game – a three-pointer from the top of the arc that ignited an 8-0 run that gave the Royals a 53-49 lead with 4:26 left.

The run seemed to trigger Christ the King on defense as well. Holy Cross scored just one field goal for the remainder of the game.

"This one really hurts because I really feel like we outplayed them for 24 of the 32 minutes of the game," said Holy Cross senior guard Evan Conti, who led his team with 18 points. "They beat us in the first four minutes of the game and the last four minutes of the game. It's just that those first four minutes and last four minutes are the most important parts of the game."

TURNING POINT: Conti hit a foul-lime jumper with 6:41 left to play that gave Holy Cross a 49-45 lead. A minute later, Edwards, who went to the bench after the first two minutes of the game when Holy Cross center Marcus Hopper accidentally kicked him in the face, pulled his team within one with his spot-up three.

Calhoun, a junior, then hit back-to-back jumpers, rolling off screens. But it was the Knights' defenses and Holy Cross' own offensive inefficiency that grounded the Knights in the closing minutes.

"I'm the kind of player that lets the game come to me," Calhoun said. "But when things not going the way we want them then I'm going to come to the ball. That's what I did. I know I'm going to get shots. I really wanted us to focus on defense and that's how we won the game."

STAR OF THE GAME: Calhoun scored when it mattered, with seven points in the final five minutes, after scoring 11 in the first. The junior finished with 24 points.

"When out offense is playing well that's what happens," Edwards said. "Omar makes shots and when he makes shots that's when he starts cutting and he starts dishing the ball and everything feeds off each other."

BIGGEST SURPRISE: That Holy Cross played the Royals so close even with Hopper mostly on the bench. Junior Mairega Clarke had one of his best games of the season off the bench, wreaking havoc in the paint in Hopper's absence and adding 11 points.

QUOTE OF THE GAME: "We're turning into a championship team. Championship teams don't always start out as championship teams. We didn't start out that way but we're turning into a championship team."--Calhoun

UP NEXT: Christ the King visits Xaverian Sunday and Holy Cross hosts Bishop Loughlin in its regular season finale Tuesday.
January, 18, 2011
1/18/11
10:55
PM ET
By
Christopher Hunt
| ESPNNewYork.com
St. Raymond senior Jermone Jackson scored one point this season before Tuesday's game against Holy Cross. But there he stood at the free throw line with 19.6 seconds left in overtime and the game on the line.

Jackson nailed both free throws to give No. 7 St. Raymond's a 77-75 comeback road win over No. 6 Holy Cross.

"I told him that we only needed one," St. Raymond's coach Oliver Antigua said. "He hit both. I kissed him when he came back to the bench."

HOW THE GAME WAS WON: St. Raymond's (9-7) trailed the entire game before forward Daniel Dingle hit two free throws with 22 seconds left in regulation to tie the score at 68. He missed a wide open three-pointer from the left wing at the buzzer that could have won it, but he made the most of his next opportunity.

Dingle sank a three from the right wing, the only field goal in the overtime period, with 54 seconds left to tie the score at 75. Holy Cross guard Evan Conti, who finished with 18 points, 12 boards and 6 assists, missed on his go-to spin move to basket on the ensuing play, which then forced teammate Mairega Clarke to foul the little-used Jackson.

Jackson entered the game for the first time with 1:25 to play after Larry Graves fouled out.

"I was just waiting for Coach to call my ticket, and I was waiting to punch it in," Jackson said.

TURNING POINT: It came right at the start of the second half when Antiqua called for his team to turn up the intensity on defense. The Ravens started picking up defenders at half court and with flashes of full-court pressure. The defensive scheme didn't force many turnovers but it forced the Knights into uncomfortable shots.

Holy Cross shot 68 percent from the field in the first half, led by Marcus Hopper's 16 first half points. Hopper and the Knights both cooled off in the second half. Foul trouble also hampered Hopper in the second half and he finished with 18 points. Holy Cross coach Paul Gilvary said the pressure didn't bother his team. The Knights just didn't make plays when they needed it.

"The last two minutes of regulation and the last minute of overtime, we just made too many mistakes," Gilvary said. "More mental mistakes than physical. It wasn't like we were making mistakes all game. Just that couple minute stretch.

STAR OF THE GAME: Dingle missed his first six shots of the game when the Knights looked to be on the verge of a blowout. But Dingle's size and quickness created matchup problems for the Knights all game, especially when Hopper fouled out with 22 seconds left and Dingle sank those two free throws to send the game into OT.

Dingle missed a wide-open three at the buzzer that could have saved the Ravens the extra period, but he made the difference in the OT anyway. He scored the only field goal of the extra stanza, a three-pointer from the right elbow that made it 75-all and scored all 7 of St. Raymond's 9 overtime points.

"The scouting report says I can't shoot I guess," he said. "I thought they would come out and guard me but they left me shoot."

BIGGEST SURPRISE: Dingle made a point after the game to apologize for comments he made after last Friday's loss to Rice where he said gave the impression that he blamed his guards for losing the game. He certainly needed them Tuesday. In the first half, Graves almost single-handedly kept the Ravens in the game and when he fouled out it allowed Jackson a chance to be a hero.

QUOTE OF THE DAY: "Somebody asked me to give them a list of the top players that I thought would be in the running for Player of the Year and (Dingle) was the first name I mentioned. If you give a guy like that a chance to beat you, he's gonna beat you."--Gilvary

UP NEXT: St. Ray's takes its two-game winning steak back home to face All Hallows Friday. Holy Cross will look to rebound at home against Xaverian, which upset No. 2 Christ the King Tuesday night.