New York High School:

Michael Gilchrist
March, 10, 2011
3/10/11
1:38
AM ET
By
Brandon Parker of ESPN Rise
PISCATAWAY, N.J. --Though the game's final score of 62-45 wasn't indicative of how close the matchup between No. 1 St. Patrick and No. 2 St. Anthony was on Wednesday, the margin of victory may have been larger, if not for the Friars' poor free-throw shooting.

St. Anthony went just 7-for-21 from the foul line and didn't hit its first free throw until Myles Mack hit one at the 1:48 mark of the third quarter.

****

Kentucky coach John Calipari was in attendance to watch Michael Gilchrist, the crown jewel of his 2012 recruiting class, play what became his final high school game. Calipari sat in the front row of the media section and talked with fellow coaches and signed autographs for fans before the game. Calipari left the building with five minutes left when it became apparent St. Patrick would lose.

Rutgers coach Mike Rice was also in attendance after his team's controversial finish against St. John's and watched Mack, a Scarlet Knights signee, score a team-high 19 points and dish out four assists.

***

The attendance for St. Anthony (Elizabeth, N.J.) v. St. Patrick (Jersey City) at the Rutgers Athletic Center was a 8,057. The last home game the Rutgers men's team played had an attendance of 7,752.

Wednesday's contest sold out at 2 p.m. and more than a thousand fans were denied tickets. There were even scalpers outside selling tickets for the game. No word on prices.
March, 9, 2011
3/09/11
10:57
PM ET
By
Brandon Parker of ESPN Rise
PISCATAWAY, N.J. -- Eight sprints. At the time,
Bob Hurley
and his St. Anthony players probably didn't think much of this exercise when they blazed up and down the court to close Tuesday's practice.
But it was a similar burst of energy toward the end of Wednesday's much-anticipated matchup against No. 1 St. Patrick that made all the difference.
The No. 2 Friars used an 8-0 run at the start of the fourth quarter to surge past a tired Celtics squad and earn a 62-45 win, securing the NJSIAA Non-Public Group B title at Rutgers. The game was also considered the unofficial national title game, as St. Patrick is ranked No. 1 and St. Anthony is tabbed No. 2 by the Powerade Fab 50 ESPN Rise rankings.
Senior guard
Myles Mack
, who will be playing at the RAC next year, led the Friars with 19 points, while junior
Kyle Anderson
dropped 12 points and grabbed nine rebounds.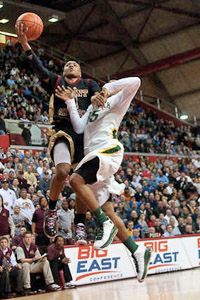 Jeff Skopin - ESPNNewYork.com
Senior guard Myles Mack led
the Friars with 19 points
"That separation was monumental," said Hurley, whose 30-0 squad moves on to the New Jersey Tournament of Champions this Saturday. "Our defense was very good in the fourth quarter … and we were able to force them to shoot from the outside."
An "amoeba defense," as Hurley called it, threw different looks at the Celtics (26-1) to keep St. Patrick star forward
Michael Gilchrist
on the perimeter. While the Kentucky-bound senior made his mark in other areas (14 rebounds and five blocks), St. Patrick's leading scorer could only muster seven points on 2-for-11 shooting.
"[Gilchrist] is a great high school player. We loaded up the box on him. Everybody was there," Hurley said. "We had to stop either Gilchrist or [
Derrick] Gordon
. And I wouldn't have thought that we would have had such good control."
At the outset, though, that control didn't appear to be there. While Gilchrist controlled the glass (five first-quarter rebounds), Gordon took care of the scoring, pouring in 11 of his game-high 26 points to put the Celtics up 15-6 midway through the first period. St. Patrick ended the half shooting nearly 48 percent from the field.
The Friars made several surges, the biggest of which opened the second half, when two
Jordan Quick
3-pointers helped produce an 8-0 run and St. Anthony's first lead of the game.
That time, St. Patrick had an answer. Gordon scored nine more points to give the Celtics a 39-34 advantage in the third quarter.
Yet when the Friars threw another 8-0 run at the Celtics to start the fourth, the Celtics weren't able to respond.
Four different Friars contributed during a flurry that gave them a 47-40 lead with 6:12 to go. The Celtics, meanwhile, managed just two points in a near five-minute span, allowing the Friars to pull away for good.
"I thought we were almost emotionally tired," said Celtics coach
Kevin Boyle
, whose team went just 5-for-23 in the second half. "It's been such an emotional roller coaster for several weeks now, being on top.
"You've got to give [St. Anthony] credit. They were definitely the better team."
Indeed, on this rare occasion, when No. 1 met No. 2 with a group title and perhaps a mythical national crown on the line, St. Anthony proved better. Don't ask Hurley to settle the "Who's No. 1?" debate, though. The Hall of Fame coach was just happy to survive the night's battle.
"I can't describe what just happened," Hurley said. "We beat a great high school team and it was an unconventional fourth quarter.
"The best team won the game and we're excited that it's us...But we understand how good that team was that we just played. And it might be a different outcome tomorrow; something else could have happened. But, that being said, it can't, so we're OK."
January, 17, 2011
1/17/11
9:52
PM ET
By
Brandon Parker
| ESPNNewYork.com
All
Antione Slaughter
needed was just one more chance.
After watching his buzzer-beating 3-pointer glance off the rim at the end of regulation, the Boys & Girls senior guard knew that on the final possession of overtime, his shot at redemption was now.
"When I took that first jumper in regulation, my coach screamed at me for not attacking the basket," the 5-foot 5-inch Slaughter said. "So I had it in my head that I was going to attack the basket the next time and redeem myself."
Slaughter got his wish, knocking down a runner in the lane with 2.1 seconds left in overtime, and the Kangaroos got their win, a 47-45 triumph against Academy of New Church (Pa.) after trailing by as many as 16 points..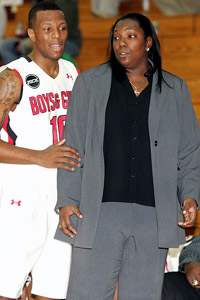 J. Anthony Roberts
Boys & Girls coach Ruth Lovelace with Michael Taylor
Granted, the victory was anything but pretty. The Kangaroos shot just 22 percent from the field, punctuated by a seven-minute scoreless drought spanning the third and fourth quarters
In that stretch, the Lions pushed their four-point halftime advantage to 14 with less than seven minutes remaining. Forward
Savon Lloyd-Goodman
led the charge with 14 of his game-high 16 points, as the taller Lions took advantage inside the paint.
Boys & Girls solved their offensive woes on the defensive end, using a full-court press to slow the Lions. And as they forced the Lions into the majority of their 28 turnovers, the Kangaroos finally rediscovered their ability to score.
A
Malik Nichols
dunk (team-high 14 points) sparked a 15-0 run for Boys & Girls in the fourth period, and when Mike Taylor knocked down a 3-pointer at the 4:20 mark, a 16-point deficit had suddenly become a 41-41 tie.
"Coach (Ruth Lovelace) sat us down in a timeout and asked us who wanted it more," said Taylor, who finished with 12 points. "Once we set up our press, we got some steals and showed how tough we were."
Both squads showed their defensive grit in overtime, a period that produced just four points and one field goal. Yet no basket proved bigger than the one from Slaughter, the smallest man on the court.
"I always say this game isn't played with height; it's played with heart," Slaughter said. "So that's what I always try to show and that's what I think we showed tonight."
CHRIST THE KING 73, WESTCHESTER COUNTRY DAY 65
For most of this season, both Christ the King and Westchester Country Day have been defined by who wasn't on the court.
The Royals stumbled out to a 4-2 start while
Corey Edwards
served a suspension, and seven of WCD's nine losses have come since
Quincy Miller
, the No. 4 player in the ESPNU 100, went down with a season-ending knee injury.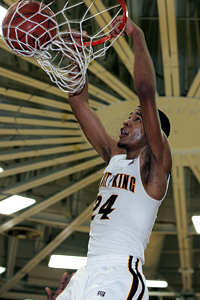 J. Anthony Roberts
Christ the King's Chris Ortiz had a game high 11 rebounds.
Edwards was out again for Monday's HoopHall Classic -- this time with a stomach virus -- but junior guard
Omar Calhoun
made sure that few people noticed.
In what coach Jeff Artibello called his star's best game of the year, Calhoun tallied 23 points and 10 rebounds in leading the Royals to a 73-65 win against WCDat Springfield College.
"We knew it was a big environment, playing on ESPN and then not having Corey playing, there was a lot of motivation to step up and play big," Calhoun said. "It was a chance to showcase my skills and show what we can do against a team like Westchester."
The junior wasted little time, knocking down a 3-pointer for the game's first points. Then, with 4:44 left in the contest and the Wildcats threatening, Calhoun hit the second of consecutive 3s to push the lead to 62-44.
The Royals were just as effective from the field, making nearly 51 percent of their shots.
"We started out in a zone, thinking we could force [Christ the King] to rely on their outside shooting," WCD coach Pat Kahny said. "But when they started hitting their shots, we had to get back into a man-to-man with our size disadvantage."
The Wildcats, on the other hand, might have relied a little too much on the outside shot. WCD finished 8-for-30 from 3-point land and foul trouble hampered high-flying guard Deuce Bello (team-high 22 points) for much of the game.
ST. PATRICK 79, BISHOP GORMAN 63
On Friday, St. Patrick was in Florida, earning a hard-fought win against an Austin Rivers-led Winter Park squad.
Three days and some 1,100 miles later, the Celtics were taking on Bishop Gorman before a national TV audience with the top ranking in the POWERADE Fab 50 on the line.
Needless to say, there was reason to believe the Celtics had been set up for a letdown.
Rising to the occasion is nothing new for this group, though.
Behind solid defense and 69 combined points from their "Big Three" of
Michael Gilchrist, Derrick Gordon
and
Chris Martin
, the Celtics held off the Gaels, 79-63.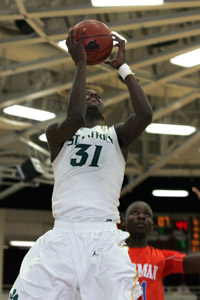 J. Anthony Roberts
St. Patrick's Michael Gilchrist had a team high 27 points and 10 rebounds.
"We didn't have great energy early, but in the second and third quarters, I think we played well enough there to pull away," Celtics coach Kevin Boyle said of his 10-0 squad.
Gilchrist, arguably the nation's top-ranked senior prospect, led the third-quarter surge with four points and three rebounds during a 8-0 run that stretched the lead to 40-26.
Gorman junior forward
Shabazz Muhammad
used several rim-rattling dunks to push the Gaels within eight. But Martin closed out the third period with two 3-pointers from the left corner, giving the Celtics a 14-point lead and keeping the Gaels at bay.
Unfortunately, the night would end earlier than expected for Martin.
In the fourth quarter, the senior guard went down hard after being fouled on a fastbreak and suffered an apparent concussion. Despite walking off the court on his own, Martin was taken away from Springfield College in an ambulance for further tests following the game.
Brandon Parker covers high school sports for ESPN RISE. You can follow him on Twitter @brandoncparker.
January, 14, 2011
1/14/11
4:40
PM ET
Six of the top high school basketball teams from the New York City area and New Jersey will compete in the Spalding HoopHall Classic at Springfield College in Springfield, Mass , over the holiday weekend. The four-day event from Friday to Monday features nine boys teams in ESPN Rise's Fab 50 rankings and the No. 3 girls team.

No. 3 St. Anthony (Jersey City, NJ) battles against No. 14 Dematha Catholic High School (Hyattsville, MD) in one of the premier matchups of the weekend at 4 p.m. Saturday. The game will be televised nationally on ESPN. St. Anthony is 8-0 on the season and is led by Rutgers-bound point guard Myles Mack, ranked No. 85 by ESPN U.

Mount Vernon (Mount Vernon, NY) also faces off against Taft High School (CA) at 2 p.m. Saturday. Mount Vernon is 8-1 on the season and has won four straight. The Ravens feature point guard Jabarie Hinds, ranked No. 74 by ESPN U and headed to West Virginia.

On Monday, No. 2 St. Patrick (Elizabeth, N.J) will meet No. 47 Bishop Gorman (NV) at 1 p.m. in a game televised on ESPNU. St. Patrick is 8-0 heading into its showdown Friday night against Winter Park (FL) on ESPN 2. The Celtics are led by Kentucky-bound small forward Michael Gilchrist.

Rounding out the slate on Monday, Christ the King (Queens, NY), ranked No. 2 in New York City by ESPNNewYork.com, will face off against Westchester Country Day School (North Carolina) at 11 a.m. while Boys & Girls (Brooklyn, NY) will also tangle with Academy of the New Church (PA) at 5 p.m.

Both teams feature Division I talent in the form of Boys & Girls shooting guard Mike Taylor (Rutgers) and Christ the King point guard Corey Edwards (George Mason). Christ the King comes into Monday at 6-3, while Boys & Girls is 14-3.

"It's going to be special for our guys. We've heard a lot about it over the years and never had the opportunity to play in it, but to be playing on Martin Luther King Day makes it extra special," Boys & Girls coach Ruth Lovelace said. "We heard about the itinerary and activities and that's what it's about. That's some of the great thing and good opportunities to go along with playing the game. Were going to take it all in and have fun at the same time."

Friday night also features three girls contests, the last of which pits Murry Bergtraum (New York, NY) against No. 2 Mater Dei High School (CA). Murry Bergtraum is 10-2 and ranked No. 4 by ESPNNewYork.com.

Other teams from the New York/New Jersey area include Albany Academy (NY), Jamesville-Dewitt (NY) and Life Center Academy (NJ).

There are 25 total games in the four days.