New York High School:

Paul Gilvary
March, 30, 2012
3/30/12
10:59
AM ET
The Catholic High Schools Athletic Association is advising its boys basketball players to not play in Funsport Inc.'s "Battle for the City" all-star game pitting the CHSAA's best against the top Public Schools Athletic League players this Saturday at Baruch College.

The league is wary of the ramifications the game might have on its athletes' eligibility in the future, as it says the game is unsanctioned. The event is also scheduled to include a freshman vs. sophomores contest, and Funsport Inc. CEO Rickey Rivers said the game will not harm the eligibility of the underclassmen.

"It's a non-sanctioned event and underclassmen can lose eligibility in high school," Archdiocese of New York President Rich Tricario said. "We're not involved with this and they're using our name, we never gave them permission. What happens if someone gets injured? If we sponsor something, we'll do it right. We can't sponsor something that isn't sanctioned."

The CHSAA Brooklyn/Queens league had a meeting Wednesday night and that's when the problems concerning the game came to light. Following the meeting, the entire CHSAA advised its respective schools to tell its players it would not recommend playing in the game.

Selected players like Holy Cross senior Mairega Clarke and Mount St. Michael senior Malik Gill said they are uncertain if they will play due to the league's recommendation.

Molloy sophomore CJ Davis will not play unless the game is sanctioned, according to Molloy head coach Jack Curran, while St. Raymond senior Daniel Dingle said he would honor his commitment to play.

The biggest concern of the league seems to be the eligibility issues of the underclassmen. League officials maintain that underclassmen are not allowed to participate in an all-star game unless there is a tryout, and it could cost them games next season. On Funsport Inc.'s website, the game lists the players as being selected for their achievements during the season.

"We don't want them to jeopardize their eligibility," Holy Cross coach and Brooklyn/Queens Chairman of Basketball Paul Gilvary said. "Only seniors are allowed to be chosen based on their performances in high school."

Rivers, who has organized the event, said he has not broken any rules or violated any bylaws. He added this the game would not affect seniors' eligibility for the NCAA as they are permitted two All-Star games to play in.

"Those who know the rules know there are no eligibility concerns for underclassmen, it's a control thing with them," Rivers said. "This doesn't put the underclassmen in jeopardy, there's no rule about participating in this game for NCAA or high school eligibility. The catholic league is trying to create things to make people think there is a rule."

The league has also taken umbrage with its name being used to promote the game.The Funsport Inc. website recently posted a statement to reflect that the CHSAA and PSAL have no affiliation with this game and should not be held responsible for it.

The Public Schools Athletic League, meanwhile, sees no issue. Boys & Girls head coach Ruth Lovelace, who is coaching the PSAL team, said her players will be involved in the game, although she planned to do some research in light of the CHSAA's advisory.

"This event is separate from the PSAL," New York City Department of Education spokeswoman Margie Feinberg said in an email. "It has no affiliation with either league. The event organizer made an error in the way it promoted the game saying it was between the two leagues as if the PSAL was part of the decision to hold the game. This is not an event the PSAL is sponsoring or is running. Since this is happening after the basketball season, the game would not violate PSAL or NCAA rules."

The game is scheduled to tip at 4 p.m. with "The Future Game" pitting the freshman vs. sophomores at 3 p.m. Admission is $5. The PSAL team is scheduled to feature Boys & Girls senior Leroy Fludd, Jefferson senior Thaddeus Hall and Lincoln sophomore Isaiah Whitehead, among others.
February, 24, 2012
2/24/12
10:36
PM ET
By
Christopher Hunt
| ESPNNewYork.com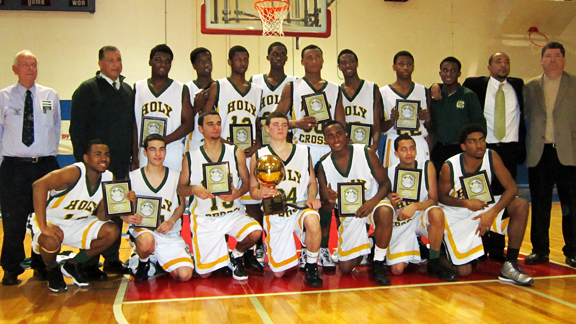 Chris Hunt
The 2011-2012 Holy Cross Knights and coaches pose with the CHSAA Brooklyn/Queens Diocesan championship trophy.
Holy Cross senior
Mairega Clarke
said this game was extra special. Not just because his senior-laden squad was clamoring for a CHSAA Brooklyn/Queens Diocesan title after losing to Christ the King last year and not just because they were playing against a Bishop Loughlin team stacked with sophomores who could have their time -- even if they needed to wait.
Clarke's team wanted to honor their coach
Paul Gilvary
, who lost his mother earlier in the week. And they did. No. 2 Holy Cross beat No. 5 Bishop Loughlin, 60-57, for the Brooklyn/Queens Diocesan title Friday night at St. Francis Prep in Queens. Holy Cross has made the title game five times in the last seven years and this is its second win.
Gilvary didn't talk to the team about his mother. Clarke said he probably just wanted them to focus on the task ahead. But the players meet and decided that the best thing they could do for their coach was win.
"At practice yesterday I told the guys let's do this for Coach Gil," Clarke said. "This could be big. Everyone just came together and went out and gave it their all."
HOW THE GAME WAS WON:
Bishop Loughlin jumped on Holy Cross early. The Lions led 18-6 with 6:48 left in the first half after sophomore guard
Michael Williams
broke loose for a thunderous right-hand dunk. But Holy Cross showed all the poise of a veteran team, clamped down on defense and went into halftime trailing 28-24.
"At halftime we talked and just told each other that we had to play together," said Clarke, who finished with 10 points, 8 rebounds and 8 blocked shots. "We just needed to share the ball and play together. Everyone was out there going for themselves for a little while."
The game stayed close in the third. The Knights went ahead 35-34 when Clarke drove through the middle for a layup and Holy Cross carried a two-point lead into the fourth. Free throws hampered both teams in the stretch. Bishop Loughlin missed five free throws in the fourth quarter.
Elisha Boone
led the Lions with 18 points but shot 4-for-11 from the line.
Holy Cross almost coughed up the game when
Eddie Roscigno
and Clarke each missed a pair of foul shots in the last 26 seconds.
WHEN FREE THROWS COST YOU:
Bishop Loughlin had a change to tie the score at 58 after Roscigno and Clarke faulted. But
Khadeen Carrington
missed the second of two free throws. Boone gathered the rebound but put the ball on the floor and Holy Cross senior
Marquise Moore
dove on it, forced a jump ball and the possession went to the Knights with 3.6 left to play. Moore then converted a pair of free throws to seal the game.
STAR OF THE GAME:
Moore plugged every whole for Holy Cross and provided every clutch play down the stretch, leading all scorers with 21 points. When Clarke earned his fourth foul with 2:24 left in the third, Moore scored six of the team's next 11 points. Moore scored eight points in the fourth, including the clutch free throws with 2.8 left.
Senior teammate
Anthony Libroia
also finished the game with 10 points, 9 rebounds and 9 assists.
KEEPING IT TOGETHER:
Bishop Loughlin coach
Ed Gonzalez
said the loss would serve as a learning experience for his young team but acknowledged that his team was hungry to start. The Lions lost three transfers before the season started,
Joel Angus
and
Tyliek Kimbrough
to Boys & Girls and
Travis Charles
to Lincoln.
Many expected that the Lions would be rebuilding this season. Instead, they upset Christ the King in the semifinal, and Carrington's halfcourt shot at the buzzer came within inches of sending the game to overtime.
"These kids, they're going to be a force to be reckoned with down the road," Gonzalez said. "There's not doubt. And that's if the people would leave my guys alone and let me build a program."
UP NEXT:
Both teams will get ready to the CHSAA Intersectional championships next week.
January, 17, 2012
1/17/12
11:33
PM ET
By
Christopher Hunt
| ESPNNewYork.com
Holy Cross coach Paul Gilvary told his team to stay connected to Christ the King's Omar Calhoun during Tuesday night's game. Don't give him much room.

The Knights wouldn't go away and the crowd began to stir, sensing a Holy Cross comeback. Then Calhoun found daylight behind the arc and pulled up and punched in a 3-pointer that carried No. 3 Christ the King to a 64-60 road win over No. 9 Holy Cross at William J. O'Meara Memorial Gym in Flushing Tuesday night. He backpedaled and held out two steady hands, motioning to settle down, as if to say, "Don't worry. I got it."

"The crowd was getting a little hectic, you know, and we got a young team so I've got to make sure that everyone is under control.," Calhoun said. "A lot of times they might get erratic because of the crowd so I was telling everyone to calm down it'll be alright."

So was he talking to his team or to the frenzied crowd?

"The whole gym," he said. "It was getting crazy in there, had to calm it all down."

HOW THE GAME WAS WON: Both teams played almost even in the first half. Mairega Clarke paced No. 9 Holy Cross in the first quarter, scoring nine of his team-high 17 points. The Knights (13-3, 4-2) led 25-19 before going scoreless in the last 3:07 of the second quarter. No. 3 Christ the King (10-5) responded with a 9-0 run and took a three-point lead into halftime.

Holy Cross ran off a 10-0 spurt to start the second half but Calhoun started to find his range at the end of the third. The UConn-bound guard scored six points as part of a 10-2 response, highlighted by a soaring reverse layup and another quick drive to the basket that put the Royals ahead 43-39 going into the fourth quarter.

Isaiah Lewis sparked Christ the King with his penetration early in the fourth and Calhoun looking for shots in the post. But Calhoun's 3-pointer but his team up 57-50 with 1:59 left and forced Holy Cross to scramble to stay in the game in the closing minutes.

ROUGH ON THE ROAD: Christ the King coach Joe Artibello said the win showed the character of his team, playing on tired legs after a grueling road schedule that saw the Royals play 5 games in 3 different states over the course of 6 days. That includes getting routed, 88-50, by No. 22 Mater Dei (Calif.) Monday at the Hoopball Classic in Springfield, Mass.

Artibello said he expected a close game with Holy Cross, tired legs or not. But he took responsibility for the loss to Mater Dei and for the scheduling the marathon schedule. But he couldn't pass up an opportunity for his team to play on national television.

"That is not on them that is on me," he said. "We don't make excuses. I will take that 100 percent on me. That was the dumbest thing. If I was a basketball player you guys would be killing me. It was the most ridiculous thing."

TWITTER BIRDS CHURPING: The loss to Mater Dei, aired on ESPNU, sparked a tons of criticism of Calhoun on Facebook and Twitter. Reporters asked about the talk after the game.

"I don't know what was on Twitter, I don't know anything about it," Artibello responded. "But I think his record speaks for itself. He's going to be our all-time leading scorer. He has the state championship – first one in 22 years. He has back to back Brooklyn/Queens championships and the CHSAA. So anyone taking shots at him are just either jealous that they're not him or jealous that they're not playing at Christ the King. That's all I'm going to say about that."

FUCHS SITS OUT: Jordan Fuchs went down hard after attempting a follow-up dunk on a missed fast-break layup by Lewis. Artibello said that the 6-6 junior forward could have returned to the game but tweaked his neck when he hit the floor. Artibello said it was precautionary and Fuchs is expected to play Friday against Molloy.

STAR OF THE GAME: Calhoun finished with 32 points and 7 rebounds. He also hit 5-of-6 free throws in the last 37 seconds to keep Holy Cross at bay. Will Davis scored 20 and Clarke had 17 points and 9 rebounds for the Knights.

UP NEXT: Christ the King travels to Molloy Friday at 7:30 p.m. while Holy Cross will host St. Francis Prep at the same time.
November, 28, 2011
11/28/11
12:06
PM ET
Omar Calhoun can do it all on the court.

Score, pass, rebound, win big games, hit the big shot, it's all part of what makes Christ the King's senior shooting guard the elite senior player in New York City this season.

As the top recruit in New York City this year, as he's ranked No. 27 nationally by ESPNU and headed to Connecticut next fall, all eyes are going to be on Calhoun this season as he looks to lead Christ the King to another New York State Federation Class "AA'" title game appearance.

To better explain Calhoun's game, we talked to those opposing coaches in the CHSAA who have to gameplan against him this upcoming season. They break down Calhoun's game so you know why he's the top dog in New York City.

What makes Calhoun the top-ranked recruit in the city?

"He can score the ball. He can really score. He's a tremendous offensive player. For as much as its important to dive on the ball, take charges and rebound, the stat they keep at the end of the day is how many points you have."—Holy Cross coach Paul Gilvary

"Calhoun is a prolific scorer. He has great size and athletic ability and I think he uses those strengths real well to put the ball in the hole. The kid is an ultimate competitor and that has propelled him into the national spotlight."—St. Raymond coach Oliver Antigua

What makes Calhoun so tough to defend?

"You can have a defense for a one-dimensional player, but he's anything but. He has a great feel for the game and he's a kid that wants the ball. He's not going to run away from it, he's going to go and get the ball."—Xaverian coach Jack Alesi

"He's big, especially for that position. He's a very good shooter and he can put the ball on the floor and get fouled. He has that scorer's mentality that even if he is having a bad game, he'll still continue to attack. It's a tough job guarding him for the whole game."--Gilvary

How would you describe Calhoun's jumpshot?

"He's got good range. He's a pretty accurate shooter. He's around the rim all the time so if he's open he can drill it most of the time."— Bishop Loughlin coach Ed Gonzalez

Where can Calhoun improve?

"Passing. He feels like he can score every time. In college, he's going to have to pass a little more and get the ball to places where guys are going to be scoring."— Antigua

Where has Calhoun improved the most?

"He's just much more competitive. He's much more active than when he was younger. He lets the game come to him now and he goes out and is more aggressive making plays and looking to make them both offensively and defensively. His body language is much better than as a freshman and sophomore. I think as a freshman he was viewed as a great shooter and has made the step to being a real good all-around player."—Alesi

"He drives a little more than he did. He looks to get to the basket a little more. He shoots the ball and goes to the basket more than he used to. He's also a little bit better without the ball."--Gonzalez

Does Calhoun make the players around him better?

"He's certainly got that quality about him. Most good players make the other kids around them better and he can do that. He seems to raise their level."—St. Francis Prep coach Tim Leary
June, 15, 2011
6/15/11
3:52
PM ET
The Public Schools Athletic League is out of the doghouse.

After the PSAL created a controversy by allowing two basketball teams to participate in an unsanctioned postseason tournament, the New York State Federation said in a statement Wednesday it will not sanction the PSAL and the CHSAA boys basketball league and girls Brooklyn/Queens division have lifted their bans on playing games and scrimmaging with PSAL basketball squads.

The news followed a conference call involving PSAL Executive Donald Douglas and executives from the Federation and its associations. The other three associations in the Federation beside the PSAL are the CHSAA, the New York State Public High School Athletic Association and the New York State Association of Independent Schools Athletic Association.

"The New York State Federation members associations are satisfied with Mr. Douglas' explanation of the PSAL participation in a recent non-sanctioned basketball event. We appreciate his efforts to inform the membership and although the federation did not consider imposing any sanctions on the PSAL, we are confident that this scenario will not occur in the future," State Federation President Don Buckley said in the statement.

"As we move forward, each of the four associations involved in the New York State Federation of secondary school athletic associations are committed to work collaboratively to ensure all commissioner's regulations that govern the interscholastic athletic program are observed in all other sports, including basketball."

The PSAL created a stir by playing in the ESPN Rise National High School Invitational. Federation rules say teams are only allowed one postseason tournament per season, which almost always is their league's postseason tournament. The PSAL allowed its class "AA" boys champion, Boys & Girls, and girls champion, Murry Bergtraum, to play.

Last week, the CHSAA asked its boys teams and the girls Brooklyn/Queens division asked its teams to hold off on scheduling any games, scrimmages or tournaments against PSAL teams as the Federation delved into the matter. It was not a permanent ban, but one so the PSAL could explain why its teams played in the tournament and in the case that any sanctions were to come. The PSAL would not comment on the conference call.

After the Federation released its statement, the boy's league asked its chair people to get in contact with the coaches and tell them they can play PSAL squads and the girls Brooklyn/Queens division is following suit. It will allow some of the most competitive and anticipated games of the season to occur.

"We've had 30 years with no problems and suddenly this happens," Archdiocese of New York boys President Rich Tricario said. "We're not looking to harm anybody, but if it happens next year that would put us in a different mood. Somebody made a mistake and it won't happen again, I presume."

Holy Cross head coach Paul Gilvary said he wasn't worried about the ban on games lasting until next season and said this is the resolution the coaches were hoping for.

"There's no question this helps the city's basketball," Gilvary said. "I don't think anybody wanted to see that change. I just think it was a situation when if we are all going to be members of the same federation, then we all have to follow the rules that we agreed to. I think that is obviously how it turned out."

Cardozo coach Ron Naclerio isn't sure why the teams can't play in the tournament, but also is pleased that he can resume his games and scrimmages with CHSAA teams.

"I think there are some rules in place that have been there for so long that they have to be changed," Naclerio said. "I think it's disappointing that catholic schools were invited and the public schools did go, but now can't show up and play. But I'm glad they realized that everything is in order and they did what they had to do and life goes on."
June, 6, 2011
6/06/11
4:51
PM ET
By
Robert Abruzzese
| ESPNNewYork.com
After one too many blowouts last season, the CHSAA announced today that it has changed its divisional structure for boys basketball in an attempt to create a better competitive balance.

It is not a straightforward realignment, but as Brooklyn/Queens chairman and CHSAA advisory committee member Paul Gilvary said, a "ranking system" that's based off the league's football structure.

At the end of each season the teams will vote on which teams they think are the best and based off those votes the divisions will be set. The top six teams from both Brooklyn/Queens and the Archdiocesan and the top two teams from Staten Island will all be a part of the 14-team "AA" division. The remaining four teams from Brooklyn/Queens, five teams from the Archdiocesan, and two teams from Staten Island will make up the 11-team "A" division.

"Instead of realigning the league we tried to come up with an objective way to evaluate the teams so they can be scheduled against teams of similar ability," Gilvary said.

The most dramatic change is in the Archdiocesan "AA" division, which went from two teams, after losing Rise to a school closing, to six as Archbishop Stepinac, Mount St. Michael, Cardinal Hayes, and Fordham Prep have all been added to the division to join St. Raymond and All Hallows.

The Brooklyn/Queens "AA" division remains the same so the only other change to "AA" is creating a unique Staten Island "AA" division with St. Peter's, which played in the "AA" tournament last season, and Monsignor Farrell.

The "B" division remains unchanged as the committee decided they like the current balance they've struck in the league.

In the past, Gilvary said, the league pretty much left the determination of which division the teams fell into up to the perspective teams. That was a practice that they decided had to be done away with as it is what created the problem in the first place.

Last season, the league created an advisory committee and after meeting twice, they determined they would do something similar to what the football league has done only simplified. Their proposal got the go ahead from the presidents of each diocesan, Ray Nash and Rich Tricario, before it was overwhelmingly approved by each school's athletic directors.

When considering changing the structure, the league considered arranging the teams by geography or by student population, but found that doing it either of those ways would not increase the competitiveness of the league.

In the "AA" division, each team will play teams within their own division twice and will play two teams in the other division. The Staten Island teams will do the same, but they will also play the Archdiocesan teams once each.

In the "A" division, the Brooklyn/Queens teams play each other twice and will cross over to play the Archdiocesan teams once. The Archdiocesan teams will play each other twice, the Brooklyn/Queens teams once, and the Staten Island teams once each.

For the playoffs, the Brooklyn/Queens tournament will be the same while the Archdiocesan tournament will double in size from six to eight teams, as it includes the two Staten Island squads. The intersectional playoffs will be a 14-team format. It will go from 14 teams to 12, to eight and then the semifinals.

Here are the new divisions for next season:

Brooklyn/Queens "AA"
Christ the King
Xaverian
St. Francis Prep
Bishop Loughlin
Archbishop Molloy
Holy Cross

Archdiocesan "AA"
St. Raymond
All Hallows
Mount St. Michael
Archbishop Stepinac
Cardinal Hayes
Fordham Prep

Staten Island "AA"
St. Peter's
Monsignor Farrell

Brooklyn/Queens "A"
St. John's Prep
Monsignor McClancy
St. Edmund Prep
Bishop Ford

Archdiocesan "A"
Cardinal Spellman
Regis
LaSalle Academy
Iona Prep
Xavier

Staten Island "A"
Moore Catholic
St. Joseph-by-the-Sea
May, 5, 2011
5/05/11
12:23
AM ET
Moore Catholic baseball coach Nick Doscher and Archbishop Stepinac coach Pat Duffy are both appealing their one-game suspensions for using unauthorized umpires at their game Saturday. Both are unsure if they will be able to coach Thursday but are preparing as if they can.

"It's a situation that happened and maybe both schools should be warned and the league should be put on notice so this does not happen and we go from there," said Stepinac Athletic Director Mike O'Donnell, who asked his coach not to comment. "I really think either coach serving a suspension is ridiculous, especially the Moore coach."

The two coaches are being suspended after breaking rule 5.a in the CHSAA bylaws, as first reported by the New York Post. The rule states: "Officials are to be appointed by either a recognized officials bureau or other group recommended by the coaches and approved by the leagues' Executive Boards. Bureaus not approved by the league may not be used in any competition (Fall and non-league included)."



On April 30, Moore Catholic made the trip from Staten Island to play Stepinac at Pace University in Pleasantville, but when Moore arrived, Duffy was told there were no umpires.

To get umpires for a game, one of the teams must contact Paul Gilvary, president of North Shore Baseball Umpires Assigners Incorporated, and he puts the game up on Arbitersports.com and then assigns umpires. Gilvary had not received any phone call about Stepinac vs. Moore Catholic.

While O'Donnell leaves the calling of the assigner up to Duffy, he put the blame on himself. Factors like the team playing in Florida during its Easter recess, Stepinac's computer server being down and the wait for insurance certificates so the team could play at Pace all played a role in the oversight.

When O'Donnell discovered Saturday there were no umpires, he called Gilvary and tried e-mailing him, but Gilvary wasn't able to check his e-mail until 2:30 p.m. because he was busy.

Considering the distance traveled and money spent by Moore Catholic to come to Pace, the coaches looked into finding on-site umpires and eventually came to a handshake agreement to play the game and use two parents with umpiring experience. Stepinac went on to win the game 5-3.

"I'm not happy we didn't use league umpires, but think about it from the perspective of the other team, everybody would've been mad at me if we didn't play the game," Doscher said. "It was like a Catch-22 for us."

CHSAA baseball commissioner Wally Stampfel, who is also Mount St. Michael's coach, said he conferred with other league personnel before making a decision on the punishment, as there is none listed in the bylaws.

Stampfel said that there was consideration given to not suspend Doscher, as well as discussion about whether the game result should stand, but ultimately he decided to suspend both coaches and count the game. The commissioner added that the biggest problem with breaking the umpiring rule is the insurance liability in the case of injury.

"To take matters into their own hands is where we had problems," Stampfel said. "I can appreciate the fact that they did everything to get the game in and a lot of factors made a lot of sense. The travel, the fans, I can appreciate all that. But to do this on their own is just not acceptable."

Doscher said it doesn't make sense that the game counts, yet both coaches get suspended, and he's not sure why he's getting suspended when he wasn't the one in charge of getting the umpires. He appreciated that Duffy and O'Donnell have been upfront about their umpiring mistake.

"It blew me away with this ruling," Doscher said. "Wally runs the league by himself and it all runs by him and he does what he wants and we abide by what he does."

While Duffy didn't comment about the suspension to respect his athletic director, he previously told the New York Post that he's seen scrimmages and fall baseball games umpired by coaches, including Mount St. Michael games with Stampfel.

Stampfel said he doesn't remember the specific situation when he umpired a fall game, but did say that doesn't mean it didn't happen. He said there's no liability concerns with him umpiring a game since he's a coach, and he did say that in the past he has umpired behind the mound in scrimmages and practices.

"To compare a CHSAA league game to a fall scrimmage, it's apples and oranges," Stampfel said.

Moore is scheduled to face St. Peter's Thursday while Stepinac will play Cardinal Spellman.

"Hopefully the appeal process will be a good one and this can all be put to rest," O'Donnell said. "Nobody did anything wrong. They tried to do the best they could for the situation at the time and we'll see what the league says."
February, 25, 2011
2/25/11
9:36
PM ET
By
Robert Abruzzese
| ESPNNewYork.com
NEW YORK – Going into the fourth quarter of a basketball game with a 10 point lead is always a plus, but it can also be dangerous. A lot of teams tend to get a little comfortable and let their opponents back into the game and then panic as the lead lead can turn into an eventual deficit and loss.

Not Christ the King's Corey Edwards. Having watched his team blow a 10-point lead, he remained cool as he put the Royals back on top with a wide open three-point shot that ended up being the difference in his team's game against Holy Cross Friday night.

"I was just thinking about the shot," Edwards said. "I Spread my fingers to make sure my shot was correct. After it left my hand I knew it was going to go in."

Edwards clutch 3-pointer to give his team a three-point lead with 2:24 left in the fourth quarter made the difference as No. 1 Christ the King beat No. 3 Holy Cross 64-58 to win the Brooklyn/Queens Diocesan final at home Friday night in Middle Village.

"That was probably the biggest shot of the game," said Holy Cross coach Paul Gilvary. "It just seems to hurt more because it came off an offensive rebound. If we were able to get that it might have been a different game."

HOW THE GAME WAS WON: This was a high intensity, offensive minded game right from the start. In front of about 300 fans, Holy Cross' offense came out blazing. Marcus Hopper couldn't be stopped in the paint as he scored nine points in the first quarter.

After trailing 18-14 in the first quarter, Christ the King (19-6) picked up their game in a big way in the second. Omar Calhoun and Chris Ortiz were especially big as it seemed like they couldn't miss a shot from anywhere on the floor and the Royals led the Knights (16-11) 31-25 at half.

Christ the King opened the second half with a 14-2 run fueled by eight points by Calhoun in the first four minutes of the quarter and the Royals had a 50-40 lead. That's when there was a sudden reversal in fortunes. After pushing its lead to 11 points, Christ the King watched Holy Cross go on a 15-2 run that left the Knights with a 56-54 lead with just 3:18 left in the game.

Christ the King coach Joe Arbitello called a time out.

"I thought our guys got tired," Arbitello explained. "Evan Conti has been beat up for three years by us. He hasn't won. Marcus Hopper is the same way. They weren't going to let us take the game over and blow them out by 20.

TURNING POINT: Coming out of that time out, Christ the King hit a quick field goal and then Edwards hit the shot that changed the game.

"That was a big play in the game," Calhoun said. "We got the offensive rebound and kicked it out for a three. It wasn't just a two off of a layup. It was a three, a big three. That was something that motivated us."

That put Christ the King up by three points and rattled Holy Cross, who only scored two more points the rest of the way.

STAR OF THE GAME: Calhoun lead the game with 16 points, but it was Ortiz who scored 12, had 12 rebounds, and played strong defense that made the biggest difference in the game.

Terrell Hunt and T.J. Curry also made huge contributions as they each scored 11 points. Curry had eight rebounds, Hunt had four.

QUOTE OF THE DAY: This was the third consecutive B/Q Diocesan title for Christ the King, but that wasn't the reason why the number three was in their heads. They were thinking of another three, as in the three rounds they need to get through to win it all this season.

"It's the trilogy, I like to call it," Arbitello said. "We want to get to the city and we want to get to the state. Only after that will we be satisfied."

UP NEXT: Christ the King will go on to face either Molloy or St. Peter's in the class AA intersectional quarter finals and Holy Cross faces St. Francis Prep or All Hallows.
February, 23, 2011
2/23/11
11:06
PM ET
By
Christopher Hunt
| ESPNNewYork.com
NEW YORK--Evan Conti held the ball at the top of the arc. Anyone in the gym that's seen the Holy Cross senior play knew what was coming.

He drove right, then spun left – the patented move that Conti built his name on. And more often than not, when he uncoils, Conti is shooting. But this time, with the entire season on the line, Conti dumped the ball off to Marcus Hopper for the go-ahead layup with 30.5 left, to give the No. 3 Knights a 62-20 win over No. 2 Xaverian Wednesday night in the Brooklyn/Queens CHSAA semifinals at Christ the King in Middle Village.

HOW THE GAME WAS WON: Xaverian led only twice in the game, but the second time came with 44.2 left to play when Brian Bernardi hit a 12-footer from the left corner to give the Clippers a 60-59 lead. Holy Cross coach Paul Gilvary didn't call timeout. He put the ball, in Conti's hands, called a clear-out and let Conti decide his team's fate.

When Conti went into his spin move, Xaverian's Manny Thomas and Travis Gill beat him to his spot. But Thomas left Hopper under the basket for an open score and a 61-60 edge. Xaverian had a chance to score, but Gill bobbled a pass that landed right in Xaverian coach Jack Alesi's hands. Conti ran eight seconds off the clock before the Clippers could foul him in the backcourt. He hit the first of two free throws to extend the lead to 62-60.

"They knew a lot of my counter moves," Conti said. "They were denying all the counter-moves I had. The last play of the game, I spun and both Travis and Manny came right at me. They left Marcus wide open. Me and Marcus have been playing together forever. We know where each other are going to be."

Xaverian had the ball with 4.3 seconds left but could only muster a desperation three-pointer that careened off the backboard at the buzzer.

Holy Cross certainly lived by the three. Conti opened the game with the first 2 of 9 three's for Holy Cross. Will Davis hit three three-pointers, while holding Xaverian's sharp shooter, Brian Bernardi, to just one. Davis finished with 13 points.

TURNING POINT: The Holy Cross defense kept Xaverian's Thomas and Bernardi quiet for most of the night until Bernardi scored an and-one layup with over Anthony Libroia. Bernardi followed that with a three from the left corner that ignited a 10-2 run in which he scored eight and put his team ahead by one, 60-59, in the final minute that set the stage for Conti's heroics.

"We did a pretty good job on Bernardi, I thought," Gilvary said. I thought Will Davis really did a good job guarding him. But when you play a kid like Bernardi, or Manny Thomas for that matter, a very talented offensive player, you can't shut them out. They're going to score their points."

STAR OF THE GAME: Conti did everything star players do in big games. He set the tone early with back-to-back three-pointers. Then, with the game on the line, he drew the defense and found Hopper, who wasn't shooting well, for the basket that set his team to the Brooklyn/Queens CHSAA championship final.

Conti finished with 15 points, 10 rebounds and 5 assists.

BIGGEST SURPRISE: To Gilvary's point, Will Davis held Bernardi in check for three quarters. Bernardi finished with 17 points but had just six ended into the fourth. The biggest surprise was that Thomas didn't have a bigger impact in the game. Thomas scored 9 of his 11 points in the first half.

QUOTE OF THE DAY: "I just knew he was gonna be there. Even though he didn't make a lot of shots, he made the biggest shot of the game."--Conti said of Hopper

No. 1 Christ the King 72, No. 4 Bishop Loughlin 46: A layup by T.J. Curry with 3:28 left in the first half started a 12-0 run for the top-seeded Knights as they routed Bishop Loughlin. Christ the King scored the first 10 points of the game and the first 10 points of the fourth quarter. Omar Calhoun led CK with 28 points. Travis Charles led the Lions with 12.

UP NEXT: Christ the King will face Holy Cross in the championship game Friday at 7:30 p.m.
February, 21, 2011
2/21/11
11:45
PM ET
By
Christopher Hunt
| ESPNNewYork.com
NEW YORK – Holy Cross coach Paul Gilvary reminded his team before the game that people don't get many second chances. But that's exactly what the Knights had. They had another chance to avenge an early season loss to St. Francis Prep and the seniors had another chance to play a ball game on their home court.
And Holy Cross made the most of it. The Knights made the Battle of the Francis Lewis Boulevard into a run off the block, dominating St. Francis Prep, 83-59, in the first round of the Brooklyn/Queens CHSAA tournament Monday night.
HOW THE GAME WAS WON: Holy Cross just did whatever it wanted almost from the opening tip. The Knights (15-10) handled Prep's zone, blew through its full court press and forced the Terriers into an array of rushed shots.
Marquise Moore scored five straight points that ignited an 11-2 run that gave Holy Cross a 17-7 lead with 56 seconds left in the first quarter. The Knights never looked back. They also scored the first 11 points of the second quarter and opened 28-9 lead midway with 4:26 left in the half.
"I think we played a full 32 minutes tonight," Gilvary said. "That's something that we've really tried to stress. We've had other games were we didn't play an entire game and that's something we did a great job of tonight."
St. Francis Prep (12-13) made a run in the third that started with a Glyne Straker runner in the lane and ended with breakaway layup from Mike Murray that closed the gap to 11 halfway through the quarter.
Still, it wasn't enough. Holy Cross responded with a 10-0 run of its own and went into the fourth with a 20-point advantage.
TURNING POINT: It didn't seem like there was much that St. Francis Prep could do to stop the bleeding but it seemed that the Terriers troubles had a direct correlation with forward Andrew Winter nailed to be bench by foul trouble. Winter picked up his third foul with about two minutes left in the first quarter.
Holy Cross immediately went on a 6-0 surge and outscored St. Francis Prep, 25-13, for the remainder of the first half. With Winter in the game, the Terriers closed the deficit to 11. But then Winter earned his fourth with 3:47 left in the third and went back to the bench while the Knights closed the quarter 10-3.
Winter played 1:24 of the fourth before he fouled out and Holy Cross promptly pushed another 18-4 spurt.
STAR OF THE GAME: It could have been anybody. Even Conti had 18 points, 12 rebounds and 5 assists. Moore added 15 and Marcus Hopper had 13 points and 9 boards.
"Today was such a fun game in so many ways," Conti said. "It's the last game we're ever going to play here. We beat Prep by 30 after they killed us here the first time. It was a really special game for me and Marcus."
BIGGEST SURPRISE: Despite it being the final home game in a storied career for Conti, he was boo'ed every time he touched the ball by a contingent of St. Francis Prep fans large enough to make it feel like a road game.
"Prep fans are crazy," Conti said. "If they boo you they must think a person is good. They were trying to get into me psychologically."
QUOTE OF THE GAME: "I think we just played well. It didn't matter who was in the game."--
Gilvary on Winter's foul trouble leading to success:
UP NEXT: No. 3 Holy Cross will play No. 2 Xaverian at Christ the King at 6 p.m
No. 4 Bishop Loughlin 72, No. 5 Molloy 59: The score was tie at 46 with 7:15 left to play when an and-one layup by Elisa Boone completely turned the game around for Bishop Loughlin (12-13), which then outscored Molloy (13-12) 26-13 the rest of the way.
Joel Angus led the Lions with 16 points while Travis Charles added 13. Chris Dorgler and Marco Kozul had 15 for Molloy. Bishop Loughlin will top-seeded Christ the King, Wednesday at 7:30 p.m.
January, 18, 2011
1/18/11
10:55
PM ET
By
Christopher Hunt
| ESPNNewYork.com
St. Raymond senior Jermone Jackson scored one point this season before Tuesday's game against Holy Cross. But there he stood at the free throw line with 19.6 seconds left in overtime and the game on the line.

Jackson nailed both free throws to give No. 7 St. Raymond's a 77-75 comeback road win over No. 6 Holy Cross.

"I told him that we only needed one," St. Raymond's coach Oliver Antigua said. "He hit both. I kissed him when he came back to the bench."

HOW THE GAME WAS WON: St. Raymond's (9-7) trailed the entire game before forward Daniel Dingle hit two free throws with 22 seconds left in regulation to tie the score at 68. He missed a wide open three-pointer from the left wing at the buzzer that could have won it, but he made the most of his next opportunity.

Dingle sank a three from the right wing, the only field goal in the overtime period, with 54 seconds left to tie the score at 75. Holy Cross guard Evan Conti, who finished with 18 points, 12 boards and 6 assists, missed on his go-to spin move to basket on the ensuing play, which then forced teammate Mairega Clarke to foul the little-used Jackson.

Jackson entered the game for the first time with 1:25 to play after Larry Graves fouled out.

"I was just waiting for Coach to call my ticket, and I was waiting to punch it in," Jackson said.

TURNING POINT: It came right at the start of the second half when Antiqua called for his team to turn up the intensity on defense. The Ravens started picking up defenders at half court and with flashes of full-court pressure. The defensive scheme didn't force many turnovers but it forced the Knights into uncomfortable shots.

Holy Cross shot 68 percent from the field in the first half, led by Marcus Hopper's 16 first half points. Hopper and the Knights both cooled off in the second half. Foul trouble also hampered Hopper in the second half and he finished with 18 points. Holy Cross coach Paul Gilvary said the pressure didn't bother his team. The Knights just didn't make plays when they needed it.

"The last two minutes of regulation and the last minute of overtime, we just made too many mistakes," Gilvary said. "More mental mistakes than physical. It wasn't like we were making mistakes all game. Just that couple minute stretch.

STAR OF THE GAME: Dingle missed his first six shots of the game when the Knights looked to be on the verge of a blowout. But Dingle's size and quickness created matchup problems for the Knights all game, especially when Hopper fouled out with 22 seconds left and Dingle sank those two free throws to send the game into OT.

Dingle missed a wide-open three at the buzzer that could have saved the Ravens the extra period, but he made the difference in the OT anyway. He scored the only field goal of the extra stanza, a three-pointer from the right elbow that made it 75-all and scored all 7 of St. Raymond's 9 overtime points.

"The scouting report says I can't shoot I guess," he said. "I thought they would come out and guard me but they left me shoot."

BIGGEST SURPRISE: Dingle made a point after the game to apologize for comments he made after last Friday's loss to Rice where he said gave the impression that he blamed his guards for losing the game. He certainly needed them Tuesday. In the first half, Graves almost single-handedly kept the Ravens in the game and when he fouled out it allowed Jackson a chance to be a hero.

QUOTE OF THE DAY: "Somebody asked me to give them a list of the top players that I thought would be in the running for Player of the Year and (Dingle) was the first name I mentioned. If you give a guy like that a chance to beat you, he's gonna beat you."--Gilvary

UP NEXT: St. Ray's takes its two-game winning steak back home to face All Hallows Friday. Holy Cross will look to rebound at home against Xaverian, which upset No. 2 Christ the King Tuesday night.
January, 18, 2011
1/18/11
12:59
PM ET
GAME OF THE WEEK

WHO: NO. 7 ST. RAYMOND VS. NO. 6 HOLY CROSS

WHEN: Tuesday, 7:30 p.m.

WHERE: Holy Cross

WHY THIS GAME IS IMPORTANT: This week's Game of the Week features another battle between two Top 10 teams looking to rise up the standings in the CHSAA. This game will also be a rematch from a St. Raymond 69-62 victory from an early season tournament.

Holy Cross has been one of the better teams in the CHSAA AA divisions, beating quality contenders like Molloy and Xaverian, as well as other teams like Cardinal Hayes, Bayside and Curtis. Holy Cross is coming off a win against Molloy.

St. Raymond has been up and down this season and snapped its two-game losing streak with a home win against St. Peter's last time out. St. Raymond has picked up some nice wins on the road this season, defeating Thomas Jefferson and Archbishop Stepinac. Another win against Holy Cross would only help.

KEY PLAYERS:
Holy Cross senior guard Evan Conti
Holy Cross senior guard Marquise Moore
Holy Cross senior center Marcus Hooper
St. Raymond junior guard Nkereuwem Okoro
St. Raymond junior forward Daniel Dingle St. Raymond junior guard Larry Graves

Coaches:
Holy Cross: Paul Gilvary
St. Raymond: Oliver Antigua

HOW THEY GOT HERE (LEAGUE GAMES ONLY)

Holy Cross (10-5, 2-2 CHSAA AA)
Dec. 3: 81-56 win at Cardinal Hayes
Dec. 7: 58-55 win vs. Holy Trinity
Dec. 10: 69-62 win vs. Chantille (VA)
Dec. 11: 55-41 loss vs. Gonzaga
Dec. 12: 69-52 loss vs. St. Raymond
Dec. 15: 82-75 win vs. St. Anthony
Dec. 20: 69-45 win vs. Bayside

Dec. 23: 52-51 win vs. Curits
Dec. 28: 63-54 loss vs. Imhotep Charter School (PA)
Dec. 29: 50-45 win vs. New Rochelle
Dec. 30: 70-51 win vs. Mesa (AZ)
Jan. 7: 67-51 loss vs. St. Francis Prep
Jan 9: 71-60 win at Xaverian
Jan. 11: 70-63 loss at Christ the King
Jan. 14: 77-67 win vs. Molloy

St. Raymond (8-7, 2-1)
Dec. 4: 73-68 loss vs. Long Island Lutheran
Dec. 10: 63-54 win vs. Good Councel (MD)
Dec. 11: 69-53 loss vs. Charlotte Christian (NC)
Dec. 12: 69-62 win vs. Holy Cross
Dec. 13: 63-55 win at Stepinac
Dec. 17: 67-62 loss vs. St. Benedict
Dec. 21: 74-54 win at All Hallows
Dec. 23: 69-63 win at Thomas Jefferson
Dec. 26: 77-56 win vs. Sunset (OR)
Dec. 28: 63-54 loss vs. Lincoln (OR)
Dec. 29: 85-2 loss vs. Central Catholic (OR)
Dec. 30: 94-88 win vs. Lake Oswego (OR)
Jan. 10: 81-67 loss vs. New Rochelle
Jan. 14: 75-63 loss vs. Rice
Jan. 10: 56-43 win vs. St. Peter's
January, 9, 2011
1/09/11
8:33
PM ET
By
Christopher Hunt
| ESPNNewYork.com
NEW YORK – When Holy Cross center Marcus Hopper went to bench with 17 seconds left in Sunday's game against Xaverian, it took awhile for him to finally make his way to a seat. Senior guard Evan Conti was the first pat the 6-9 Hopper on the head and tell him how great he played, how he had made the difference in Holy Cross' 71-60 road win against No. 9 Xaverian Sunday.

Hopper said he lost a night of sleep over Friday's demoralizing loss to St. Francis Prep. Xaverian (6-3, 0-2) also dropped a game at the buzzer to Bishop Loughin Friday, and Clippers coach Jack Alesi said both teams were due for a bounce-back game.

Only one of them could get it, though.

HOW THE GAME WAS WON: Most of the credit goes to the Holy Cross defense. An out-sized Marquise Moore drew the assignment of neutralizing Xaverian's Manny Thomas while Will Davis was responsible for quarantining standout guard Brian Bernardi. Moore and Davis held Thomas and Bernardi to a combined nine points.

"They took the other team's best players out of the game," Hopper said. "Without them we wouldn't have won."

Holy Cross (9-4, 1-1) clamped down especially at the start of the fourth quarter when Xaverian scored only its second field goal of the quarter with 2:48 left to play and most of the Clippers' starters already on the bench. Holy Cross KO'd the Clippers with a 16-3 run to start the fourth quarter.

TURNING POINT: Moore was regulated to the bench after picking up his third foul guarding Xaverian's Thomas with 4:41 left in the first half. But when Moore returned in the third quarter and Hopper found his offense, the Knights became increasingly harder to contain.

Trialing by one point, Hopper scored on back-to-back layups with 5:30 left in the third as part of an 11-2 run capped by 15-foot jumper by Moore. The stretch gave Holy Cross a 41-34 lead and it never trailed again.

STAR OF THE GAME: Hopper has both the size and touch around the basketball – highlighted by a smooth left-handed hook shot – that should make him the big man in city. But the consistent aggression in the paint hasn't always been there.

That was not the case in the second half Sunday, where the senior scored 14 of his team-high 18 points and finished with 16 rebounds and two blocks.

"Today Marcus was a Division I player," Holy cross coach Paul Gilvary said. "Part of (the inconsistency) is our fault. We have to get him the ball."

And once the Knights began to feed the paint, Hopper started to feast on both ends of the court.

"It gives me a lot of confidence," Hopper said. "I just want to get rebounds first and play defense. But when I'm getting the ball it just gives me even more confidence that I can help the team."

BIGGEST SURPRISE: After giving up a 15-point first quarter lead to Bishop Loughlin on Friday, it was shocking that the Clippers didn't come out the gate with more urgency. They gave up eight straight points to start the game then allowed Holy Cross to score the first five points of the second half.

"In my mind we spotted them 13 points," Alesi said. "The same thing happened on Friday. I'm not a rocket scientist but there's a problem there."

QUOTE OF THE DAY: "The problem begins with defense, ends with defense and will continue to be defense," Alesi said. "Right now we can't guard a CYO team."

UP NEXT: Holy Cross travels to Middle Village to take on No. 1 Christ the King. Xaverian will face St. Francis Prep on the road Friday.