New York High School:

Sean Combs
February, 1, 2012
2/01/12
8:18
PM ET
Justin Combs is officially Hollywood bound.

The Iona Prep cornerback signed and faxed his National Letter of Intent to UCLA on Wednesday at a ceremony at the school. Friends and family, including his father, rap mogul Sean "Diddy" Combs, were in attendance as Combs finalized his decision.

"It was like a dream come true, I can't even believe it, I am really signed to a major school that is going in the right direction," Combs said. "I'm really a Bruin."

Combs committed to the school just days after it had fired its previous coach, Rick Neuheisel. The school eventually hired Jim Mora, who Combs said was his favorite coach from his days coaching Michael Vick with the Falcons. He called it surreal to talk with him face-to-face.

"He's been recruiting very hard and our recruiting class is very good," said Combs, the No. 7 recruit in New York according to ESPNU.

Combs is one of two major gets from the Tri-State Area for UCLA, as the school will also get New Jersey's top recruit, quarterback Devin Fuller from Old Tappan. Combs said that the two are friends and he talked to him right after he committed, welcoming him to the UCLA family and saying "let's take this thing all the way."

"It's exciting," Combs said. "It's real. Everything else is just verbal, nothing is real until you sign that paper and you put your name on the X. I'm ready and I'm excited."

THE LINCOLN SIX: The reigning PSAL champions had six players sign and fax their letters, the most in the history of the program, according to head coach Shawn O' Connor.

Linebacker/receiver Tarik Pusey (Rhode Island), lineman Robert Kitching (UMass), running back Kareem Fokes (CW Post), running back Denzel Duchenne (Virginia Union), lineman Keyon Barnwell (CW Post) and lineman Armani Gordon (Southern Connecticut) made up the historic group.

"It was exciting to see all of my teammates signing and our teammates were there supporting us," Pusey said. "It was the result of hard work in the ofsseason that all of us put in and we bought into the Lincoln system and we did what our coaches said."

THE ARMY'S KING: Flushing running back Andrew King signed and faxed his letter to Army as his school celebrated with a small ceremony with former players, family, teachers, the school's principal and his coaches in attendance.

"It was one of my greatest life experiences. I got through it and got over it and now I can train my body and mind on what college has prepared for me," King said. "It was a relief because I have it over with and don't have to stress anymore if I'm going to college or how I'm going to have to pay for it, and all of that."

CORNELIUS TO SYRACUSE: Tottenville wide receiver Alvin Cornelius III did not know that Wayne Morgan was headed to Syracuse when he signed and faxed his letter to the Orange this morning. Later on, he found out the good news that he would joined at Syracuse by Erasmus Hall's star cornerback.

"He's another kid from New York City and me and him have talked and know each other well and are going to go out there and handle business," Cornelius said.

STEPINAC TRIO: Stepinac had three of its players sign and fax their letters on Wednesday as tight end Austin Taps signed with UPenn, kicker Prezemyslaw Popek signed with Stony brook and offensive lineman Jesse Gwin signed on with CW Post. Fullback Caleb Gilligan-Evans, who is committed to Yale, did not sign on Wednesday.

"It was a great feeling great to wrap it up and finish up the process, I know my coaches and my family are proud. I wouldn't be in the position I am without them," Taps said. "It was cool signing with my teammates. I'm real proud of those guys and they worked hard and it was great to see them signing with schools."

POLY PREP HAS THREE: Poly Prep had three players sign on Wednesday. Wide receiver Malik Rodriguez signed with Ohio, quarterback Kevin Gebon is headed to Bryant and cornerback Dylin Lewis signed with CW Post.

"It was somewhat saddening because it's the finalization of my high school career and the dudes I was signing with are my friends and it was like leaving my colleagues behind since they're no longer my teammates," Gebon said. "They're not going to be teammates anymore but we'll still be in contact."

MOUNT'S ACQUAH TO HC: Mount St. Michael fullback Kenny Acquah signed and faxed his letter to Holy Cross. His older brother, Gary Acquah, is a sophomore for the Crusaders and Kenny said he is going to be a middle linebacker there.

"It was definitely very exciting to be signing with a Division I college," Acquah said. "I always wanted to do that since I was a little kid and to put the pen to paper was extremely exciting."

LIDDY TO THE HOYAS: Kellenberg offensive lineman Kevin Liddy signed and faxed his letter to Georgetown on Wednesday.

"It's a great school and it's a good football school," Liddy said. "I'm very excited to go down there. I've been there a couple of times and it's a great place to go."

ADEGUNLE TO NEW HAVEN: Beach Channel/Channel View wide receiver Henry Adegunle almost didn't get to sign because of a clerical error, but the paperwork came in time and he signed and faxed his letter to New Haven.

"It's excitement and relief," Adegunle said. "At first I thought I wasn't going to get signed and then when I went there I was interested in them."

BINCKES TO CW POST: Xaverian tight end Sean Binckes signed and faxed his letter to CW Post on Wednesday.

"It was awesome. it was a great day to commit to a school and know where I am going," Binckes said. "It was a pretty long process. There were so many people to talk to. At the end you get the offers. It was a long process but it taught me a lot. ... I'm pumped, I can't wait to go there and play, I've been out of it for too long."

IVY BOUND: St. Anthony's offensive lineman Pat McHugh and defensive lineman JD Hurt are both headed to the Ivy League as McHugh signed with Yale and Hurt signed with Columbia.

PAIR OF TIGERS: Fort Hamilton had a pair of recruits sign as defensive end Toba Akinleye signed with Columbia and lineman Mensur Ibric is headed to Sacred Heart.
November, 29, 2011
11/29/11
1:12
PM ET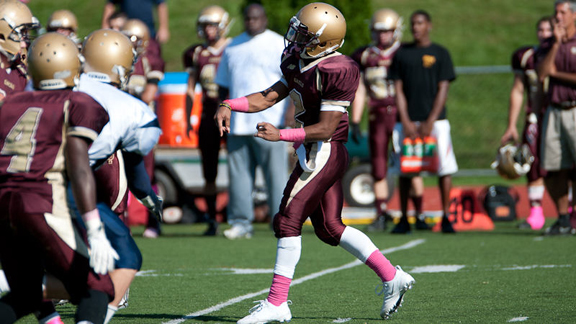 Jeff Skopin/ESPNNewYorkRecruited as a cornerback, Combs also filled in at quarterback for Iona Prep, completing 46 of 74 passes for 614 yards this season.
Justin Combs
doesn't know who will be coaching him next season at UCLA.
Yet, that didn't prevent the Iona Prep senior cornerback from verbally committing to the Bruins on Tuesday, making good on a private commitment he had made more than a month ago.
"I was committed before and I just thought I'm still going to go with them because I have faith in the program," Combs said. "I have faith that everything is going to work out."
Combs, the son of rap mogul
Sean "Diddy" Combs
, chose the Bruins over Virginia, Iowa and Illinois despite UCLA firing head football coach
Rick Neuheisel
on Monday. Combs is a three-star recruit and the No. 8 prospect in New York for the Class of 2012, according to ESPNU. He will play in the Semper Fidelis All-American Bowl in January.
"It was like love at first sight when I visited there," Combs said. "I loved the whole tradition of UCLA and the school and the academics and just everything about it."
Not wanting to announce his commitment to the Bruins during the middle of his team's season, Combs kept his commitment private except to the members of the Bruins' coaching staff and some family members. He added that he also wanted to make the decision with his family.
On Monday, the school canned Neuheisel, who was in his fourth year at the school, and named offensive coordinator
Mike Johnson
the interim coach if the Bruins reach a bowl game. Combs called it "shocking," but reiterated that he has faith in the program. He finally let the news out on Tuesday, wanting it to be a surprise. Combs plans to study business and finance.
"It was kind of a relief and excitement at the same time," Combs said. "Now I can just relax and be excited and celebrate. I have to work 10 times harder for the next level. It's just an accomplishment and I have to keep on building. It's a big time in my life."
Combs said his father's advice was to go wherever he felt was the right place for him to go. He added that he has family in California.
"As a parent, today is one of the proudest moments of my life," Sean Combs said in a statement released by DKC Public Relations. "This is everything a father could want for his son, for him to excel at what he loves to do and is truly passionate about. Justin is a shining example of what hard work, determination and a strong mentality can achieve. I am honored to call him my son and am happy that he is fulfilling his dream."
The 5-9, 175-pound senior will be playing cornerback for UCLA, his primary position at Iona Prep. He had one interception for the Gaels this year but also played quarterback at times. He completed 46 of 74 passes on the year for 614 yards with four touchdowns and four interceptions, according to Maxpreps.com. Iona Prep went 6-4 this year.
He said that playing quarterback has helped him as a defensive back because he has learned tendencies and signals that quarterbacks use. He is able to think about what he would do in the situation and how he would attack a defense or which side of the field he would throw to.
Combs hopes to let his play do all the talking for him at UCLA -- no matter who the coach is.
"I'm going to let me actions speak for themselves," Combs said about what type of play he will bring to UCLA. "I'm just a hard worker who is dedicated."
Click here for a photo gallery of Justin Combs and the Iona Prep Gaels when they played Xaverian early in the season.
November, 12, 2011
11/12/11
11:20
PM ET
By
Rob Abruzzese
| ESPNNewYork.com
This was supposed to be the year that St. Anthony's fell. The Friars once again entered the playoffs undefeated this season, but with so many of their victories being close games it seemed like they were finally ready to fall.

It turns out they just like winning close games.

"It's much better than blowing any teams out," St. Anthony's quarterback Greg Galligan of his preference to play in close games. "I love it, it's the greatest feeling ever."

The St. Anthony's Friars (9-0) beat the Iona Prep Gaels (6-4) in the semifinals of the Catholic High School Football League "AAA" division finals in yet another close game, 14-10, at home Saturday night.

HOW IT HAPPENED: Neither sides generated much offense in the first half of the game. It wasn't until the second half when Friar's quarterback Galligan settled down that anyone started getting any offense at all.

"He tried to do too much in the beginning," St. Anthony's coach Rich Reichert said of Galligan. "It's his third start, I think you have to be patient, but it's hard to be patient in playoff football."

Iona Prep actually struck first, picking up a field goal early in the second half, but with Galligan looking looser and more self assured it didn't take long for St. Anthony's to answer back. Galligan threw a 32-yard pass to running back Maston Ellerbe to set up a one-yard touchdown run by Ellerbe that put the Friars up 7-3.

About midway through the fourth quarter Anthony Anderson added a touchdown that made it 14-3, but the Gaels wouldn't go down quietly. They quickly scored their first touchdown about a minute later on a three-yard run from Shaquille Townsend that made it 14-10. Unfortunately for the Gaels, that was the last of their offense.

TURNING POINT: Iona Prep certainly had an opportunity to add more points. After the Gaels scored their first touchdown they got St. Anthony's to go three-and-out. With just about two minutes to go in the game, Justin Combs finally had the offense moving and it looked like they would have a good chance to take the lead.

The Gaels had the ball, momentum, and a first down at the St. Anthony's 40-yard-line. However a screen pass from Combs to Austin Jones lead to a fumble that was recovered by Pat McHugh at 33-yard-line and the Gael's offense was stalled.

PLAYER OF THE GAME: The Friars offense really wasn't impressive Saturday night, but luckily they have a very strong defense to back them up. It wasn't even one single player that stood out either, it was an entire team effort.

McHugh's fumble recovery was the single biggest play of the game, but sacks by Bryan Rhodes and Harry Passante were also impressive.

"They were unbelievable," Galligan said of his defense. "Every week they come up with big plays. They really are unbelievable. They are the best defense in the league, the best in the state."

BIAGGI HOBBLED: Iona Prep's Mario Biaggi sprained his ankle last week against Chaminade. He didn't start this game, but he came in briefly in the second quarter. That didn't last long though as he clearly was having trouble getting around and came out after just one drive.

STAR WATER BOY: The Gaels had a rather famous water boy. Combs' father, rap mogul Sean "Diddy" Combs served as the teams water boy during the game. He was often giving his son encouragement and did a very good job helping out the team during breaks. After the game he even lined up with the team to shake the hands of the St. Anthony's players.

"I didn't even know he was at the game," McHugh said. "I only found out when he shook my hand after the game. I didn't expect that, I think I did a triple-take."

UP NEXT: The Gael's season is over, but St. Anthony's heads to the finals next week to take on the surprising Stepinac Crusaders.
October, 5, 2011
10/05/11
12:09
PM ET
By
Rob Abruzzese
| ESPNNewYork.com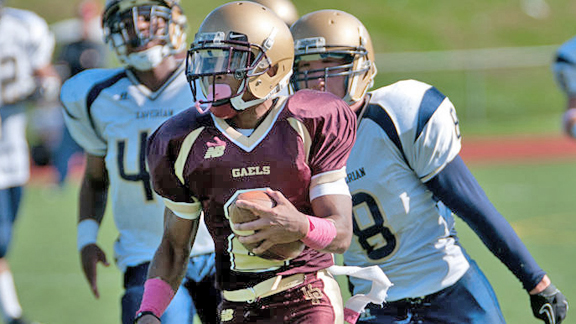 Jeff Skopin/ESPNNewYork.com
Iona Prep senior Justin Combs threw for 223 yards with a TD, and rushed for 45 yards with a TD at home on Sunday against Xaverian.
As the son of Sean "Diddy" Combs it would seem natural for
Justin Combs
to gravitate toward a music career, but the 17-year-old Iona Prep senior wants none of that.
Instead he is interested in another of his father's passions -- football.
"He was very serious about football in high school," Combs said of his father, who played football at Mount St. Michael. "He got injured though in his senior year so he couldn't really pursue it. That was always his dream though, to play football, but it never happened."
The younger Combs, a senior cornerback at Iona Prep high school, has done a good job for himself on the field too. He has gotten scholarship offers from Division I schools and this Thursday it will be announced that he will be part of the Semper Fidelis All-American team.
"He is a very athletic defensive back," said Iona Prep assistant coach
Darlos James
. "He's smooth, has very quick feet, and his acceleration is among the best in the state."
However, because of who his dad is he has to deal with constant criticism.
"I definitely think there are a couple of guys who played before him and wore his uniform that didn't get his type of hype that are probably pretty upset about that," said Xaverian head coach
Joe DeSiena
. "For him to get more publicity than those guys, I don't think is fair."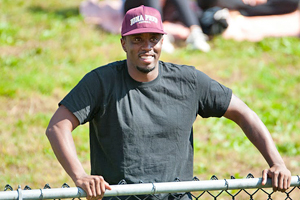 Jeff Skopin/ESPNNewYork.com
Hip-hop mogul Sean "Diddy" Combs cheers for his son Justin from the stands.
He certainly gets his fair share of hype. After Iona Prep lost to Xaverian last Sunday a group of reporters lined up to speak with Combs before any one of them had even tried to interview anybody from that day's winning team.
His coaches, teammates, and those who know him best tell a different story though. One about a kid who ignores all the hype and has to constantly work hard to keep making a name for himself.
"He could be like every other rich kid, but you have to give him credit, he works hard," James said. "His work ethic is tremendous, he is not a great football player because of his dad, it's because of all the work he puts into his game.
"He just wants to be known as Justin Combs, he doesn't want to be called Little Diddy."
Combs hears the criticism, but he brushes it off and says that it's best not to respond to. Instead he puts in maximum effort on the football field in hopes that his game will do the talking for him.
"This offseason I was everywhere," Combs said of his quest to prove himself. "I was going from camp to camp all summer long. I was just going trying to earn everybody's respect."
Combs' teammate and friend since the age of six,
Shaquille Townsend
, said that in all the time he's know Justin it can sometimes be easy to forget that he has a famous father. Other times though it is hard to forget, but that it is a great motivator.
"His dad even motivates me a lot," Townsend explained. "He's just accomplished so many things and works so hard that it kind of rubs off. Justin has got it made, he doesn't even have to work hard, but he chooses to and I think he gets a lot of that from his dad."
There may never be a time when people stop whispering his father's name behind his back, but Combs works hard and doesn't ask for any special treatment because that may be the only way he'll ever quiet his critics.
"Obvious because of who he is, he's had certain opportunities available to him," said Iona Prep head coach
Vic Quirolo
. "But I think that's what makes Justin so unique, he just works hard and blends in."