New York High School:

Vic Quirolo
March, 12, 2012
3/12/12
4:12
PM ET
For the second time in four years, Iona Prep is headed to the State Federation tournament after winning the CHSAA Class A State title on Saturday with a 64-51 win over St. John the Baptist at Fordham. The Gaels improved to 25-3 on the year.

"I think these guys had to play together and it wasn't just one guy, we had different people step up to lead the team," coach Vic Quirolo said. "The team stuck together and played together and we knew if we did that, good things would happen."

Iona took on a dangerous St. John the Baptist team that had emerged from its league tournament, despite being the last seed, and made it all the way to the State title game. The Gaels got an early lead on St. John the Baptist and were able to boost it up to 20 points in the fourth quarter and win the title. Tim McCarty led Iona with 17 points.

"This is a great group, they are just very steady," Quirolo said. "They work hard and they really get along and play together, it's been a real good thing."

Iona has been able to make its run without one dominating player. It's been a different player every game, whether it's Isiah Ice in the earlier rounds of the City tournament, Brandon Williams in the City title game, or McCarthy against St. John the Baptist.

Quirolo said he thought his team had a shot to win the City title but hadn't really thought about the State. He had all his focus on guiding his team his team to the City crown before he could concentrate on the State tournament. The last time Iona made the State Federation tournament, it lost to Jamesville-Dewitt in the first round.

"We're excited to be there," Quirolo said. 'We'll give it our best shot."
March, 2, 2012
3/02/12
10:46
PM ET
The CHSAA crowned its Class A and Class B champions on Friday night as Iona Prep defeated St. Edmund Prep in the Class A title game and Nazareth defeated St. Agnes in the Class B title game. Here's the highlights from the night's action.

No. 1 Nazareth 70, No. 2 St. Agnes 47: If this is the last season for Nazareth, the boys basketball team is going out with a bang. The top-seeded Kingsmen won their first title since 1989 as they dominated second-seeded St. Agnes, 70-47, on Friday night. The Brooklyn school is scheduled to close its doors at the end of the year amid declining enrollment and financial struggles.

"It was added motivation having our school closing down," senior forward Mike Megaafu said. "Us having this championship, it's great for the school. We need something to rely on. God forbid we close down, we're closing down with a bang. We're going out with something people will remember us by."

While Nazareth coach Todd Jamison believes Nazareth will stay open, the school is currently headed to join the list of New York City Catholic schools to recently close. Each game the Kingsment have played since the Class B tournament began could have been the last in program history.

"Hopefully this won't be our last (season), I don't think it will be, but absolutely, definitely this one is special for us," Jamison said.

Nazareth (20-6) got out of the gate hot and took a 21-5 lead after the first quarter and boosted the lead to 41-17 at half. St. Agnes (13-9) simply could not keep up with Nazareth, which applied pressure defense and seemingly could not miss. Nazareth won its first title since winning back-to-back Class A titles in 1988-89.

Sophomore Samson Usilo led the way with 29 points while Shajea Stevenson added 15. Usilo had 14 of his points in the first quarter, which included a pair of 3-point shots and an alley-oop to start the game.

"He's been waiting for this game the last couple of days, the way's he been practicing," Jamison said. "When I see him come in the locker room and I see he's singing some religious hymns, I'm like 'oh boy, these guys are in trouble.'"

Nazareth faces St. Mary's (Lancaster) for the CHSAA Class B State Championship next weekend.

Iona Prep 70, St. Edmund Prep 54: Iona Prep junior guard Brandon Williams let his teammates know that he was ready to take over the third quarter of the CHSAA Class A final on Friday night against St. Edmund Prep.

"He came to the bench and was like this is my quarter boys, get me the ball," teammate Felix Abongo said. "We found him and he was knocking down shots."

Living up to his word, Williams scored 10 points in the third quarter to keep St. Edmund at bay as he propelled Iona Prep to a 70-54 win over St. Edmund Prep in the final. Williams finished with a team-high 18 points as Iona Prep won its second title in four seasons.

"It was just great," Williams said of his third quarter. "We were in foul trouble almost the entire game. We were in a one-on-one situation the whole game. It was great, I just kept attacking, that was what I had to do to win the game."

Iona Prep (24-3) led 32-18 at the half but in the third quarter, St. Edmund cut the lead to 10 points. Williams, though, was there to save the day. With his team leading 38-26, he scored 10 of his team's final 12 points in the quarter to give his team a 50-36 lead heading into the final quarter. St. Edmund fell to 20-7.

Williams has battled sprained both ankles and missed time with injuries this season, and was also in and out of the starting lineup. In his team's biggest game to date, he came up clutch and led the Gaels to their fourth CHSAA Class A title.

"I think when he gets in the flow, he gets dangerous," Iona Prep coach Vic Quirolo said. "Sometimes he doesn't always get in that flow but today he got in that stride and kept going."

Iona Prep will meet the winner of the St. John the Baptist vs. Canisius game in the CHSAA Class A State title game.
February, 25, 2012
2/25/12
10:00
PM ET
While the main attraction on Saturday was the Class AA Archdiocesan title game, the quarterfinals for the Class A were held. Here's the roundup from the four games.

MOORE CATHOLIC 55, BISHOP FORD 52 (OT): Moore Catholic junior guard Mark Fiorello had missed shot after shot on Saturday, but with his team trailing in overtime and him positioned beyond the arc, he had no doubt he would come through.

"That was the one shot that I took and I knew was going in because I didn't even think about it," Fiorello said of his 3-pointer that gave Moore Catholic the lead for good against Bishop Ford on Saturday.

Firoello's three started a string of six straight points from him as he helped Moore Catholic rally to stun Bishop Ford, 55-52, in overtime on Saturday at Mount St. Michael. The Mavericks (20-5) trailed 40-30 entering the fourth quarter but rallied to tie it at 45-45 entering overtime.

In the extra period, Fiorello, who scored 11 points, scored six straight points for his team to give it a 53-49 lead and the Mavericks held on to advance to the semifinals to face Iona Prep.

"If that didn't go in, I never would have heard the end of it, never, oh my God," Fiorello said of his big 3-point shot.

IONA PREP 66, LASALLE 45: Last season, Iona Prep entered the Class A semifinals as the underdog of the final four. This year, after defeating Lasalle 66-45 in the quarters on Saturday, the Gaels (22-3) enter as perhaps the favorite among the four remaining teams.

"Last year we were underdogs and we had to overachieve just to get to where we are right now," Iona coach Vic Quirolo said. "This year, expectations were we have an opportunity to maybe get far into the playoffs."

Iona Prep had beaten Lasalle (9-13) twice in close games earlier this season but led by double digits for mostly the entire game as it rolled to a victory. Isiah Ice led Iona with 18 points. The Gaels will now get a rematch in the semifinals with Moore Catholic, who bested them earlier this year.

"We had a close game with them and it's great to get a second shot at a team that beat you in a close game," Quirolo said.

ST. EDMUND PREP 67, ST. JOSEPH BY-THE-SEA 48: In this same gym in the quarterfinals last season, St. Edmund walked off the court with its season over after a loss to Iona Prep. On Saturday, the Eagles made sure their season would go on at least one more game as it throttled St. Joseph by-the-Sea, 67-48. St. Edmund advances to face Xavier in the semifinals.

"We knew that was on the same court, same place, just a different team and we had to bring it all today," said senior guard Matt O'Neill, who led all scorers with 19 points.

St. Edmund (19-6) led 12-11 after one but blew the game open in the second quarter to take a 32-14 lead and never looked back. St. Edmund's players talked about winning this game in memory of Jose Rodriguez, who died during basketball tryouts this season.

"It means a lot (to get to the semifinals)," O'Neill said. "We're doing it for Jose. We're doing it for our fans back home and it shows our school can get respect and we have to keep going."

XAVIER 53, SPELLMAN 43: Xavier defeated Spellman in the nightcap at Mount St. Michael. Xavier (14-9) beat Spellman (10-13) for the third time this season and swept the season series between the two schools. Xavier is now headed to the semifinals where it will meet St. Edmund Prep. Xavier won the meeting between the two schools, 55-45, earlier this season.

Xavier led by 10 at the half and Spellman cut it to five but Xavier was able to hold on. Matt Crockett led it with 18 points while Brendan Ferguson had 13.

"This is another step toward playing for a City championship," Xavier coach Joe McGrane said. "We came into the season hoping to play for a City Championship and this is a good step forward."
November, 10, 2011
11/10/11
11:51
AM ET
Forget flying under the radar. Early on this season, Iona Prep junior running back Shaquille Townsend was struggling to be recognized as a blip on the team's radar. Fumbling issues, a lack of production and a hard time taking in Iona's complex offense contributed to the problems.

"It wasn't really like he was flying under the radar, he was below the radar," Iona Prep coach Vic Quirolo said with a smile.

What a difference a few weeks made. Flash forward to Sunday and there's Townsend rushing for 242 yards to help his team to a 24-20 in the CHSFL playoffs. Suddenly, Townsend has gone from below the radar to a stalwart in Iona's offense.

As Iona Prep heads into Saturday's CHSFL semifinal matchup and ESPNNewYork.com's Game of the Week against top-seeded and undefeated St. Anthony's at 8 p.m., it will be critical for Townsend to keep us his high level of play.

Townsend has rushed for 454 yards over his team's last three games, averaging 6.7 yards per carry, and he will have to keep up his hot play against St. Anthony's as quarterback Mario Biaggi III is suffering from a right ankle sprain.

"It's been great knowing my team is behind me," Townsend said. "The offensive line has been stepping up and we're working hard in practice to keep doing what we have to do be doing to keep winning."

Quirolo acknowledges that Iona Prep's up-tempo spread offense can be tough to pick up at first for running backs. The responsibilities change from play to play, from where the back is supposed to line up to the different terminology. Players have to be instinctual on the field, instead of thinking about every little detail of the offense.

Townsend admits that learning the team's playbook was hard, ranging from learning different pass protections and where to correctly line up on different plays. It took time, including the use of review sheets and practicing at home, as well as some calls to last seasons' starting back Sidney Weston, but eventually Townsend settled into the offense.

"After a while I started doing it over and over and it started becoming second nature," Townsend said.

It all seemed to come together starting on Oct. 22 against Stepinac. Townsend had one of his strongest games of the season, rushing for 132 yards in a road win. He followed that up with an 80-yard performance against St. Anthony's before leading into last week's heroics.

With Biaggi knocked out of game with a sprained right ankle, the Gaels turned to Townsend, who had an illness on that day. They kept handing him the ball, one handoff after another. He ultimately carried the ball a season-high 29 times and responded with the best game of his career as he tallied 242 times and hauled in a touchdown pass to help his team escape with a win.

"It's great. I've played with him my whole life and it's great to see him peak and play to his potential," teammate Justin Combs said of Townsend's emergence. "Sunday he was sick so he really couldn't play to his full potential and that show how dynamic he is that he can do that when he's sick. Imagine what he can do when he's not sick and he's healthy?"

As the four seed in the playoffs, Iona Prep faces an uphill challenge against St. Anthony's Sunday and it will need Townsend to perform like he has the past few weeks. Quirolo went as far to say that Townsend is going to need his "A-game" for the team to be successful. The junior is ready.

"I think this is probably the biggest game of the year for me," Townsend said. "Just trying to get to the championship and knocking them out."
November, 6, 2011
11/06/11
5:31
PM ET
By
Rob Abruzzese
| ESPNNewYork.com
Iona Prep's Shaquille Townsend said he didn't feel well when he woke up this morning, but he knew he had a big game today so he pulled himself together, ate a light breakfast and headed to the field. By the second half of them game he was taking regular breaks on the sidelines and was even seen throwing up a couple of times.

However, when he was on the field, it was impossible to tell he was anything but 100 percent as he rushed for 243 yards and a touchdown, leading No. 4 Iona Prep to a 24-20 victory over No. 5 Chaminade to advance to the semifinals of the Catholic High School Football League AAA playoffs.

"The whole game my stomach was hurting, but I couldn't let my team down," said Townsend. "I had to stay in, keep fighting and keep playing. The first half I was ok, but after I started going a lot it started coming up and I had to throw up on the sidelines."

WHAT IT MEANS: The Iona Prep Gaels (7-3) got their sweet revenge over the Chaminade Flyers (5-4), a team that beat them 24-21 with a last second field goal during the regular season. Next week, they now face St. Anthony's, another team that beat them earlier this season.

"It's the revenge tour," said Iona Prep's Justin Combs. "We are coming for anybody in our way. We've worked too hard to achieve our goals. We are bringing it."

HOW IT HAPPENED: It was a close game through most of the first half, but about midway through the second half the Gael's offense started to pick up.

Townsend rushed for 102 yards in the first half, accounting for most of the ball movement. He set up a 15-yard touchdown pass from Combs that put them up 7-0. After Chaminade fumbled the ball on the ensuing kick-off, the Gaels made it 10-0 on a 24-yard field goal.

The Flyers added an 83-yard touchdown from Joseph Anile to Thomas Zenker fora last-second touchdown to end the first half, but Combs and Townsend were back at it in the second half. On their first possession Combs ran for a four-yard touchdown that put them up 17-7.

Chaminade's Matt Graham then had an impressive drive, capped off by a 53-yard touchdown run to keep his team in the game at 17-14. However, once again it was the Combs/Townsend combo going to work as Combs finished a drive with a three-yard run to go up 24-14.

TURNING POINT OF THE GAME: It was a close back and forth defensive game early on, but in the middle of the second quarter Iona Prep's quarterback Mario Biaggi went down with a right ankle sprain and the Gaels managed to turn that into a positive.

"Me and Shaq can be dangerous when we are back there," Combs explained. "It gives us an option where I can run the ball or he can run the ball. It makes it hard for teams to know what we are going to do and we took advantage of that."

Combs took over the ball at the 15-yard line of a scoreless game. His first snap was a 15-yard touchdown pass to Townsend that made it 7-0.

PLAYER OF THE GAME: With Biaggi out of the game somebody needed to step up and that person was Townsend. He carried the ball 28 times for 243 yards. His 103 first-half yards were impressive, but not as impressive as his 140 second-half yards while he was getting sick on the sidelines. He only had one touchdown, but he was key in setting up both of Combs' scores.

"The kid is throwing up, he was dizzy, he was coming out of the game, but he held it together and played a great game," Gael's head coach Vic Quirolo said of Townsend. "Our seniors, our captains, those guys don't want to go home. They kept fighting and it was great to see."

BIAGGI QUESTIONABLE: Biaggi's ankle sprain was serious enough to keep him out of the second half of the game, but Quirolo thinks he should be able to go next week. They will have to wait until tomorrow though before making a final determination.

"We'll see," Quirolo said. "Sometimes those ankles, the next day it's not as good as you thought and sometimes it's fine."

UP NEXT: Chaminade's has a bowl game against an uknown opponent but No. 4 Iona Prep will face No. 1 and defending champion St. Anthony's next weekend in the CHSFL's "AAA" semifinals.
October, 22, 2011
10/22/11
10:24
PM ET
Listen to the Iona Prep football teams players and coaches and it's clear that their team goes as far as junior Mario Biaggi III takes them.

"Once he's clicking, our team is unstoppable," junior running back Shaquille Townsend said. "When he's on point, we unstoppable. We have to keep him in that mindset and things will go well."

Saturday night against Archbishop Stepinac, Biaggi certainly had it going on offense and it made the difference as he led his team to an impressive 30-17 road win against Stepinac in front of a packed crowd in White Plains, N.Y.

Biaggi scored three touchdowns to lead No. 8 Iona (5-2) to a win in the first game played on No. 5 Stepinac's (5-2) new turf field.

HOW THE GAME WAS WON: The first play set the tone for Iona. The Gaels ran a double-reverse pass that ended with Justin Combs finding Omari Buster for an 80-yard touchdown pass that gave the Gaels a 6-0 lead.

"It was a great call by the coaches, this game was hyped and everything and we wanted to start off big and that's what we did," Biaggi said.

From there, the dynamic running attack of Biaggi and Townsend and a strong defensive effort led the way. Biaggi said the team saw an opening in Stepinac's defense that would allow them to run the ball so they went to work with a majority of running plays, rarely throwing the ball.

While Townsend had a team-high 124 rushing yards on 24 carries, Biaggi was the one who found the endzone as he scored three times. His four-yard score in the second gave Iona a 16-3 lead, he boosted it to 23-3 on a 30-yard run late in the third and he sealed the game with a one-yard score that made it 30-10 with 4:39 remaining.

On defense, Iona Prep picked off Stepinac quarterbacks Daniel Hoffer and Mark White a combined three times, with senior Daniel Fisher recording all three interceptions.

"We got them at the beginning and that was really important," Biaggi said. "Our defense was amazing and able to step up in big situations."

TURNING POINT: The first play of the game gave Iona all the momentum. It marked the first time this season Iona ran a pass play off a double reverse and it worked beautifully as Buster got behind the defense and hauled in the catch for the score.

Iona Prep coach Vic Quirolo said the play was called to get the kids loose and try to prevent them from being stiff early on and said it was critical that the Gaels jumped on Stepinac early.

"First play, got that touchdown, it shocked me," Townsend said. "We made it happen. I knew they were down from that, that hurt them and we just capitalized off that play and kept it going."

PLAYER OF THE GAME: Biaggi was the one who scored three times for Iona and he played a great game. He didn't throw very often but found the holes in the defense to get considerable yardage and found ways to get in the endzone. He also had no turnovers have being intercepted four times in a loss to Chaminade last week. He rushed 18 times for 84 yards.

"The quarterback position, what we do, is critical," Quirolo said. "When he's in rhythm, we are a lot better."

UP NEXT: Playoff seeds will be decided next week in the final week of the regular season. Iona Prep heads to St. Anthony's Saturday at 7 p.m. while Stepinac hosts Fordham Prep Friday at 7 p.m.
October, 6, 2011
10/06/11
4:09
PM ET
By
Rob Abruzzese
| ESPNNewYork.com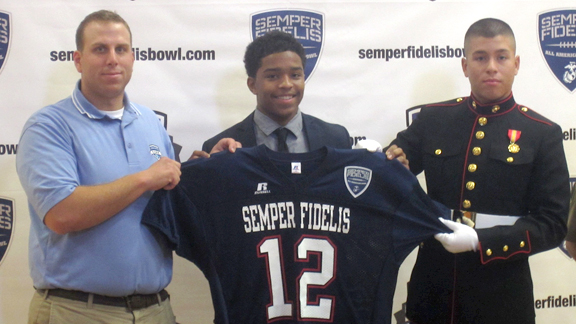 Rob Abruzzese / ESPNNewYork.com
Iona Prep senior Justin Combs is a quarterback, kick returner and cornerback, and has received scholarship offers from Division I schools like Virginia and UCLA.
When
Justin Combs
first came to Iona Prep, it was his goal to play football and eventually move on to a Division I college.
His coach
Vic Quirolo
recognized that while Combs, the son of hip-hop mogul Sean "Diddy" Combs, was a gifted athlete and very dedicated, he was still raw and wasn't quite sure his young quarterback/cornerback had what it takes to get that far.
"I thought that it wasn't until last year in the middle of the season he really came into his own," Quirolo said. "That was his breakout point. But you could always tell he was an athlete even as a freshman."
Combs still hasn't settled on a college, but he should have no problem finding one now that he has been selected to play in the Semper Fidelis All-American Bowl at Chase Field in Phoenix, Ariz. on Jan. 3, 2012. A ceremony was held at Iona Prep on Thursday to announce the news.
"It's just a dream come true," Combs said. "I dreamed about this when I was younger and now I don't even know what to say about it. I'm just living my dream. All my hard work has paid off."
Combs and his coaches all talked about his dedication to the game as one of the biggest reasons for his success.
"I remember one time Justin told me that he flew out to Texas, for a whole week, just for speed training," Quirolo said. "He is extremely dedicated, it's great to see."
Combs trains the hardest during the summer.
"I sacrificed my whole summer just to get better," Combs said. "I worked with professionals to improve my game. If you want something so badly you will do anything for it and I want this more than anything."
Overall, just 100 kids are selected nationally to play in the All-American Bowl with Combs joining just one other player from New York, Erasmus Hall's
Wayne Morgan
, to be selected to play in the nationally televised game so far.
A spokesman from the event said that they look for three things from the student athletes that they pick for the event: character, discipline, and academic excellence. The spokesman said Combs was selected because he exemplified all three.
October, 5, 2011
10/05/11
12:09
PM ET
By
Rob Abruzzese
| ESPNNewYork.com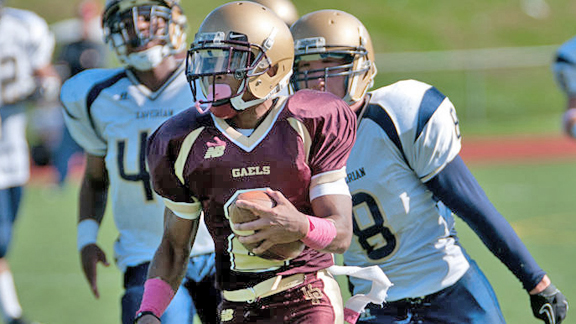 Jeff Skopin/ESPNNewYork.com
Iona Prep senior Justin Combs threw for 223 yards with a TD, and rushed for 45 yards with a TD at home on Sunday against Xaverian.
As the son of Sean "Diddy" Combs it would seem natural for
Justin Combs
to gravitate toward a music career, but the 17-year-old Iona Prep senior wants none of that.
Instead he is interested in another of his father's passions -- football.
"He was very serious about football in high school," Combs said of his father, who played football at Mount St. Michael. "He got injured though in his senior year so he couldn't really pursue it. That was always his dream though, to play football, but it never happened."
The younger Combs, a senior cornerback at Iona Prep high school, has done a good job for himself on the field too. He has gotten scholarship offers from Division I schools and this Thursday it will be announced that he will be part of the Semper Fidelis All-American team.
"He is a very athletic defensive back," said Iona Prep assistant coach
Darlos James
. "He's smooth, has very quick feet, and his acceleration is among the best in the state."
However, because of who his dad is he has to deal with constant criticism.
"I definitely think there are a couple of guys who played before him and wore his uniform that didn't get his type of hype that are probably pretty upset about that," said Xaverian head coach
Joe DeSiena
. "For him to get more publicity than those guys, I don't think is fair."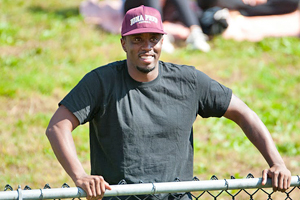 Jeff Skopin/ESPNNewYork.com
Hip-hop mogul Sean "Diddy" Combs cheers for his son Justin from the stands.
He certainly gets his fair share of hype. After Iona Prep lost to Xaverian last Sunday a group of reporters lined up to speak with Combs before any one of them had even tried to interview anybody from that day's winning team.
His coaches, teammates, and those who know him best tell a different story though. One about a kid who ignores all the hype and has to constantly work hard to keep making a name for himself.
"He could be like every other rich kid, but you have to give him credit, he works hard," James said. "His work ethic is tremendous, he is not a great football player because of his dad, it's because of all the work he puts into his game.
"He just wants to be known as Justin Combs, he doesn't want to be called Little Diddy."
Combs hears the criticism, but he brushes it off and says that it's best not to respond to. Instead he puts in maximum effort on the football field in hopes that his game will do the talking for him.
"This offseason I was everywhere," Combs said of his quest to prove himself. "I was going from camp to camp all summer long. I was just going trying to earn everybody's respect."
Combs' teammate and friend since the age of six,
Shaquille Townsend
, said that in all the time he's know Justin it can sometimes be easy to forget that he has a famous father. Other times though it is hard to forget, but that it is a great motivator.
"His dad even motivates me a lot," Townsend explained. "He's just accomplished so many things and works so hard that it kind of rubs off. Justin has got it made, he doesn't even have to work hard, but he chooses to and I think he gets a lot of that from his dad."
There may never be a time when people stop whispering his father's name behind his back, but Combs works hard and doesn't ask for any special treatment because that may be the only way he'll ever quiet his critics.
"Obvious because of who he is, he's had certain opportunities available to him," said Iona Prep head coach
Vic Quirolo
. "But I think that's what makes Justin so unique, he just works hard and blends in."
November, 17, 2010
11/17/10
2:23
PM ET
NO. 1 ST. ANTHONY'S VS. NO. 2 IONA PREP

WHERE: Mitchell Stadium

WHEN: Saturday, 4 p.m.

WHY THIS GAME IS IMPORTANT: It's the matchup everyone has been waiting for. The two best teams in the AAA-AA Division meet in the AAA finals. The two teams met in the last week of the season with St. Anthony's clinching an undefeated regular season with a 28-20 road victory. The squads also met in the 2008 CHSFL AAA final, a 48-35 victory for Iona Prep.

St. Anthony's is one win away from an undefeated season. The Friars finished 8-0 in league play during the regular season and have cruised in the playoffs against St. Joseph by-the-Sea and previously undefeated Fordham Prep. St. Anthony's is making its 12th straight appearance in the AAA finals, and will look to win its second straight tile. It has won eight of the past nine championship games.

Iona Prep returns to the title game two years after winning it all in 2008. The Gaels lost in their season opener to Stepinac and season finale to St. Anthony's, but cruised against Holy Cross and Holy Trinity in its first two playoff games. While they played St. Anthony's tough in their regular season matchup, Iona's offense struggled in the second half against the Friars.

STARS:
St. Anthony's Senior QB Charlie Raffa: 31-of-46 for 451 yards, 3 TD;
St. Anthony's Junior RB Dariyan Riley : 64 rushes for 434 yards, 6 TD
St. Anthony's Senior WR Brian Kensil: 20 catches for 403 yards, 3 TD
Iona Prep Senior QB Tim Perley: 150-of-212 for 1446 yards, 9 TD
Iona Prep Senior RB Sidney Weston: 151 rushes for 1069 yards, 20 TD
Iona Prep Senior WR Jack Stillwagon: 32 catches for 407 yards 3 TD

COACHES:
St. Anthony's: Rich Reichert
Iona Prep: Vic Quirolo

HOW THEY GOT HERE:
ST. ANTHONY'S (10-0)
WEEK 1: 28-17 win at State College (PA)
WEEK 2: 28-14 win vs. Holy Cross
WEEK 3: 49-13 win at Farrell
WEEK 4: 43-21 win vs. Xaverian
WEEK 5: 56-14 win vs. St. Joseph by-the-Sea
WEEK 6: 28-0 win at Chaminade
WEEK 7: 38-13 win at Holy Trinity
WEEK 8: 28-20 win at Iona Prep
QUARTERFINAL: 42-8 win vs. No. 8 St. Joseph-by-the-Sea
SEMIFINAL: 39-14 win vs. No. 4 Fordham Prep

IONA PREP (8-2)
WEEK 1: 23-6 loss to Stepinac
WEEK 2: 31-21 win vs. Holy Trinity
WEEK 3: 52-6 win at St. Francis Prep
WEEK 4: 38-13 win at Holy Cross
WEEK 5: 33-8 win at Kellenberg
WEEK 6: 38-8 win vs. St. Joseph by-the-Sea
WEEK 7: 49-13 win vs. Xaverian
WEEK 8: 28-20 loss to St. Anthony's
QUARTERFINALS: 33-14 win vs. No. 7 Holy Cross
SEMIFINALS: 45-17 win vs. No. 3 Holy Trinity

Ehalt's prediction: St. Anthony's has been the best team in the league from the start and will outlast the Gaels. The Friars will finish 11-0 and win their second straight title in a close game.
October, 16, 2010
10/16/10
8:18
PM ET
NEW ROCHELLE, N.Y. – There was one objective for the Iona Prep High School football team heading into its game against St. Joseph-by-the-Sea Saturday afternoon.

"You're going to go into the game and you're not going to stop them, at least we're not going to stop them if we don't (put more men in the box)," Gaels head coach Vic Quirolo said. " That was our whole gameplan, stop the run, and it ended up pretty good."

Outside of allowing a 79-yard touchdown run on the game's second play, Iona Prep's defense shut down St. Joseph by-the-Sea's potent rushing attack in Iona Prep's 38-8 victory Saturday in New Rochelle.

The Gaels' No. 1-ranked rushing defense in the Catholic High School Football League stymied the Vikings' No. 1-ranked rushing attack, allowing 174 yards on the ground. That total isn't an indicator of how well Iona Prep's defense played, as 103 of those yards came on the touchdown run and the final play of the game.

"They're the No. 1 rushing offense in the Catholic League, we're the No. 1 rush defense in the Catholic League, so we knew it was going to be a battle coming in," senior defensive back John Castellano said. "We just knew we had to stop the run and after that the rest of it took care of itself."

Coming into the game, Iona Prep (5-1) had allowed just 194 rushing yards on 127 carries. According to statistics provided on the league's website, the Vikings had rushed for 1,339 yards total in four of their contests (one game was not accounted for).

Quirolo knew that his team would not be able to completely stop St. Joseph by-the-Sea (3-3) on the ground, and the second play of the game reaffirmed that notion. On an off-tackle run to the right side, Vikings' running back John Diaz rushed 79 yards for a touchdown and the two-point conversion was successful to give the visiting team an 8-0 lead just 28 seconds into the game.

"One of our linebackers didn't do his responsibilities and then the corner didn't do a great job," Quirolo said. "We said let's do it the right way, the way we've been practicing it, and we'll be OK."

After that touchdown, Iona Prep's defense shut down the Vikings. No matter which direction the Vikings tried running, or with which runner (the Vikings alternated rushes between Diaz and Justin Mangiacasale), there will no holes for the Vikings backs to zip through. Without the threat of a pass, the Gaels committed more men in toward the line of scrimmage to stop the run.

St. Joseph by-the-Sea Defensive backs coach Sal Ferraioli, speaking for head coach Greg Manos, noted how Iona Prep's players swarmed to the football and the defensive backs played a huge role in stopping the run. He called the Gaels a hard-hitting team and said they were being more forceful on the field today.

Besides stopping the run, Iona Prep's defense also made a play that put the game out of reach. Leading 17-8 with under a minute remaining in the first half, Castellano intercepted a pass from Vikings' QB Michael Scacco at his own 30-yard line and returned it 70 yards for a touchdown to give Iona Prep a 24-8 lead with 36 seconds left in the half. An exhausted Castellano received encouragement and slaps to the helmets he returned to the sideline.

"After I gave up that first big pass a couple drives before that, I knew I couldn't dwell on it," Castellano said. "I just had to keep my composure and I knew they were going to look to pick on me again after I gave up a big pass, so I was just ready for it."

Offensively for the Gaels, running back Sidney Weston rushed for two touchdowns, while quarterback Tim Perley threw two touchdown passes.

On this day, though, it wasn't about Iona Prep's offense. This game was decided when St. Joseph by-the-Sea had the ball. Iona Prep's defense had to show why it was ranked No. 1 on the league.

After 60 minutes of football, the Gaels lived up to their ranking.

"I think this is one of the better efforts we've had," Quirolo said. "We've been pretty good all year against the run, so we were hoping we'd be able to handle that."