May, 15, 2013
5/15/13
2:28
PM ET
The Rangers' first-round series against Washington is done, but it didn't stop John Tortorella from taking one last parting shot at the Capitals.

Tortorella started by praising his team's mindset in winning a tough seven-game series but then veered off to take a dig at the the Capitals, some of whom vented frustration about the officiating after being eliminated.

"We got everybody and their brother whining out there in Washington about what happened in that series," Tortorella said. "I think that's a big reason they lose that series."

"I think our mindset has been very good as far as not letting anything bother us, just getting ready to play each day. Play a game, practice the next day, just go about our business."

Tortorella's response came after Capitals star forward Alex Ovechkin raised some eyebrows after Washington's 5-0 loss in Game 7, telling a Russian reporter that he thought the league wanted to see the series go the distance.

"I am not saying there was a phone call from [the league], but someone just wanted Game 7. For the ratings," Ovechkin told Slava Malamud of Sport-Express (in a Russian-language interview). "You know, the lockout, the escrow, the league needs to make profit ... I don't know whether the refs were predisposed against us or the league. But to not give obvious penalties (on the Rangers), while for us, any little thing was immediately penalized."

The comments were made in reference to Game 6 in which the Rangers received five power-plays and the Capitals received none.

Capitals GM George McPhee expressed his displeasure with the officiating as well.

"I don't think there's a league conspiracy but it sure didn't feel right. Alex wasn't wrong," McPhee told reporters on Wednesday when asked about Ovechkin's accusation. "I talked to them during the series but at some point you stop. They'll referee the way they want to referee."

Tortorella has been disciplined by the league multiple times for criticizing officiating, most notably during the 2011 Winter Classic. Following the Rangers' 3-2 victory over the Flyers, he called the officiating "disgusting" and insinuated that the league wanted the game to go to overtime. Tortorella was fined $30,000 for those comments.


May, 9, 2013
5/09/13
12:29
AM ET
All of a sudden, it seems this series has taken a turn.
It didn't happen right away for the Rangers, who were outplayed in the first two games of their first-round matchup against the Capitals. But, since falling behind 2-0 after a disheartening trip to D.C., the Rangers have steadily regained traction in this best-of-seven set.
With a 4-3 win over the Caps at Madison Square Garden on Wednesday, the Rangers evened the series, 2-2, and tilted momentum in their favor heading into Game 5.
[+] Enlarge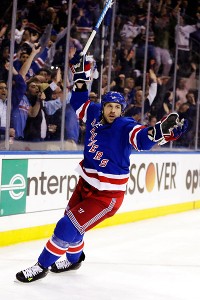 AP Photo/Kathy WillensThe Rangers beat the Caps to tie the series at two games apiece.
"So far, we're just taking care of business at home. That's what we need to do." said
Henrik Lundqvist
, who finished with 27 saves. "Coming back home, being down two games, we had a lot of pressure, but we stepped up there. So far we just tied the series. We still need to do whatever we can to get the next one."
Carl Hagelin
led the team with a goal and two assists,
Derick Brassard
chipped in with another masterful multi-point performance, and the Rangers held
Alex Ovechkin
off the score sheet for the second straight game.
It was the best complete effort this series for the Rangers, who asserted themselves on the forecheck, defended well in their own zone, and didn't surrender the special-teams battle.
"They were working harder. They were coming harder," Caps defenseman
Karl Alzner
said. "They made some adjustments so we'll have to adjust now."
With the Capitals trailing the Rangers by two goals in the third period, Alzner's shot that deflected off
Mathieu Perreault
at 7:31 pulled the Capitals within one, 4-3, but the Rangers refused to let another two-goal lead dissolve.
After building a 2-0 advantage earlier in the game on goals from Hagelin and
Brad Richards
, the Rangers let the Capitals climb right back into it during the middle frame. In fact, it was Washington that sapped the life out of Madison Square Garden with
Troy Brouwer
's backhander that beat Lundqvist and knotted the score at 2 with 17.1 seconds to play.
Caps veteran
Jason Chimera
essentially nullified that surge, however, with an interference penalty as the second period expired, giving the Rangers a power play to start the third.
Brassard made a deft backhanded dish to find defenseman
Dan Girardi
all alone at the left point for a slap shot that beat
Braden Holtby
59 seconds in and re-ignited a restless home crowd.
Brassard made a brilliant cross-ice feed to set up Hagelin's goal earlier in the game.
"It's incredible," defenseman
Ryan McDonagh
said of Brassard's game. "His playmaking ability is so crucial."
After an underwhelming start to the series, Brassard has been impressive in the past two games, during which he has registered one goal and five points.
"The first two games, I was a little bit nervous, but when I'm in my game, I make plays," said Brassard, who was awarded the team's MVP Broadway Hat. "I just wanna take that game [into] Washington."
The No. 6 seed Rangers now face a best-of-three against the No. 3 seed Capitals, who have home-ice advantage with both Games 5 and 7 (if necessary) at the Verizon Center.
After giving up the first pair of games in hostile territory, the Rangers know they are in line for a tough test.
"I think our resiliency has really shown in these last two games and we're going to need that when we go to Washington, because they'll surge there," coach John Tortorella said. "We've just got to find a way to keep our head above water and try to win a game."
Wednesday's win wasn't without its bumps, but the Rangers managed the swings and surges better than they have all series. To best the offensively loaded Capitals, especially on the road, the Rangers need to stick to that blueprint.
"We felt our first two games weren't consistent enough," McDonagh said. "If there's something we can take out of our success these past two games, it's more of the same."
The Capitals will be ready.
"It's a three-game series now," said Holtby, who finished the night with 30 saves. "We still have home-ice advantage, Like I said before, we knew it was going to be a tough series. We learned last year that this team that we are playing doesn't give up and we don't either. Coming in, we didn't care how many games it took to win as long as we won four out of seven."
January, 16, 2013
1/16/13
7:51
PM ET
New Rangers winger
Rick Nash
was a guest on "The Michael Kay Show" on ESPN New York 98.7 FM on Wednesday, three days before he is scheduled to make his debut in the team's regular-season opener against the Bruins.
Here are a few highlights:
• Nash said he is "very excited" to be a Ranger:
"This is what I dreamed of. This is what I think NHL hockey is -- playing in an Original Six market, playing in a sold-out building every night. Growing up in Toronto, this is what hockey feels like."
• Nash also talked about last season, and the many trade rumors that involving him:
"It was a tough year for me. It did seem like every single morning, like you said, there was a different rumor about where I was gonna go, or what I was gonna do. ... At the end of the day, it didn't work out at the (trade) deadline, everything happens for a reason, and I'm glad it worked out this way. I get to start fresh with a new team and a city that I'm happy to be in, and everything so far, I've loved what I've seen."
• Many people think Nash is the final piece to the puzzle, making the Rangers a championship team. Nash was asked if he feels pressure to deliver:
"There's pressure, for sure. I've felt pressure through my whole career, being a high draft pick, playing in a city (Columbus) where they depend on making the playoffs to sell tickets, and they depend on winning to pay their players and for their owner to make money. So I've had pressure at different levels -- and playing in the Olympics a few times, and World Championships for Canada where all they expect is gold pretty much. So I'm gonna embrace it, I'm gonna enjoy it. I understand how passionate Rangers fans are and how much hockey means to this city."
May, 27, 2012
5/27/12
6:19
PM ET