New York Hockey:

Boston Bruins
May, 25, 2013
5/25/13
10:19
PM ET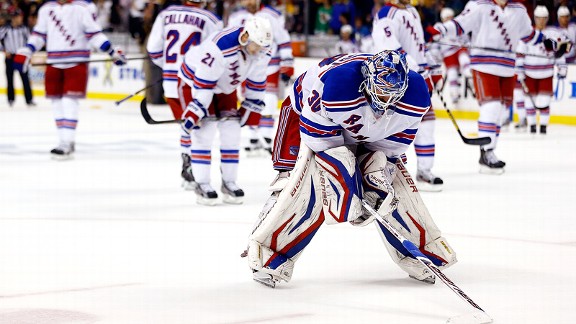 Jared Wickerham/Getty ImagesSaid Henrik Lundqvist after Saturday's Game 5 loss: "The hardest feeling is just realizing it's over."
BOSTON -- In between long, labored pauses and a few disheartened sighs, Rangers goaltender
Henrik Lundqvist
kept coming back to the same refrain in searching for answers after the team's season-ending loss to Boston in Game 5 on Saturday.
This year had a "different feel," he kept repeating.
And it did.
The Rangers' last game of the season --
a 3-1 loss to the Bruins
-- was indicative of the team's arc throughout the year: high hopes that ultimately fell painfully short.
"I expected more from us and I hoped for more," said Lundqvist, who finished Game 5 with 29 saves.
Coming off a trip to the Eastern Conference finals last season, the Rangers were a popular preseason pick for Stanley Cup projections: a strong core group of players now equipped with playoff experience, a reigning Vezina Trophy Winner in goal and a premier player added in star winger
Rick Nash
.
On paper, the team looked fearsome. In reality, they just weren't.
Struggling to even make the cut of the top eight teams in the East, the Rangers' shortcomings were conspicuous against a deep, balanced, physical and experienced Bruins team -- one that remained largely intact from their Stanley Cup Championship run two years ago.
[+] Enlarge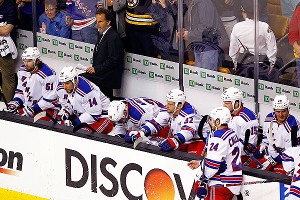 Alex Trautwig/Getty ImagesThe Rangers' hard-nosed, blue-collar, lunch-pail mentality was conspicuously absent at times.
"They deserved to win this series," Rangers coach John Tortorella said. "They were the better team."
Depth was the biggest reason, as the Bruins fed off rookie sensation
Torey Krug
and a productive fourth line Saturday night.
With the Bruins trailing 1-0 in the second period, Krug notched his fourth goal in five games -- a power-play goal at 3:48. Not bad for a 22-year-old defenseman who made his NHL playoff debut in Game 1 of the series.
Gritty fourth-liner
Gregory Campbell
tallied twice, chipping in both the go-ahead goal in the third and an empty-netter with less than a minute to play. The son of former Rangers coach Colin Campbell, along with linemates
Shawn Thornton
and
Daniel Paille
, were difference-makers all series.
"They had a lot of guys contribute throughout the series," said defenseman
Ryan McDonagh
. "Obviously tonight, their fourth line gets a goal. They were dangerous the whole series."
By comparison, the Rangers' injury-addled back end, without defensemen
Marc Staal
all five games and
Anton Stralman
the last two, struggled to contain a well-balanced Bruins attack that seemed, at times, unrelenting.
The Rangers didn't seem to find the requisite intensity or will until the last game and a half, either. They failed to sustain a forecheck. They spent too much time in their own end. And they relied upon Lundqvist with far too much frequency.
For a team that's hard-nosed, blue-collar, lunch-pail mentality was uncompromising in 2011-12, it lacked that straightforward ethos in a lockout-shortened season that saw a significant changeover in personnel.
"I think, this season, we struggled to get our personality, to get our identity," Tortorella said.
Part of the reason for that was the grind of the shortened season, part was the absence of Tortorella's notoriously rigorous training camp -- crucial in cultivating that mindset -- and part was the middle-of-the-lineup guys who departed for different locales last summer.
Regardless, this was a different team and not even nearly as dominant. The Rangers always seemed just a bit behind where they should've been, a bit short of where expectations had them pegged.
"I think everybody expected big things," McDonagh said. "It's tough to play from behind in a lot of series. We were able to show a lot of character and will in the first one [vs. Washington], not that we didn't show it in this one, it just builds on you and it adds on you and the odds are against you. We were trying to compete all the way to the end."
Much like both of the Rangers' first two series, which left them trailing 2-0 after the opening pair of games, the Rangers had to fight to climb the standings. Last season, they pretty much cruised their way to the top of the East, with a conference-best 109 points in the regular season.
"Well, halfway through the season we were in a totally different position compared to last year. That's why it's a different feeling," Lundqvist said. "This game is about winning, and when you're winning, you have one feeling, and when you're losing, you have another feeling."
Perhaps that is the most heartbreaking realization for Lundqvist, who sat in his stall for several minutes after the game, hands on his sweat-drenched cap, trying to absorb the shock of defeat.
The Rangers had a narrow window last year, a really good chance at making a run for the Cup, and it didn't happen. A veteran like Lundqvist knows that opportunity doesn't come often.
"Some years you don't really have a chance to go that far in the playoffs, you just battle hard," he said. "I think this year we had a pretty good team, but, um, I just think there was a few games where we didn't reach our top level. When you play a team like Boston, it's going to be tough to beat them."
The Rangers managed to take one game -- largely because of a lucky tumble taken by
Tuukka Rask
that led to a New York goal -- to salvage some pride and avoid a spirit-sapping sweep.
But the Rangers were never going to get past this Bruins squad.
Boston was the better team. And the Rangers weren't good enough.
"They deserved to win," Lundqvist said. "No question."
May, 24, 2013
5/24/13
12:01
AM ET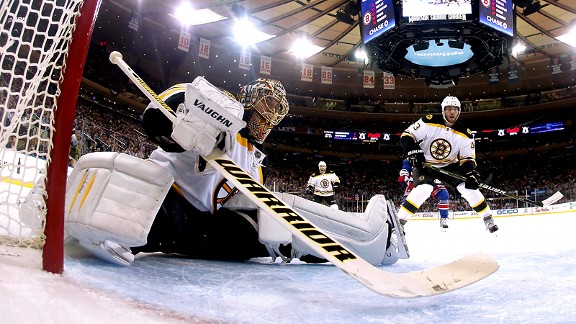 Bruce Bennett/Getty ImagesTuukka Rask tuukka tumble on Carl Hagelin's second-period score.
It was a fluke, something that happens maybe once or twice a year in practice, but one unlucky tumble was all it took for the Rangers to climb back into Game 4 and, ultimately, avoid elimination by the Bruins.
With
Carl Hagelin
speeding up the ice and battling defenseman
Johnny Boychuk
in a race to the net, Bruins goaltender
Tuukka Rask
took one little ill-fated step and went tumbling onto his seat in the crease. He watched helplessly as Hagelin's deflected shot fluttered across the goal line at 8:39 of the second period.
It was a turning point in the game, and the Rangers never looked back.
The Rangers rallied from an early 2-0 deficit to edge the Bruins
4-3 in overtime
at Madison Sqaure Garden on Thursday, sending the series to Boston for Game 5 on Saturday. The Rangers still trail the Bruins in the series 3-1.
The Rangers showed resolve, moxie and determination in avoiding a series sweep from Boston, and it was a single stroke of luck that gave the team the jolt they needed. Rask said his skate got caught in a rut and he lost his balance. "The rest," he said, "is history."
[+] Enlarge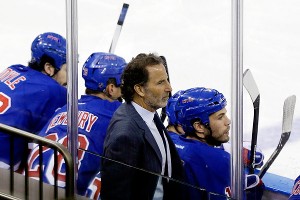 AP Photo/Frank Franklin II"We're still breathing," Rangers coach John Tortorella said after Game 4.
"We gained a lot of energy and confidence after that," said goaltender
Henrik Lundqvist
, who finished the night with 37 saves. "And the game changed. It really did."
Lundqvist called Hagelin's marker "probably the ugliest goal I've ever seen," but no one was complaining.
"That was a funny goal, but a goal's a goal," said center
Derick Brassard
, who made the saucer pass to set up the play.
It would be a lie to say the Rangers trailed 3-0 heading into Game 3 because of a few bounces the other way. In fact, they have been outplayed by a deeper, more balanced Bruins squad that asserted itself in the first three games.
But the Rangers will take what they can get at this time of year and they can salvage some pride in knowing they will not see their postseason hopes snuffed out without a fight.
"We're still breathing," coach John Tortorella said.
The Rangers looked inspired after cutting a 2-0 Bruins lead in half on Hagelin's marker. With a re-energized home crowd buzzing at MSG, the Rangers dominated the next few shifts, but failed to knot the score before the second period ended.
They managed to do so early in the third, however, when
Derek Stepan
picked Zdeno Chara's pocket behind the net to catch an unsuspecting Rask for a game-tying wraparound goal, 1:15 into play.
"I think Carl's goal gave us life," Stepan said. "I think from there something we really focused on was just winning one game. Then we are down by a goal going into the third, and the talk is just to relax and play. We've kind of got nothing to lose, and found a way to win a period."
That sense of desperation was apparent before the puck even dropped, as Tortorella made the bold decision to scratch veteran center and alternate captain
Brad Richards
.
It was a difficult choice for the fiery coach, who has a long history with the former Conn Smythe Trophy winner with whom he won a Stanley Cup championship in Tampa in 2004. After the game he passionately defended both the player and the decision.
"He's a hell of a hockey player who's having a hell of a time," he said.
Instead of using the struggling 33-year-old Richards, Tortorella deployed both
Kris Newbury
and
Micheal Haley
for a new-look fourth line that also included
Derek Dorsett
.
Even without one of their most well-respected leaders, the Rangers battled back to erase another third-period deficit, as
Brian Boyle
notched the equalizer midway though the frame. It was the Rangers' first power-play goal in 23 attempts.
The Rangers then picked up their first overtime victory of the postseason when
Rick Nash
connected with a streaking
Chris Kreider
for the game-winner 7:03 into overtime.
It was the fifth time in franchise history that the Rangers won a postseason game in overtime when facing elimination and the first time since beating the Devils in Game 7 of the 1994 Eastern Conference Finals on
Stephane Matteau
's iconic wraparound goal.
The Devils exacted some payback last season, ousting the Rangers from the playoffs in the conference finals on
Adam Henrique
's overtime game-winner. The Rangers refused to go out that way Thursday night.
"I didn't think about last season at all," said Lundqvist, who entered Game 4 with a playoff overtime record of 3-11. "I did think that it is time for us to win an overtime game. This was a big one. It was do or die."
May, 22, 2013
5/22/13
4:30
PM ET
GREENBURGH, N.Y. -- The
New York Rangers
face a daunting 3-0 series hole with the knowledge that never in franchise history has the team overcome such a deficit.
Heading into Game 4 against the
Boston Bruins
on Thursday, the Rangers are trying to avoid the statistics and the past, instead narrowing their focus on the most immediate need.
[+] Enlarge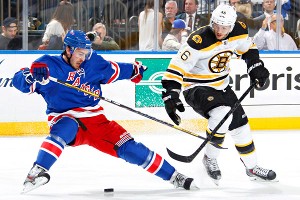 Scott Levy/Getty ImagesRyan McDonagh says the Rangers need to focus on Game 4, not winning four in a row.
"Obviously, it is a tall task, but you can't look at the big picture," defenseman
Ryan McDonagh
said Wednesday. "You take it day by day here, trying to get yourself better, as close to 100 percent as you can going into the game, and you've gotta use the home crowd again tomorrow and try to thrive off that."
The Rangers had won nine straight at Madison Square Garden before letting a third-period lead against Boston disappear in Tuesday's 2-1 loss.
With the Bruins eager to erase the past -- a blown 3-0 series lead to Philadelphia in the 2010 playoffs plus a shaky first-round series this year against Toronto in which they allowed the Leafs to force a Game 7 -- they'll be looking to channel the confidence gained from their past four wins to complete the sweep.
The Rangers have not been swept since 2006, when the
New Jersey Devils
beat them in four consecutive games.
Unfortunately for the Rangers, they will likely try to avoid elimination without the help of top-four defenseman
Anton Stralman
, who was forced from Game 3 with a suspected shoulder injury after absorbing a thunderous hit from Boston's
Milan Lucic
in the second period.
Rangers coach John Tortorella, both after the game Tuesday and the team's practice Wednesday, seemed to be prepared for Stralman's absence from the lineup.
"Losing Stralsy is a big blow," Tortorella said Wednesday. "To a defense that is lacking a little depth right now, it hurts us. But, again, it just comes down to, listen, we're down 0-3, there's no sense in feeling pressure."
Stralman has quietly been a strong and steady presence on the team's back end, which is already ailing without cornerstone defenseman
Marc Staal
. Stralman has provided the Rangers mobility and toughness and will be missed against a deep, balanced Bruins squad.
"He's been huge in this series," McDonagh said. "He's such a mobile skater, and that's huge as a defenseman. He's able to get a step on a guy, create some space and find a passing lane to get it up to our forwards. He's been exceptional in the playoffs, and we really hope he's back."
Assuming Stralman does not play, it will be either
Matt Gilroy
or veteran
Roman Hamrlik
who joins the lineup.
Though Tortorella will lean heavily on his top pairing of McDonagh and Dan Girardi, Stralman's injury also means that either
Steve Eminger
or
John Moore
will be thrust into a top-four role, playing alongside young defenseman
Michael Del Zotto
.
"Players that get to play tomorrow and play more minutes than maybe they're used to? Grab ahold of it and let it happen," Tortorella advised. "I mean, crap, you lose and you're done."
May, 21, 2013
5/21/13
1:37
PM ET
AT A GLANCE:
After dropping the first two games of an Eastern Conference semifinal series against the Bruins, the Rangers return home to Madison Square Garden looking to hold serve and even the series. Home ice has been good to the Rangers, with the Blueshirts posting a 16-6-2 record at MSG in the regular season and a 3-0 record in the playoffs. That seems to be a playoff trend across the league. According to the NHL, home teams are 40-18 in the 2013 playoffs, including a 10-1 record in the second round.
AGAINST THE ODDS:
History is not on the Rangers' side, however. Yes, they erased a 2-0 series deficit in the first round, defeating the Capitals in seven games. But according to Elias Sports Bureau, no NHL team has overcome a 2-0 series deficit to win consecutive best-of-seven series in one playoff year.
KILLER INSTINCT:
The Bruins held a two-game series lead in the Eastern Conference quarterfinals, too, versus the
Toronto Maple Leafs
. Down 3-1 heading into Game 5, the Leafs rattled off two straight wins to even the series and force a Game 7. The Bruins don't want to make the same mistake twice. "We try to learn from every situation," said Boston's
Brad Marchand
. "We realize we let [Toronto] back in it. We didn't have that killer instinct. We want to make sure to try and step up and do the job."
DEFENDING DAN:
Rangers coach John Tortorella expects top-pair defenseman
Dan Girardi
to bounce back after an abysmal Game 2 in which he was on the ice for all five Bruins goals and finished the 5-2 loss with a minus-4 rating. Tortorella said he expects Girardi's "best game" Tuesday. "I don't have to say a word to Danny Girardi," Tortorella said. "He's one of the best defensemen in the NHL. He had a tough night. He knows it."
RARE COMPLIMENT:
Tortorella, who often refuses to discuss an opposing team or player, deviated from the norm in his pregame press conference Tuesday morning. Tortorella praised the play of Marchand and called him "the best player in the series so far." The Bruins' leading man notched the game winner in Game 1 and Boston's critical fourth goal in Game 2.
BANGED-UP BLUE LINE:
Veteran defensemen
Dennis Seidenberg
and ex-Ranger
Wade Redden
both practiced with the Bruins in the team's morning skate at MSG, though it appears unlikely that either will return to the lineup for Game 3. In the absence of Seidenberg, Redden and alternate captain
Andrew Ference
(who did not skate Tuesday), the Bruins have rounded out their back end with three rookies:
Dougie Hamilton
,
Matt Bartkowski
and
Torey Krug
. The 22-year-old Krug has two goals and three points in his first two NHL playoff games.
May, 19, 2013
5/19/13
1:24
PM ET
AT A GLANCE:
With two days between games to rest and recharge, the Rangers and Bruins meet in Beantown for Game 2 of the Eastern Conference semifinals. Boston dominated New York in overtime Thursday to take a 1-0 series lead and will look to hold serve on home ice during Sunday's matinee at TD Garden. The Rangers aim to even things up with a better effort before the series shifts to New York.
GAME-TIME DECISION:
With the Bruins' blue line already without injured defensemen
Dennis Seidenberg
(lower body) and
Andrew Ference
(lower body), they might return one veteran defenseman to the lineup for Game 2. Former Ranger
Wade Redden
practiced with the team Saturday. Bruins coach Claude Julien did not rule him out, saying he will be a game-time decision.
MAKING SOME CHANGES:
Rangers coach John Tortorella was uncharacteristically cryptic Saturday in reference to changes he wanted to make from Game 1 to Game 2. Tortorella said the "adjustments" were not ones to be made on the ice; he declined to elaborate when pressed further about the nature of those adjustments but said he will answer the question "later in the series."
Mindset? Focus? Intensity level? Preparation? Leadership? Perhaps Tortorella will discuss what he means after Sunday's match.
POWER OUTAGE:
The Rangers' power-play predicament is not subject to speculation or debate. Even Tortorella admitted that Saturday -- "Our power play stinks," he said -- after an 0-for-3 outing on Thursday that left the team 2-for-31 on the man advantage during the playoffs. Tortorella said it is possible that speedy winger
Carl Hagelin
might make an appearance on the unit, though he has struggled when placed there before. "He stinks on the power play," Tortorella said. Notice a trend?
BIG MAN ON THE BACK END:
Even with a banged-up defensive corps, the Bruins boast a dominant force on their back end in captain
Zdeno Chara
. The hulking, 6-foot-9 defenseman is a nightmare to play against, as the Rangers' line of
Mats Zuccarello
,
Derick Brassard
and
Rick Nash
is quickly learning. Nash has yet to tally his first playoff goal as a Ranger, and the three were on the ice for the Bruins' game-winning overtime goal Thursday, a play that resulted from Chara's long reach that tipped Brassard's attempt at a cross-ice feed.
May, 18, 2013
5/18/13
1:53
PM ET
BOSTON -- Ex-Ranger
Wade Redden
said he's not yet ready to return to the Bruins' lineup -- the injured defenseman will be a game-time decision Sunday -- but admitted there will likely be a mix of emotions in facing his former team.
Redden played only two seasons in New York after signing an ill-fated six-year, $39 million contract in 2008, during which he was beaten up by both the fans and the media before he was dispatched to the minors.
[+] Enlarge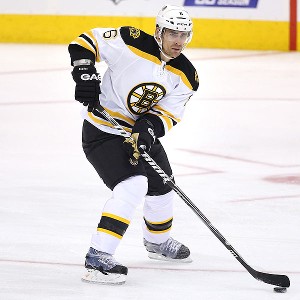 Tom Szczerbowski/USA TODAY SportsWade Redden had a rocky time with the Rangers.
"It does and it doesn't [dredge up emotions]," Redden said after Saturday's practice at TD Garden. "I've dealt with it all year. I've answered questions about it since I've come back. ... It's gonna be nice, hopefully, to get out there and be part of it, but I've kind of turned the page on all that stuff that's gone on."
Redden was buried in the AHL for two years -- serving as a savvy vet and consummate professional on a young minor league team -- before a post-lockout accelerated compliance buyout allowed him to resurrect his NHL career.
The 35-year-old signed a one-year deal with St. Louis to begin the season before he was traded to the Bruins at the deadline in April.
Two teams and three years removed from that painful time period, Redden is ready to close that chapter of his life.
"I've accepted my part of it, for sure," he said. "Things weren't going great in New York. It went the other way. It was a change that was needed, probably for everyone."
Redden's play did not make him a popular guy among the Blueshirt faithful, but the burden of his hefty contract didn't help matters either. It was an ugly combination of circumstances.
"It's unfortunate, obviously, how things went there, but, you know, it didn't work out and you move on," Redden said.
He reflected on his time in the AHL and said he had plenty of positive experiences to draw from that two-year stay. There were periods he battled the doubt that he'd ever play in the NHL again, but ultimately he believed he could get back.
He was right.
Redden has provided some depth and experience to the Bruins' blue line since joining the team late in the season. He had one goal and one assist in the Bruins' first-round series against the Leafs before he was sidelined with an undisclosed injury.
He said he is making progress and eager to get back into action. After all, there were times he wondered if he'd ever have that chance again.
"There are certain days where you have your ups and downs," Redden said. "At the end of the day, I did believe. That's why I did stick with it."
May, 17, 2013
5/17/13
4:45
PM ET
BOSTON -- Thursday night, it was goaltender
Henrik Lundqvist
who tried to rationalize it.
The morning after, it was his coach and teammates that attempted to explain why, in the past few years, the Rangers have struggled in overtime during the Stanley Cup playoffs.
The Rangers are 0-3 in overtime during the 2013 playoffs, including a 3-2 loss in Game 1 against the Bruins in which they were dominated after regulation from puck drop to Brad Marchand's game-winner.
Coach John Tortorella said he doesn't believe the trend has affected the team's psyche. At least not yet.
"I don't think it's playing with their head at all," Tortorella said. "It'd be nice to win one, but no, I don't think it's gotten that far."
The Rangers have dropped all three overtime games this spring -- all but two of 10 over the last three years -- and seem to struggle in extra time versus regulation.
According to the Elias Sports Bureau, no team among the remaining eight has trailed less (8.2%; 41:58 of 513:04 total minutes played) than the Rangers.
But you wouldn't have known it watching Thursday night's game, when they were absolutely worked by the Bruins and surrendered chance after glorious chance.
Sometimes overtime comes down to one big play, one lucky bounce. Not in Game 1.
"I'm not so sure it was a bounce of the puck last night," Tortorella said. "We were dominated in overtime."
Rangers winger
Mats Zuccarello
seemed confident that the loss, in which he was pushed out of the way by Marchand on the rush for the deciding goal, could be easily discarded, as well as any doubts that the team is ill-equipped to deal with the overtime pressure.
"We have a good, confident group here," he said. "All we have to do is be ready for next game, and win."
So what, exactly, is the team's mindset heading into overtime?
"The mindset's to score a goal, try not to make any mistakes and have it end up in your own net," said
Rick Nash
, who has yet to score his first goal of the playoffs as a Ranger. "It's one of those things where you want to get the puck down low, battle down there and create chances."
The Rangers were futile in establishing that in Game 1, with the Bruins the clear aggressors in setting the tone, sustaining momentum and keeping the foot on the gas.
The Bruins have won all three of their overtime contests this playoffs, their most notable being a stunning comeback in Game 7 against the Leafs on Sunday in which they erased a three-goal deficit and pulled off the upset to advance to Round 2.
Bruins coach Claude Julien said he doesn't possess any "miracle words." Instead, he tries to preach a simple message: "play to win."
"We go out there with no fear and we'll live with the consequences," Julien said.
The Rangers are living with the consequences now of Thursday's feeble effort -- a 1-0 hole to start the series.
"I think it's short-term memory for us. It's over and done with," Nash said. "We'll do corrections today and corrections tomorrow and then come back to another game."
* * *
Injured Rangers defenseman
Marc Staal
practiced during the team's optional skate at TD Garden on Thursday, though he is not expected to play in Game 2.
* * *
Julien said it's a "little early" to speculate on the status of Bruins defensemen
Dennis Seidenberg
(lower-body),
Andrew Ference
(lower-body), and
Wade Redden
(undisclosed), but said it remains a "possibility" that one or more of the veteran blue-liners could return for Game 2 on Sunday.
May, 16, 2013
5/16/13
12:57
PM ET
At a glance:
The Rangers and the Bruins square off in Game 1 of the Eastern Conference semifinals Thursday night at TD Garden, the first time in more than three months that the two clubs have met. There won't be many surprises, though, as both teams play a hard-nosed, grinding style of game that is sure to result in a gritty, physical series.
The Bruins have one of the deepest teams in the league, with a dangerous top line of
Milan Lucic
,
David Krejci
and
Nathan Horton
, plus several other forwards who are able to contribute (
Patrice Bergeron
notched both the tying goal and the overtime winner in Game 7 against the Leafs). Meanwhile, the Rangers boast arguably the best goaltender in the league in
Henrik Lundqvist
and a top shutdown pair of
Ryan McDonagh
and
Dan Girardi
. Expect every inch of the ice to be a battle between. This series should be a throwback to black-and-blue, straightforward, old-time hockey.
Close call:
The Bruins got a scare when their main antagonist
Brad Marchand
left the morning skate, wincing in pain, after pulling up awkwardly on a noncontact drill. Claude Julien assured the media that Marchand was fine and would not miss Game 1. "Brad is gonna be OK," Julien said. "You'll see him on the ice tonight." Marchand plays the left wing on a line with Game 7 hero Bergeron and former Ranger
Jaromir Jagr
.
Banged-up back end:
Although Marchand appears to be fine, the Bruins don't have the same luck with their defensive corps. Boston will be missing three of its veterans on the blue line in
Dennis Seidenberg
(lower-body),
Andrew Ference
(lower-body) and former Ranger
Wade Redden
(undisclosed), meaning
Torey Krug
,
Dougie Hamilton
and
Matt Bartkowski
will draw into the lineup.
Riding high:
After a stunning comeback in Game 7 against the Leafs -- the Bruins erased a 4-1 Toronto lead, including two goals scored within the last 1:22 of regulation -- the Bruins are a confident bunch. But although they'd like to take that momentum into Game 1 against the Rangers, they know they have to wipe the slate clean and look ahead, not behind. "It's still there. There's definitely a happiness in here,"
Tyler Seguin
said. "But there's also a focus that comes with that.
Fatigue factor:
Both teams required seven games in their first-round matchups to advance to the Eastern Conference semifinals, and the Bruins have had a particularly grueling last month with postponement and rescheduling at the end of the regular season.
Battle in goal:
The Rangers seem to enjoy the distinct edge in the goaltending department, with reigning Vezina Trophy winner Lundqvist in net. Lundqvist recorded back-to-back shutouts in Games 6 and 7 and surrendered only 12 goals through seven games. Boston's
Tuukka Rask
had a terrific regular season, posting a 19-10-5 record, with a 2.00 goals-against average and a .929 save percentage. He gave up 18 goals to the Leafs in his first playoff series as the Bruins' No. 1 guy.
May, 16, 2013
5/16/13
12:51
PM ET
By
ESPN Stats & Information
Been A Long Time:
The Rangers and Bruins meet in the playoffs for the first time since 1973. From Elias: The 40-year separation between playoff games is the longest gap between postseason games for any pair of teams in NHL history. The previous record was 39 years between the Blackhawks and Flyers (1971-2010), and the Bruins and Maple Leafs (1974-2013).
Eastern Conference Semifinals
Rangers at Bruins, 7:30 ET
* 10th playoff series meeting all-time; 1st since 1973 Quarterfinals (NYR won that series, 4-1)
* Bruins: have won 6 of previous 9 playoff series vs Rangers
*
Henrik Lundqvist
(NYR): Posted back-to-back shutouts in last 2 games, stopped all 62 shots
* Bruins: Lost 2 of 3 meetings vs Rangers this season (both losses came in OT or shootout), teams haven't played since February 12
*
David Krejci
(BOS): Leads league with 13 points this postseason
Most Shutouts in Stanley Cup Playoffs Last 3 Seasons
Jonathan Quick 6<<
Henrik Lundqvist 5
Tim Thomas
5
Roberto Luongo
4
<<2 shutouts in 7 starts this season
May, 14, 2013
5/14/13
3:26
PM ET
Thursday: Game 1 in Boston, 7:30 p.m.

Sunday: Game 2 in Boston, 3 p.m.

Tuesday, May 21: Game 3 in New York, 7:30 p.m.

Thursday, May 23: Game 4 in New York, 7 p.m.

Saturday, May 25: Game 5 in Boston, TBA (if necessary)

Monday, May 27: Game 6 in New York, TBA (if necessary)

Wednesday, May 29: Game 7 in Boston, TBA (if necessary)
May, 13, 2013
5/13/13
12:22
PM ET
By
ESPN Stats & Information
Rangers at Capitals, 8 p.m. ET (Series tied 3-3)
* 3rd time teams have met in Game 7 in last 5 seasons (also 2009 and 2012—Capitals won in 2009, Rangers won in 2012 … in each case, the home team won)
* Rangers: 5-5 all-time in Game 7 (wins vs Devils in 1992 and 1994, Canucks in 1994, Capitals and Senators in 2012)
* Capitals: 3-8 all-time in Game 7s (wins vs Flyers in 1988, Rangers in 2009, Bruins in 2012)
* Home team has won every game in series
* Last 5 games in series decided by 1 goal (2 games went to OT, Capitals won both)
* Capitals: won 10 of last 11 home playoff games vs Rangers
* Rangers: 2-26 on power play in series (0-4 in Game 5, 0-5 in Game 6)
*
Alex Ovechkin
: no points in last 4 games, his longest postseason scoreless streak
The Rangers and Capitals will be playing a 7-game series for the second consecutive year.
SAME TWO PLAYOFF OPPONENTS
7-GAME SERIES IN CONSECUTIVE YEARS - NHL HISTORY
Result
2012-13 Rangers-Capitals (Rangers won last season)
2001-02 Avalanche-Kings Avalanche won both
1999-00 Avalanche-Stars Stars won both
1964-65 Blackhawks-Red Wings Split
1954-55 Red Wings-Canadiens Red Wings won both
>>Source: Elias Sports Bureau
This will be the 10th and 11th times in NHL history that playoff opponents will play Game 6 and 7 on consecutive days. The Game 6 winner is 4-5 in Game 7. This will be the 6th and 7th times it's happened in the Expansion Era with the Game 6 winner going 2-3 in Game 7.
GAMES 6-7 ON CONSECUTIVE DAYS
EXPANSION ERA (SINCE 1967-68 SEASON)
Series Winner
2013 Maple Leafs-Bruins Conf. QF ?
2013 Rangers-Capitals Conf. QF ?
2011 Canadiens-Bruins Conf. QF Bruins
2008 Capitals-Flyers Conf. QF Flyers
2003 Wild-Canucks Conf. SF Wild
2003 Wild-Avalanche Conf. QF Wild
2003 Maple Leafs-Flyers Conf. QF Flyers
>>Source: Elias Sports Bureau