New York Hockey:

Washington Capitals
May, 14, 2013
5/14/13
12:58
AM ET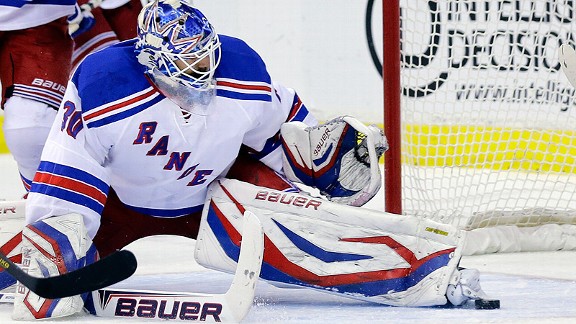 AP Photo/Alex BrandonHenrik Lundqvist recorded his second shutout in as many nights in the Rangers' first Game 7 road win.
WASHINGTON -- The New York Rangers' stunning 5-0 shutout win that sunk the Washington Capitals was not anticipated in a winner-takes-all Game 7 between two teams that battled toe-to-toe all series.
But ask the
Toronto Maple Leafs
if things always go as planned.
That's what the playoffs are all about, and the Rangers were resilient in securing a second-round matchup against the
Boston Bruins
.
With their season on the line and a daunting road game at Verizon Center on Monday, the Blueshirts put together their most inspired effort of the series, scoring the game's first goal and never looking back en route to a decisive, commanding victory.
"I didn't think it was going to be a 5-0 win, the way the series has gone, but it was our best game of the series," Rangers coach John Tortorella said.
Goaltender
Henrik Lundqvist
was superb in recording his second straight shutout of the series, recording 35 saves just one night after turning away all 27 shots in Game 6 to take a 1-0 win at Madison Square Garden and force a Game 7.
The reigning Vezina Trophy winner was the reason the Rangers were able to surmount a 2-0 deficit to start the series, and he was resolute even when the team's scoring woes resurfaced and its special teams faltered.
"Anything is possible with Hank back there," defenseman
Ryan McDonagh
said. "He stands tall, he competes so hard and it's great to see guys willing to block shots; he really respects and honors that, and recognizes that. For everybody, it's a good feeling, but we want to continue to roll with it."
Lundqvist was the irrefutable MVP of the series, but his team played outstanding in front of him Monday night in what was the most well-rounded team performance of the season to date.
The Rangers blocked a whopping 27 shots (as compared to just nine for the Capitals) and poured it on for five goals with contributions coming throughout the lineup.
Arron Asham
tallied his second goal of the series, and it was a necessary one for the Rangers. Cashing in on a nice, little drop pass from linemate
Chris Kreider
, Asham beat Capitals netminder
Braden Holtby
high-glove for the all-important game's first goal with 6:41 left in the first frame.
[+] Enlarge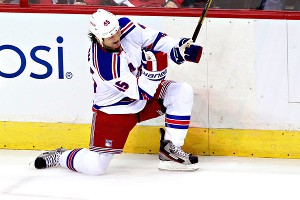 Geoff Burke/USA TODAY SportsArron Asham broke the ice with a first-period goal to give the Rangers a 1-0 lead over the Caps in Game 7.
Asham joked that he was just a "fourth-line plug" after the game, but he now leads the team in goals after the first round.
"I don't think the coach is expecting me to go out there and dangle five guys and roof one," Asham joked. "I play a simple game. I get the puck in, I use my forecheck and whenever the guys get it to me, I try to get it on net the best I can."
Both third-liner
Taylor Pyatt
and defenseman
Michael Del Zotto
chipped in with a goal apiece to give the Rangers a cushy three-goal lead in the second, before the Rangers piled on for a 5-0 edge with third-period markers from captain
Ryan Callahan
and diminutive winger
Mats Zuccarello
.
Zuccarello's goal, a nice deke to beat Holtby, was the final dagger, with young center
Derick Brassard
picking up his second assist of the game on the play.
Brassard, who was acquired in a trade with Columbus at the trade deadline April 3, finished the series with two goals and seven assists.
Rick Nash
,
Derek Stepan
,
Brad Richards
and Callahan combined for only four goals during the series, but the team's secondary scoring delivered when needed.
"If you look at this team, everyone chips in, everyone helps," said Nash, who was limited to one assist in his first playoff series as a Ranger. "It's not one guy, besides [our] goalie, who is amazing every night."
The Rangers pretty much counted on that, perhaps too much at times, but Lundqvist's stellar play makes it easy to do so.
"The last couple of years, I've started to focus more and more on my own game and not so much about the team game. I can't really control what we're doing out there," Lundqvist said. "You're definitely nervous and feeling the pressure. As long as I'm focused on what I have to do, it's going to help me. But, the way we've been playing, especially the last two or three games … as a goalie, it's a great feeling."
The fact that the Rangers have improved since the team's first trip to D.C. for Games 1 and 2 bodes well for the club moving on to the next round, Lundqvist said.
There will be a few hours to enjoy the win, but then the focus shifts ahead to the next test.
"To have played this well in such an important game, it's definitely going to help us moving forward. It's a lot about confidence, especially in a game like this and the one [Sunday]."
"You have to believe you can do it and you can't question anything. You can't think too much about things you can't control," Lundqvist continued. "It is about going out and taking care of business and doing the things you talk about. We did it and it paid off, big time."
May, 13, 2013
5/13/13
12:22
PM ET
By
ESPN Stats & Information
Rangers at Capitals, 8 p.m. ET (Series tied 3-3)
* 3rd time teams have met in Game 7 in last 5 seasons (also 2009 and 2012—Capitals won in 2009, Rangers won in 2012 … in each case, the home team won)
* Rangers: 5-5 all-time in Game 7 (wins vs Devils in 1992 and 1994, Canucks in 1994, Capitals and Senators in 2012)
* Capitals: 3-8 all-time in Game 7s (wins vs Flyers in 1988, Rangers in 2009, Bruins in 2012)
* Home team has won every game in series
* Last 5 games in series decided by 1 goal (2 games went to OT, Capitals won both)
* Capitals: won 10 of last 11 home playoff games vs Rangers
* Rangers: 2-26 on power play in series (0-4 in Game 5, 0-5 in Game 6)
*
Alex Ovechkin
: no points in last 4 games, his longest postseason scoreless streak
The Rangers and Capitals will be playing a 7-game series for the second consecutive year.
SAME TWO PLAYOFF OPPONENTS
7-GAME SERIES IN CONSECUTIVE YEARS - NHL HISTORY
Result
2012-13 Rangers-Capitals (Rangers won last season)
2001-02 Avalanche-Kings Avalanche won both
1999-00 Avalanche-Stars Stars won both
1964-65 Blackhawks-Red Wings Split
1954-55 Red Wings-Canadiens Red Wings won both
>>Source: Elias Sports Bureau
This will be the 10th and 11th times in NHL history that playoff opponents will play Game 6 and 7 on consecutive days. The Game 6 winner is 4-5 in Game 7. This will be the 6th and 7th times it's happened in the Expansion Era with the Game 6 winner going 2-3 in Game 7.
GAMES 6-7 ON CONSECUTIVE DAYS
EXPANSION ERA (SINCE 1967-68 SEASON)
Series Winner
2013 Maple Leafs-Bruins Conf. QF ?
2013 Rangers-Capitals Conf. QF ?
2011 Canadiens-Bruins Conf. QF Bruins
2008 Capitals-Flyers Conf. QF Flyers
2003 Wild-Canucks Conf. SF Wild
2003 Wild-Avalanche Conf. QF Wild
2003 Maple Leafs-Flyers Conf. QF Flyers
>>Source: Elias Sports Bureau
May, 13, 2013
5/13/13
10:49
AM ET
At a glance:
Emotions boiled over following the final buzzer Sunday after the Rangers blanked the Capitals to force a winner-takes-all Game 7 in D.C, ensuring that Monday night's contest will be a nasty grudge match. After building a 2-0 lead in the series, the Capitals must defend home ice to avoid elimination.
Bad blood:
A volatile scrum between the Rangers and Capitals broke out after the end of regulation, a good indication that hostilities between the two teams are at an all-time high. While part of that was likely frustration on the Capitals' part, Washington players were also livid with a play during the third period that involved New York's
Derek Dorsett
and Washington's
Mike Green
. After the game, Capitals goaltender
Braden Holtby
accused Dorsett of trying to drag down Green with a "dirty slewfoot," after which Green retaliated with a crosscheck to Dorsett's mouth. Though Green was penalized on the play, neither player will be facing any supplementary discipline, a source confirmed to ESPNNewYork.com.
Eye on Green:
Lost in the scuffle of the post-buzzer skirmish was Green getting inadvertently kicked in the head by teammate Mike Ribeiro's skate. Green was down on the ice, pinned under Rangers forward
Brian Boyle
, when Ribeiro fell and accidentally made contact. Green, who did not speak after the game, appeared shaken once he got up.
Rising to occasion:
With little margin for error this entire series, Rangers goaltender
Henrik Lundqvist
was perfect in keeping his team's hopes alive. The reigning Vezina Trophy winner turned away all 27 shots faced to record his seventh career playoff shutout as the Rangers evened the series 3-3 at Madison Square Garden.
Spotlight on special teams:
The Rangers' woeful power play continued to struggle Sunday. New York failed to cash in on all five man-up opportunities, including 44 seconds of 5-on-3 time. They head into Game 7 just 2-for-26 on the power play this series. Meanwhile, Washington will need to make a concerted effort to remain more disciplined. The Capitals took a whopping seven penalties Sunday, and while the Rangers couldn't make them pay, it at least kept
Alex Ovechkin
off the ice for a significant chunk of the game.
Containing Ovechkin:
Speaking of Ovechkin, the Hart Trophy finalist has been held off the score sheet in four straight games, the longest drought of his NHL playoff career.
May, 12, 2013
5/12/13
1:32
PM ET
AT A GLANCE:
One New York hockey team, the Islanders, was eliminated from the Stanley Cup playoffs Saturday night. The Rangers are desperate to avoid becoming the second.
The Rangers face the
Washington Capitals
in a must-win Game 6 at Madison Square Garden on Sunday afternoon (4:30 ET). The Rangers held serve with home wins in both Games 3 and 4 and will need to do so again to keep their hopes of advancing alive.
HANK NEEDS HELP:
Another terrific performance from goaltender
Henrik Lundqvist
was spoiled Friday night in D.C. when the Rangers dropped Game 5 in overtime, 2-1. Washington's
Mike Ribeiro
tallied the game winner -- his first goal of the series -- to force an elimination game in Game 6.
Lundqvist, who turned away 33 shots in Friday's loss, has made no fewer than 27 saves in a game this series. The reigning Vezina Trophy winner has posted an impressive .927 save percentage through five games.
STARS NEED TO STEP UP:
If the Rangers are to force a winner-takes-all Game 7 in D.C. on Monday, they'll need their star players to step up.
Rick Nash
, who led the team with 21 goals during the regular season, has been held off the score sheet in four of five games this series. Despite a goal in Game 4, alternate captain and veteran center
Brad Richards
has been ineffective, taking turns on the team's fourth line.
Team captain
Ryan Callahan
cannot be absolved, either. Though his heart and grit are always on full display, Callahan has managed only two assists in five games.
LOOKING TO BREAK THROUGH:
Washington star forward
Alex Ovechkin
has been limited of late as well. The Hart Trophy finalist has been held off the score sheet for the past three games, a first in his playoffs career. The task becomes even tougher with the Caps in hostile territory at MSG, with the home team's ability to make the last change. Rangers coach John Tortorella will do everything he can to get his top defensive pairing of
Dan Girardi
and
Ryan McDonagh
out there against No. 8 and his linemates,
Marcus Johansson
and
Nicklas Backstrom
.
NO CLOWE:
The Rangers will be without rugged winger
Ryane Clowe
, who was forced from Game 5 with an undisclosed injury sustained on a hit from Washington's
Jason Chimera
in the first period. It is not immediately clear who will replace Clowe, though it is possible
Chris Kreider
returns to the lineup after being scratched the past four games.
May, 11, 2013
5/11/13
12:33
AM ET
WASHINGTON -- Fielding questions from reporters after the game, Rangers goaltender
Henrik Lundqvist
slunk back in his stall and answered them with such a quiet strain that he was almost inaudible.
He remained there once the scrum disappeared and lowered his head in his hands, looking like someone that was trying to reserve every last ounce of composure.
The reigning Vezina Trophy winner had every right to be frustrated, holding the Rangers in the game until
Mike Ribeiro
's overtime winner gave the
Caps a 2-1 win
at Verizon Center on Friday.
Washington now leads the series 3-2 with a chance to send the Rangers packing on Sunday in Game 6 in New York.
[+] Enlarge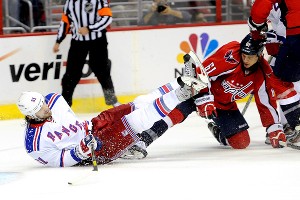 Greg Fiume/Getty ImagesThe Rangers fell to the Capitals in Game 5 and are now down 3-2 in the series.
The Rangers have been in a similar position before -- trailing the Senators 3-2 in last year's first-round series heading into Game 6 in Ottawa -- and they forced a Game 7.
They'll have to do it again Sunday at Madison Square Garden.
"We'll respond fine," captain
Ryan Callahan
said. "We've got a lot of character in here. Last year, we were in the same situation but going on the road. Character or responding isn't going to be an issue."
Lundqvist was under siege for much of the third period, when the Rangers were outshot 13-4, and faced a number of quality chances in overtime. He made a stunning kick save to rob
Mathieu Perreault
early in the period; he stopped
Alex Ovechkin
's one-timer after that.
But, in a series that has come down to inches, it was Ribeiro's rebound goal at 9:24 that shoved the Rangers' backs against the wall.
It was Ribeiro's first goal of the series. The second-line center, one of Washington's top contributors during the regular season, was held to a mere assist in the first four games.
"It's obviously a very big goal for him," Capitals coach Adam Oates said. "He's played well in this series and just hasn't gotten one to go his way. Obviously, a huge goal."
Lundqvist turned away each and every one of
Alex Ovechkin
's team-high nine shots -- Ovechkin has now been held off the score sheet in three straight games -- but couldn't recover in time to seal the post against Ribeiro's only one of the night.
"Frustrating and disappointing, but it's not over," said Lundqvist, who finished the night with 33 saves. "We have to go home and regroup. It's going to be a tough couple hours and then you just forget about it."
The result has to be all the more disappointing for the Rangers with the way the team came out in the first period, neutralizing the crowd at Verizon Center less than a minute into the game when
Brian Boyle
tallied his second of the playoffs for a 1-0 lead at the 53-second mark.
In setting up Boyle in front, center
Derick Brassard
registered his fifth primary assist and sixth point in the last three games.
But, just as Boyle's first-period marker gave the Rangers the lead, his ill-advised penalty in the second effectively tied the game.
Shoved by Ribeiro while down on the ice, Boyle got caught retaliating when he took a hearty whack at Ribeiro's legs and was sent to the box for slashing.
Washington's
Joel Ward
cashed in on the resulting power play, knotting the score at 1 at 7:44 of the second period.
"Dumb penalty," Ranger coach John Tortorella said. "And you don't kill those off. It just happens that way in our game. That's a guy that's playing really well for us, but it's a dumb penalty."
The Rangers struggled to get the puck out of their defensive zone in the third, as the Capitals sustained pressure and peppered Lundqvist while the Rangers' forecheck went missing.
"We didn't have a forecheck, which means our [defense] faced a lot tonight," said alternate captain
Brad Richards
. "[The Capitals] were coming hard and we didn't do enough to keep the puck in their end and take the pressure off."
The Rangers, already without defenseman
Marc Staal
(eye), lost rugged winger
Ryane Clowe
-- again.
The 30-year-old forward, who returned in Game 4 after missing four games with what is believed to be a concussion, was forced from the game during the first period after taking a hard hit from Washington's
Jason Chimera
. In absorbing the blow, Clowe's head rattled against the boards. Chimera went off for boarding, while Clowe took one more shift before leaving the game.
He did not return.
So, the Rangers will attempt to hold off the Caps at home, with Washington looking to return the favor on their ouster last spring. The Rangers beat the Capitals in seven games to advance to the Eastern Conference finals in 2012.
"Obviously, it's going to be their barn, their building, their people. It's going to be electric," Oates said. "We've got to handle the first 10 minutes of the game."
Tortorella wouldn't even consent to using the E-word in discussing Game 6.
"I don't consider it an elimination game," he said. "We're trying to win one game. I'm not going to even use that word."
May, 9, 2013
5/09/13
3:38
PM ET
NEW YORK -- The
Alex Ovechkin
lovefest that was in full force when the dynamic forward scorched his way through the final month of the regular season has taken an abrupt detour.
Held off the score sheet in two consecutive games, Ovechkin has been forced to shoulder the bulk of the blame recently after his Capitals let a 2-0 series lead evaporate. The
New York Rangers
' 4-3 win at Madison Square Garden in Game 4 on Wednesday night evened the series at 2.
For whatever reason, Ovechkin seems to garner an undue amount of scrutiny compared with other stars around the league, and that has not changed during the Capitals' first-round series against the Rangers.
Most recently, No. 8 has been criticized for a questionable effort on two particularly critical plays that both resulted in game-winning goals for the Rangers.
Before Derek Stepan's third-period marker in Game 3, Ovechkin can be seen using his stick in the defensive zone in an attempt to pressure defenseman
Ryan McDonagh
before drifting to the middle of the ice, looking disengaged from the play. That caused a brief kerfuffle after McDonagh said after the game he thought Ovechkin seemed "tired" on that shift. Ovechkin refuted that before Game 4.
"I feel normal, you know. I don't know why he say that," Ovechkin said. "Of course they try to find something, if they're winning they try to find somebody [who] looks tired, somebody looks lazy, somebody looks somewhat bad, so I don't care what he [says]."
Another Capitals loss in Game 4, in which he was held to only one shot on goal (five of his shots were blocked, three missed), didn't make things much better. One particular incident, in which he is seen listlessly drifting in from the blue line while Stepan scores the winner in Game 4, raised more concerns.
Cue the familiar narrative.
But Ovechkin owned up to his subpar play and vowed the need for him and linemates
Nicklas Backstrom
and
Marcus Johansson
to step up.
"Everybody [knows] Backy, me and JoJo have to play better," Ovechkin said after practice Thursday, according to the Washington Times.
Actually, Ovechkin makes a good point here. While he is correct in assuming some of the culpability for the Capitals' past two losses, he is not alone. The Capitals' top line of Ovechkin-Backstrom-Johansson has combined for one point during that stretch.
Mike Ribeiro
and Troy Brouwer, key contributors in the regular season, have been limited to just one point apiece this series.
It's also worth pointing out that both Backstrom and Johansson were on the ice for Stepan's winner the other night, too. Neither player looked particularly spirited in their effort on the play.
It would be wrong to absolve Ovechkin from his role in the past two losses, but it would be similarly wrong to not include at least a few others as well.
Bottom line: Ovechkin needs to be better. So do his teammates.
***
Speaking of teammates,
Martin Erat
will not play in Game 5 for the Capitals when they host the Rangers Friday in D.C.
The second-line winger, acquired by Washington in a trade with Nashville at the deadline, was forced from Wednesday's game with an apparent left wrist or hand injury. He left after a collision (incidentally, one that was caused by an aggressive backcheck by Ovechkin) on Stepan's short-handed rush in the first period of Game 4. Stepan got sandwiched between the two players and Erat crashed into his own net, landing awkwardly on his left arm.
The Capitals have brought up right wingers
Joey Crabb
and Tom Wilson from the Hershey Bears of the American Hockey League to give them options to fill the hole in the lineup.
May, 8, 2013
5/08/13
1:51
PM ET
AT A GLANCE:
The Rangers, who won Game 3 on Monday, have a chance to even their first-round series against the
Washington Capitals
on Wednesday night at Madison Square Garden.
With
Marc Staal
adding a big boost to their back end, the Rangers were able to keep
Alex Ovechkin
off the score sheet in Game 3. But the dynamic No. 8 will likely have a better chance to get involved Wednesday, assuming the Caps stay out of the penalty box. The Rangers took advantage of six power plays Monday night, converting on one and cashing in right at the expiration of another to edge the Caps 4-3.
The game starts at 7:30 p.m. Here is what to watch for:
FRESH LEGS:
While the Rangers practiced Tuesday, Capitals coach
Adam Oates
opted to give his team a day off to rest, recover and regroup before Game 4. The result? A pretty business-like morning skate at MSG on Wednesday. "Guys were feeling pretty focused," said Caps defenseman
Karl Alzner
.
CLOWE POSSIBLE:
Yet to make his postseason debut with the Rangers, gritty forward
Ryane Clowe
said Wednesday there is a "good chance" he will return for Game 4. Clowe, who has been sidelined since suffering an apparent head injury in the final week of the regular season, has been skating with the team since last week. The 30-year-old winger, who was acquired from San Jose before the trade deadline in April, adds size and experience to the team's roster. Clowe, who played for the Sharks from 2006-13, has 68 playoff games under his belt.
PENALTY PARADE:
You can guarantee that discipline will be a main point of the Capitals' emphasis heading into Game 4. Washington took six penalties within the first 27 minutes of Game 3, essentially negating any and all momentum. Alzner said the Caps will try to stay out of the box while trying to get a gauge on the officiating as the game progresses.
"If they're gonna call it tight, we have to be careful," he said. "If they're gonna let us play, we have to take advantage of that."
POWE OUT:
Rangers forward
Darroll Powe
is not expected to play Wednesday after leaving Game 3 with an injury that appeared to be a possible concussion. Powe laid a hard hit on Washington's
Joel Ward
but caught an elbow to the head upon contact, leaving him woozy as he left the ice. He did not return to the game and did not practice with the team Tuesday.
NOT QUITE YET:
Veteran Capitals forward
Brooks Laich
skated with the team for the first time since undergoing sports-hernia surgery before the playoffs began. Oates said Laich is still "a ways away" from returning, however.
Considering Laich was hampered with a nagging groin injury that limited him to just nine games this season, the Caps want to exercise caution with him. "Obviously, we've set ourselves back a couple of times," Oates said. "We don't want that to happen again, so we're conscious of that."
May, 7, 2013
5/07/13
12:00
AM ET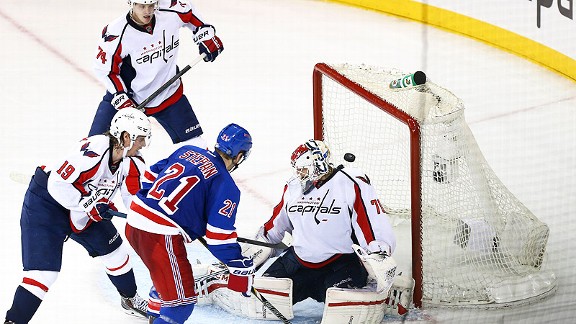 Debby Wong/USA TODAY SportsDerek Stepan sunk the game-winning goal in the third period of the Rangers' Game 3 victory at MSG.
Even when
New York Rangers
coach John Tortorella pleaded for a respite from his lengthy postgame press conference -- asking his PR exec, "Can you get me the hell outta here?" -- he did so with a sardonic smile.
That sort of levity was a luxury Tortorella couldn't afford after his team went down 2-0 in the series against the
Washington Capitals
, but there was a sense of relief and encouragement after the Rangers topped Washington 4-3 in Game 3 Monday at Madison Square Garden.
A three-game deficit would've been a daunting one, and it was clear the Rangers were desperate to avoid that hole as they outlasted the Capitals to whittle the series edge, 2-1.
Buoyed by the return of defenseman
Marc Staal
and bolstered by key contributions throughout their lineup Monday, the Rangers now have the chance to even the series Wednesday on home ice.
"There was a lot of determination going into this game," said goaltender
Henrik Lundqvist
, who finished the night with 28 saves. "We knew we had to win this one. It was a must-win. We really stepped up as a group and they kept coming. They're a good team and you have to respect that, but we scored some big goals tonight."
Top center
Derek Stepan
, who paced the Rangers in scoring with 44 points in the regular season, tallied his first goal of the playoffs to snap a 3-3 tie in the third period. Stepan's expert deflection off a pass from
Rick Nash
stood up as the deciding goal with 6:25 remaining in regulation.
It was both Stepan's and Nash's first point of the playoffs -- a key contribution from two of the team's most dynamic forwards.
"Early on tonight, I had a little struggle. The first two periods, I just seemed to be a step behind or something," Stepan said. "It was a good goal for me, it definitely helped. But it doesn't go in the back of the net without a pass like that from Rick Nash and a play by [defenseman
Ryan McDonagh
] at the blue line."
The Rangers also received a stellar three-point (one goal, two assists) performance out of center
Derick Brassard
, who made a great pass to set up Arron Asham's third-period marker, and
Brian Boyle
, who gave the Rangers a 1-0 lead early in the first just as the team's first power play expired.
Boyle also added an assist and finished with a game-high 14-for-21 from the faceoff circle.
"We get some good minutes from Brian Boyle, [Derick Brassard] and a number of people helped out here tonight," Tortorella said. "We're going to need that if we want to stay alive."
Also vital was the glimpse of life shown on the Rangers' power play, which entered Monday's game an anemic 0-for-7. Although Boyle's marker at 12:50 of the first came at the expiry of
Joel Ward
's high-sticking penalty, Brassard's goal in the second came on the power play. The Rangers moved the puck and got more good looks at the net, enabling them to pressure
Braden Holtby
as the Capitals took a whopping six penalties through the first 26:32 of play.
Holtby didn't blame those in front of him, though. The Capitals' penalty kill has otherwise been stout throughout the series, surrendering only one of 13 goals while down a man thus far.
"I am guilty as well," he said. "I didn't think it was terrible on our part. I don't think we were taking lazy penalties. I just think it was one of those games where it could have gone either way. We took too many penalties. Our PK was still good, but it's tough to gain momentum with that."
Perhaps the best special teams moment for either team was the Rangers killing off a 6-on-4 late in the game. With alternate captain
Brad Richards
in the box for slashing with 1:56 left in the game, and Holtby pulled for the extra attacker, the Rangers were stingy in their own end. They shut the door on what has been a dangerous Caps power play to lock up Game 3.
Alex Ovechkin
, who had a point in each of the first two games of the series, was held off the score sheet Monday.
"Obviously, we would like to score there," said
Nicklas Backstrom
, who scored the game's first goal on a deflection. We've got to execute and get some shots through at least. We have to do a better job."
Said Capitals coach
Adam Oates
:
"We were probably a little too cute with it."
For the first time this series, it will be the Capitals second-guessing those critical plays, those mere inches surrendered. Meanwhile, the Rangers gain some traction -- and confidence -- heading into Game 4.
"I think, the guys, we had some fun tonight," Brassard said. "I think in Washington we were grabbing our sticks a little too hard. Tonight we just had fun. We made plays. We put some pucks on net. That's what we need to do the rest of the series."
May, 6, 2013
5/06/13
1:13
PM ET
At a glance:
Down two games in their first-round matchup against the
Washington Capitals
, the Rangers are desperate to win a game at home as the series shifts to New York on Monday night at 7:30.
Looking to avoid that dreaded 3-0 hole, the Rangers hope to get a lift from the crowd at Madison Square Garden as they try to stop
Alex Ovechkin
and the Caps' venerable power play from striking again.
Here is what to watch for:
Special teams:
In a tight battle projected to come down to special teams, the Capitals have had the distinct edge. Washington has tallied a power-play goal in each of the first two games -- that unit was ranked first overall in the league during the regular season -- and boasts a stout penalty kill that has held the Rangers without a man-up goal this series. The Blueshirts' ailing power play failed to even register a shot on goal during two critical opportunities late in Saturday's 1-0 overtime loss in D.C.
On the mend:
Both
Derek Dorsett
(collarbone) and
Brian Boyle
(lower body) returned to action on Saturday, providing the Rangers some added size and grit. They have two other players who are inching toward a return, as
Ryane Clowe
(believed to be a concussion) and defenseman
Marc Staal
(eye) appear to be making progress.
Staal's presence would be a massive boost for the Rangers' blue line as it tries to contain Ovechkin,
Nicklas Backstrom
,
Mike Ribeiro
and
Troy Brouwer
.
Holt up:
With the reigning Vezina Trophy winner in net, the Rangers enjoy a clear advantage in the goaltending department. But New York wasted a sensational 37-save performance by
Henrik Lundqvist
on Saturday, while 23-year-old Capitals counterpart
Braden Holtby
recorded the shutout. Holtby hasn't had to face the same pressure as Lundqvist, but he has been stellar for the Capitals in limiting the Rangers to only one goal combined over the first two games.
April, 30, 2013
4/30/13
11:44
AM ET
According to
multiple
reports out of
Washington
, Capitals forward Joel Ward is aiming to return to the lineup by Game 1 on Thursday in D.C.
The 32-year-old winger, sidelined since suffering a knee injury April 7, sounded optimistic he'd be available when the Caps host the Rangers in the opening game of the Eastern Conference quarterfinals.
"I'm hoping to," Ward said, according to the Washington Post. "Obviously we'll see how these next couple days go," Ward said. "I think my mind feels pretty good, it's just I want to get in with the guys and kind of muck it up a little bit. I think the next couple days will be a pretty good test."
Ward would be one of the main beneficiaries of the surprisingly late start to the series and the Caps are hopeful that practice time will pay off.
Ward tallied the overtime series-clinching goal in Game 7 to knock off the Boston Bruins in the first round last April. He had eight goals and 20 points for the Caps before sustaining the injury, which sidelined him for the final nine games of the season.
March, 25, 2013
3/25/13
12:22
AM ET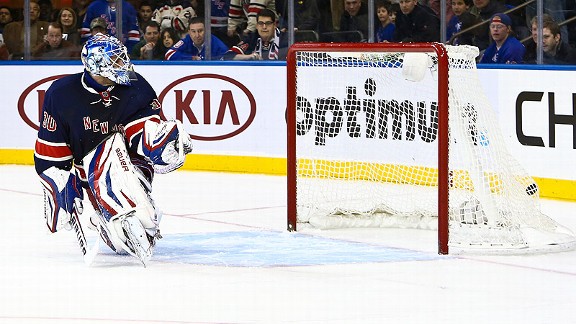 Debby Wong/USA TODAY SportsRangers goalie Henrik Lundqvist allows the game-winning goal against the Capitals.
Even after moving into the eighth spot in the Eastern Conference, the Rangers took little solace in coming from behind to earn a point in the team's 3-2 shootout loss to the Capitals Sunday night at Madison Square Garden.
With the
Carolina Hurricanes
sitting idle, the Rangers clawed back in the playoff hunt with 33 points, although the Canes retain a game in hand.
It's a tenuous hold they have on that last spot, and coming away with only one point after erasing a two-goal first-period deficit is not going to cut it if the Rangers want to ensure a playoff appearance.
"This one hurt," goaltender
Henrik Lundqvist
said. "Right now we need two points, not just one."
Early on, it looked like the Rangers may not leave with a point at all, as they nullified a decent start by giving up the game's first two goals.
After Washington tallied on the power play -- the puck hit defenseman Dan Girardi's glove and glanced in off Nicklas Backstrom's chest –- the Rangers deflated almost immediately.
Alex Ovechkin followed up with a deflection less than two minutes later -- his sixth goal in the past five games -- that gave the Caps a 2-0 lead.
"I think we get paralyzed after the power play," coach John Tortorella said. "Why? I don't know. That's what we were talking about on the bench."
[+] Enlarge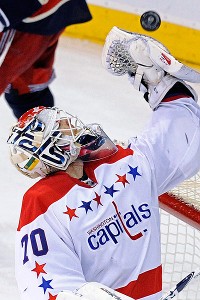 AP Photo/Bill KostrounCapitals goaltender Braden Holtby gloves the puck during overtime.
With the Rangers bench searching for answers, the fourth line gave the team a jolt when rugged winger
Arron Asham
tallied in his first game since February 19.
Asham, who missed 15 games with a back injury, went high-glove to beat Caps netminder
Braden Holtby
on a 2-on-1. Later in the frame, Asham's linemate
Darroll Powe
drew an interference penalty on
Jason Chimera
that set up a 5-on-3 opportunity.
"It was very important for us," Asham said of cutting the Capitals' lead in half. "It seemed to get the bench going and started to get the team rolling. They took a couple of penalties on us and our power play got us back into it. It's just too bad we couldn't finish it off."
Derek Stepan
knotted the game, 2-2, with a bad-angle shot that banked in off Holtby -- the team's first power-play marker in seven games -- but the Rangers couldn't turn the resulting momentum into a third goal.
Both Ovechkin, who finished the game with a goal and an assist, and Backstrom beat Lundqvist in the skills competition. Stepan was the lone scorer for the Rangers in the four-round shootout and though his backhand top shelf move was a beauty, it wasn't enough.
"I only stopped two of four in the shootout," Lundqvist said. "I have to be better. You face really good players. I think the last one [from Backstrom] was a really good shot, but Ovechkin, it felt like I had him but I didn't get the stick down."
It was the first shootout of the season for the Capitals, who recorded their third straight win and moved into 10th place in the standings.
Meanwhile, the Rangers are trending in the opposite direction.
Winless in the past two games, the Rangers now embark on an all-important three-game road trip that features stops in Philadelphia, Ottawa and Montreal.
"This time of year you have to just move on," said captain
Ryan Callahan
. "You take the point -- obviously, we wanted two tonight -- but we're right back at it against Philly in two days. This time of year, you just have to look at your next game. We played well enough to get the two points, but just didn't get it in the shootout."
March, 12, 2013
3/12/13
10:40
AM ET
At a glance:
With five wins in their past six games, the Rangers take on the struggling Sabres in Buffalo on Tuesday night while looking to leapfrog the Devils in the Eastern Conference standings. Coming off a 3-2 loss to the Flyers on Sunday, the Sabres are in 14th place after posting an abysmal 3-5-2 record in their past 10 games, and they won't even have starting goaltender Ryan Miller in net. According to multiple reports, Miller is out with a sinus infection and will back up Jhonas Enroth.


Bad blood:
Tuesday marks the first meeting between the two clubs since Buffalo's
Patrick Kaleta
injured Rangers veteran center
Brad Richards
with a nasty hit that earned the Sabres forward a five-game suspension. After the game, Richards, his teammates and Rangers coach John Tortorella blasted the hit and the player as "dirty." Kaleta is eligible to return Sunday against the Capitals.
Boyle bounces back:
After sitting out Friday's 3-2 loss to the Senators as a healthy scratch,
Brian Boyle
rebounded with a nice performance Sunday in D.C. Boyle tallied his first goal of the season as the Rangers knocked off the Capitals 4-1 in the first of a four-game road trip.
Not just yet:
After missing the first 26 games of the season with a hip injury, the Sabres'
Ville Leino
appeared ready to play his first game of the season against the Rangers, although indications from the Sabres' morning skate are that he will have to wait at least one more game. The 29-year-old Leino, who injured his hip before the season began, is looking to improve on an underwhelming 2011-12 season, when he finished with only eight goals and 25 points after inking a monster six-year, $27 million deal. Meanwhile, Tyler Ennis will also miss Tuesday's game. Ennis is "day-to-day" after being rocked by a hit from
Wayne Simmonds
on Sunday, although Sabres coach Ron Rolston said Ennis did not suffer a concussion.
Back on track:
Since sitting out for two games while recovering from the effects of Kaleta's suspension-earning hit, Richards has scored two goals in as many games. In his first game back, the 32-year-old alternate captain snapped a 15-game goal drought. He added his fourth of the season on Sunday.
Still streaking:
Although his five-game goal streak was halted in Sunday's win,
Rick Nash
has registered at least a point in each of his past 10 games played. He has 16 points (six goals, 10 assists) in that span and a whopping 11 points in the six games since he has returned from an undisclosed injury (believed to be a concussion) that sidelined him for four games last month.