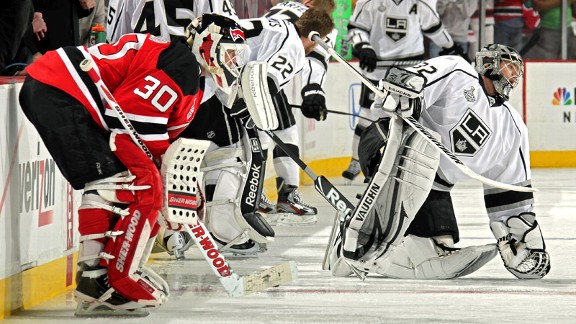 Bruce Bennett/Getty Images
Martin Brodeur and Jonathan Quick will take the ice again on Saturday.NEWARK, N.J. -- Some goaltenders might be fazed by having to match up with arguably the greatest netminder ever, Martin Brodeur.
Jonathan Quick isn't one of them.
"I'm not looking to match him step for step," Quick said after making 17 saves in the Kings' 2-1 overtime victory over the Devils in Game 1 of the Stanley Cup finals on Wednesday night at the Prudential Center.
"I'm not looking to score on him. He's not looking to score on me. That's what our forwards and defensemen are for. I'm just trying to make saves and help my team win the game."
Quick, who improved to 13-2 in the playoffs with a 1.49 goals-against average and a .946 save percentage, wasn't tested often. But when he was -- save for a fluke goal by Anton Volchenkov late in the second period -- he was equal to the task. The 26-year-old has now posted 11 straight road playoff wins, the longest streak in NHL playoff history.
"The last series, I played in games where I'd see around 20 shots," Quick said. "I really didn't know what to expect coming into this game, seeing as how we hadn't played them in so long. But watching the Ranger games, they had anywhere from 40 shots to 20 shots against [Henrik] Lundqvist. I was just going shift by shift, and if the team needed me to, I just wanted to try and make the save."
In the first period, Quick made a brilliant save on Travis Zajac, and in the third he stopped Zach Parise and David Clarkson to help send the game into overtime and set up Anze Kopitar's heroics.
"Jonathan was great in net for us again," Kopitar said.