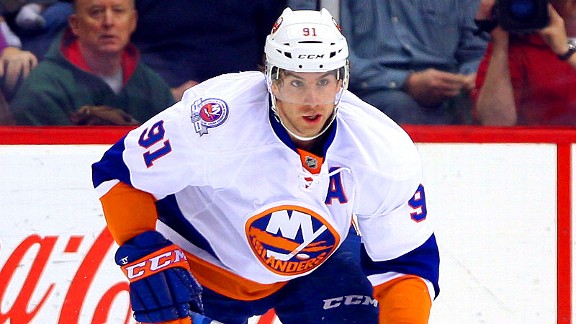 Brace Hemmelgarn/US Presswire
John Tavares needs help if the Isles are going to finish better than 27th place.
The Islanders garnered some buzz and credibility during the lockout, announcing their future move to Brooklyn. Can they sustain that momentum on the ice? Although they have superstar John Tavares gearing up for his fourth professional season, they haven't made enough serious upgrades to their roster to help him out. Should the squad get off to a hot start, however, they could be this year's Cinderella story with a playoff bid.
1. Tavares time

The 22-year-old center had a tremendous third season, proving he is the legitimate superstar that the Islanders hoped for when they selected him first overall in the 2009 draft. After an impressive sophomore campaign in 2010-11, Tavares took the next step, showing a massive improvement in skating and strength while registering 82 points (31 goals-50 assists). What sort of season can fans expect in Year 4? If the Islanders want a chance at the playoffs, he'll need another big one. The good news? Tavares hasn't been sitting idle. He racked up 42 points (17 goals-25 assists) in 28 games playing for Bern of the Swiss A league with Islanders teammate Mark Streit.
2. To buy out or not?

Rick DiPietro's albatross of a contract -- 15 years, $67.5 million -- has long been the subject of scorn as one of the worst deals in the history of the league. Not DiPietro's fault -- who wouldn't take that? -- but he hasn't stayed healthy. If the Islanders make the wise decision, they'll buy him out. They can't do so until this summer, but they should be making plans accordingly. They can always add another proven NHL goaltender to challenge 37-year-old netminder Evgeni Nabokov, plus they've got talented young Kevin Poulin playing in the AHL. It would be a mistake to keep DiPietro around to reach the cap floor rather than sever ties and devote some extra money to adding talent to the roster. I believe this is a win-win for DiPietro, as well. He receives the money he is rightfully owed and can try to resurrect his career without the heavy burden of his whopper of a deal.
3. Short leash for Capuano?

In his first full season as Islanders head coach, Jack Capuano escaped the chopping block despite the team's dismal 27th-place finish. He will likely have a shorter leash in the lockout-shortened 2013 season, however. Plagued by slow starts the past two seasons, the lockout-shortened 2013 schedule places even more importance the Islanders having a quick burst out of the gates. From a cost perspective, Capuano makes sense for the Islanders, but his lack of cachet hasn't helped the struggling club ice a competitive squad. He'll have to change that to stay aboard, otherwise other candidates -- say, newly-appointed assistant Brent Thompson or former captain Doug Weight -- may receive the nod.
4. No show

Islanders GM Garth Snow added veteran defenseman Lubomir Visnovsky via trade with Anaheim this summer, but it's been a bumpy ride ever since. First, the 36-year-old filed a grievance with the NHLPA claiming his no-trade clause, which was waived when he was dealt to Anaheim from Edmonton, was not honored. He lost that battle but now appears to be picking another option by opting to stay in Russia's Kontinental Hockey League. Visnovsky issued a statement Monday saying he will remain with his team there, Slovan Bratislava, for personal and family reasons. The NHL or IIHF, hockey's international governing body, has yet to intervene, but this is becoming a worrisome pattern for the Islanders (see: Evgeni Nabokov, circa 2011).
5. Ryan Strome

A dominant force in the Ontario Hockey League the past two seasons, the 19-year-old center has a good shot at cracking the lineup for the goal-starved Islanders. The former fifth overall pick in 2011 still needs some time to fill out physically, but he's a dynamic player who can provide the team an extra weapon. Strome, who most recently participated in the World Junior Championships for Team Canada, should be able to hit the ground running and challenge for a roster spot. Sparkplug grinder Casey Cizikas is another young guy who could challenge some bubble players for a role on the team.
Click here for more on the Isles from ESPN.com.