GREENBURGH, N.Y. -- Maybe Marian Gaborik's return can lift the Rangers from a mediocre start at Madison Square Garden.
John Tortorella's team fell to 2-5-1 at home with Tuesday's 5-3 loss to the Washington Capitals. They Rangers have also lost three of four overall, which makes Gaborik's return to the ice even more important.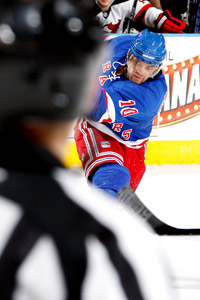 Scott Levy/NHLI via Getty Images
Marian Gaborik returns to the ice tonight at the Garden.
Gaborik, who led the Rangers with 42 goals last season, will suit up for the first time in nearly a month on Thursday night at home against the Buffalo Sabres. Gaborik missed the past 12 games with a separated left shoulder. He still feels occasional pain in the shoulder but seems eager to get back on the Garden ice for the first time since Oct. 15.
"Hopefully ... things will come naturally out there," the right winger said Thursday morning after the team's optional skate. "I'm just excited to play, to go out there and work hard. Hopefully it won't take me a long time adjust and get into game shape. Hopefully it's going to come to me quickly."
After playing on a Rangers team that won just 18 games at home last year and fell one win shy of the postseason, Gaborik knows the importance of taking care of business at Madison Square Garden.
"We definitely have to get some wins at home. That was one of the key [reasons] ... why we didn't get in the playoffs," Gaborik said. "We have to take advantage of [playing at home], starting tonight. We need to come out strong and make sure we get two points."
The Rangers are scoring 2.73 goals per game and 2.50 per game at home. Tortorella will likely pair Gaborik with Erik Christensen and Alex Frolov, but Garborik said on Thursday morning that he didn't know who he'd be playing with against Buffalo.
The 28-year-old had two assists in the three games before he was hurt. He hopes to hit the ice with his timing and scoring touch intact, but understands that it may take time before he back in peak condition.
"Hopefully everything is going to go well and we'll just go from there," Gaborik said. "I'm ready to play and I'm ready to go all out."
The Sabres come to the Garden off of a shootout win against the struggling Devils on Wednesday. Buffalo backup goalie Jhonas Enroth played well against the Devils, filling in for the injured Ryan Miller, who has missed the last five games with a sore leg.
GOOD MORNING: Gaborik, Christensen, Matt Gilroy, Todd White, Michael Sauer, Derek Stepan and Marty Biron participated in the morning skate.
Gilroy, who has been inactive for the past five games, said he will play tonight against Buffalo. Gilroy will get in the lineup because Michal Rozsival is out with a bruised shoulder. Tortorella told reporters on Wednesday that Rozsival will be out seven to 10 days.