Moulson-Vanek trade is a gamble for Isles
October, 28, 2013
10/28/13
2:05
PM ET
It'll take time for the dust to settle on
Sunday night's stunner of a trade
-- and it would be unfair to assess the winners and losers of the deal at this point -- but there was a fair amount of criticism for the Islanders after general manager Garth Snow shipped
Matt Moulson
and a pair of picks to Buffalo in exchange for
Thomas Vanek
.
Yes, the Isles acquired a two-time 40-goal scorer who has the potential to make some magic with star center
John Tavares
, but they made a significant gamble to do so.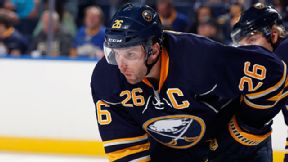 Jen Fuller/Getty ImagesSabres co-captain Thomas Vanek, a two-time 40-goal scorer, was traded to the Islanders on Sunday night.
If Vanek and Tavares enjoy the type of chemistry Snow hopes and expects, that'll be a start, but the real barometer of whether the deal was worthwhile will depend on whether Vanek decides to re-sign.
Considering the 29-year-old winger is slated to become an unrestricted free agent this July, he could turn out to be nothing more than a very high-priced rental. It's also worth pointing out that there has been significant speculation that Vanek could land with the
Minnesota Wild
this summer -- a notion that should not be discounted given his ties to the area.
Vanek is skating on a line with Tavares and
Kyle Okposo
on Monday, but what sort of success will they have together? Vanek's numbers speak for themselves, which is why Snow viewed the former University of Minnesota standout as an offensive upgrade, but it's hard to deny the chemistry forged between Moulson and Tavares in their four years together on Long Island.
Here's where things will be interesting to watch.
I'm not suggesting that Snow should pander to his star player, and Tavares isn't the type of person to demand that treatment, either. However, I do think there needs to be consideration given to the fact that Moulson is, for all intents and purposes, Tavares' comfort blanket both on and off the ice. They are best friends and linemates who have rarely played apart. Heck, Tavares is even the godfather to Moulson's 14-month-old daughter, Mila. Do you risk upsetting your franchise player and disrupting a very productive tandem for a player who may be around for less than a season?
That's the chance Snow took, and he'll have to stand behind that should it not pan out.
Also, know this:
Moulson was not unhappy in Long Island. To the contrary, he was surprised to hear about the trade and upset to leave his teammates. He had plans to be a part of the team's future; he did not want out.
The Islanders and Moulson's camp did not have any substantive talks before the trade, but that doesn't mean it had become a toxic situation. Not by a long shot. Moulson was in line for a significant pay raise, but he also knew that he would not be making more in annual average value than Tavares should a long-term deal been worked out.
Now, he's out of town before such talks even transpired.
The Isles rolled the dice. Maybe it pays off, maybe it does not. Until then, they parted with a core, character guy whose chemistry with the team's star player was a known commodity. They did so at a high price and a high risk.
Is that criticism deserved? You bet.
ESPN.com's Craig Custance also offered his take
here
. A very good read with strong insight and analysis.