NEW YORK -- Leave it to a rookie to have a flare for the dramatic.
In Mats Zuccarello's first game, on Dec. 23, he scored on the third shot in the shootout to tie the shootout in an eventual 4-3 loss to the Lightning.
Wednesday night, he scored the first goal of his career. Only this goal was the game winner in overtime to give the New York Rangers a valuable point against a team they're battling for a playoff spot.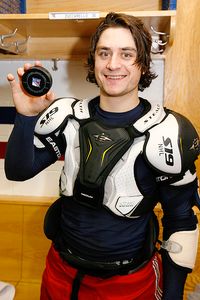 Scott Levy/NHLI/Getty Images
Mats Zuccarello displays the puck from his first NHL goal.
Zuccarello notched his first career goal in overtime in his sixth career game as the Rangers defeated the Hurricanes 2-1 in overtime. The 23-year-old also contributed an assist on the Rangers' first goal of the game.
"I just saw the puck went in and it was just an unbelievable rush, hear the fans cheer and see my teammates happy and it's just a great feeling," Zuccarello said. "I can't say anything more than that."
With 1:51 remaining in overtime, Zuccarello took a pass from Brandon Dubinsky and moved around the left side of the net and positioned himself close to the left pole. He said that goalies often go low in that scenario, so Zuccarello slapped a shot to the top-right corner of the goal, beating Hurricanes goalie Cam Ward, who had been fantastic all night. Zuccarello said he scored a couple of those type of goal in his home country of Norway.
Zuccarello said he hadn't thought about getting the first goal too often, but he had wondered when it was finally going to come. For obvious reasons, He preferred his game winner from Wednesday to scoring in the shootout, and the Rangers secured the puck after the game for the rookie to celebrate the achievement.
"This is much better. We're winning the game and just for me be able to secure for a win for our team, it's just an unbelievable feeling," Zuccarello said. "I haven't been here that long so everything is new for me, and scoring a goal is just a great feeling."
Zuccarello's coach and teammates praised him after the game.
"I think he is a good player who is going to help our team going forward," Dubinsky said. "He has so much talent. He is going to be really special for us from his talent alone. The best part about him is that he is always asking questions – he just wants to learn. He is making the right plays out there."