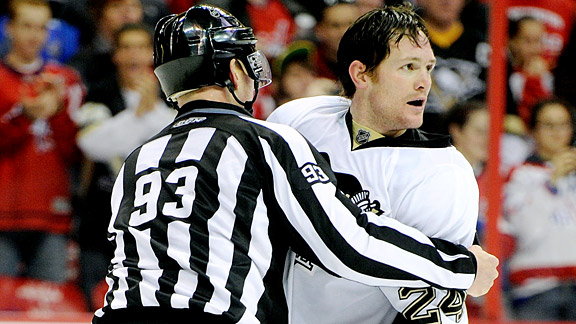 By now you've likely heard about Mario Lemieux's reaction to the foil-rich, brawl-tastic game between the New York Islanders and Pittsburgh Penguins last Friday.
Via a statement issued Sunday, Lemieux griped to the media that, "If the events relating to Friday night reflect the state of the league, I need to rethink whether I want to be a part of it."
While the actions of Matt Martin -- who sucker-punched Maxime Talbot -- and Trevor Gillies -- who flattened Eric Tangradi with an elbow before throwing several punches -- aren't particularly defensible, Lemieux may want to look to his own pond to gauge the "state of the league."
Over the past three seasons, the Penguins' have taken a steadily increasing number of major penalties. Last season, their 51 major infractions ranked them 17th in the NHL. But that number has ballooned to 63 through Feb. 14, by far the most in the NHL. (The Boston Bruins and St. Louis Blues are tied for the second most with 56.)
Granted there's some context lacking there. Since a fighting major is applied regardless of who starts the fracas, the Pens could have just been responding when their opponents dropped the gloves. Still, it takes two partners to dance.
There's also the rather hypocritical matter of Lemieux's continued employment of one Matt Cooke. Cooke has been suspended in each of the past three seasons -- twice for checking a player in the head (2008-09: Scott Walker of the Carolina Hurricanes; 2009-10: Artem Anisimov of the New York Rangers) and most recently for annihilating Fedor Tyutin of the Columbus Blue Jackets from behind on Feb. 9.
What's ironic about those incidents? Well, the Pens and captain Sidney Crosby have been railing against the NHL for the lack of protection the NHL gives its players, particularly concerning concussions. Meanwhile, Cooke is cashing Lemieux's checks while targeting player's skulls. His hit on Tyutin (video) was far, far worse than the hit by Victor Hedman (video) that may have caused -- or worsened -- Crosby's concussion. (For the record, Hedman was not suspended for his hit.)
Pot, kettle, Penguins ... you see where I'm going with this.
Lemieux isn't wrong to complain about the NHL needing to do a better job protecting its players. It does. In fact, head shots of all kinds should be banned. (A concussion from the blindside or the front is still a concussion.) But the punishment meted out by the NHL this weekend is not the problem. The repeated antics (Marc Savard says, "hi") by players like Matt Cooke are.
And don't expect much sympathy for Lemieux on this one within the NHL. From this morning's edition of NHL Rumor Central, one league governor told Sportsnet's John Shannon: "If Mario would like to change the game, maybe he should show up at the meetings."