Kovy, Brodeur back as Devils' dynamic duo
March, 4, 2011
3/04/11
11:11
PM ET
By
Mike Mazzeo
| ESPNNewYork.com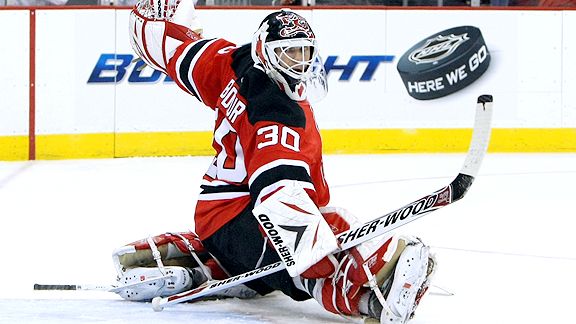 Alan Maglaque/US PresswireWhen Martin Brodeur is on a roll, the puck must look huge to the future Hall of Famer.
NEWARK, N.J. -- Two months ago, everything that could go wrong did go wrong for New Jersey Devils superstars
Ilya Kovalchuk
and
Martin Brodeur
.
Since then, however, everything that can go right has gone right for the Devils' dynamic duo.
Kovalchuk and Brodeur's second-half surge continued on Friday night in front of a sellout crowd at the Prudential Center. Kovalchuk scored his second winner in as many games -- this one with 24.9 seconds remaining in overtime -- and Brodeur made 25 saves as the Devils won for the 11th time in their last 12 games, beating the Pittsburgh Penguins 2-1.
"Marty was really good," interim coach
Jacques Lemaire
said. "Not as much Kovy, but he scored a big goal. Again, that's why he's getting paid. But Marty was on top of his game."
Two months ago, Kovalchuk and Brodeur were regarded as two of the biggest disappointments in the NHL. After a 2-1 loss to the Philadelphia Flyers on Jan. 8 that dropped the Devils to 10-29-2 at the halfway point of the season, Kovalchuk had just 20 points. Brodeur's record stood at 5-18-1.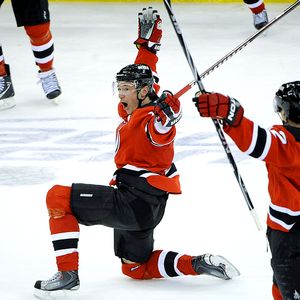 AP Photo/Bill KostrounIlya Kovalchuk celebrating a decisive goal has become routine.
That was when the team's confidence was at an all-time low. These days it's at an all-time high.
Once 27 points out of the eighth and final playoff spot in the Eastern Conference, the Devils have ripped off 19 wins in their last 23 games to move within nine points of the Carolina Hurricanes and 10 points of the New York Rangers. During that time span, Kovalchuk has amassed 25 points (13 goals, 12 assists), while Brodeur has sported an 11-1-1 mark.
"Those two guys are our difference makers," winger
Brian Rolston
said. "Right now, they're playing like it."
Kovalchuk, 27, buried his sixth game-winner in his last 12 games on Friday night, blasting a power-play slap shot from the left circle by sprawling Pittsburgh goaltender
Brent Johnson
. Almost immediately after the puck hit the back of the net a jubilant Kovalchuk skated to center ice pumping his fists. Then he was mobbed by his teammates.
These days, it's become a familiar sight.
"I'm sure I've seen [a run this good] for sure. Not on our team, though," Brodeur said. "[Kovalchuk] has been playing well. I think his work ethic makes a big difference. Not that he wasn't working hard, but there's more structure around him. He's able to do what he does out there. He's playing a hard 27 minutes around. He's skating hard, carrying the puck. There was a lot of expectations earlier in the season."
An inspired Kovalchuk, a Kovalchuk who plays two-way hockey, is finally living up to them.
So is Brodeur.
It seems like just yesterday everyone was talking about how the winningest netminder in NHL history was done. Now, they're wondering if the 38-year-old will ever begin to show his age again between the pipes. He's now 6-0 in his last six starts, 3-0 since coming back from the MCL sprain in his right knee that sidelined him for the previous nine games.
On a night when the Devils weren't at their best defensively, it was Brodeur coming up with clutch save after clutch save late in the third period, paving the way for Kovalchuk to eventually play hero -- again.
"Marty was phenomenal tonight," Kovalchuk said. "He came up with some huge saves for us. We didn't really have our jump tonight, and Marty was able to bail us out."
In the first half of the season, there were days when no one was going to bail the Devils out of a hole.
They'd get down a goal and then fold like a cheap suit.
These days, that's just not the case. Lemaire won't allow it to happen. His players -- especially Kovalchuk and Brodeur -- are too confident for it to happen.
The Devils have become masters of winning the one-goal game. Since Feb. 1, New Jersey is 11-1-1 in games decided by a goal.
"It's nice," Kovalchuk said of the run. "That's all the game's about. Emotions and winning. Everyone's gonna sleep well tonight."