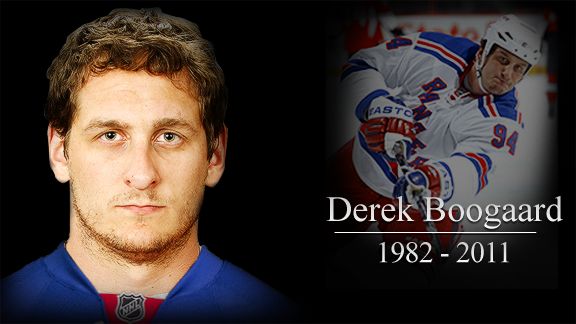 ESPN.com illustration
The hockey community is a tight one. A family. Everyone knows everyone. And when one is lost it is felt by everyone, everywhere. On Friday night we lost one of our own, Derek Boogaard at 28.
Derek was 6-foot-7 and 265 pounds, thought by some to be the best fighter in the league. So good, in fact, one of the biggest problems having him on your team was nobody wanted to fight him!
You would think someone like that would be considered scary. But ask anyone who knew Boogaard and they'll tell you quite the opposite. You'll hear words like "kind" and "nice" and "good."
He played just 22 games for the Rangers. My dealings with him were nothing more than a brief chat, a passing nod in the dressing room or on the plane. Every time I would say to myself, "For a scary guy, he's pretty nice."
On days like this you're reminded how fragile life is. That tomorrow is promised to no one. As hard as Derek hit on the ice, nothing matched the blow to the belly we all felt when we heard the news that he died.
I'm just glad that I knew him. And glad that he'll be remembered as the toughest nice guy you could ever meet.