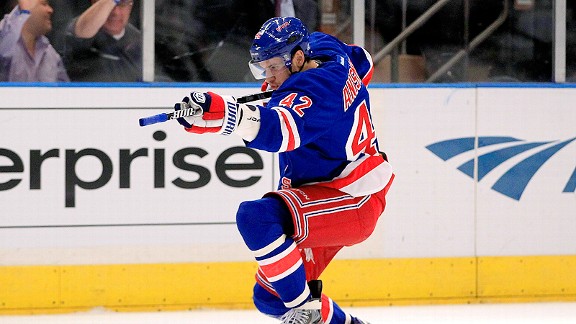 Chris Trotman/Getty Images Sport
Here's what set the Tampa Bay Lightning off on Thursday night.
Artem Anisimov was an unlikely culprit in the Rangers' 3-2 shootout loss to Tampa Bay on Thursday, but the 23-year-old forward sparked a violent outburst from a desperate Lightning team after a colorful celebration following his short-handed goal in the second period.
After snapping a 1-1 draw at 13:23, Anisimov flipped his stick to mimic a gun, dropped to one knee and play-acted an aim-and-shoot toward the Lightning goal, igniting a heated scrum from both sides.
Incensed Lightning captain Vinny Lecavalier, whose team entered Madison Square Garden on a five-game losing streak, charged the young Russian while Anisimov's teammates stepped to his defense. A combined total of 38 penalty minutes were handed out, 16 to Anisimov who earned two minutes for unsportsmanlike conduct, a double-minor for roughing and a 10-minute misconduct.
Anisimov, whose first language is Russian, was not made available to the media after the game. Coach John Tortorella said that was his call -- a decision he made to shield the player from being portrayed unfairly.
"It's wrong. We all know that. It was the wrong thing to do. I guess I'm in protective mode for him because I think he deserves to be protected," Tortorella said. "He's a solid guy that made a mistake and I still don't think he understands what he's doing there. ... He's not an idiot. There are some idiots in this league and he isn't an idiot and I just want to be sure we get that out there."
Tortorella said Anisimov felt awful about the incident and already apologized to his teammates.
"It was wrong. He knows that and I know the leadership of the club will take over as far as to work him through this," Tortorella said. "He's a young guy. He's a pretty innocent guy."
Tortorella said he didn't blame Tampa "at all" for their response and assistant captain Brad Richards echoed that sentiment.
"I don't think Artie was doing it against their team and obviously Vinny is going to think that without knowing Artie, so that happens," said Richards of his former Lightning teammate. "Artie won't do that again. He wasn't trying to embarrass anybody; he was just celebrating a nice goal, but that's what happens in hockey."
Despite his overzealous show Thursday night, Anisimov is not known for being an arrogant or ostentatious player. Rather, he is beloved by teammates for his earnestness and almost child-like enthusiasm. The Yaroslavl, Russia native has also taken huge strides in trying to learn and master English.
"He didn't mean anything by it," captain Ryan Callahan said. "Anybody that knows Artie knows that he likes to celebrate. It is what it is."
Tortorella said Anisimov will address the media on Friday, but that he already understands the gravity of his mistake.
"You guys all know him. He's a great kid," Tortorella said. "I don't think he realized what would happen in that type of situation. And I don't think that was planned by him to take it that far."