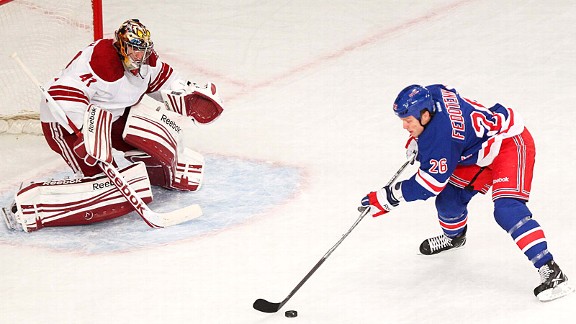 Debby Wong/US Presswire
Ruslan Fedotenko scored the Rangers' only goal in regulation Tuesday.Before Tuesday's thrilling six-round 2-1 shootout win over the Coyotes -- the team's fifth straight victory -- Rangers coach John Tortorella was pointed in his remarks when asked about the production of the team's third line.
The trio of Carl Hagelin, Brian Boyle and Ruslan Fedotenko had created plenty of chances of late, but to no avail. Tortorella said he wanted to see the line produce.
A few hours later, he got his wish.
Before Derek Stepan's dramatic winner and Henrik Lundqvist's clutch stop against Shane Doan in the shootout, grinding veteran Fedotenko snapped a scoreless draw 2:27 into the third period with a swivel shot from the high slot that beat Phoenix goaltender Mike Smith for a 1-0 Rangers lead.
Fedotenko, without a goal in the previous six games, tallied his sixth of the season while Boyle halted a 12-game scoreless skid with his assist on the play.
"Feds has been playing well, but hasn't been rewarded. Brian Boyle ends up again with a few chances and still isn't rewarded [with a goal], but I thought it was one of our better lines," Tortorella said.
Fedotenko's goal gave the Rangers a 1-0 edge early in the third and, although Radim Vrbata tied the game to send it into overtime, the Rangers found another way to scratch out a win.
Robbed on an overtime penalty shot, Marian Gaborik scored a huge shootout goal in the third round to match Vrbata's backhander and keep the Rangers in the game. Stepan scored the winner in the sixth round to boost the Rangers past the Coyotes for their 10th win over the last 11 games.
It was the first shootout goal for Stepan, who was 0-for-5 during his rookie season.
"It does feel pretty good," Stepan said. "Last year, I think I was just a little nervous going into the shootouts. This year, I felt a little more comfortable. Like I said, I just kept it pretty simple."
Stepan provided the heroics, Gaborik's strong play continued and Lundqvist -- who made 15 saves in regulation, three more in overtime, and five in the shootout -- was stellar in recording his seventh straight win.
But the performance of the team's third line was as encouraging an element as any as the Rangers tightened their clutch on first place in the league.
It was a game to build on, according to Boyle.
"Definitely," he said. "We didn't feel great in Pittsburgh, didn't play particularly well, either. We had a lot of fun tonight just going north. That was the mindset going into the game, going north, hitting guys, shoot, and that's what we all did. It was a fun game to play in. It was great."