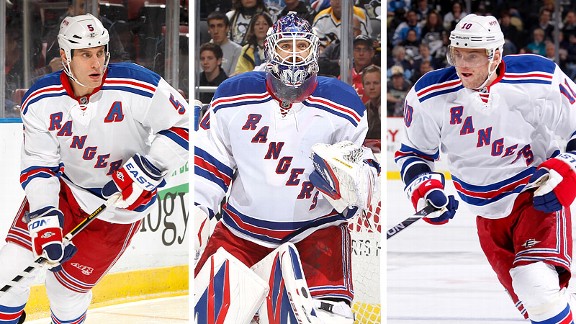 Getty Images
Dan Girardi, Henrik Lundqvist and Marian Gaborik are headed to the NHL All-Star Game. The Rangers will send three players to the NHL All-Star Game in Ottawa on Jan. 29.
Forward Marian Gaborik, defenseman Dan Girardi and goaltender Henrik Lundqvist all received the nod when the league released its 36-man roster Thursday afternoon.
Gaborik leads the Rangers in scoring with 23 goals and 11 assists in what has been an outstanding first half of the season for the 29-year-old sniper.
Girardi, who ranks first on the Rangers in ice time with an average of 27:18 minutes per game, is a first-time selection. His absence from the fan ballot earlier this season prompted coach John Tortorella to call the league "ass-backwards."
Lundqvist earned his third All-Star selection amid a season in which he has recorded 19 wins -- including seven straight -- and posted an impressive 1.85 goals against average and .939 save percentage.
The Rangers, first place in the league with 58 points, lead the New York-area teams in All-Star selections. John Tavares has been elected the Islanders' lone representative, and Devils rookies Adam Henrique and defenseman Adam Larsson were chosen to compete in the weekend's skills competition.