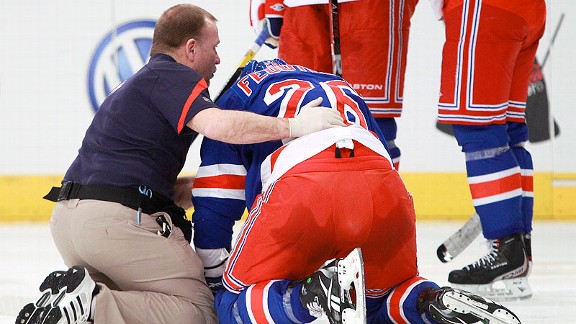 AP Photo/Frank Franklin II
Dominic Moore's hit on Ruslan Fedotenko had the Blueshirts fuming after the game.Despite a 4-3 overtime win over the Tampa Bay Lightning on Thursday, the Rangers were livid over a third-period hit that forced Ruslan Fedotenko from the game.
Tampa Bay's Dominic Moore delivered a crushing shoulder hit to Fedotenko's head at 3:05, leaving the veteran down on the ice for several minutes. Fedotenko left the game looking wobbly and did not return.
Although the play only earned Moore a two-minute roughing penalty, Fedotenko's teammates were seething.
"We're still pretty angry about that," said center Brian Boyle, who tallied the game-tying goal in the third period. "That was a really, really dirty play."
Boyle said Moore was upset about getting hit by Fedotenko earlier that shift and that the former Ranger was out of line for his retaliation.
"He should take a look in the mirror because that was garbage," Boyle said.
The Rangers had no immediate update on Fedotenko, who was not available after the game. The league will likely review the play to see if Moore deserves any supplementary discipline.
Center Brad Richards, who tallied the game-winner in overtime, seemed disgusted after seeing the replay.
"It's us doing it to each other," Richards said. "I'm pretty sure he knew what he was doing. If we want to keep doing it to each other, we're going to keep having problems. It's idiotic."
Rangers coach John Tortorella did not want to address the hit after the game, but when told his players were upset, he said:
"They should be upset."