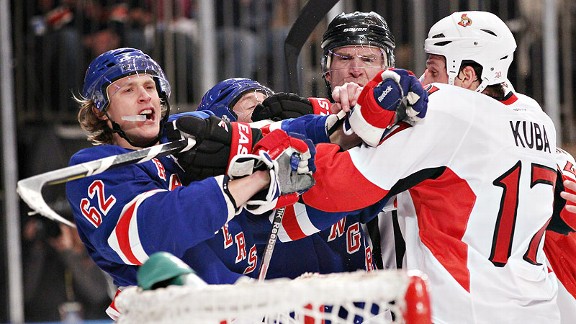 Bruce Bennett/Getty Images
Saturday night's 3-2 overtime loss to Ottawa was a spirit-sapper, but nothing like the news that followed Sunday.
The Rangers may be without Carl Hagelin for the rest of the series. The rookie was slapped with a three-game ban for his elbow on Daniel Alfredsson that forced the Senators captain to sit out the remainder of Saturday's nasty match.
The harsh punishment, surprising especially given the league's leniency toward Nashville captain Shea Weber earlier this week, is a harsh blow for the Rangers.
Heading into Monday's Game 3 in Ottawa with the series split 1-1, they'll be without a major catalyst on their top line.
The speedy Swedish winger has been vital in helping form a dominant line with center Brad Richards and Marian Gaborik. His relentless forechecking effort and tenacious puck pursuit have allowed Richards and Gaborik to flourish offensively. His presence adds quickness to their lineup; he also has earned a role as a steady penalty killer.
Coach John Tortorella would not divulge his Game 3 lineup, but the loss of Hagelin could mean the Rangers look to top prospect Chris Kreider to make his NHL debut.
Known for his size and speed -- some even think he is faster than Hagelin -- Kreider opted to forgo his senior season at Boston College and sign with the Rangers earlier this week. He has been practicing with the team but was scratched for the first pair of games in the series.