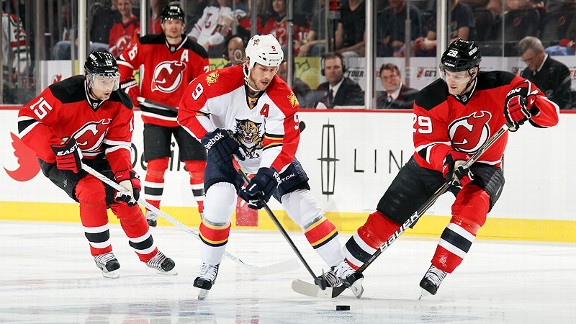 Bruce Bennett/Getty Images
NEWARK, N.J. -- Six minutes and 16 seconds into Game 3 of the Eastern Conference quarterfinals, the sixth-seeded New Jersey Devils didn't just have a 3-0 lead over the third-seeded Florida Panthers, they had history on their side.
According to the Elias Sports Bureau, the Devils had won 56 straight playoff games when leading by three goals or more. In fact, they hadn't lost a playoff game when leading by three goals or more since April 10, 1988 against the New York Islanders.
Captain Zach Parise had finally scored his first goal of the playoffs, igniting the sellout crowd just 33 seconds in. Stephen Gionta and Patrik Elias had followed with markers of their own.
Jose Theodore had been pulled. Backup Scott Clemmensen was in. The Prudential Center was rocking. The Devils were well on their way to a 2-1 series lead.
Or so they thought.

Goaltender
New Jersey Devils
Little did they know Martin Brodeur would make the shortest start of his playoff career.
Little did they know their record-setting penalty killing unit would give up three power-play goals for the first time all season.
And little did they know, still, their dominant start would turn into such a disgraceful performance.
"A three-goal lead in your own rink and you lose the game," Parise said after the Panthers came back from their first three-goal deficit in postseason history, stunning the Devils 4-3 and taking command of the best-of-seven series. "That's unacceptable right now."
In the past, the Devils would've won this game.
In the past, they would've implemented their infamous neutral-zone trap.
In the past, they would've been disciplined and stayed out of the penalty box.
And if all else failed, Brodeur would've been there to save them.
But these Devils aren't the Devils of old. And this time, history wasn't going to repeat itself.
Elias was assessed an unsportsmanlike conduct penalty with 4:44 left in the opening frame -- and it changed the course of the game. Sean Bergenheim beat Anton Volchenkov to a controlled rebound and scored 55 seconds later.
From there, it was all Panthers.


"Yeah. It's just a stupid play by me. Stupid. Uncalled for. Wrong time," said Elias, who hauled down Erik Gudbranson after an icing touchup. "It cost us this hockey game."
In the first three games of the series, the Panthers are 6-for-10 on the man advantage.
To put that in perspective, the Devils (89.58 percent) allowed just 27 power-play goals during the entire 82-game regular season.
"We gotta stay out of the penalty box. That's the only way they're generating offense. That's how they're scoring their goals," Parise said.
Brodeur gave up back-to-back goals from shots on the point by Jason Garrison (power-play) and Mike Weaver (a changeup he couldn't see), and was yanked 2:18 into the second period. It was the first time the 39-year-old future Hall of Famer had been lifted from a playoff game since May 6, 2006 -- a 6-0 loss to the Carolina Hurricanes in Game 1 of the semis.
"A little bit," Brodeur, who allowed three goals on 12 shots, admitted when asked if he was surprised about getting the hook. "You don't expect it when you're not losing a game yet. I don't know what [coach Peter DeBoer] was thinking. I'm sure it was a good reason."
"At that point, I have to do my job and try to get a momentum shift back in our direction, and I chose to do it that way," said DeBoer, adding that Brodeur will start Game 4 on Thursday night.
It didn't work.
Brian Campbell moved in unmarked on the power play and beat Johan Hedberg from the right circle at 6:34 of the second period, giving the Panthers their first lead of the game.
It was the only one they needed.
The Devils thought they'd tied the game 5:10 later when Marek Zidlicky's shot from the point found the back of the net, but the goal was disallowed because of Steve Bernier's "incidental contact" with Clemmensen in the crease. It appeared, though, that Ed Jovanovski pushed Bernier into the Panthers goaltender.
"I saw it twice. It was marginal," DeBoer said.
"I'm not going to comment on that," Parise said.
"I ended up on the ice," Bernier said. "I don't know how I got there, but I usually don't fall by myself."
Didn't matter. The call stood. The fans pelted the officials with obscenities.
But their cries went for naught. In the end, their team was to blame.
Coming in, the Devils talked about wanting to take advantage of playing on their home ice. They're 3-10 in their last 13 playoff games at Prudential Center.
Coming in, the Devils talked about playing smart. Instead, Elias, Bryce Salvador and Petr Sykora took foolish penalties and each time their team paid the price.
Coming in, the Devils talked about wanting to play more than one good period. They didn't even do that. Clemmensen stopped all 19 shots he faced in relief of Theodore and remained undefeated against New Jersey (5-0).
You can't play lights out for 6:16 and expect to win a 60-minute game.
"I don't really have an explanation," DeBoer said. "I think we've gotta learn as a group how to play in that situation, and it starts with not taking penalties. We've been burned in two games now taking penalties, and their power play has been the difference."
The Devils aren't on the brink of elimination just yet -- but they've essentially put themselves in a position where they have to win Game 4.
"We just gotta find a way to get a win," DeBoer said. "Whether this takes six or seven games, it doesn't matter as long as we win."