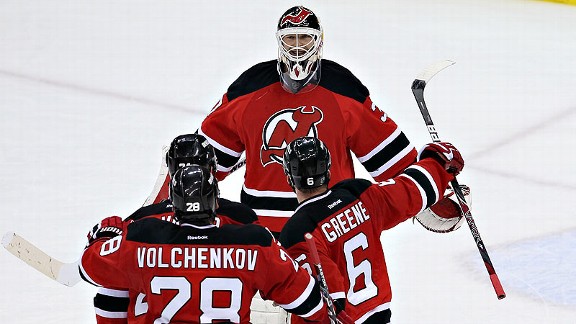 Ed Mulholland/US Presswire
Martin Brodeur had a near-perfect birthday on Sunday night in Newark.NEWARK, N.J. -- Martin Brodeur's 40th birthday was almost perfect.
"I wish I would've gotten a shutout," the New Jersey Devils goaltender joked after making 20 saves in his team's 4-2 victory over the Philadelphia Flyers in Game 4 of the Eastern Conference semifinals on Sunday night at the Prudential Center.
"But that's all right."
According to the Elias Sports Bureau, Brodeur became the first goaltender in NHL history to appear in a playoff game as a teenager as well as a 40-year-old. On April 27, 1992, Brodeur -- then 19 years, 357 days -- gave up three goals on 15 shots in 32:04 against the Rangers.
That was just the beginning. The league's all-time winningest goaltender now ranks second to Patrick Roy in almost every postseason category. He ranks first in shutouts (24), shutouts in a playoff year (seven) and shutouts in a playoff series (three). The Conn Smythe Trophy is the only playoff award missing from his mantel.
"I didn't know that. I guess it's longevity and a little luck, too," said Brodeur, who owns a 106-85 all-time playoff record and three Stanley Cup championships.
Eastern Conference Playoffs

Get all the news and commentary on the Flyers-Devils matchup on ESPN.com's matchup page.
• Burnside: Series preview
• Predictions: Experts | You tell us!
• Playoffs schedule | Cross Checks blog
• Devils blog | ESPN New York
The 18-year veteran received plenty of birthday wishes from his teammates on Sunday. He even got some b-day love from the sellout crowd after it was announced on the jumbotron.
But after celebrating with his family and eating cake on Saturday night, all Brodeur wanted for his birthday was a win -- and that's exactly what he got.
"That was their gift, I guess," Brodeur, who added his third assist of the playoffs, joked. "That's nice of them."
The Devils, who got two goals from Dainius Zubrus and a goal and an assist from trade-deadline acquisition Marek Zilicky, now have a 3-1 stranglehold on the Flyers in their best-of-seven series. According to ESPN Stats & Information, they've never lost a series when going up 3-1 (9-0).
Of course, that's history. And Brodeur knows better than to assume it's going to repeat itself.
Back in 2000, his Devils faced the same deficit against Philadelphia. But they came back and pulled off the unfathomable.
"We've still got two [possible games] in their building," Brodeur said. "We were in their position in 2000, and we were able to come back and win Game 7. I don't put anything past them."
If Brodeur plays as well as he has in the playoffs so far, however, that probably won't happen.
In 11 starts, he's 7-3 with a 2.15 goals-against average, a .916 save percentage and a shutout.
"We're always confident with Marty in net," captain Zach Parise said.
So what is the secret to his success?
"Staying healthy. Just going out there and playing. I work hard in practices as we go, and try to give my team a chance to win and not hurt them too much," Brodeur replied. "I just try to do what I do, and that's it."
Sounds easy. Brodeur has been making it look that way for nearly two decades now.
As he pointed out, he's more than twice as old as 19-year-old rookie defenseman Adam Larsson.
"You kind of shake your head a little bit and [appreciate that] you're able to [still] play at a level when you're having fun," Brodeur said, "and to [still] be able to compete in the league that you always wanted to play [in] and be able to keep it going.
"For me, I don't take anything for granted and I appreciate every moment."
Brodeur doesn't want to think about the end. He hates being asked about it.
All season long, he's maintained that he wants to come back. He even said he thinks he still has years left in him.
Who would've thought that 18 years ago? Not Brodeur, that's for sure.
"I'm just happy to be here," Brodeur said.