NEWARK, N.J. -- Zach Parise was as silent in the locker room following Game 3 of the Eastern Conference finals as he was on the ice.
After accumulating three shots and a minus-2 rating in his team's 3-0 loss to the Rangers, the Devils' captain declined to comment despite repeated requests from reporters.
"I don't know anything about that," Devils coach Peter DeBoer said. "If he didn't (talk), he's got good reason. I don't have anything to say about that."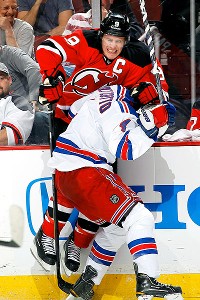 Andy Marlin/Getty Images
Saturday was a tough day for Devils captain Zach Parise.
Parise has now gone five straight playoff games without a goal. He has just one assist in three games against New York.
DeBoer was asked if Parise is frustrated.
"No, I don't think so," he replied.
Parise may have been upset with the media over a newspaper article in which his father, J.P, was quoted as saying Zach would "fit right in" with the Rangers.
Parise, a free agent this summer, declined to comment about the quote following Friday's practice.
"I have to say I was extremely disappointed in how my comments were portrayed in today's newspaper article," J.P. Parise said in a statement to the media. "I would never speak for Zach under any circumstance.
"He has not talked to me about anything other than the playoffs and we have not discussed anything but the playoffs, and that is 100 percent where his focus is right now and I have absolutely no intentions to distract and get things away from his focus right now."
Parise is expected to be the most coveted free agent in the NHL when he hits the market on July 1.
Prior to Saturday, he had been extremely accommodating to the media.
The Devils have now been shut out twice in the first three games of the series. Their power-play is 1-for-12.
But everyone who spoke in the locker room sounded confident that they can turn it around and even things up on Monday night in Game 4.
Parise may have been confident, too. But if he was, he wasn't around to let everyone know.