NEWARK, N.J. -- For the second time in the first three games of the Eastern Conference finals, the Devils failed to capitalize on the power play.
They went 0-for-5 on the man-advantage in their 3-0 loss to the Rangers in Game 3 on Saturday afternoon, and are now 1-for-12 in the series.
"We didn't get any goals, so their power play was better than ours," point man Ilya Kovalchuk said. "That was the difference: special teams."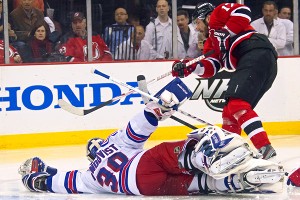 Cal Sport Media/AP Images
Kovalchuk and the Devils couldn't solve Lundqvist.
Eerily reminiscent of Game 1, the Devils outplayed the Rangers for 40 minutes, but had nothing to show for their efforts.
Then an early penalty did them in.
Bryce Salvador was sent to the sin bin for hooking at 2:11 of the third. Sixty-eight seconds later, Brad Richards won a faceoff clean to Dan Girardi, who fired a power-play wrist shot past Martin Brodeur to give the Rangers a 1-0 lead.
"We strung together six or seven great shifts. We didn't capitalize on it. That's the story of the game," Devils coach Peter DeBoer said. "So, you know, we had opportunities. If we find a way to score one in the first two periods, it's a different game. We didn't."
Early on, the Rangers' penalty-killers overloaded on Kovalchuk, taking away his lethal slapper.
He finally was able to get one off late in the third, but Henrik Lundqvist robbed him with a brilliant glove save.
Peter Harrold beat Lundqvist with a shot from the center point. He just couldn't beat the post.
"We just have create lanes and get the puck to the net," Kovalchuk said. "We got some good looks, but a couple sticks broke and, like I said, we hit the post. I got a couple great chances. We just have to keep working."
DeBoer was asked what went wrong.
"I think their goalie, you know, was the difference," he replied. "I thought we created some real good looks on it. When their goalie's on like that, your goaltender is your best penalty killer, and I think that was the case (Saturday)."