NEWARK, N.J. -- An eye for an eye?
Try a groin shot for a groin shot.
With 4:57 left in the second period of the Devils' 4-1 victory over the Rangers in Game 4 of the Eastern Conference finals on Monday night at the Prudential Center, Ilya Kovalchuk and Ryan Callahan exchanged blows to the midsection, according to Kovalchuk.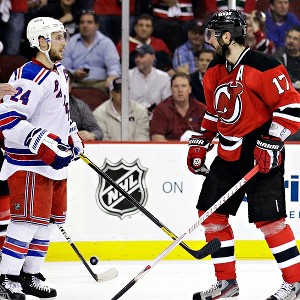 AP Photo/Julio Cortez
Things got heated Monday between Ryan Callahan and Ilya Kovalchuk.Kovalchuk was caught on replay spearing Callahan, but says he wasn't the only one going below the belt.
"I have protection there," Kovalchuk said, insinuating Callahan retaliated by punching him in the groin. "This is hockey, not chess, so we're allowed to punch each other."
Both were given minor penalties -- Kovalchuk received two minutes for slashing, while Callahan got two minutes for roughing -- and sent to the penalty box.
Kovalchuk is not concerned about facing supplemental discipline from the NHL.
"I'm pretty sure he's healthy and he didn't miss anything," Kovalchuk said. "That stuff happened all over the ice."
Callahan wouldn't comment on the groin incident specifically.
"It's gonna happen. It's a series," Callahan said. "We're playing each other every other night. There's going to be situations out there where we don't like each other and we're getting in each other's faces. That's playoff hockey."