Rangers believe Game 6 in Ottawa will help
May, 24, 2012
5/24/12
4:40
PM ET
A little more than one month ago, the Rangers found themselves in this same spot, trailing 3-2 in a series and having to hit the road for a do-or-die Game 6. They would beat Ottawa 3-2 to even the series, and went on to vanquish the Senators in Game 7 at Madison Square Garden.
The Rangers believe that experience of winning an elimination game on the road will help them as they prepare to visit the Devils on Friday for Game 6 of the Eastern Conference Finals. The Rangers are 3-0 when facing elimination in the playoffs.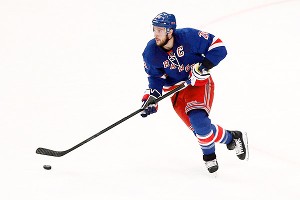 Debby Wong/US Presswire"We have to find that next level and that extra desperation," Rangers captain Ryan Callahan said.
"We've been in this situation in the Ottawa series. We can draw off that experience, just the feelings going into the game," captain
Ryan Callahan
said after the team's practice at Madison Square Garden. "Try to stay even-keeled about it and go into an opposing building and win one game and try to get back here to the Garden."
In the quarterfinals, the Rangers lost 2-0 in Game 5 to the Senators, forcing them to the brink of elimination. Center
Brad Richards
called it a "tough day" to lose at home in Game 5.
Richards said the team was looser during its practice Thursday than when it prepared to travel to Ottawa.
"That's how you grow. You build on everything you've done through your career and the different games you've played in," Richards said. "We've been fortunate to get a lot of those games this year already."
In addition to the Game 6 win against Ottawa, the Rangers are also 2-0 in Game 7s this postseason, knocking off Ottawa and Washington in a pair of 2-1 games. Head coach
John Tortorella
said his team is a good group that "stays with it" and doesn't panic. He pointed to the team climbing out of a 3-0 deficit Wednesday night as an example.
Tortorella believes the experience of playing in those elimination games is invaluable.
"These are all situations you look at as an organization as far as what guys are in these situations," Tortorella said. "The more you're in it and the more situations you go through, the better. That's how you gain experience."
The prevailing thought around the Rangers was they played their best game of the series against the Devils on Wednesday. While that might be a good sign heading into the most critical game yet, the team still lost.
The Rangers realize they're going to have to kick it up another notch -- like they did in Ottawa on April 23 -- if they want to survive for at least one more game.
Said Callahan: "They're going to be a desperate team to clinch on their home ice and we have to find that next level and that extra desperation, and it's obviously a huge game."