There might be plenty of similarities between the 1994 and 2012 Eastern Conference finals, but Martin Brodeur doesn't see them.
"I know if you look at it, it looks the same," the Devils goaltender said Thursday, in between Games 5 and 6 against the Rangers. "But it's different teams and a different way of playing the game.
"That's 18 years ago. That's a long time. I know I'm feeling a lot different. I'm feeling a lot more appreciative of what's going on. Before, the Rangers were a good team when they beat us. We were not supposed to compete with them at all in '94. They made these trades and they had all these big guys at the end, and they pulled it off in a dramatic way.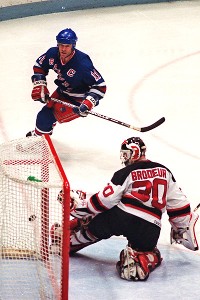 AP Photos/Ron Frehm
Martin Brodeur was a 22-year-old rookie when the Devils faced Mark Messier and the Rangers in an epic 1994 Eastern Conference finals.
"But this time around, we feel we can play with them. It makes me feel a lot more comfortable going into these games coming up."
In 1994, Brodeur and the Devils led the Rangers 3-2 in their series after beating them at Madison Square Garden in Game 5 -- just like they have in 2012. But the Rangers won the next two games and then the Stanley Cup -- something the Devils don't want to happen this time around.
"[Wednesday night] was maybe a little wake-up call," Brodeur said. "They played a lot better, but we didn't play as good as we wanted, so I'm sure they're going to feed off of some of the stuff they exposed in us. We're definitely going to need to be better for the rest of the series."
Many reporters tried to get the Rangers' players to make a guarantee similar to the one Mark Messier made prior to Game 6 in 1994 -- he ended up with a hat trick in New York's 4-2 victory over New Jersey at Brendan Byrne Arena in East Rutherford, N.J. -- but no one took the bait.
"We didn't even know before the game was ended that he made a guarantee. I don't know when he did it," Brodeur said. "I think it was in the morning skate or something. It could have been the night before; but, again, I don't recall it having an effect on us at all. But I think at the end of the game, everybody made a big deal out of that. If he really said it, it's a pretty gutsy thing to do."
Then Stephane Matteau scored his iconic wrap-around winner in double overtime in Game 7, stunning the Devils. Brodeur was 22 then. He said he learned a lot from the experience.
He went on to become the winningest goaltender of all time and capture three championships. Now, he's 40 and aiming for his fourth.
"Nobody knew my name back then," Brodeur said. "You know, it's different, but that was pretty amazing how loud they got chanting my name [at MSG in Game 5]."
Devils coach Peter DeBoer certainly didn't want to make any comparisons between 1994 and 2012.
"I don't even think about '94. In '94 I still had hair," DeBoer joked. "It was that long ago. That plays no part in what we're doing."
Many didn't expect Brodeur to carry his team the way he has in the postseason. Yet he has gone 11-5 with a 2.04 goals-against average and a .921 save percentage, and the Devils are one win from advancing to their first finals since 2003.
"Part of it is he's very impressive," DeBoer said. "He's an impressive guy. He's calm. He's been there before, and he's a calming influence on our team and in our dressing room. That's why he's the best of all time."