Sunday, June 10, 2012
Devils shift pressure to Kings

---
By Katie Strang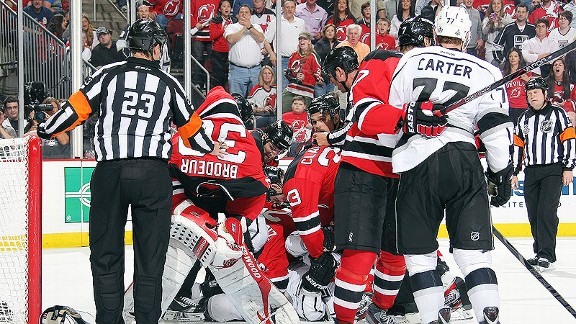 Dave Sandford/NHLI/Getty Images

EL SEGUNDO, Calif. – According to coach Pete DeBoer, the New Jersey Devils couldn't help but feel they were being treated like a foregone conclusion the last time they were in Los Angeles.

Down in a 3-0 hole on the road against a Los Angeles Kings team that had the chance to clinch in front of its home crowd, the city had the buzz of an impending coronation.

And the Devils didn't like it.

"When your bus has to pull by the 10 limos parked on the road for the after party, that's definitely a motivation," DeBoer said Sunday from the Kings' practice facility.

The series has taken a dramatic shift since, however.




Ripping off two straight wins to pull within a game of the Kings, the Devils hope they have foisted the pressure and scrutiny on their opponents.

"I don't think there's any doubt about that," DeBoer said. "People expected this to be over two games ago. So the fact that we're in the spot we're in, I don't think there's any hiding from that pressure."

A few of the Kings willingly admitted that they got consumed with the allure of the ultimate prize -- the franchise's first Stanley Cup title -- and lost focus on what it would take to achieve it.

"I think a lot of us before Game 4 were distracted with family members and friends, the Cup coming in the building. A lot of things we have to put aside," defenseman Drew Doughty said. "Family always comes first for everyone, but at this point of the year, the team has to come first."

A sore spot after squandering two chances to nail it down?

"Yeah," Doughty said. "I think it was a lesson learned."

With doubt and pressure seeping into the Kings' room, the Devils seem to have harnessed momentum heading into Game 6. Puck luck has turned in New Jersey's favor while the Kings' have looked frustrated at times, particularly in the post-whistle action that might suggest their composure is being tested.

If that's a subtle weakness the Kings have exposed, the Devils hope to exploit it.

"We were in their shoes. We know how it feels," Ilya Kovalchuk said. "But, like I said, you've got to control your emotions. I think the team that is going to do it better is going to win."

Composure and resiliency has been a strength all year long for the Devils, who are 4-0 when facing elimination this postseason.

DeBoer doesn't think that's a fluke.

"I think it's a testament to character, to gut check, to leadership in the room, all those things," he said. "That's when the rubber hits the road, so to speak, for your season and for your team."

"We have had an ability to rise to the occasion."



---