Tuesday, May 22, 2012
Leave it to Salvador to solve The King

---
By Mike Mazzeo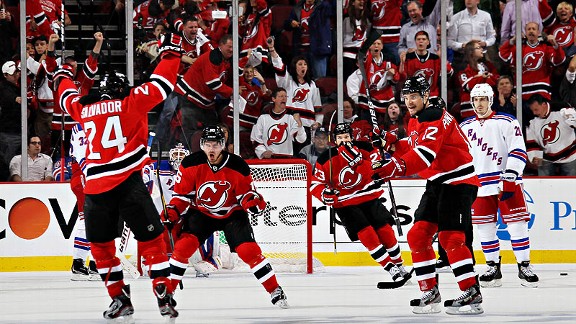 Bruce Bennett/Getty ImagesBryce Salvador's first-period goal "lifted a weight off us" said Devils coach Peter DeBoer.

NEWARK, N.J. -- All the Devils needed was a bounce, a puck with eyes.

Henrik Lundqvist stopped all 36 shots he faced in Game 3 of the Eastern Conference finals.

But the Devils got to the Rangers' all-world netminder early in Game 4 -- and they did so via a weak wrist shot from a defensive-minded defenseman that has suddenly discovered the magic touch on the offensive end.

Bryce Salvador, who had no goals during the regular season, notched his third marker of the playoffs from the left point 8:10 into the first period, galvanizing the Devils to a 4-1 triumph on Monday night at the Prudential Center.

"He's hot right now," David Clarkson joked. "The puck's going in for him."

Throughout his 10-year career, Salvador, 36, has never been known for his ability to score. In fact, going into the postseason, he hadn't tallied since March 10, 2010.

But an empty-netter against Philadelphia in Game 2 of the semis changed that.

And Salvador, who missed all of last season with a concussion, has been a force to be reckoned with ever since.

"I've got a couple of those on some goalies," said Salvador, who also tallied in Game 5 against the Flyers. "Maybe the empty-netter opened the flood gates."

Sure has. Salvador now has 10 points in 16 playoff games -- one more than he amassed over the 82-game regular season.

"I know I lit it up [offensively] when I was 10 years old," Salvador joked. "Points are great, but what's more important are the wins, because if you're not winning, no one is going to remember how many points you had."

If the Devils go on to capture their fourth Stanley Cup in franchise history, Salvador's goal in Game 4 is bound to be his most memorable.

"It kind of lifted a weight off us," Devils coach Peter DeBoer said, "and I thought we played a little bit looser and a little bit freer from then on."

Salvador received a pass along the boards from Alexei Ponikarovsky. He nearly lost control of it, but managed to gather himself and wrist a shot toward the net. It sure was slow, but with Lundqvist screened by Jacob Josefson and David Clarkson in front, somehow the puck managed to find its way through.

"The strategy is to get the puck to the net," Salvador said. "Their forwards are doing a great job of blocking, so the goal is just to get it past the first forward, and slap shots aren't going to get through. We just got rewarded."

Travis Zajac notched his sixth goal of the playoffs 3:49 later, and Zach Parise added a pair in the third. New Jersey's four goals marked a series high.

Yet it's possible none of those tack-on goals happen if Salvador doesn't solve Lundqvist first.

"Maybe my pucks have eyes on them," Salvador said. "I'll run with it as long as I can."


---