New York Hockey:

Alain Vigneault
October, 3, 2013
10/03/13
3:50
PM ET
At a glance:
The Rangers open their 2013-14 season Thursday night against Phoenix with hopes of shutting the door on a disappointing end to last year and embracing the "clean slate" philosophy of new coach Alain Vigneault. Vigneault will be behind the bench for his first regular-season game since replacing John Tortorella this summer. His team struggled in the preseason -- notching only one win in six exhibition games -- and is in dire need of a strong start, considering the nine-game road trip the Rangers must endure to begin the season.
First up:
The Rangers face off against a
Phoenix Coyotes
team that is aiming to get back to the playoffs after missing the cut last spring. They have strong goaltending in
Mike Smith
and one of the most well-regarded coaches in the game in Dave Tippett, and have added to their roster since last year. The team's biggest off-season acquisition (well, beyond a stable ownership group) was the signing of center
Mike Ribeiro
, who had a dynamite year with the Capitals in 2013 playing alongside
Alex Ovechkin
.
Missing in action:
As expected, the Rangers will be without two of their top-six forwards -- captain
Ryan Callahan
and speedy winger
Carl Hagelin
, both of whom are rehabbing shoulder injuries. Though Callahan is very close to returning, neither player will be in the lineup Thursday. The Rangers need their depth players to step up during their teammates' absences.
Big year for Brad:
In desperate need of a bounce-back year,
Brad Richards
will start the season with a different look. Vigneault has penciled in the veteran center to play left wing on the team's first line with fellow pivot
Derek Stepan
and
Rick Nash
. Richards has played wing previously in his career, but never as a Ranger.
Step by Step:
The recently signed Stepan did not have the luxury of any preseason games to acclimate to the action. The 23-year-old center missed more than a week of camp because of a contract stalemate that finally came to a halt last week. He has not played in an NHL game of any kind since the team's second-round series against the
Boston Bruins
last spring.
Pressure's on, Hank:
Team MVP
Henrik Lundqvist
vowed to not let his looming contract situation become a distraction, but he's playing for a large payday. The former Vezina Trophy winner, who said Thursday he is removing himself from negotiations during the season, is seeking a significant raise from the $6.875 million he is set to make this year. Should he continue his stellar play from the past two seasons, he can very well expect to become the highest-paid goaltender in the game.
October, 2, 2013
10/02/13
5:32
PM ET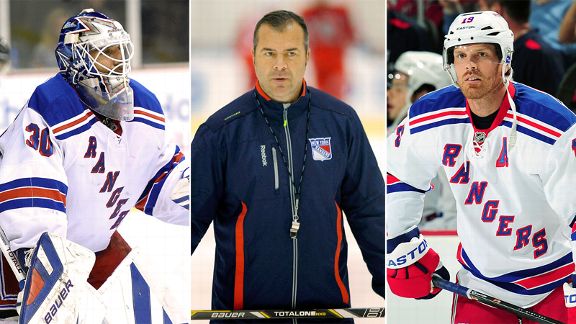 Getty Images, AP PhotoWill Henrik Lundqvist re-sign? Will Alain Vigneault succeed? Will Brad Richards bounce back?
Following an underwhelming performance in the playoffs last spring and the subsequent dismissal of John Tortorella, the Rangers enter the 2013-14 season with a "clean slate" under new coach Alain Vigneault. New York opens the season on a nine-game road trip that begins Thursday in Phoenix and with the Blueshirts aiming to get back to the top of the Eastern Conference, here are five questions to ponder before the puck drops:
1. What effect will the new coach have?
The most significant change brought about this offseason is the one behind the bench. Gone is the harsh, grating bark of Tortorella, who has been replaced with the upbeat, genial Vigneault. The players seem to embrace their new coach's positive presence -- no doubt a welcome change compared to Tortorella's tough-love approach -- but will it yield results on the ice? For as much as Tortorella's fiery, unrelenting persona wore players down, he instilled a no-frills, blue-collar work ethic that brought the Rangers success. Vigneault's system seems to give the players a bit more freedom and creative license, but will that automatically translate into wins?
2. What will happen with Hank?
The Rangers' franchise goaltender and backbone of the team is entering a contract year without a new deal. Though
Henrik Lundqvist
's camp and the organization remain in discussions about an extension, the negotiations have not taken on a sense of urgency yet. A fierce competitor, Lundqvist has vowed to cut off talks should they become a distraction. That hasn't happened, at least not yet. On the eve of the Rangers' season opener, Lundqvist said he would let discussions continue but would remove himself from the equation so as to allow his sole focus to be on winning games.
3. Will it be a bounce-back season for Brad?
If there is any one player who has to be the most encouraged by Vigneault's arrival, it has to be
Brad Richards
. The veteran center had an abysmal lockout-shortened 2013 season, during which he was demoted to the fourth line and ultimately benched as his game rapidly regressed. Richards seems re-invigorated by Vigneault's arrival, however, and eager to begin anew. The 2013-14 season has already brought some changes for the former Conn Smythe Trophy winner. Vigneault is planning to debut Richards at left wing on the Rangers' first line with center
Derek Stepan
and
Rick Nash
.
4. Can the power play improve?
If the Rangers want to make it back to the playoffs, it better. The power play has been a perennial sore spot for the Rangers; it finished last season 23rd in the NHL with an unsightly 15.7 percent success rate. The Rangers have already devoted ample time to work on special teams and have added to their coaching staff to further bolster the ailing unit. Associate coach Scott Arniel will be tasked with helping the group improve its efficiency, though the Rangers still lack a true power-play quarterback with the big shot to keep opponents honest.
5. Are the Rangers road warriors?
Just like the previous two seasons, the Rangers begin the season with a long, grueling road trip on the schedule. Because of renovations to Madison Square Garden -- the third and final phase of the project -- the Rangers play their first nine games on the road and their first five out of their time zone. Those handful of games include some of the top teams in the Western Conference in the
Phoenix Coyotes
,
Los Angeles Kings
,
San Jose Sharks
,
Anaheim Ducks
and
St. Louis Blues
. The Rangers should be used to it by now after their lengthy jaunt out west this preseason, but they hope to fare better once the games count; the team was 1-5 in exhibition games.
September, 26, 2013
9/26/13
11:45
AM ET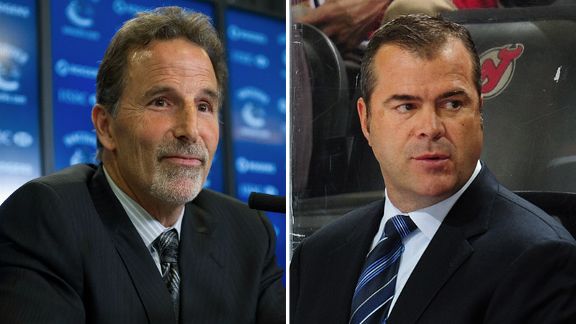 Getty ImagesJohn Tortorella and Alain Vigneault will cross paths for the first time since playing Coach Swap.
Preseason hockey has already been rife with drama, from
Sam Gagner
's broken jaw at the hands of
Zack Kassian
to the
John Scott
-
Phil Kessel
-
David Clarkson
debacle that followed just a day later. Thursday night in Vancouver will provide another interesting storyline to follow.
That is when John Tortorella and Alain Vigneault will cross paths for the first time since playing Coach Swap this summer. Following seven seasons with the Canucks, the last of which ended with a first-round sweep by the
San Jose Sharks
, Vigneault was brought to New York as the affable, even-keeled antithesis to his brash, tough-talking predecessor.
Meanwhile, Tortorella, who wore out his welcome in the Big Apple and made his fair share of players bristle under his watch, is back behind the bench in Vancouver, trying to provide a skilled team with a jolt.
The two clubs square off Thursday night in a match that has less to do with the personnel on the ice and more to do with the regime change in both cities.
The Rangers have touted their "clean slate" mentality under Vigneault, a clear message that they had endured enough under Tortorella's tenure. Meanwhile, the Canucks have also seemed to embrace their new voice, even if it means some profanity-strewn tirades along the way.
Tortorella, whose rocky relationship with reporters is well-documented, has not spoken to anyone from the New York media since his departure in late May. Perhaps he'll have some things to get off his chest when they all descend on Rogers Arena before the game.
Vigneault has already said he plans to thank people he didn't get a chance to thank upon his hasty exit, but don't bet on Tortorella taking the same diplomatic, genial approach.
Of all the things you can say about the fiery coach, he's never boring.
Buckle up.
September, 25, 2013
9/25/13
1:46
PM ET
There appears to be no enmity between Rangers coach Alain Vigneault and his former club. In fact, Vigneault, who coached the Canucks for seven seasons before being dismissed last spring, said he plans to give thanks in his first return to Vancouver since his firing.
"When I got let go, I didn't have a chance to say thank you to the people I was working with because I wasn't in Vancouver at the time," Vigneault said in a televised MSG interview Tuesday night. " All those people I was working with are there right now and I am going to take that opportunity to thank them."
That said, Vigneault also made it clear he wasn't headed back there simply to take a stroll down memory lane. In his first season with the Rangers, Vigneault has some important personnel decisions to make as training camp nears its end.
"It was a great time with Vancouver but now it's time to get it done with the Rangers," he said.
Whether his successor in Vancouver (and predecessor in New York considering the bizarre coaching swap) will express similar sentiments remains unclear. John Tortorella has not spoken with the New York media since his departure.
Should be an interesting pregame press conference Thursday morning...
• • •
The Rangers announced that they have sent forwards
Micheal Haley
,
Michael Kantor
,
Danny Kristo
, and
Andrew Yogan
, defensemen Tommy Hughes,
Aaron Johnson
,
Dylan McIlrath
, and
Danny Syvret
, and goaltender
Cam Talbot
down to the American Hockey League.
This leaves the Rangers with 30 players on the active roster.
September, 16, 2013
9/16/13
3:12
PM ET
At a glance:
The
New York Rangers
and
New Jersey Devils
open the 2013 NHL preseason with a clash between division rivals. Both teams are coming off disappointing seasons last year; the Rangers were unceremoniously bounced from the playoffs in the second round while the Devils missed the post-season entirely.


There will be some new faces added to the rivalry as well. Gone are the days of epic feuds between coaches John Tortorella and Pete DeBoer. The Rangers now have the much more affable Alain Vigneault behind the bench. Meanwhile, the Devils are now without their top forward in
Ilya Kovalchuk
, who bolted for the Kontinental Hockey League this summer, though they added former Ranger
Jaromir Jagr
.
First-line debut:
Chris Kreider
,
Brad Richards
and
Rick Nash
will comprise the Rangers' top line Monday night when they take a trip across the Hudson to face the Devils at Newark's Prudential Center. Kreider, who was inconsistent in 2013 after a sizzling NHL debut during the playoffs of 2012, has been impressive in the opening days of training camp while Richards is looking to turn the page on a devastating 2013 and start the year with a "clean slate."
They meet again:
Vingeault probably thought he'd never have to answer another question about
Cory Schneider
again, right? Not so fast. Despite escaping the never-ending goaltending saga in Vancouver, the two men will meet again Monday when Schneider suits up for his first game as a New Jersey Devil and gets the start against his former Canucks coach. Schneider was acquired by New Jersey in a surprising draft-day trade in June.
Keith Kinkaid
will back him up, according to the Bergen Record, while
Henrik Lundqvist
and
Cam Talbot
are expected to split time in nets for the Rangers.
Veterans out:
Neither veteran stars
Patrik Elias
nor Jagr will play Monday for the Devils. Though Elias told reporters Monday morning that he was uninjured and simply taking a day to rest, Jagr is battling a "lower-body" injury suffered in the first day of camp.
No time to Staal:
After a derailed attempt to return during the playoffs last spring, Rangers defenseman
Marc Staal
is back in the lineup after an off-season to recover from the harrowing eye injury that sidelined him for half of last season.
Staal, who was struck in the eye with a puck in a game against the Flyers in March, is aiming to play four of the six exhibition games during the preseason.
OK to play:
Rangers Defenseman
Stu Bickel
, who missed Sunday's scrimmage with a back injury, is expected to play. Should he be unavailable, the Rangers will use defensive prospect
Dylan McIlrath
to replace him in the lineup.
September, 12, 2013
9/12/13
7:23
PM ET
No one seems willing to embrace new Rangers coach
Alain Vigneault's "clean slate" mantra
more than
Brad Richards
.
The 33-year-old center has had an entire summer to exorcise the demons from an abysmal 2013 season during which he was demoted and ultimately benched for the last two games of the team's second-round playoff series against the Bruins.
[+] Enlarge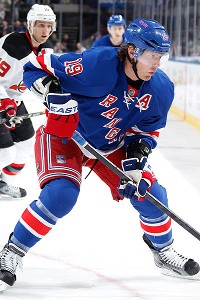 Scott Levy/NHLI/Getty ImagesBrad Richards looks to rebound after a disappointing a 2012-2013 season.
During the course of the lockout-shortened schedule, the former Conn Smythe Trophy winner's game regressed, his spirit was squashed and there seemed for him no way out of the abyss.
"I lost myself a little bit last year and I think I lost confidence of the coach, which doesn't help when you're trying to get out of something," said Richards, who finished with 11 goals and 34 points. "It was tough. It was an uphill battle."
That coach, John Tortorella, is gone now and has since been replaced by Vigneault. Vigneault, who seems to offer a much friendlier, less adversarial foil to Tortorella's harsh, grizzled persona, has told Richards he doesn't care about what happened last season.
In fact, he shook his head even after hearing that Richards answered questions about it.
"I've told him to turn the page and, as much as he can, not answer questions about last year because it has no significance or importance to now," Vigneault said.
Starting anew? Exactly what Richards needs.
"Talking to Alain has been very positive. He uses the clean slate thing, but he uses it especially with me, that all is forgotten," Richards said. "I'm excited to get back to work and I think he's excited to help me get back on track. In the end, it's really all up to me."
Richards knows that his disappointing performance last season will leave him open to scrutiny, and he's fine in handling that. But, he has tried to banish that difficult time from memory.
"I know I have to deal with it with you guys a little bit here at the start here, but I've really put all of that in the past," Richards said. "I've had a lot of time to get rid of those thoughts and what happened and regroup. Hopefully, this is a positive thing and that's how I'm looking at it, that it'll get me going in the right direction at this point in my career."
Richards, who inked a nine-year, $60 million deal in 2011, also addressed the limbo period this summer when he was considered as a potential compliance buyout candidate. He said he was happy that the team chose not to exercise that option.
"I'm happy to be here. I'm thrilled. I did not want to end my New York Ranger tenure as that," Richards said. "I'm grateful that I'm still here and I'm getting the chance to be part of this organization."
Vigneault said he was pleased with Richards in Thursday's first on-ice session, during which he saw the alternate captain stepping up to be first in line for the conditioning laps and embracing his leadership role.
"To me, he looks real positive and he looks like he's got a lot of energy, so I think he's looking forward to the challenge that's coming up with this season," Vigneault said. "He seems to want to lead the troops and that's what we want him to do."
July, 2, 2013
7/02/13
2:20
PM ET
Expect Scott Arniel to join
Ulf Samuelsson
on Alain Vigneault's coaching staff.
The
New York Rangers
will likely make the moves official at some point this week, a source told ESPNNewYork.com.
Arniel, a former coach for the
Columbus Blue Jackets
, most recently coached the AHL's Chicago Wolves
Samuelsson completed the Rangers' coaching questionnaire during the team's search for John Tortorella's replacement and was immediately identified as a potential assistant coach, as ESPNNewYork.com first reported earlier this month.
June, 21, 2013
6/21/13
3:52
PM ET
By
Mike Mazzeo
| ESPNNewYork.com
NEW YORK --
New York Rangers
general manager Glen Sather said he spoke with Don Meehan, the agent for goaltender
Henrik Lundqvist
, on Friday morning and will meet with Meehan next week.
Lundqvist is going into the final year of his contract next season, and Sather wants to get his franchise player locked up long-term.
Sather talked about how John Tortorella's defensive-first style may have affected the 31-year-old veteran.
"We didn't lead the league in shot blocking this year. We have in the past, but we didn't this year," Sather said. "But it's constantly defending in your own end and the barrage of shots that Henrik was getting. He's a great goaltender and he's 31 years old. We want him to finish his career in New York and continue to be a great goaltender for the next six, seven, or eight years, depending on how long he wants to play."
• Sather would not comment on
Brad Richards
' future with the organization. There is a very distinct possibility that the Rangers will use a compliance buyout on their veteran center. New coach Alain Vigneault does not expect to have much of an impact on that decision.
• Mark Messier's future with the organization as a special advisor to the GM is also uncertain. Sather said he would speak to Messier soon.
Sather called the decision to go with Vigneault, who he calls "A.V.," over Messier a difficult one.
"Yeah it was a difficult decision to make, but running this hockey club is not easy all of the time," Sather said "You've got tough decisions that sometimes you make for tough reasons. I just think that at this stage, A.V. is the man."
Sather thinks Messier can one-day be a coach in the NHL.
"I would like to think that can happen, certainly. He's got to decide what he wants to do and he told me he's going to take a few days and we're going to talk about it," Sather said.
• Sather said he's looking to renew the contracts of restricted free agents
Ryan McDonagh
,
Derek Stepan
and
Carl Hagelin
.
• Vigneault said if everything he's heard about
Ryan Callahan
is true, that Callahan would retain the captaincy.
• Vigneault wants one of his assistants running the power play and another running the penalty kill. He wants them to have NHL experience and they must be knowledgeable, upbeat and positive. No decision on assistants has been made at this point, though.
• Vigneault wants all his young players to start with a clean slate. "The'll have a fresh set of eyes on them," he said.
• In Vancouver, Vigneault said the organization utilized a sleep doctor to make sure the players got ample rest given their rigorous travel schedule.
• Style-wise, Vigneault wants to get his offensive players the most time in the offensive zone. He also feels like the Rangers have a solid enough defensive core where he feels like they're going to be able to jump up on the rush and go more on the attack, creating more odd-man rushes. He also feels like the team has two solid offensive lines, pending how ready the young kids on the roster like
J.T. Miller
and
Chris Kreider
are to make big-time contributions.
• Vigneault said he's coached at some point in his career
Martin Biron
, Aaron Asham,
Ryane Clowe
and
Taylor Pyatt
. He accidentally called
Rick Nash
Steve Nash.
• Vigneault visited the team's practice facility Thursday and got a new computer set up to watch film of the team's playoff games last season.
• Vigneault said he plans to be himself.
"I understand my responsibilities to the players, to the organization, to the fans and to you [the media]," he said. "I know that at some point in time you're gonna write things or say things about me that might not be as positive as they can be, but I respect that. I think everybody's entitled to their own opinion, and you would ask the people that i work with media-wise in Vancouver, and I respected that part. I understand your job's not the easiest job in the world, I'll try to do my best to be as accommodating as I can, but at the same time you have to understand that I have a responsibility toward the players and the organization. But you can do your homework on that if you want and I'll do the best job I can to help you out in any way that I can."
• The key to a good power play, Vigneault said, is to have a 3-2 combination of left-handed and right-handed shots (or right-handed and left-handed shots), which enables more of a possibility for one-timers.
June, 21, 2013
6/21/13
2:56
PM ET
By
Mike Mazzeo
| ESPNNewYork.com
NEW YORK -- The
New York Rangers
introduced Alain Vigneault as their head coach on Friday at Radio City Music Hall.
[+] Enlarge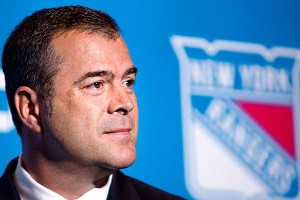 AP Photo/John MinchilloAlain Vigneault met the New York media on Friday.
"It's an Original Six team, it's got a chance to win," Vigneault said. "It's one of the elite teams in the NHL, and I want to win. There's not a chance I could pass that up. There's no better place than here to win a Stanley Cup."
Rangers general manager Glen Sather originally had a list of 13 candidates for the job. That list was narrowed down to nine. Sather then interviewed four candidates over the phone and both Vigneault and
Mark Messier
in person.
In the end, the GM decided on Vigneault, who had a .632 winning percentage in seven seasons with the
Vancouver Canucks
. The Canucks fired Vigneault last month.
Vigneault picked the Rangers over the
Dallas Stars
and ended up signing a five-year contract.
Click here for the complete news story.
June, 15, 2013
6/15/13
3:51
PM ET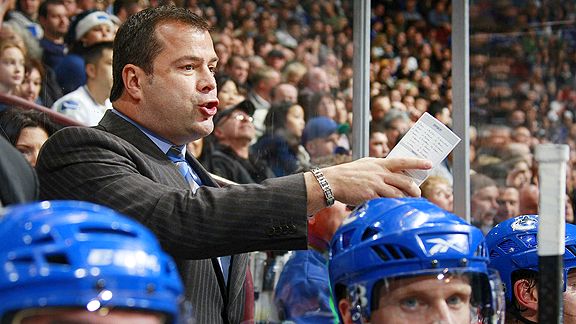 Jeff Vinnick/NHLI/Getty ImagesAlain Vigneault will be the Rangers' next head coach, a source confirmed to ESPNNewYork.com.
Knowing he had competition for the coach he coveted, Rangers general manager Glen Sather moved quickly
to secure Alain Vigneault
.
With the
Dallas Stars
also in hot pursuit of the 52-year-old Quebec native, Sather made what must have been a difficult choice to give Vigneault the nod over the Rangers' own
Mark Messier
.

Vigneault agreed to terms with the Rangers after Friday's meeting with Jim Dolan, prior to informing the Stars he was out of the running.
Though the details are still being finalized with Vigneault still under contract with the Canucks, the hiring is imminent.
So what type of hire is this for Sather?
An important one, for sure, considering the Rangers are at a critical juncture following the dismissal of John Tortorella.
The brash, bombastic Tortorella was given the boot after the team's second-round exit from the playoffs a few weeks ago. Sather didn't explain why, but Tortorella's tough-love coaching style was believed to have worn thin with his players.
The Rangers entered the season with high expectations following a trip to the Eastern Conference finals last spring but suffered from an underwhelming performance both in the regular season and the postseason.
In need of a new message, not to mention a new tone, Sather selected Vigneault as the guy to lead the Rangers. The former Canucks coach -- fired after Vancouver was swept by the
San Jose Sharks
in the first round of the playoffs -- is known to be a strong communicator who is skilled at identifying key roles for players within his system.
That will likely be a breath of fresh air for a group of veterans that had grown weary of Tortorella's stubborn, demanding style. Vigneault may also have an upper hand in determining the best way to use top offensive talents like
Rick Nash
,
Derek Stepan
and struggling center
Brad Richards
, assuming he is not bought out.
It is unclear whether Vigneault will have the opportunity to choose his own assistants or whether Sather would rather keep current assistant Mike Sullivan to maintain some continuity from the last regime.
What's also unclear is what the fallout may be, if any, from Sather's decision to choose Vigneault over Messier.
Messier, who led the Rangers to a Stanley Cup championship in 1994, also interviewed for the job this week. He is currently an executive with the team, serving as special assistant to Sather.
June, 12, 2013
6/12/13
6:51
PM ET
The Rangers' coaching search continues, and their list of candidates has been whittled down with Wednesday's news out of Pittsburgh of Dan Bylsma's extension.
Another candidate the Rangers had sought out, former Toronto Marlies coach
Dallas Eakins
, was announced as Ralph Kruger's replacement in Edmonton on Monday.
Rangers general manager Glen Sather, looking for a coach to replace the recently dismissed John Tortorella, was believed to have been keenly interested in Bylsma. The 2011 Jack Adams Award recipient is no longer available, though, as Penguins general manager Ray Shero bucked mounting pressure following his team's third-round exit and backed Bylsma.
At a news conference Wednesday morning, Shero announced that the Penguins had given Bylsma a two-year extension.
So, who is left?
Alain Vigneault, the former coach of the
Vancouver Canucks
, appears to be the front-runner, although the Rangers are not the only team in hot pursuit.
It is believed that the Stars are also enamored with Vigneault, though they have recently expressed interest in others (such as Tortorella, as ESPNNewYork.com reported Tuesday).
Vigneault interviewed with Sather and fellow Rangers executives at the team's annual organizational meetings in La Quinta, Calif., on Tuesday and is believed to have made a strong case for himself.
The Rangers have also obtained permission from Buffalo to speak with Lindy Ruff, though it is not immediately clear whether they have set a firm date to interview the former Sabres coach.
And let's not forget the Rangers' own
Mark Messier
, who emerged as a bit of a surprising candidate on the heels of Tortorella's dismissal two weeks ago.
The former captain, now an executive within the organization, expressed interest in the position, though he has no NHL coaching experience.
The Rangers could also be interested in
Phoenix Coyotes
coach Dave Tippett, should he become available. Though Coyotes GM Don Maloney told ESPNNewYork.com via email recently that the organization intends to keep Tippett, the team's tenuous future could be an obstacle.
During a news conference in Chicago on Wednesday afternoon prior to Game 1 of the Stanley Cup finals, NHL commissioner Gary Bettman discussed the possibility of relocation for the Coyotes. Quebec City and Seattle are believed to be the front-runners should the team leave Glendale, but multiple sources indicated to ESPNNewYork.com that Tippett might not necessarily be on board should the club move.
On a conference call with reporters following the Tortorella decision, Sather said he'd like to have a coach in place by the NHL draft on June 30.