New York Hockey:

Alexander Ovechkin
October, 16, 2013
10/16/13
1:46
PM ET
At a glance:
A reeling Rangers squad hopes to get back on track Wednesday night in D.C. when they face Alexander Ovechkin and the
Washington Capitals
for the first time since bouncing them from the first round of the playoffs last spring. The Rangers are sputtering after a 1-4-0 start to the season but hope that a return to the Eastern Time Zone can help matters. The Rangers spent their first five games out West, but play the next three close to home including stops in D.C., New Jersey and Philly.


Shaking things up:
The Rangers tailspin already prompted some changes, as the team waived both backup goaltender
Martin Biron
and gritty winger
Arron Asham
on Monday. To replace the veterans, the Rangers recalled 26-year-old netminder
Cam Talbot
to back up
Henrik Lundqvist
and summoned talented prospect
J.T. Miller
as well. Head coach Alain Vigneault already put some of his top-six forwards on notice with Miller's recall. Though the 20-year-old forward is slated to start on the fourth line, Vigneault said he could earn himself a promotion if other players don't earn their ice time.
Key injuries:
Already missing
Carl Hagelin
, who continues to rehab his surgically-repaired shoulder, the Rangers are now without one of their other most dynamic wingers.
Rick Nash
will miss his third straight game since sustaining a blow to the head last Tuesday from San Jose's
Brad Stuart
. Nash, who was placed on injured reserve Monday, was "still feeling symptoms" earlier this week, according to Vigneault, and does not appear to be nearing a return any time soon. Defenseman
Michael Del Zotto
will also be unavailable Wednesday night because of the flu; physical blue-liner
Justin Faulk
will draw into the lineup to replace Del Zotto.
Potent power-play:
Washington hasn't fared much better than the Rangers to begin the season – they are 2-4-0 through the first six games – but at least they can continue to count on their power play. The Caps lead the league on the man-advantage with a 36.4 efficiency rate after going 8-for-22. Ovechkin leads the team with three power-play goals, but newcomer
Mikhail Grabovski
has proven to be a nice addition as well with a pair of his own.
May, 15, 2013
5/15/13
2:28
PM ET
The Rangers' first-round series against Washington is done, but it didn't stop John Tortorella from taking one last parting shot at the Capitals.

Tortorella started by praising his team's mindset in winning a tough seven-game series but then veered off to take a dig at the the Capitals, some of whom vented frustration about the officiating after being eliminated.

"We got everybody and their brother whining out there in Washington about what happened in that series," Tortorella said. "I think that's a big reason they lose that series."

"I think our mindset has been very good as far as not letting anything bother us, just getting ready to play each day. Play a game, practice the next day, just go about our business."

Tortorella's response came after Capitals star forward Alex Ovechkin raised some eyebrows after Washington's 5-0 loss in Game 7, telling a Russian reporter that he thought the league wanted to see the series go the distance.

"I am not saying there was a phone call from [the league], but someone just wanted Game 7. For the ratings," Ovechkin told Slava Malamud of Sport-Express (in a Russian-language interview). "You know, the lockout, the escrow, the league needs to make profit ... I don't know whether the refs were predisposed against us or the league. But to not give obvious penalties (on the Rangers), while for us, any little thing was immediately penalized."

The comments were made in reference to Game 6 in which the Rangers received five power-plays and the Capitals received none.

Capitals GM George McPhee expressed his displeasure with the officiating as well.

"I don't think there's a league conspiracy but it sure didn't feel right. Alex wasn't wrong," McPhee told reporters on Wednesday when asked about Ovechkin's accusation. "I talked to them during the series but at some point you stop. They'll referee the way they want to referee."

Tortorella has been disciplined by the league multiple times for criticizing officiating, most notably during the 2011 Winter Classic. Following the Rangers' 3-2 victory over the Flyers, he called the officiating "disgusting" and insinuated that the league wanted the game to go to overtime. Tortorella was fined $30,000 for those comments.


April, 29, 2013
4/29/13
5:17
PM ET
GREENBURGH, N.Y. -- In matching up against the
Washington Capitals
for the third straight year, beginning Thursday night in D.C., the Rangers face a familiar foe with an understanding of what to expect in a series between the two clubs.
Four times in the past five years the Rangers and Caps have met in the Stanley Cup playoffs. Coaches, personnel and system structures have changed, but the enmity has not.
"It's always a battle," Rangers captain
Ryan Callahan
said. "It seems like it usually goes the length or close to it. I think we match up against each other pretty evenly."
Last April was a prime example, when the teams met in Round 2. The top-seeded Rangers prevailed, but it took seven grueling games to do it.
No game was more indicative of the grit, passion and intensity level that characterized that series than Game 3 -- a triple-OT match that went on well past midnight in a true war of attrition until
Marian Gaborik
's game-winner ended it after 114 minutes of play.
"That was a really hard-fought series and that game pretty much summed it up," said defenseman
Dan Girardi
, who logged 44:26 minutes on the Rangers' back end that night. "Overall, I just think it's going to be a really big battle. I think in front of both nets is gonna be key, what team can establish the forecheck and control the tempo there."
Girardi has drawn the unenviable task of matching up against
Alex Ovechkin
throughout the years, and that duty is not bound to get any easier with Ovechkin entering the postseason on a stunning clip.
Capturing the Rocket Richard Trophy as the NHL's top goal-scorer for the third time in his NHL career, Ovechkin finished the regular season at a scorching pace. Earning the NHL's first star of the month, Ovechkin notched 14 goals and 22 points in the month of April while leading his team to yet another Southeast Divison title.
No. 8 may have gotten off to a sluggish start, in part because of a transition from his natural wing, but he has since proven that he can still electrify and dominate a game.
"He's dynamic whatever side he's on," Girardi said. "He never really stays on one side for long… so we'll have our hands full with him. He's playing really well right now. We've got to be sharp against that line and their second, third, and fourth lines. They have four solid lines that can fore-check and score some goals. We're going to have to be very strong defensively."
The Rangers will likely have to do so without cornerstone defenseman
Marc Staal
, who has yet to play since suffering a frightening eye injury March 5.
Staal continued to practice with the team Monday, but does not appear to be nearing a return.
"I haven't written myself off, obviously," Staal said. "So far, every day I try to improve and get more work in and get more comfortable and confident with the puck in situations I'm going to be in on the ice."
With that gaping hole on their back end, the Rangers may choose to split their normal defensive pairings and separate Girardi and partner Ryan McDonagh ( as coach John Tortorella indicated before Saturday's game ) to achieve more balance on the blue line. Regardless, the Rangers will have to rely on reigning Vezina Trophy winner
Henrik Lundqvist
in net.
Though 23-year-old
Braden Holtby
has been impressive of late for the Caps, Lundqvist gives the Rangers a distinct edge in goal.
Plus, he will be well rested with four days off after making 14 consecutive starts to end the regular season.
Lundqvist has plenty of experience playing against Washington in the playoffs, but this year's team is a decidedly new look than previous years, he said.
"It's the same team name but it's a different look, especially when I look at them over the last four, five years here," Lundqvist said. "It was all about offense, then all about defense, now it's in the middle. They're a team where you have to respect a lot of things about their game, especially their offensive, top guys."
Fortunately for the Rangers, they'll have three full days to prepare for the new-look Caps under rookie head coach Adam Oates' direction. That's a luxury afforded them with an unusual schedule that doesn't have the teams meeting until Thursday for Game 1.
That would be a blessing for the Rangers, especially if it allowed injured players like Staal,
Ryane Clowe
and
Brian Boyle
to return to action, but none seem to be on the immediate horizon.
Plus, the series ends in unusual fashion with Games 6 and 7 slated to be played on back-to-back nights Sunday May 12 and Monday May 13.
The schedule won't make much difference, Girardi said. After all, both teams know what they're in for in Round 1.
"Both teams know each other really well and I think both teams are raring to get going," Girardi said. "I think we both wish we were starting earlier, but both teams will be ready come Thursday."
April, 26, 2013
4/26/13
9:28
AM ET
The feared emotional letdown?
That happened Thursday, as the Islanders fell 2-1 to the
Philadelphia Flyers
just one game after clinching their first playoff berth in six years Tuesday night.
The Isles entered Thursday's divisional clash in sixth place with control over their own seeding destiny. But the two points surrendered in an underwhelming effort in Philly, coupled with overtime wins by both the Senators and Rangers, now leaves the team in eighth place, with a first-round match-up against the dominant Penguins looking likely.
With a win in Buffalo on Friday, and some help, the Islanders could avoid that dreaded draw, but the No. 2 seed Bruins and No. 3 seed Capitals are daunting opponents as well. The Bruins boast one of the league's deepest rosters, with some added bulk to their lineup and strong goaltending with Tuuka Rask in net. The Capitals have emerged from the depths of the East to become one of the hottest teams, with
Alex Ovechkin
absolutely scorching in the month of April.
The Islanders might be a popular pick for a potential first-round upset, but they are headed for a battle regardless of how the standings shake out this weekend.
With youngster
Kevin Poulin
receiving the nod Thursday night, it is likely that Jack Capuano goes back to veteran
Evgeni Nabokov
in net against the Sabres Friday in the Islanders' season finale.
May, 7, 2012
5/07/12
12:33
PM ET
Updated: 12:37 a.m.
The Rangers' Eastern Conference semifinal series against the Capitals hasn't featured the brutal fights and the violent scrums of Round 1 -- a nasty battle with the bruising Senators -- but the series has not lacked for intensity.
And there appears to still be some ill will between the two teams.
"I think there might be a little of a hate factor," defenseman
Dan Girardi
said. "It might not seem like that, but obviously both teams hate each other. We want to make it to the next round, so do they, and there are a lot of great hits out there. Guys are doing what it takes to win. Just because there aren't a lot of scrums and all that doesn't mean we don't hate each other."
The series may be less vicious than their seven-game set against the Senators, but it certainly appears to be more evenly matched.
All but one game in this series -- Game 1, a 3-1 win for the Rangers -- has been decided by one goal, including the epic triple-overtime thriller in Game 3. That's nothing new for the Capitals -- including
Monday's 3-2 Rangers win
, 11 of their 12 games this postseason have been one-goal matches -- or the Rangers, who have yet to dominate a series despite their top seed in the Eastern Conference.
"I think it's almost a higher [competitive] level in this series," defenseman
Ryan McDonagh
told ESPNNewYork.com. "There may not have been as many fists and hits, but the scoreboard is really all that counts. These are so much tighter of games."
Said Washington's
Brooks Laich
: "There [are] a lot of hits. It's a physical series. Just because there hasn't been a fight, people might think it's not as intense, but there's not a lot of space out there."
Perhaps the most controversial and contentious play of an otherwise pretty straight-ahead series was
Alex Ovechkin's
questionable hit on Girardi. The star forward left his skates to nail Girardi in Game 4, although the principal point of contact was disputed. Although Girardi said Ovechkin hit him in the head, Ovechkin and Caps coach
Dale Hunter
defended it as a shoulder hit.
The league clearly sided with the latter. Ovechkin did not face a hearing with VP of player safety
Brendan Shanahan
and avoided any supplementary discipline.
Girardi declined to comment on the matter when asked after the Rangers' morning skate on Monday.
"I really don't have anything to say about that," he said.
*Apparently no one is immune from the hostility. For an amusing anecdote about Caps owner
Ted Leonsis'
recent visit to MSG, check
this
out.
May, 5, 2012
5/05/12
5:14
PM ET
Multiple sources have indicated that Capitals superstar
Alexander Ovechkin
is not expected to have a hearing for his second-period hit on Rangers defenseman
Dan Girardi
, but Girardi said Ovechkin hit him in the head.
Girardi declined to weigh in on whether Ovechkin should be punished -- he is, remember, a repeat offender -- but said this when asked about the prinicipal point of contact:
"He hit me in the head first."
Read the full story, with comments from Ovechkin,
here
.
It is also worth noting that Ovechkin was slapped with a three-game suspension earlier this season for a similar hit on Pittsburgh's Zbynek Michalek in January. On that play, Ovechkin left his feet to hit Michalek, and although the head was not the principal point of contact, league disciplinarian Brendan Shanahan said Ovechkin was "responsible for any contact to the head" as a result of "launching" into Michalek.
Link to Shanahan's video explanation
here
.
May, 2, 2012
5/02/12
1:11
PM ET
At a glance: Tied 1-1 after the first pair of games at Madison Square Garden, the Rangers and Capitals take the series to Washington, D.C., for Game 3 on Wednesday. The Rangers hope to get the most out of their top guys, while it seems the Capitals have coaxed a positive response out of their superstar with unconventional methods.

Limiting Ovechkin: Held off the score sheet in Game 1, Alex Ovechkin's ice time was limited in Game 2. No 8 played only 13:36 in what Caps coach Dale Hunter characterized as an effort to "roll four lines." Whatever Hunter's reasoning for playing Ovechkin a career playoff low, it worked. The star forward tallied the game-winner in the third period to give the Caps a 3-2 win and snap a two-game goal drought.

Boyle wants to be better: Brian Boyle was pretty blunt in assessing his first game back from a concussion. Of his performance in Game 2 of the Eastern Conference semifinals, Boyle said "I stunk." The 6-foot-6 center, who lost the faceoff on Ovechkin's game-winner Monday, tallied three goals in the first three games of the team's first-round series against the Senators.

No Dubinsky: The Rangers will be without injured forward Brandon Dubinsky for the third straight game Wednesday. The 26-year-old forward appeared to suffer a lower-body injury in Game 7 of the Eastern Conference quarterfinals and has not played since. Coach John Tortorella confirmed he did make the trip with the team to D.C., but there has been no indication he is close to a return.

Teacher's pet: With Ovechkin's ice time limited, some unexpected characters have seen their roles increase, namely defensive-minded Jay Beagle. Beagle led all forwards in ice time with 19:58 in Game 2. Beagle finished the game with one assist, five hits and a plus-1 rating.

Another nomination for Lundqvist: Already nominated for the Vezina and Hart Trophies, Rangers goaltender Henrik Lundqvist secured another Wednesday afternoon. The 30-year-old netminder, who has set career highs in wins (39), save percentage (.930) and goals against average, was announced by the NHLPA as one of three finalists for the annual Ted Lindsay Award. Lundqvist joins Evgeni Malkin and Steven Stamkos as fellow nominees for the award for "Most Outstanding Player" as voted by NHL players.

April, 30, 2012
4/30/12
11:27
PM ET
NEW YORK --
Alexander Ovechkin
put his glove to his ear.
The boos from the stunned sellout crowd at the Garden never sounded so good.
Ovechkin, who endured chants "Ovie sucks!" with eight minutes remaining in each period -- in "honor" of his No. 8 -- scored the game-winning power-play goal with 7:27 left in Game 2 of the Eastern Conference semifinals on Monday night, giving the Washington Capitals a crucial 3-2 victory over the New York Rangers.
It was his 28th career playoff marker in 46 games.
The best-of-seven series is tied at 1-1. Game 3 is Wednesday night at Verizon Center.
"It's the fans. I love it," said Ovechkin, who logged just 13 minutes, 36 seconds of ice time but made the most of it, ripping seven shots on goal during his 18 shifts.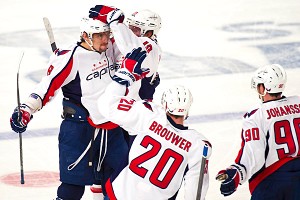 Cal Sport Media via AP ImagesAlex Ovechkin was the center attention after scoring the decisive goal.
"The fans go [to MSG] to cheer the Rangers, and [Wednesday's] game is gonna probably be the same in Washington."
Just four seconds after
Brad Richards
was penalized for holding, Ovechkin unleashed a quick wrist shot from the top of the point following
Nicklas Backstrom
's faceoff win.
"First I saw it, then I didn't see it, then I saw it," said Rangers goaltender
Henrik Lundqvist
, who was screened on the play. "It was a hard shot. It was a good shot. Unfortunately, someone got tied up and he got a free lane. It's the wrong guy to give that opportunity."
Just like that, Ovie had finally made his mark.
"I was shocked when I turned and I didn't see anybody coming to me and I had a perfect lane for a shot," he said. "When I see that, I'm gonna put it in."
In the first two periods, Ovechkin played just 9 minutes, 14 seconds. Lundqvist had robbed him on the left post in the opening frame. And in the second, Ovechkin's shot trickled by the Hart and Vezina Trophy finalist -- just not over the goal line.
But Ovechkin stuck with it -- even after Lundqvist had stopped two of his shots from the left circle on Washington's previous man-advantage in the third -- and made the most of his opportunity when it counted the most.
"You have to suck it up and use the time that [coach
Dale Hunter
] gives me," Ovechkin said.
"Sometimes when you're not out there you feel like you're not in the game. But if you have a 10-second shift or a five-second shift, you have to go out there and do something. It's kind of hard but it is what it is."
During the regular season, Ovechkin ranked fifth in the Capitals in average ice time (19 minutes, 48 seconds). The 26-year-old has scored 50 or more goals four times in his career. Just two years ago, he was considered arguably the most complete player in the world.
Reduced ice time couldn't have been easy to stomach.
"He's a team guy and one thing about that is it leaves him fresh," said Hunter, who added that he wanted to roll all four of his lines.
So how does Ovechkin earn more time?
"Just score goals and play safely. When you play safely you help your team and earn trust," he replied.
Ovechkin scored all right. And it couldn't have come at a bigger time.
Nothing quite like quieting 18,200, is there?
"It's always emotional when you score goals," Ovechkin said. "I was just having fun."
Said Hunter: "He loves it. When the crowd's on you there's a reason for it, and that means you're playing well."
April, 30, 2012
4/30/12
1:27
PM ET
At a glance: The Rangers took a 1-0 series lead with a win over the Capitals in Game 1, but Washington has since vowed to be better. Both teams enter Monday's contest at Madison Square Garden after a tight-checking, defensive-minded series opener and expect more of the same as the semifinals match-up continues in Game 2.

Boyle game-time decision: Rangers forward Brian Boyle, who has missed the past three games with a concussion, was uncertain about whether he will play in Monday's match at Madison Square Garden. The 6-foot-6 center said he had "no idea" if he will be available to play and will wait until later Monday afternoon before deciding if he is ready.

Dubinsky out: The news was not so good for Brandon Dubinsky, however. The 26-year-old forward, who appeared to suffer a leg injury in Game 7 against the Senators on Thursday, will miss his second straight game. Defenseman Steve Eminger, who played forward for the first time in his career on Saturday, could replace him in the lineup again. Hulking enforcer John Scott also may make his 2012 playoffs debut.

Jack Adams nod: Rangers coach John Tortorella joins St. Louis' Ken Hitchock and Ottawa's Paul MacLean as one of three finalists for this year's Jack Adams award. This is his third nomination for the award, given out each year to the league's best coach as voted by the NHL Broadcasters' Association. Tortorella won in 2004, the same season in which his Tampa Bay Lightning squad won the Stanley Cup, and finished second in voting the previous year in 2003.

Semin demotion: After a brutal Game 1 in which he took two bone-headed stick penalties, Capitals winger Alexander Semin was demoted to the fourth line in practice on Sunday. Caps coach Dale Hunter denied he was sending a message ("Oh, just switching the lines around" he said after Monday's morning skate) but the 28-year-old forward appears to be in the dog house after Saturday's disappointing performance.

Ovie outlook: Alex Ovechkin was good-natured about the taunts that welcomed him to Madison Square Garden Saturday, but he might become a little surlier should his drought continue. The superstar forward was held off the scoresheet in Game 1 and limited to only one shot on goal.

Ch-Ch-Changes: Washington's Jeff Schultz returns to the line for the Capitals after being scratched on Saturday.

April, 28, 2012
4/28/12
1:08
PM ET


At a glance: No rest for the weary. Both the Rangers and Capitals are coming off first-round series' that required seven games. It'll be an especially quick turnaround for the Rangers, who knocked off the eighth-seeded Senators less than 48 hours ago. In Saturday's Game 1 of the Eastern Conference semifinals at Madison Square Garden, they'll host a Washington squad that pulled off one of the biggest first-round upset with their defeat of the defending Stanley Cup Champion Boston Bruins. And don't think the Rangers have forgotten: the Capitals have bounced them from the playoffs in their past two post-season appearances in 2011 and 2009.

Shrouded in secrecy: Both Brian Boyle (concussion) and Brandon Dubinsky (leg) are questionable for Saturday's matinee. Coach John Tortorella had no interest in discussing their status, either. When asked three different times about the two forwards' availability, Tortorella responded with the same refrain each time: "no updates."

Get Gaborik going: The spotlight is on forward Marian Gaborik, who all but disappeared for the Rangers in the first round. Limited to one goal and two assists in seven games, Gaborik needs to do more for the Rangers to advance. If he doesn't, don't be surprised to see his ice time restricted. Tortorella has already hinted that he's willing to sit anyone that doesn't perform.

O-factor: Washington's Alex Ovechkin did not live up to his star status in Round 1 for the Capitals. With Dale Hunter limiting his ice time – he played only 16:25 in Game 7 against the Bruins – Ovechkin was held to two goals and three assists in the quarterfinals. The Rangers can't ignore the Capitals' entire cast of stars, however. Washington is 11-1-0 when they have Ovechkin, Alexander Semin, Nicklas Backstrom and Mike Green all in their lineup.

Rookie reigns supreme: Rookie Chris Kreider, who left Boston College to sign with the Rangers just days before the playoffs began, is coming off his best NHL game yet in Game 7 against the Senators. The 20-year-old winger's play wasn't reflected on the scoresheeet, but he helped set up the team's crucial first goal. He also was used by Tortorella on the power-play and in a key defensive situation in the last minute of the game. Expect to see his role increase in the second round.


October, 14, 2010
10/14/10
10:59
AM ET
By
Mike Hume
| ESPNNewYork.com
The Islanders may have lost, but they certainly acquitted themselves well as their injury riddled roster made the
Washington Capitals
labor the entire game before
falling 2-1
on a power-play goal in the final minutes of regulation.
Box Score
While the Islanders' top players continue to sit on the shelf (including
John Tavares
,
Mark Streit
,
Kyle Okposo
and
Rob Schremp
) and were joined by the suspended
James Wisniewski
, the Caps got goals from their two stars,
Alex Ovechkin
and
Nicklas Backstrom
, to provide the winning margin. That was despite being largely outworked by the Islanders for the vast majority of the game.
The loss perfectly illustrates why a lot of pundits are sour on the Islanders' chances to make the playoffs given their long list of injured key players. The Caps and the NHL's other top teams are so talent rich that they can still win games even when they're having an off night. The Islanders, on the other hand, have to put in 110-percent effort every night and even then it may not be enough for a W.
The Islanders don't have anything to be ashamed of last night however, and if they can maintain this effort level when Tavares and his top-tier teammates return, the Isles will almost certainly outpace expectations.
Plus
+ El Nino
Nino Niederreiter
tallied his first NHL goal off a sweet set up from
Doug Weight
in the first period. Niederreiter slipped relatively unmarked just to the right of the Caps' crease and slapped Weight's pass between the pads of goalie
Michal Neuvirth
(who probably was the only thing separating the Isles from a W last night). He finished plus-1 with two shots on goal.
+ Dwayne Roloson
He brought his "A" game to D.C. for his first start of the year. When you hold the Caps to two goals, you're doing just fine. Yeah, he got caught flat-footed on Ovechkin's goal, but Ovi's made a lot of goalies look pretty silly. Roloson played well enough to get a win Wednesday.
Minus
- Converting Chances
Seriously there's not a lot to pick on from last night, but the deciding factor was probably the Isles' inability to convert a few pretty good scoring chances.
Matt Moulson
couldn't beat Neuvirth on a breakaway in the third period and even in the first the Isles had a number of excellent point-blank shots but only deposited one past the Caps' goalie.
Morning Links
Here's a look from the Washington Post.
Lighthouse Hockey provides a lengthy and insightful recap, including some CORSI ratings from last night's game. Look at those numbers and you can really see the Islanders deserved to win last night.