January, 12, 2012
1/12/12
1:57
PM ET
Third-year center and former first overall draft pick John Tavares has been named an All-Star.

The 21-year-old leads the Islanders in scoring with 14 goals and 25 assists in 40 games this season.

Tavares is the 26th-place Islanders' lone representative for this month's festivities in Ottawa. Tavares' good friend and linemate Matt Moulson likely garnered consideration as well with his 20-goal first half.

Tavares, who leads Islanders forwards with an average 19:39 in ice time per game, has recorded 10 multi-point games this season, including two four-point efforts and one hat trick.
January, 12, 2012
1/12/12
1:55
PM ET
By
Mike Mazzeo
| ESPNNewYork.com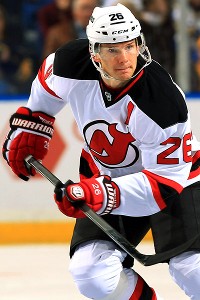 Kevin Hoffman/US PresswirePatrik Elias has 15 goals and 25 assists this season.
On Thursday, no Devils were chosen to play in the NHL All-Star Game on Jan. 29 in Ottawa.
Patrik Elias
should've been selected.
The Devils would not be where they are right now -- sixth place in the Eastern Conference standings -- without Elias, their most consistent player. He centers their most consistent line and currently leads the team in points (40), assists (25) and power-play goals (six).
On Dec. 16, Elias became the franchise's all-time leader in goals. Last Friday, he became the 271st player in NHL history to appear in 1,000 games.
At age 35, the 14-year veteran likely prefers to get rest during the break rather than play in the game. And Elias has already played in three All-Star Games.
Still, given the season he's had and the milestones he has reached, Elias deserved to be there.
January, 30, 2011
1/30/11
8:37
PM ET
By
Mike Hume
| ESPNNewYork.com
Since you're no doubt already up to speed on the "whats" and "whens" of the 11-10 Team Lidstrom All-Star Game win, here's a little more from the "whos." Here's what the three New York-area members of Team Staal had to say in the postgame scrums.
Historical Hank
Henrik Lundqvist
was unaware that he had entered the record books as the first all-star goalie to face (and stop) a penalty shot. "Wow, so I guess I'm part of history," Lundqvist said after signing the game jersey of tonight's teammate
Alex Ovechkin
... who brought on the penalty shot by throwing his stick to try and waylay the breakaway of
Matt Duchene
.
Lundqvist hadn't seen much of the Avs' sophomore center, so he didn't have much to draw on before stopping the attempt by sliding his left leg out to block the bottom left corner of the goal mouth.
"I didn't have anything on him. I just try to do the same thing every time [on penalty shots]," Lundqvist said. "I just try to be patient and make him make the first move."
Brotherly Love
Marc Staal
may not have been the driving force between the crowd's appreciative chants of "Go Team Staal" but he thought it was pretty neat nonetheless. "Obviously it wasn't for me," Marc said, before noting that he gave his brother some flak between the second and third periods. "I told him he was letting everyone down by not scoring a goal."
Not that defense is ever the focus of the All-Star Game, but Marc may not have been arguing from a position of strength. Through two periods he sat at a game-worst minus-4. He later rallied in the third to cut his rating to a more acceptable minus-2. His brother Eric also scored a pair of goals in the final frame.
Staal noted it was a little weird to watch his defensive partner jumping deep into the offensive zone quite a bit. Normally paired with the stay-at-home
Daniel Girardi
back on Broadway, Staal was tonight matched with dynamic
Pittsburgh Penguins
D
Kris Letang
. "It was a little unusual but he scored a couple of goals. It was fun."
The Devil's Work
Patrik Elias
spent his All-Star Game skating with
Carolina Hurricanes
fan-favorite
Jeff Skinner
, better known as Bieber on Ice. The team-first vet from New Jersey spent most of the game trying to set up the rookie for a goal that would have brought the roof crashing down, but the 18-year-old just couldn't convert a number of great scoring chances. Perhaps he was blinded by all the flash bulbs.
After the game, Elias said he and his other linemate,
Paul Stastny
of the
Colorado Avalanche
, made a concerted effort to try and get the wunderkind a goal.
"Yeah, we were trying hard. Maybe a little too hard," Elias said. "I almost pulled a groin muscle trying to spring him on a breakaway."
Elias is fine though and is very, very impressed with Skinner, one of the lead candidates for this season's Calder Trophy.
"He's great at going to the net and he's got such strong legs, which is what makes him so good," Elias said.
While the youngster didn't score, Elias did put a goal on the board, the first All-Star Game goal of his decorated career. "I grabbed a puck after the game," Elias said. "It's my first, and you know, it could be my last."
Stats
In case anyone is actually interested in the final game stats:
Marc Staal: Minus-2, 1 SOG, 17:01 TOI
Patrik Elias: G, A, 1 SOG, 15:44 TOI
Henrik Lundqvist: 11 saves, 14 shots faced in 18:36 TOI
January, 28, 2011
1/28/11
11:08
AM ET
By
Mike Hume
| ESPNNewYork.com
As I make my way to Raleigh, N.C. for the All-Star game, I thought I'd leave you with a few key storylines to watch as the season unfolds down the stretch run.
Will the Devils Deal?
Just today, E.J. Hradek listed
Jason Arnott
as one of
five players that need to be dealt
before the Feb. 28 trade deadline. Even with their recent winning streak, the playoffs seem a bit far fetched for New Jersey at this point. It looks like the final spot in the Eastern Conference will again be about 90 points (the Thrashers are on pace for 89.88 over 82 games). Barring a miraculous stretch run in which the Devils put up 55 points in 33 games, that's not going to happen. So what do the Devs do to prepare for next season? Could
Martin Brodeur
actually be on the trade block? Those are questions GM Lou Lamoriello will have ask and answer in the next month.
Pursuing Parise
The latest word I've heard about the talented winger's return is that he won't even start skating until the first week of March. Figuring he'll need time to get back up to speed, you wonder if it's even worth suiting him up this season and risking the chance he could re-injure himself. But the intrigue will certainly carry into the offseason if the Devils can't ink him to an extension. You can bet there are a number of teams out there with an offer sheet already drawn up for the restricted free agent and the Devils don't have a ton of cap flexibility. Given the outcome of this season, you have to think that if Lamoriello is unable to re-sign Parise the
Ilya Kovalchuk
contract goes from "bad" to "unmitigated disaster."
What's Next In Long Island?
The
New York Islanders
started their all-star break by locking down one of their top scorers, signing
Matt Moulson
to a
three-year deal worth $9.4 million
. That's a nice bargain if Moulson continues to score in the 30-goal range each season. (He's on pace for 28 in 2010-11.) But that's likely just the first of what figures to be a slew of signings before free agency opens July 1. As of right now, the Islanders have 12 players under contract for next season. Okay, 14 if you count
Alexei Yashin
and
Brendan Witt
. That leaves the futures of
Kyle Okposo
,
Josh Bailey
,
Michael Grabner
,
Blake Comeau
and more up in the air. Who will the Isles earmark as their cornerstone guys and who will they let walk away?
Getting Gaborik Going
On Broadway, the Rangers made the most of an injury-plagued first 52 games, currently sitting sixth in the East. And they've done it largely without the usual production of
Marian Gaborik
. (Thank you,
Brian Boyle
.) Gaborik has just 16 goals on the season and has recorded goals in back to back games just once. In fact, 10 of those goals came in just three games. Those explosions sure are fun to watch, but a little more consistency would carry the Blueshirts a long way.
January, 11, 2011
1/11/11
3:02
PM ET
By
Mike Hume
| ESPNNewYork.com
The NHL released the
full rosters
for the upcoming All-Star game in Raleigh, N.C. on Jan. 30, with the
New York Rangers
'
Marc Staal
and
Henrik Lundqvist
both included on the list.
It's the first selection for Staal, the Rangers' first-round pick in the 2005 entry draft. The blueliner has truly blossomed this season, contributing six goals and 11 assists while tasked with shutting down the opposition's top offensive threat night in and night out. Lundqvist (.923 save percentage and tied for the league high with five shutouts this season) returns to the game for the second time after being selected in 2009.
Meanwhile, the
New Jersey Devils
'
Patrik Elias
will make his third appearance in the game and first since 2002. The Czech winger has scored nine goals to go with 21 assists, leading the foundering Devils in points.
Isles fans will be less happy to see their team is one of just four franchises that won't be represented in the All-Star game -- though they will have a player participating in all-star weekend events. The Islanders,
Phoenix Coyotes
,
Buffalo Sabres
and
Florida Panthers
will only send rookie representatives, with New York's
Michael Grabner
(nine goals, four assists) competing in the Honda SuperSkills challenge only.
There's plenty to debate with these crowded, talent-rich rosters, but the selection of Elias over
John Tavares
, the Islanders' leading scorer with 28 points in 37 games, is a little curious. Yes, Elias has more points and no, Tavares isn't setting the league on fire. But you could argue, as I'm about to, that Tavares makes a better selection if only for marketing reasons.
One of the game's top young players and the No. 1 overall selection in the 2009, isn't it better to help Tavares's star rise rather than give another nod to Elias, whose status as his team's leading scorer is largely due to an injury to
Zach Parise
and the ineptitude of
Ilya Kovalchuk
? And would it really be so bad to throw a bone to a team looking to secure public approval for a new arena and remain in one of North America's largest TV markets?
In the grand scheme of things, the decision is probably meaningless, but I think it would have been in the league's best interest to pump up the young Islanders center a little bit.
I'm not saying Elias doesn't deserve the selection. He's a great player and it's nice that the Devils get some good news amid this dismal season, but to me, there's more to gain if Tavares gets the nod.