New York Hockey:

Andrew MacDonald
May, 8, 2013
5/08/13
1:10
AM ET
The Islanders won 6-4 against the Penguins Tuesday night, but lost key defenseman
Andrew MacDonald
in tying the series 2-2.
MacDonald was forced from the game during the second period after being hit by a shot from Penguins defenseman
Douglas Murray
on the arm. He did not return to the ice, forcing the Isles to roll five defenseman the rest of the game.
It appears as though the Isles may be without him for the rest of the post-season as well. According to Newsday's Arthur Staple, MacDonald suffered a broken hand on the play and is unlikely to return during the playoffs.
The 25-year-old MacDonald, who plays with
Travis Hamonic
on the team's top defensive pairing, leads the Islanders with 23:31 minutes per game.
"He's an integral part of our team, no question," coach Jack Capuano said after the game.
Capuano said he believes that others will be able to step up in his absence. Assuming MacDonald misses Game 5, the Islanders will likely use veteran
Radek Martinek
, a scratch the first four games of the series.
May, 7, 2013
5/07/13
11:33
PM ET
UNIONDALE, N.Y. -- The Islanders are not simply happy to be here.
Proving that they can be more than just competitive with the
Pittsburgh Penguins
, the Islanders edged the top seed in the East
6-4 in a wild romp at Nassau Coliseum
Tuesday night to even the series 2-2.
Scoring six goals against a supremely shaky
Marc-Andre Fleury
, the Isles might also have planted some serious doubt within the Penguins' room about their starting goaltender.
[+] Enlarge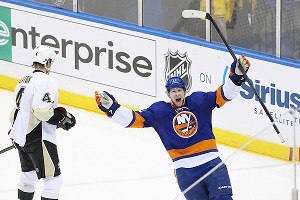 Anthony Gruppuso/USA TODAY SportsThe Islanders evened up the series at two games apiece on Tuesday.
Fleury has now given up 14 goals in four games this series, leading many to wonder whether veteran backup
Tomas Vokoun
will get the start in goal for Game 5 on Thursday in Pittsburgh.
Penguins coach Dan Bylsma declined to say who would start, but he didn't rule out Vokoun as a possibility.
"We're not going to talk about our starting goaltender for Game 5 right now," Bylsma said.
It wasn't just Fleury who gave up questionable goals -- Isles netminder
Evgeni Nabokov
has a few he'd probably like back as well -- in what turned out to be a wildly entertaining game between two teams trading scoring chances at a frenetic pace.
After seeing leads quickly evaporate in the first two periods, the Islanders rattled off three goals in the final frame. Captain
Mark Streit
, who finished with three points, tied the game at 3 with his second goal of the game early in the third, and superstar center
John Tavares
snapped a 4-4 draw to score what would hold up as the game-winner midway through the period.
Tavares stick handled his way to the doorstep and chased his own rebound to beat Fleury's outstretched pad for a 5-4 lead at 10:11. Fourth-line sparkplug
Casey Cizikas
(1G, 2A, +4 rating) added an insurance goal with less than two minutes remaining -- the final display of Fleury's frustrating night.
Before that bizarre play, in which he was out of position and slow to react to Cizikas cutting to the net, Fleury gave up a real softie to
Kyle Okposo
in the second period.
Okposo threw the puck at the net from behind the goal line and banked it in off Fleury's pads at 18:36.
The handful of blunders was eerily reminiscent of last year's meltdown in the first round of the playoffs, when Fleury surrendered a dizzying 26 goals over six games to the
Philadelphia Flyers
.
"We know how he played last year against Philly, but we just want to go get traffic in front of him, get shots, shoot the puck," Okposo said. "We didn't shoot the puck enough in the second. We came out in the third, peppered him and got in his kitchen a little bit."
Rugged forward
Matt Martin
said the team let Fleury off too easy in Game 1 when he recorded a 5-0 shutout. Since then, they've amped up the pressure.
"Game 1, we didn't test him enough. He had a shutout. Luckily, Game 2 we were able to get some on him and since then, we've been able to capitalize on our opportunities," Martin said. "I think if you take away any goalie's confidence, it's hard to make saves."
By contrast, the Islanders confidence seems to be soaring after Game 4's victory, one that ensures they'll get another game at home in front of a raucous Nassau Coliseum crowd.
"Game 3 was heartbreaking and we found a way to put it behind us, so the nice thing is that we get another game at home here," Martin said. "The crowd's been fantastic for us."
Even without top-pair defenseman
Andrew MacDonald
, who was forced from the game with an upper-body injury in the second period, the Islanders seem encouraged by their chances from here on out.
They'll take momentum into Game 5 and the knowledge that these Penguins are a beatable team.
Although an inexperienced squad, the Islanders have matured, both from earlier this season and maybe even earlier this series, into one capable of managing the momentum swings and surges within a game.
"We put so much effort into getting here, there was no doubt we wanted to make the most of this opportunity," Tavares said. "We weren't just satisfied being here. We believe in this room, obviously. ... There are a lot of guys stepping up for us here and that's what we need."
May, 7, 2013
5/07/13
9:40
PM ET
What it means:
This first-round series between the
New York Islanders
and
Pittsburgh Penguins
has been more than just competitive. It's been wildly entertaining.
Following a heartbreaking overtime loss on Sunday in Game 3, the eighth-seeded Isles edged the top-seeded Penguins 6-4 on Tuesday with three goals in a frenzied third period to even the series 2-2.
Goaltending took a back seat Tuesday night, with both
Marc-Andre Fleury
and
Evgeni Nabokov
giving up a few questionable goals throughout the course of a frenzied game 4, but the crowd at Nassau Coliseum didn't seem to mind. The two teams traded goals until Islanders star
John Tavares
delivered the game-winner in the third.
Snapping a 4-4 draw, Tavares made a terrific move to stick handle his way to the net and chase his own rebound to beat Fleury. The dramatic goal caused a boisterous crowd at Nassau Coliseum to erupt into cheers of "M-V-P!" as the Penguins scrambled to collect themselves. Fleury didn't help matters, though, as his blunder late in the game allowed
Casey Cizikas
to add an insurance goal with 1:16 to play.
Trading chances:
For the second time in the game, the Islanders allowed a lead to quickly evaporate. After captain Mark Streit's first goal of the night gave the Isles a 2-1 edge in the second period, the Penguins answered 58 seconds later when
Evgeni Malkin
converted a 2-on-1 rush. The Penguins later took a 3-2 lead on
Brandon Sutter
's shot from the left circle that beat a screened Evgeni Nabokov, but this time it was the Islanders who responded.
Soft goal:
Scrutinized for his meltdown in the Penguins' first-round series against the Flyers last spring, Fleury has been on the hot seat this series. He didn't help his case by giving up a softie for the game-tying goal with 1:24 remaining in the second.
Kyle Okposo
threw the puck on net from behind the goal line, banking it in off Fleury's pads to knot the score at three heading into the second intermission.
Close call:
Once again, Crosby was the recipient of a hazardous deflected puck, though Tuesday night's close call appeared to be just that. In his third game back from a fractured jaw, Crosby was stung in the throat by a piece of
Brian Strait
's shot that glanced off the stick of
Chris Kunitz
. In a poor display, Islanders fans cheered as Crosby doubled over and skated to the opposite end of the ice. He eventually went to the bench, where he was briefly treated by the team's trainer, and returned to the ice.
Tied after one:
Strait, whose Game 3 penalty on Crosby led to the game-winning power-play goal, gave the Isles a 1-0 lead late in the first period on a seeing-eye shot that beat Fleury at 14:05, but the Isles gave one right back less than a minute later.
James Neal
, who returned after suffering an injury in Game 1 of the series, ripped a sharp-angle shot past Nabokov 45 seconds later to tie the game, 1-1.
Man down:
Islanders defenseman
Andrew MacDonald
was forced from the game in the second period after taking
Douglas Murray
's shot to the arm. Should the injury sideline MacDonald for Game 5, that would be a significant loss for the Islanders blue line. The 26-year-old plays on the team's top pairing with youngster
Travis Hamonic
.
Up Next:
Islanders at Penguins, Thursday at 7.
September, 16, 2011
9/16/11
5:31
PM ET
The Islanders missed the playoffs for the fourth straight season and endured a tumultuous year that included a 13-game winless streak, a head coaching change and several debilitating injuries. They're hoping they can stay healthy and turn things around.

Main storylines

1. Goaltending: A franchise record-setting six different goaltenders made starts for the Islanders last season and the nets are already crowded this year. Injury-prone Rick DiPietro will have every chance to succeed -- after all, he's signed through 2021 -- but he'll be pushed by last year's surprise starter, Al Montoya, and promising up-and-comer Kevin Poulin. And now the Islanders can add Evgeni Nabokov to the mix. The 36-year-old veteran, who was claimed by the Islanders last January and refused to report, has by far the most experience of the four goalies expected to compete for the job. But the former Vezina Trophy finalist, who spent part of last season in Russia's Kontinental Hockey League, hasn't played in the NHL since the May 2010. Strong, consistent goaltending will be vital to the team's success and they already have an interesting battle brewing.

2. Can they stay healthy? For the third time in four years, the Islanders led the league in man-games lost, including two devastating injuries that occurred before the puck even dropped on a preseason game. Two of the team's most valuable players -- defenseman Mark Streit and forward Kyle Okposo -- suffered significant shoulder injuries during intrasquad scrimmages. And those were just a harbinger of things to come -- the team also lost defensemen Mike Mottau, Mark Eaton, Andrew MacDonald and goaltenders DiPietro and Poulin for significant chunks of time. No team has the depth to withstand the injuries the Islanders sustained last season; they hope they aren't faced with a similar situation again.

3. El Nino: Former first-round pick Nino Niederreiter stuck around for nine games with the Islanders last season before they sent him back to his junior team, but the Swiss winger will have a much better shot at cracking the lineup this year. After dominating at the junior level (41 goals, 70 points) and honing his game, the chippy forward has a good chance to make the team. The Islanders envision him as their first-line right wing of the future, but will evaluate whether he is prepared to handle the rigors of the NHL game now.

New additions

• C Marty Reasoner: The 34-year-old will replace fan favorite Zenon Konopka as the team's gritty fourth-line center, but he'll be expected to contribute offensively as well. Reasoner finished last season with 14 goals and 18 assist for the Florida Panthers.

• LW Brian Rolston: Acquired from the Devils in a trade that shipped Trent Hunter to New Jersey, Rolston, 38, provides the Islanders with a strong veteran presence inside the room as well as a powerful shot from the point.

G Evgeni Nabokov: Although the Islanders owned his rights after claiming him off waivers in January, Nabokov refused to report and was subsequently suspended. With a lengthy layoff from hockey to rethink his situation, the long-time Shark appears to have a different attitude about playing for the Islanders. If he wants to get back into the NHL, his journey will have to take him through Long Island whether he likes it or not.

Wild card

At 18, the Islanders' 2011 first-round draftee, Ryan Strome, doesn't appear physically ready to play in the NHL, but the Islanders will keep an eye on the skilled center to see what they have in this year's fifth overall pick.

Bottom line

The time is now for the Islanders to shed the rebuilding phase and take the next step. They have enough young talent to become a playoff team, but will need to count on good health and consistent goaltending to make that happen.
January, 10, 2011
1/10/11
9:22
AM ET
By
Mike Hume
| ESPNNewYork.com
The Islanders lost 5-0 to the
Chicago Blackhawks
Sunday night. Normally a lopsided beating by the reining Stanley Cup champs wouldn't register as unusual, but given the Islanders' 8-2-1 record coming into that game it sure seemed to be a hasty reversal of fortune.
But after breaking down that hot streak a little bit, the one-sided Sunday loss may not be that strange at all.
Over the course of the Islanders' streak they dialed up goal scoring and seriously cracked down on the opposition. In the Isles' first 28 games, they averaged a mere 2.1 goals per game, while yielding 3.43. Simply put, that's pretty wretched and given these figures it was no shock to see the Islanders dueling with the
New Jersey Devils
for occupancy of the NHL cellar.
Then something sensational happened and the Islanders seemingly blossomed. During the last 11 games heading into Chicago, the Isles upped their goals per game average to 3.01 while cutting goals against to 2.36 per contest. You don't need to be a genius to see how those two drastic changes in the scoring department could lead to an 8-2-1 hot streak.
Another encouraging sign: The Isles' core of young talent was leading the way during the streak.
John Tavares
was averaging better than a point per game (six goals, eight assists) heading into ChiTown. D
Andrew MacDonald
smoothly transitioned to his role on the top defensive pairing by posting 10 assists.
Josh Bailey
potted three goals and three assists after being recalled from the AHL and five goals and four helpers from
Blake Comeau
were notable as well.
The Isles were especially clicking on the power play. New York averaged 1.1 goals per game with the man advantage over the previous 11 games, half a goal better than their season average through the season's first 28 games. A man down, the Isles improved their PK percentage by 6.4 percent during the streak.
Those are all reasons for optimism as this young club continues to develop. But there are a few signs that seem to indicate the Islanders are about to come back to Earth.
By looking a little closer at special teams we start to see why the previous 11 games may have been a skewed sample. The Islanders may have outscored their opponents 34-26 over that stretch, but if you look only at even-strength performance, usually one of the best predictors of future success, the Islanders were just better than even (22 goals for, 21 against). That's not a bad mark at all, but it's not one that indicates the Islanders can keep playing .800 hockey.
The real discouraging mark comes in the shot department. Despite their success, the Islanders were outshot 409 to 293 during the hot stretch. That's an awful lot of reliance on the goaltending trio of
Rick DiPietro
,
Nathan Lawson
and Kevin Poulin.
On average, NHL teams score on about nine percent of their shots. The Islander opponents converted just six percent. Had those foes clicked at the NHL average rate they would have potted 36 goals in the previous 11 games, two more than the Islanders, who enjoyed a shooting percentage of 11.6 percent. If you believe in regression to the mean, it looks like the Isles have just been enjoying a stretch of good luck that coincided with some timely breakouts by their young stars.
For the previous 11 games, the Islanders seemed to be on fire. Turns out the may have just been playing with it. Sunday in Chicago they got burned. The young core is a solid one and lately demonstrated their vast potential. But if the Isles can't crack down on their opponents' shot totals, they're more than likely going to get burned again.
October, 1, 2010
10/01/10
10:41
AM ET
By
Mike Hume
| ESPNNewYork.com
Following the announcement of D
Mark Streit
's six-month absence there are a few items today discussing how the Isles can try to replace their top D-man: one from within, one from without.
Internally, Chris Botta writes that the team
will look long and hard
at
Andrew MacDonald
. MacDonald has been paired with
James Wisniewski
since Streit's injury and told Botta he's happy with a recent vote of confidence from head coach Scott Gordon:
"It's always nice to hear the good stuff, but I have to prove it on the ice," said MacDonald, who had a goal and six assists in the NHL last season. "One thing I've learned since junior is that when you think too much, when you over-analyze a situation, you put yourself in trouble. Last year, I was pretty much focused at the NHL level on my defense. If the coaches decide to give me more of an offensive role, I would welcome the opportunity.

"The one thing I can pretty much guarantee you is, not one guy is going to replace Mark Streit."
MacDonald played 46 games last season and averaged just over 20 minutes of ice time. And don't let last season's offensive numbers fool you. In his final season in junior hockey with the Moncton Wildcats, MacDonald averaged nearly a point per game (14 G, 44 A in 65 games) and put up 33 points in 69 games with the Bridgeport Sound Tigers in 2008-09.
The developing D-man is no stranger to facing stiff competition either. According to the stats of Gabe Desjardins at Behindthenet.ca, MacDonald's quality of competition score (which measures the talent level of opposing skaters players see each shift) is the highest of any Islander D with more than 40 games last season, including Streit.
Externally, disgruntled D
Sheldon Souray
was placed on waivers by the
Edmonton Oilers
yesterday. The Toronto Globe and Mail has already
linked the Islanders
as a potentially interested party to claim him.
When healthy, Souray is one of the best point-producing defensemen in the NHL (117 points in his last two seasons of 80 games or more) and could quarterback the Islanders' power play. However, he's been stewing all summer that the Oilers rushed him back last season and the team ordered him to stay away when camp began. Since then they've been trying to trade him to no avail.
On the surface, Souray fits with the Islanders. However, the Islanders have spent these past few seasons building from within and adding a big-contract guy like Souray ($5.4 million for the next two seasons) would go against that MO. And bringing an alleged malcontent into a locker room of young guys might not be the best move to help team chemistry. Also consider that the Oilers are a team very similar to the Islanders in their rebuilding process and they're desperately trying to get rid of this guy.
The internal solution of MacDonald seems a much better fit at this point.