New York Hockey:

Anton Stralman
September, 15, 2013
9/15/13
4:01
PM ET
GREENBURGH, N.Y. --
Brian Boyle
was genuine in his frustration while recalling the final play of Sunday's intra-squad scrimmage.
Despite notching both goals for Team White, Boyle shook his head in referencing the waning moments, when defenseman
Anton Stralman
notched a power-play goal for Team Blue with 2.7 seconds remaining.
[+] Enlarge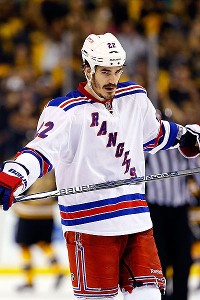 Jared Wickerham/Getty ImagesBrian Boyle will have to earn a spot on the Rangers roster.
Keep in mind this was not the regular season. Not even a preseason game, either. Just an organized scrimmage between teammates in training camp, a last-minute idea designed to give the new coaching staff a feel for their personnel in game-like situations.
"Anton scored that goal with just a few seconds left and that pissed me off," Boyle said. "It sucks. Probably because we haven't played anything meaningful in so many months, but I think that's like a lot of guys in here. You want to win. It's the worst thing in the world to lose."
That mentality seems consistent with the initial impression new coach Alain Vigneault received from the hulking centerman.
"The thing that stood out to me is that he wants to win," Vigneault said about the 28-year-old Boyle after the scrimmage.
Vigneault said Boyle has been eager to ask questions and learn as much as possible about the new system. One of the most important principles Vigneault has already tried to instill is the need to play in the dirty areas of the ice.
That much Boyle has processed, as he drove the net hard to score the first goal of the scrimmage, a play that left him almost up-ended from the force, with his skate blade dangling near goaltender
Martin Biron
's mask.
Boyle knows that he's at his best when he's making plays just like that, using his big body to create opportunities and give opposing goaltenders trouble.
"Everybody likes having the puck and making plays. That's not really when I'm at my best, though. I can get in trouble that way. I'm not going to produce much from the perimeter," Boyle said. "I think in tight, towards the net, not only for me but hopefully the guys I'm playing with, it creates room for them. It's good to be reminded of that every day. You do it and it becomes a habit."
Like many of his teammates, Boyle is looking to have a bounce-back season after a disappointing and inconsistent performance last year. The 6-7 pivot managed only two goals and three assists in 38 games and was a healthy scratch at one point as he struggled to find his game.
Because of that, and the quality of competition at camp, Boyle knows his roster spot won't be given. It must be earned.
"It's very competitive and you need to try and get better, because each year the league gets better and better," Boyle said. "The younger kids are getting better and better, so if you want to stay you've got to get better."
• • •
Speaking of kids, 21-year-old center
Oscar Lindberg
continues to impress. The young Swedish prospect tallied a power-play goal for Team Blue in Sunday's scrimmage and earned more praise from Alain Vigneault.
"In Oscar's case, you could tell he's played with men before [in the Swedish Elite League]," Vigneault said. "With that amount of speed and puck-protection skill that he has, he's going to get a real, solid look."
• • •
Vigneault also acknowledged that 26-year-old
Cam Talbot
is also in the mix for the backup goaltending position. Talbot, who won 25 games as the starter for the AHL's Connecticut Whale last season, will compete with both Martin Biron and
Johan Hedberg
for the spot.
Talbot will play the second half of Monday's exhibition game against New Jersey.
Henrik Lundqvist
will start.
May, 25, 2013
5/25/13
10:58
PM ET
BOSTON -- Defenseman
Anton Stralman
, a vital contributor for the
New York Rangers
' back end in the 2013 playoffs, missed the past two games with a separated right shoulder, a source confirmed to ESPNNewYork.com.
[+] Enlarge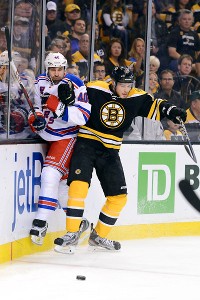 Brian Babineau/NHLI/Getty ImagesPlaying in place of Anton Stralman, Roman Hamrlik's turnover led to Gregory Campbell's go-ahead goal in the third period.
Stralman sustained the injury after taking a hard hit from the
Boston Bruins
'
Milan Lucic
late in the second period in Game 3 of the series. He also sustained a facial fracture on the play, though his shoulder injury is what prevented him from playing Games 4 and 5.
Stralman's injury only compounded the Rangers' already depleted defensive corps, which has played without
Marc Staal
for all but one game of the postseason.
"We don't have our
[Zdeno] Chara
in
[Marc] Staal
," Tortorella said, in discussing the team's depth. "All teams go through it, so please, I'm not using that as an excuse, but it hurts. It hurts our depth. It put people in situations that, right now, I don't think they're ready to handle those types of minutes that there is with those players."
In Stralman's absence, Tortorella dressed veteran
Roman Hamrlik
for the last two games of the series. Prior to his Game 4 appearance, Hamrlik had not played in almost two months.
That rust showed on Saturday, when his turnover led to
Gregory Campbell
's go-ahead goal at 13:41 in the third.
Derek dust-up:
Rangers antagonist
Derek Dorsett
went to the box three times throughout the course of the game, beginning with a tandem of roughing and unsportsmanlike penalties incurred after dropping the gloves with Bruins tough guy
Shawn Thornton
in the first period.
The scrap got so heated that the officials had to separate the two players on the ice, with Dorsett and Thornton continuing to jaw at each other from the box.
Dorsett also took slashing and tripping penalties later in the game.
Tortorella said he liked the intensity the chippy fourth-liner displayed.
"I'd rather have him at that level of not being able to control himself than a couple of other players on our team that I can't get them to [that] level," Tortorella said. "So, it's much easier to have a player that way and try to tame him than to try to build a player up. I think he's going to be an effective player for us as we move forward."
May, 22, 2013
5/22/13
12:16
AM ET
The
New York Rangers
' blue line, already without
Marc Staal
, lost another top-four defenseman Tuesday night when
Anton Stralman
was forced from the game in the second period.
[+] Enlarge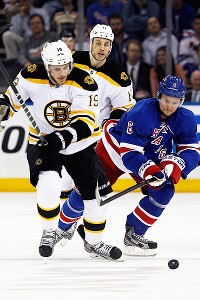 Bruce Bennett/Getty ImagesAn injury to Anton Stralman further weakens a Rangers' blue line that was already decimated.
Stralman, who plays on the team's second defensive pairing with
Michael Del Zotto
, was forced from the game after a hard hit from Boston's
Milan Lucic
late in the second period.
Stralman did not play in the third period, which forced Rangers coach John Tortorella to lean heavily on his top pair of
Ryan McDonagh
and
Dan Girardi
.
"He's played so well," Tortorella said of Stralman after the team's 2-1 loss. "That's a big blow to us, as far as our matches and the depth within our [defense]."
Assuming Stralman is unavailable for Game 4, either veteran
Roman Hamrlik
or
Matt Gilroy
will draw into the lineup. Neither player has made an appearance yet in the 2013 playoffs.
Limited role:
Struggling center
Brad Richards
, recently relegated to the fourth line with his poor play, saw a paltry 8:10 of ice time, only 5:58 of which was at even strength.
Richards, who might be a prime candidate for a buyout this summer, was limited to a mere three shifts in the second period and two in the third.
The 32-year-old veteran, who inked a nine-year, $60 million deal in July of 2011, has been held to one point this postseason.
World of hurt:
Stralman wasn't the only one to get banged up during Game 3.
Carl Hagelin
left the game after taking a puck to the face in the third, though he returned later in the period.
Chris Kreider
also required medical attention when he went down to the ice, writhing in pain, after getting a stick to the eye. Kreider also remained in the game.
Power outage:
The Rangers' ineptitude on the power play continued with another futile effort Tuesday night.
After failing on both man-up opportunities in Game 3, the Rangers are now 2-for-38 -- a dreadful 5.3 percent -- in the playoffs and 0-for-10 this series.
By contrast, the Bruins have had only one power play over the past two games.
July, 5, 2012
7/05/12
9:36
PM ET
Despite a strong postseason performance that helped lead the Rangers to the Eastern Conference finals, veteran winger Ruslan Fedotenko will not be returning to New York next year.

The 33-year-old forward agreed to terms Thursday with the Philadelphia Flyers on a one-year deal worth $1.75 million, a source confirmed to ESPN.com's Pierre LeBrun.

Fedotenko joins the Flyers for a second tour; the two-time Stanley Cup winner began his career in Philadelphia, where he played from 2000-02.

The Kiev, Ukraine native had nine goals and 11 assists in 73 games for the Rangers this past season, not including the two goals and five assists recorded in 20 playoff games.

In other Rangers news, 25-year-old restricted free agent defenseman Anton Stralman was one of 16 NHL players to file for salary arbitration.
May, 20, 2012
5/20/12
10:10
AM ET
As reported
Saturday night
, Rangers tough guy
Brandon Prust
will have a hearing Sunday with league disciplinarian
Brendan Shanahan
for his nasty elbow on Devils defenseman
Anton Volchenkov
during the Rangers 3-0 win in Game 3 Saturday.
Although the play went un-penalized, Prust will likely face at least a one-game suspension for the reckless hit that had Volchenkov down on the ice for minutes before returning to the Devils bench.
Volchenkov called the play "dirty" while Devils coach
Pete DeBoer
went one step further, calling Prust's actions "Head-hunting. Plain and simple."
It does not appear that Devils forward
Dainius Zubrus
will face any supplementary discipline for an elbow delivered to the head of Rangers defenseman
Anton Stralman
in the first period, however. Zubrus also went un-penalized and Stralman remained in the game.
May, 7, 2012
5/07/12
10:20
PM ET
At a glance:
In a stunning turnaround, the Rangers mounted a furious late-game comeback to top the Capitals
3-2 in overtime
and take an all-important 3-2 series lead heading into Wednesday's Game 6 in DC. Big-goal
Brad Richards
brought the team back from the brink of elimination, tying the game on a power-play goal with 6.6 seconds left in regulation. Defenseman
Marc Staal
then tallied the game-winner in sudden death to shock the Capitals and take the pivotal Game 5 at Madison Square Garden.
Crucial power play:
An anemic power play sapped essentially all momentum gained with the Rangers' one-goal lead but came through to deliver with time winding down in the third. New York failed to register a single shot on three power-play opportunities in the first two periods -- during a particularly frustrating sequence, the Rangers had three shots blocked in a matter of 10 seconds with Washington's
John Carlson
in the box for a delay of game penalty -- but scored on the fourth to send the game into overtime. Former Conn Smythe Trophy winner Richards tallied a man-up goal with 6.6 seconds left in regulation to send the teams to sudden death.
Carlson is clutch:
With veteran
Mike Rupp
serving a hooking penalty, Carlson beat
Henrik Lundqvist
with a long-range slap shot for a 2-1 Caps lead at 4:20 of the third.
Laich it or not:
Burying a puck that bounced off
Brian Boyle's
stick, Capitals forward
Brooks Laich
scored from the slot to tie the game at 8:15 of the second period. The Capitals entered Monday's game 0-4 when surrendering the game's first goal of the 2012 Stanley Cup playoffs.
Sharpshooter:
Defenseman
Anton Stralman
skated past Washington's
Matt Hendricks
to rip a sharp-angle shot from long range to beat Caps netminder
Braden Holtby
for a 1-0 Rangers lead at 10:44. Stralman now has three goals during the first 12 games of the playoffs.
Restless crowd:
The crowd at MSG couldn't wait until the eight-minute mark to jeer
Alex Ovechkin
, apparently. The taunts were already in full force less than five minutes into play and continued throughout the game.
Demotion:
Benched for almost the entire third period in Game 4 for a costly mistake, Rangers rookie
Chris Kreider
began Monday's match skating on the fourth line with Rupp and
John Mitchell
. He finished with 6:57 of ice time.
January, 6, 2012
1/06/12
12:09
AM ET
Since inking a one-year, Band-Aid deal to help the injury-ravaged Rangers in November, defenseman Anton Stralman didn't seamlessly transition in the team's lineup.

Stralman, who failed to make the Devils roster as a training camp tryout, sat out stretches and struggled to earn ice time to start. He showed difficulty in adapting to John Tortorella's system and suffered bouts of inconsistency, none of which endeared him to the demanding coach.

But the 25-year-old Swede has improved of late and tallied his first goal of the season Thursday night to tie the game in the first period. With the Rangers trailing 1-0, Stralman tied the game with his shot (one he described as a "chocolate-chip muffin") that deflected in off Panthers defenseman Ed Jovanovski.

"To break the zero on the scoresheet is always nice," Stralman said. 'As long as we win, that's all that matters, but it's always nice to be on the scoresheet."

Tortorella said that Stralman drives him crazy at time but that he has made meaningful strides, especially given the team's bleak injury situation

"He's been a pretty important guy as far as being thrust into that top-four [role]," Tortorella said. "He's still trying to figure us out, we're still trying to figure him out, but slowly and surely, he's getting more consistent with his game."