New York Hockey:

Arron Asham
October, 15, 2013
10/15/13
1:57
PM ET
GREENBURGH, N.Y. -- In the wake of Monday's decision to waive both
Martin Biron
and
Arron Asham
, the Rangers officially recalled
J.T. Miller
and goaltender
Cam Talbot
on Tuesday morning.
Both Miller and Talbot practiced with the team Tuesday and seemed eager about the opportunity to help a team that struggled with a 1-4-0 start.
"It feels unbelievable," said the 26-year-old Talbot, who car-pooled with Miller to New York Monday evening. "I was pretty excited. This is my first call-up so I'm just trying to make the best of it and help the team any way I can."
Talbot is expected to assume the backup goaltender gig behind starter Henrik Lundqvist now that Biron has cleared waivers and been assigned to the team's AHL affiliate in Hartford, CT.
The former University of Alabama-Huntsville netminder had a strong camp with the Rangers in September. Following an exit meeting with coach Alain Vigneault that he deemed "positive" Talbot got the sense he might get an opportunity with the big club before too long.
"I think when AV said I was in the running for the back-up [job] that gave me a little bit of hope that this could happen at some point," Talbot said.
Miller also made a strong case for himself after being sent down after playing the season-opener against the Coyotes. In three games with the Wolf Pack, Miller scored four goals. That made it an easy decision for Vigneault and the Rangers' brass when they huddled over who to bring up to fill the void left by Rick Nash's absence (concussion).
"That's what I expected," Vigneault said of the 20-year-old forward. "He went there, scored four goals, got some great scouting reports...the coaching staff over there said he played real well."
As far as what happens with Biron and Asham, both of whom cleared waivers Tuesday at noon, that remains to be seen. Though it appears Asham would accept an assignment to the team's AHL affiliate, the Hartford Wolf Pack, Biron didn't seem as sure.
The 36-year-old backup goaltender, who struggled in two appearances this season, did not rule out retirement as an option when asked Monday about the possibility. Read more about his thoughts on that
here.
Two different sources told ESPNNewYork.com Tuesday that Biron planned to take some time before making a decision on his future.
Defenseman
Michael Del Zotto
missed practice with the flu on Tuesday. He did not make the trip to D.C. with the Rangers and is not expected to play Wednesday against the Washington Capitals.
October, 14, 2013
10/14/13
4:53
PM ET
GREENBURGH, N.Y. -- The
New York Rangers
shook up their roster Monday in response to an abysmal 1-4-0 start to the season.
Backup goaltender
Martin Biron
and rugged winger
Arron Asham
were put on waivers, the team confirmed. Biron, who was notified of the decision by coach Alain Vigneault after practicing Monday, did not rule out retirement when asked about his options if he is not claimed.
"I don't know. I think there are many options ahead of me. I was just put on waivers, so we'll see what happens with that," Biron said. "It's not the best-case scenario, obviously, but I'm going to be all right and I'm going to figure it all out."
Click here for the full story
.
May, 14, 2013
5/14/13
12:58
AM ET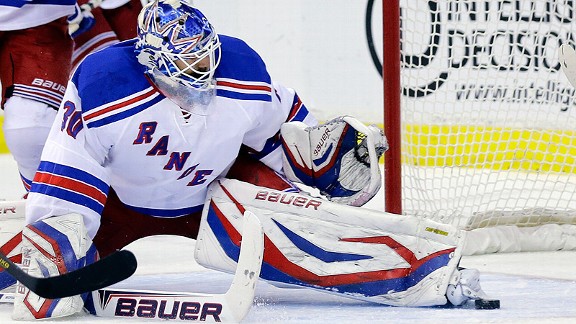 AP Photo/Alex BrandonHenrik Lundqvist recorded his second shutout in as many nights in the Rangers' first Game 7 road win.
WASHINGTON -- The New York Rangers' stunning 5-0 shutout win that sunk the Washington Capitals was not anticipated in a winner-takes-all Game 7 between two teams that battled toe-to-toe all series.
But ask the
Toronto Maple Leafs
if things always go as planned.
That's what the playoffs are all about, and the Rangers were resilient in securing a second-round matchup against the
Boston Bruins
.
With their season on the line and a daunting road game at Verizon Center on Monday, the Blueshirts put together their most inspired effort of the series, scoring the game's first goal and never looking back en route to a decisive, commanding victory.
"I didn't think it was going to be a 5-0 win, the way the series has gone, but it was our best game of the series," Rangers coach John Tortorella said.
Goaltender
Henrik Lundqvist
was superb in recording his second straight shutout of the series, recording 35 saves just one night after turning away all 27 shots in Game 6 to take a 1-0 win at Madison Square Garden and force a Game 7.
The reigning Vezina Trophy winner was the reason the Rangers were able to surmount a 2-0 deficit to start the series, and he was resolute even when the team's scoring woes resurfaced and its special teams faltered.
"Anything is possible with Hank back there," defenseman
Ryan McDonagh
said. "He stands tall, he competes so hard and it's great to see guys willing to block shots; he really respects and honors that, and recognizes that. For everybody, it's a good feeling, but we want to continue to roll with it."
Lundqvist was the irrefutable MVP of the series, but his team played outstanding in front of him Monday night in what was the most well-rounded team performance of the season to date.
The Rangers blocked a whopping 27 shots (as compared to just nine for the Capitals) and poured it on for five goals with contributions coming throughout the lineup.
Arron Asham
tallied his second goal of the series, and it was a necessary one for the Rangers. Cashing in on a nice, little drop pass from linemate
Chris Kreider
, Asham beat Capitals netminder
Braden Holtby
high-glove for the all-important game's first goal with 6:41 left in the first frame.
[+] Enlarge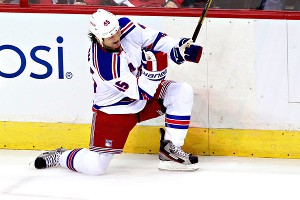 Geoff Burke/USA TODAY SportsArron Asham broke the ice with a first-period goal to give the Rangers a 1-0 lead over the Caps in Game 7.
Asham joked that he was just a "fourth-line plug" after the game, but he now leads the team in goals after the first round.
"I don't think the coach is expecting me to go out there and dangle five guys and roof one," Asham joked. "I play a simple game. I get the puck in, I use my forecheck and whenever the guys get it to me, I try to get it on net the best I can."
Both third-liner
Taylor Pyatt
and defenseman
Michael Del Zotto
chipped in with a goal apiece to give the Rangers a cushy three-goal lead in the second, before the Rangers piled on for a 5-0 edge with third-period markers from captain
Ryan Callahan
and diminutive winger
Mats Zuccarello
.
Zuccarello's goal, a nice deke to beat Holtby, was the final dagger, with young center
Derick Brassard
picking up his second assist of the game on the play.
Brassard, who was acquired in a trade with Columbus at the trade deadline April 3, finished the series with two goals and seven assists.
Rick Nash
,
Derek Stepan
,
Brad Richards
and Callahan combined for only four goals during the series, but the team's secondary scoring delivered when needed.
"If you look at this team, everyone chips in, everyone helps," said Nash, who was limited to one assist in his first playoff series as a Ranger. "It's not one guy, besides [our] goalie, who is amazing every night."
The Rangers pretty much counted on that, perhaps too much at times, but Lundqvist's stellar play makes it easy to do so.
"The last couple of years, I've started to focus more and more on my own game and not so much about the team game. I can't really control what we're doing out there," Lundqvist said. "You're definitely nervous and feeling the pressure. As long as I'm focused on what I have to do, it's going to help me. But, the way we've been playing, especially the last two or three games … as a goalie, it's a great feeling."
The fact that the Rangers have improved since the team's first trip to D.C. for Games 1 and 2 bodes well for the club moving on to the next round, Lundqvist said.
There will be a few hours to enjoy the win, but then the focus shifts ahead to the next test.
"To have played this well in such an important game, it's definitely going to help us moving forward. It's a lot about confidence, especially in a game like this and the one [Sunday]."
"You have to believe you can do it and you can't question anything. You can't think too much about things you can't control," Lundqvist continued. "It is about going out and taking care of business and doing the things you talk about. We did it and it paid off, big time."
April, 13, 2013
4/13/13
11:23
PM ET
Guess what?
John Tortorella is still not convinced.
When asked about the fever-pitch atmosphere for his team's 1-0 overtime win against the Islanders in front of a sellout crowd at a boisterous Nassau Coliseum, Tortorella still wasn't comfortable with the "R" word.
"I don't buy the rivalry," he said, insisting it takes an "old-fashioned" playoff series to breed the type of hostility and hatred necessary to earn that designation. "I think you need some good, stiff playoff situations -- seven-game series -- and that's how you build a rivalry.
Which is not to say he was taking a dig across the hallway.
In fact, one day after dismissing questions about the Islanders, Tortorella praised the team and said they "deserved" to have people come to the building to watch; he said the two teams' close proximity in the standings was the real reason the atmosphere was so intense.
"We're happy to take part in a game like that with them," he said.
• • •
Rangers forward (and former Islander)
Arron Asham
negated what would've been a Rangers power-play in the first period when he took a roughing penalty for retaliating against Islanders'
Colin McDonald
for his crushing hit on Rangers defenseman
Steve Eminger
.
But it was important to Asham to come to his teammate's defense.
"It happens," Asham said. "I'm going to stick up for my teammates. Sometimes you've got to sacrifice. No one was hurt and nothing terrible happened, so ... it worked out."
Teammate
Brian Boyle
had no problem with that.
"What he did was great intentions and [we'll play] 4-on-4," Boyle said. "He's a warrior. He's played for a while and he's a veteran. He's a great guy to have on your team."
March, 25, 2013
3/25/13
1:57
AM ET
Beyond moving back into a playoff spot, there were a few additional bright spots of the team's 3-2 shootout loss to the Capitals.
One was the play of recently-recalled
Chris Kreider
. The 21-year-old winger, summoned back from the minors last week, earned himself a promotion to the first line playing with
Brad Richards
and
Rick Nash
. Meanwhile,
Marian Gaborik
was tasked with third-line duty.
[+] Enlarge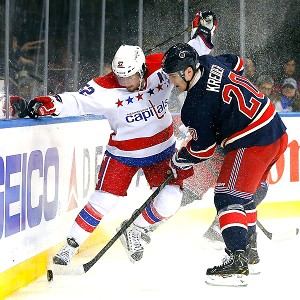 Paul Bereswill/Getty ImagesChris Kreider battles for the puck in the first period of the Rangers' shootout loss to the Caps.
"He was skating well and was on the puck," coach John Tortorella said. "I wanted to try and get Gabby a different look with another line against a different defense pair, but Chris was doing the things we were asking him to."
It's been a tough season for last spring's out-of-nowhere playoff phenom. Struggling to seal his spot in the lineup, Kreider was sent down to the AHL last month for more seasoning
Now he's skating on a line with Richards and Nash. Though Tortorella didn't commit to using the trio together going forward, he seemed at least intrigued by the dynamic.
"That line, I think, needs somebody to chase down pucks," he said.
• • •
Fourth-line forward
Arron Asham
had a successful return after missing 15 games with a back injury. The rugged winger even flashed his scoring touch with a nice goal to convert a 2-on-1 rush in the first.
"The first period I was going on adrenaline and I didn't feel too bad in the second and third," Asham said. "I still have a ways to go but I didn't feel too bad."
The whole fourth line -- Asham,
Darroll Powe
, and
Kris Newbury
-- earned praise from Tortorella for providing a much-needed spark when the team was trailing 2-0.
"They changed the complexion when we were down and scored a goal," Tortorella said. "They changed the momentum plus scored a goal and drew a penalty, so it was good stuff for us."
• • •
Defenseman
Ryan McDonagh
appeared to suffer no ill effects from a collision with
Alex Ovechkin
in the second period. Though he was not on the ice for the Rangers 5-on-3 penalty kill, it was a skate issue not injury that prevented him from playing with the unit.
January, 24, 2013
1/24/13
5:33
PM ET
Not shocking news by any means considering John Tortorella's ominous comments following Wednesday's game, but rookie
Chris Kreider
will be a healthy scratch Thursday against the Flyers.
The 21-year-old winger sits out after struggling considerably through the first three games of the season, particularly with adjusting to the team's defensive structure.
Tortorella has not ruled out
sending him back to the AHL
for more seasoning if his growing pains persist.
The Rangers have recalled
Kris Newbury
, who will make his season debut against the 0-3-0 Flyers.
Newbury will also add some grit to the lineup in absence of
Arron Asham
, who sits out his second straight game with a mild groin strain. Defenseman
Matt Gilroy
will serve his fourth straight game as a healthy scratch.
Henrik Lundqvist
in goal as the Rangers aim to keep their Atlantic Division rivals winless.
January, 23, 2013
1/23/13
10:17
PM ET
What it means:
In a rematch of Saturday's season opener, the Rangers earned their first win of the season on the shoulders of
Marian Gaborik
, who scored a hat trick and won the game with a breakaway goal 27 seconds into overtime,
4-3
. Gaborik tallied his first two as the Rangers jumped out to a hot start in the first period and the 29-year-old winger re-established his scoring touch in overtime, beating Bruins goaltender
Tuukka Rask
to help the Rangers improve to 1-2-0 on the season.
Bad trade:
Boston's
Nathan Horton
knotted the game at 3 with 4:23 to play as each team skated four a side, the result of a bad trade for the Blueshirts. On Horton's equalizer,
Rick Nash
was relegated to the box after being whistled for a concurrent penalty with Boston's
Chris Kelly
. It was Horton's first goal in over a year since suffering a season-ending concussion last January.
Loading up:
Hoping to ignite a Rangers squad that looked out of sorts in the first two games, coach John Tortorella placed Gaborik up on the top line with power tandem
Brad Richards
and Nash. The move paid dividends early as Gaborik tallied two goals in a span of 2:13 early in the first. Gaborik has previously skated on a line with center
Derek Stepan
and captain
Ryan Callahan
.
The first of Gaborik's pair of goals was set up by a beautiful tip pass from Richards and a crisp, cross-ice feed by Nash to connect with Gaborik on the rush.
Taylor-made:
One of the team's better players through the first two games,
Taylor Pyatt
notched his second goal of the season. 46 seconds after
Milan Lucic
tied the game in the second, Pyatt backhanded the puck past Bruins goaltender
Tuukka Rask
to reclaim the Rangers' one-goal lead.
Limited ice time:
Pyatt replaced
Chris Kreider
on the second line as the 22-year-old rookie got demoted to the fourth. Kreider, whose defensive responsibility has been a point of emphasis for the coaching staff, played only one shift in the second period after taking a hooking penalty late in the first.
Break on through:
The Bruins snapped an unsightly 0-for-11 power play skid with a man-up goal in the second period. With Rangers defenseman
Marc Staal
in the box for slashing, the Bruins cut a 2-0 lead in half just 1:05 into play when
Brad Marchand
tipped in rookie Dougie Hamilton's slapshot. Picking up an assist on the play, Hamilton, a former first-round draft pick, registered his first NHL point for the Bruins.
Day-to-day:
Arron Asham
sat out Wednesday's game with a mild groin strain suffered in the Rangers' 6-3 loss to the Penguins on Sunday. Asham's injury is believed to be minor; Tortorella said he is "day-to-day."
Eminger added:
Depth defenseman
Steve Eminger
appeared in his first game of the 2013 season after sitting out as a healthy scratch for the first two games. With defenseman
Stu Bickel
moved to forward in Asham's absence, Eminger slotted in on the third pair with
Anton Stralman
.
Up Next:
Rangers at Flyers, Thursday at 7 p.m.
January, 22, 2013
1/22/13
12:59
PM ET
Feel free to exhale, Rangers fans.
Although it appeared winger
Chris Kreider
was shaken up after
Brooks Orpik
's open-ice hit late in Sunday's 6-3 loss to the Penguins, it was actually Kreider's jaw, not his head, that was hurting.
Kreider explained that he has had previous jaw issues -- he broke it after taking a puck to the face from a teammate during his sophomore year at Boston College -- and that his TMJ joint spasmed after the hit.
The 22-year-old rookie, who skated on a line during practice Tuesday with center
Derek Stepan
and captain
Ryan Callahan
, said no concussion test was needed.
And like coach John Tortorella, Kreider said he felt the hit was clean.
"[He] must've learned that at BC," Kreider said of Orpik, who also played for Boston College.
Tortorella said he was "not sure" if gritty forward
Arron Asham
will be available Wednesday when the team gets another shot at the Bruins.
Asham missed practice with a "mild groin strain," according to the team.
January, 17, 2013
1/17/13
7:32
PM ET
GREENBURGH, N.Y. -- With winger
Arron Asham
suspended for the Rangers' regular-season opener,
Brandon Segal
has been called up from the Connecticut Whale and will be with the team Saturday in Boston.
Segal, 29, made his NHL debut with the
Tampa Bay Lightning
in the 2008-09 season, and has played in 102 NHL games the past five years, for three different teams, scoring 11 goals. Last season he appeared in 10 games for the Lightning.
Rangers coach John Tortorella said he saw Segal play with the Whale during the lockout.
"The thing that caught my eye was, he was really good on the wall," Tortorella said. "He stepped in and fought a guy in a situation during a game where there was no hesitation. He's been a good player for them. [Asham] is out because of his suspension, and this guy deserves a chance. So we're hoping that it's not just one and done -- we hope he's part of our depth, and we'll see where it goes."
July, 1, 2012
7/01/12
1:48
PM ET
The Rangers may have parted ways with Brandon Prust, but they won't be lacking for toughness.

In the opening hours of free agency, the team signed gritty forwards Arron Asham and Michael Haley and re-signed rugged defenseman Stu Bickel.

Asham, the biggest name of the bunch, agreed on a two-year deal worth $2 million, a source confirmed to ESPNNewYork.com.

Asham's signing effectively signaled the end to Prust's tenure with the Rangers and sure enough, the 28-year-old winger inked a four-year deal worth a reported $10 million with Montreal. The Rangers were interested in bringing Prust back, but reached an impasse with the physical forward, who was seeking a significant pay raise from the $800,000 he made in 2011-12.

By joining the Rangers, Asham became a member of his fifth Atlantic Division team. He has formerly played for the Islanders, Flyers, Devils, and most recently, the Penguins. He finished with five goals, 11 assists and 76 penalty minutes in 64 games with Pittsburgh last season.

The Rangers began the first day of free agency with the signing of Bickel, who signed a two-year deal with the Rangers worth $1.5 million, several sources confirmed to ESPNNewYork.com.

The rugged 6-foot-4 blue-liner appeared in 51 regular-season and 18 games for the Rangers this past season and recorded nine assists and 124 penalty minutes.

The Rangers also signed former Islanders enforcer Haley to a two-year deal that, multiple sources confirmed, is a two-way contract in the first year and one-way contract in the second. Haley led the Islanders minor-league affiliate in Bridgeport with 125 penalty minutes last season.

Two of his most memorable fights of the past season was actually against Bickel, who now becomes his teammate.