New York Hockey:

Braden Holtby
May, 9, 2013
5/09/13
12:29
AM ET
All of a sudden, it seems this series has taken a turn.
It didn't happen right away for the Rangers, who were outplayed in the first two games of their first-round matchup against the Capitals. But, since falling behind 2-0 after a disheartening trip to D.C., the Rangers have steadily regained traction in this best-of-seven set.
With a 4-3 win over the Caps at Madison Square Garden on Wednesday, the Rangers evened the series, 2-2, and tilted momentum in their favor heading into Game 5.
[+] Enlarge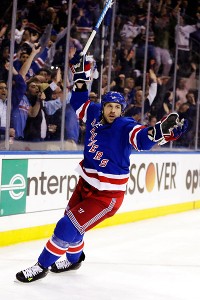 AP Photo/Kathy WillensThe Rangers beat the Caps to tie the series at two games apiece.
"So far, we're just taking care of business at home. That's what we need to do." said
Henrik Lundqvist
, who finished with 27 saves. "Coming back home, being down two games, we had a lot of pressure, but we stepped up there. So far we just tied the series. We still need to do whatever we can to get the next one."
Carl Hagelin
led the team with a goal and two assists,
Derick Brassard
chipped in with another masterful multi-point performance, and the Rangers held
Alex Ovechkin
off the score sheet for the second straight game.
It was the best complete effort this series for the Rangers, who asserted themselves on the forecheck, defended well in their own zone, and didn't surrender the special-teams battle.
"They were working harder. They were coming harder," Caps defenseman
Karl Alzner
said. "They made some adjustments so we'll have to adjust now."
With the Capitals trailing the Rangers by two goals in the third period, Alzner's shot that deflected off
Mathieu Perreault
at 7:31 pulled the Capitals within one, 4-3, but the Rangers refused to let another two-goal lead dissolve.
After building a 2-0 advantage earlier in the game on goals from Hagelin and
Brad Richards
, the Rangers let the Capitals climb right back into it during the middle frame. In fact, it was Washington that sapped the life out of Madison Square Garden with
Troy Brouwer
's backhander that beat Lundqvist and knotted the score at 2 with 17.1 seconds to play.
Caps veteran
Jason Chimera
essentially nullified that surge, however, with an interference penalty as the second period expired, giving the Rangers a power play to start the third.
Brassard made a deft backhanded dish to find defenseman
Dan Girardi
all alone at the left point for a slap shot that beat
Braden Holtby
59 seconds in and re-ignited a restless home crowd.
Brassard made a brilliant cross-ice feed to set up Hagelin's goal earlier in the game.
"It's incredible," defenseman
Ryan McDonagh
said of Brassard's game. "His playmaking ability is so crucial."
After an underwhelming start to the series, Brassard has been impressive in the past two games, during which he has registered one goal and five points.
"The first two games, I was a little bit nervous, but when I'm in my game, I make plays," said Brassard, who was awarded the team's MVP Broadway Hat. "I just wanna take that game [into] Washington."
The No. 6 seed Rangers now face a best-of-three against the No. 3 seed Capitals, who have home-ice advantage with both Games 5 and 7 (if necessary) at the Verizon Center.
After giving up the first pair of games in hostile territory, the Rangers know they are in line for a tough test.
"I think our resiliency has really shown in these last two games and we're going to need that when we go to Washington, because they'll surge there," coach John Tortorella said. "We've just got to find a way to keep our head above water and try to win a game."
Wednesday's win wasn't without its bumps, but the Rangers managed the swings and surges better than they have all series. To best the offensively loaded Capitals, especially on the road, the Rangers need to stick to that blueprint.
"We felt our first two games weren't consistent enough," McDonagh said. "If there's something we can take out of our success these past two games, it's more of the same."
The Capitals will be ready.
"It's a three-game series now," said Holtby, who finished the night with 30 saves. "We still have home-ice advantage, Like I said before, we knew it was going to be a tough series. We learned last year that this team that we are playing doesn't give up and we don't either. Coming in, we didn't care how many games it took to win as long as we won four out of seven."
May, 8, 2013
5/08/13
10:11
PM ET
What it means:
With Wednesday night's 4-3 win over the
Washington Capitals
, the
New York Rangers
have taken two straight at home to even the series 2-2. After letting a two-goal lead go to waste earlier in the game, the Rangers were able to hold off a threatening Capitals team in the third period.
Karl Alzner
's deflected shot pulled Washington within a goal in the final frame, but the Rangers held on to rattle off their second straight victory at Madison Square Garden.
Breakout series for Brassard:
With a goal and five points in the past two games, center
Derick Brassard
has elevated his game. The 25-year-old pivot, acquired in a trade with Columbus at the deadline, made a brilliant cross-ice feed to set up
Carl Hagelin
in the second period and a deft backhanded pass to find defenseman
Dan Girardi
for his slap shot from the left point 59 seconds into the third.
Tie game:
The Rangers saw a 2-0 lead dissolve in the second period, when the Capitals tallied a pair to knot the score heading into intermission.
Mathieu Perreault
silenced the crowd by banging home
Joel Ward
's rebound at the right post to cut the Rangers' lead in half at 13:08. The Caps seemed to gain some life after that, with some long shifts of sustained pressure in the offensive zone.
Troy Brouwer
scored his first goal of the playoffs, backhanding the puck past
Henrik Lundqvist
to knot the score with less than 18 seconds remaining in the frame.
Wild play:
For as much as
Braden Holtby
's puck handling is discussed, it led to the first goal of the game Wednesday. Holtby had his clearing attempt batted out of the air by New York's
Taylor Pyatt
late in the opening period; the 23-year-old goaltender scrambled back toward the net, but slid out of position, forcing Caps defenseman
John Carlson
to block the Rangers' first attempt on an open net.
Brad Richards
then put back the rebound for a 1-0 lead with 3:35 to play in the period.
Staal out:
Marc Staal
returned in Game 3 on Monday after missing two months with an eye injury, but did not play Wednesday. It was not immediately clear whether the 26-year-old defenseman suffered a setback, though Staal did allude to some issues with his eye that had cropped up in the week prior to his return.
Steve Eminger
replaced him in the lineup.
Erat out:
Caps winger
Martin Erat
was forced from the game with an injury to his left arm//wrist in the first period. Erat landed hard in the Capitals net after a short-handed rush by
Derek Stepan
ended in a collision between the two players and
Alex Ovechkin
. Erat did not return to the game.
Back in action:
Ryane Clowe
returned to the Rangers' lineup after missing four games with what is believed to have been a concussion.
Up Next:
Rangers at Capitals, Friday at 7:30 p.m.
May, 6, 2013
5/06/13
1:13
PM ET
At a glance:
Down two games in their first-round matchup against the
Washington Capitals
, the Rangers are desperate to win a game at home as the series shifts to New York on Monday night at 7:30.
Looking to avoid that dreaded 3-0 hole, the Rangers hope to get a lift from the crowd at Madison Square Garden as they try to stop
Alex Ovechkin
and the Caps' venerable power play from striking again.
Here is what to watch for:
Special teams:
In a tight battle projected to come down to special teams, the Capitals have had the distinct edge. Washington has tallied a power-play goal in each of the first two games -- that unit was ranked first overall in the league during the regular season -- and boasts a stout penalty kill that has held the Rangers without a man-up goal this series. The Blueshirts' ailing power play failed to even register a shot on goal during two critical opportunities late in Saturday's 1-0 overtime loss in D.C.
On the mend:
Both
Derek Dorsett
(collarbone) and
Brian Boyle
(lower body) returned to action on Saturday, providing the Rangers some added size and grit. They have two other players who are inching toward a return, as
Ryane Clowe
(believed to be a concussion) and defenseman
Marc Staal
(eye) appear to be making progress.
Staal's presence would be a massive boost for the Rangers' blue line as it tries to contain Ovechkin,
Nicklas Backstrom
,
Mike Ribeiro
and
Troy Brouwer
.
Holt up:
With the reigning Vezina Trophy winner in net, the Rangers enjoy a clear advantage in the goaltending department. But New York wasted a sensational 37-save performance by
Henrik Lundqvist
on Saturday, while 23-year-old Capitals counterpart
Braden Holtby
recorded the shutout. Holtby hasn't had to face the same pressure as Lundqvist, but he has been stellar for the Capitals in limiting the Rangers to only one goal combined over the first two games.
May, 4, 2013
5/04/13
3:51
PM ET
What it means:
Washington's
Mike Green
tallied on the power play for the game winner eight minutes into overtime as the Caps knocked off the Rangers 1-0 and took a commanding 2-0 series lead. Two failed power plays for the Rangers late in the game, during which they were held without a shot, spoiled a sensational performance from goaltender
Henrik Lundqvist
. Caps netminder
Braden Holtby
was also impressive, making 24 saves for the shutout.
Headed to OT:
There were plenty of scoring chances in the third period, but neither team could snap the 0-0 tie. Washington's
Marcus Johansson
, who hesitated too long with a wide-open net earlier in the game, passed up a shot on a two-on-one, dishing back to
Nicklas Backstrom
instead.
Rick Nash
powered his way to the net and hit the left post but drew a penalty to put the Rangers on the power play with 3:44 left in regulation. The Rangers couldn't cash in on the man advantage, as the Caps' penalty-killing unit held the Rangers without a shot -- an inspired effort that had the crowd buzzing. Both goaltenders also made stellar saves in the third to preserve the scoreless tie. Holtby sealed the left post to stop
Ryan Callahan
on the short side early in the period, while Lundqvist stoned Caps veteran
Jason Chimera
with his right pad midway through the frame.
No call:
The Rangers appeared incensed when a puck deflected off Washington's
Karl Alzner
up over the glass in the Caps' defensive zone yet no delay of game penalty was called. It was not immediately clear why the play didn't warrant a whistle, though it may have been negated by the fact that the puck caromed off Alzner as opposed to him shooting it over the glass.
Goaltending clinic:
Both Lundqvist and Holtby were stellar through the first 40 minutes, but Lundqvist handled the bulk of the workload in turning away all 25 shots faced in the opening two periods. The reigning Vezina Trophy winner made a terrific stop against Mathieu Perreault in front during the first and got some help from defenseman
Ryan McDonagh
in thwarting a Grade-A chance from Johansson in the second. Johansson had an open net with Lundqvist face down in the crease, but McDonagh poked his stick to stop Johansson from lifting the puck for what would have been an easy goal.
Scoreless first:
Neither team scored, but there was no shortage of fireworks in what was a chippy first period. Alex Ovechkin leveled winger
Carl Hagelin
, while Rangers captain Callahan set the tone with a team-leading five hits. Capitals defenseman Steve Oleksy and Dorsett exchanged some words before Oleksy drew an offensive-zone penalty on Dorsett late in the frame. The period ended with
Mats Zuccarello
and Green receiving matching roughing minors with less than a minute remaining.
Return to action:
The Rangers returned both
Brian Boyle
and
Derek Dorsett
to the lineup Saturday, a change that was kept under wraps until pregame warm-ups. Boyle played in his first game since suffering a lower-body injury against the Flyers on April 16. Dorsett, who was acquired at the trade deadline in a deal with Columbus, made his Rangers debut after missing almost two months with a fractured collarbone.
Up next:
Game 3 is Monday at Madison Square Garden at 7:30 p.m.
May, 2, 2013
5/02/13
10:22
PM ET
WASHINGTON --
What it means:
The Capitals erased a 1-0 first-period deficit with three unanswered goals to take Game 1 of their first-round series with a 3-1 win against the Rangers at Verizon Center in D.C. Harnessing the momentum in their own building, the Caps took control of the game with a second-period surge that started with
Alex Ovechkin
's game-tying goal, continued with a failed Rangers' 5-on-3 power-play, and was capped by a pair of markers within a span of 46 seconds. Capitals netminder
Braden Holtby
was impressive in making 35 saves to give the Caps a 1-0 series edge Thursday night.
All tied up:
With his first goal of the playoffs, Ovechkin knotted the game at 1 in the second period with a man-up goal for the Caps' top-ranked power-play unit. Ovechkin crashed the net to bury
Mike Green
's point shot, which banked off the boards wide, at 6:59 to spark the Capitals second-period surge.


Goal? Again?
The sea of red at Verizon Center was rocking after the Capitals killed off a critical, 56-second 5-on-3 power-play for the Rangers that resulted from a heated skirmish in front of Washington's net. The Caps killed off the remaining 5-on-4 as well and carried that momentum to pad their lead in the middle frame with two goals in a span of 46 seconds. Caps defenseman
Steven Oleksy
made a beautiful tape-to-tape pass to find
Marcus Johansson
behind the Rangers defense for a seamless breakaway goal at 14:21 and veteran
Jason Chimera
extended the lead less than a minute later. Chimera, who has been an absolute nightmare for the Rangers in previous playoff series, threw the puck on net for a 3-1 lead with 4:53 remaining.
Tough break:
Though it appeared the Rangers might have pulled within a goal late in the third, a lengthy video review on defenseman
John Moore
's attempt upheld the initial ruling on the ice: no goal. Moore's shot was snagged by Holtby behind his back, and though it appeared Holtby's blocker was in the net, the video evidence was not enough to overturn the call.
Mis-lead:
Dominated for most of the first period, the Rangers escaped with a 1-0 lead on
Carl Hagelin
's wraparound goal with 3:16 remaining – a shot that banked in off Capitals defenseman
John Erskine
's skate. Meanwhile the Capitals controlled possession for much of the frame, with Lundqvist the sole reason the Rangers avoided an early hole. Lundqvist made 9 saves before the Rangers registered their first shot on goal 8:07 into play.
Close call:
Ovechkin had a prime opportunity to tie the game late in the first period when a breakaway left him all alone against Lundqvist, but the three-time Rocket Richard trophy winner couldn't squeeze the puck inside the right post and hit iron instead with less than a minute remaining.
Up next:
Game 2, Saturday in D.C. at 12 p.m.
May, 12, 2012
5/12/12
10:02
PM ET
Recap
|
Box score
|
Photos
What it means:
Bring on the Devils.
For the first time in 15 years the Rangers are headed to the Eastern Conference finals, following a 2-1 win to knock off the seventh-seeded Capitals in a thrilling Game 7 on Saturday. Goaltender
Henrik Lundqvist
led the way, making 22 saves en route to the series-clinching victory in front of a frenzied hometown crowd at Madison Square Garden.
Brad Richards
and
Michael Del Zotto
tallied for the Rangers as they advanced to face the New Jersey Devils in a Hudson River showdown that begins Monday.
Quick turn:
The Rangers took a two-goal lead midway through the third after a fantastic shift by Del Zotto resulted in his second goal of the playoffs, but the Rangers coughed one up on the other end just 38 seconds later when Caps defenseman
Roman Hamrlik
pulled Washington back within a goal at 10:43.
Early lead:
Three shifts into the first period, coach
John Tortorella
went right back to his starting line of
Carl Hagelin
, Richards and
Marian Gaborik
-- a move that paid off. Hagelin chased down a dumped puck to feed Richards for a one-timer from the left circle that beat a screened
Braden Holtby
1:32 into play. The team that scored first in each of the first six meetings of the series went on to win the game.
Big-goal Brad:
The hero behind Game 5's overtime stunner, Richards tallied his sixth goal of the playoffs with his early marker. The 32-year-old center, who won the Conn Smythe Trophy with six game-winning goals in the 2004 playoffs while playing for Tampa Bay, has seven goals and eight assists in 11 career games when facing elimination.
Showcase saves:
Preserving the Rangers' 1-0 lead with the Capitals buzzing throughout the second period, Vezina/Hart trophy finalist Lundqvist made a pair of spectacular saves early in the frame. Lundqvist made diving pokecheck to deny
Alexander Semin
on a breakaway at 5:02, then made a swift save with his right pad to smother
Mike Knuble
's chance at the doorstep minutes later.
Dis-Laich:
Caps alternate captain
Brooks Laich
took a beating physically in the second period. After hobbling to the bench after blocking
Dan Girardi
's shot with his left skate early on, he took a puck to the helmet later in the period.
Dog days:
The Caps were without key forward
Jay Beagle
for the second straight game. The defensive-minded center, also a key penalty-killer for Washington, suffered a lower-body injury when blocking a shot during Game 5. Veteran pivot
Jeff Halpern
replaced him in the lineup for the second straight game.
Up Next:
Rangers vs. Devils, Monday at 8 p.m.
May, 11, 2012
5/11/12
2:58
PM ET


The Rangers have been here before.

A little over two weeks ago, the team hosted the Ottawa Senators in a make-or-break Game 7 of the Eastern Conference quarterfinals. This time, it will be the seventh-seeded Washington Capitals looking to knock off the Rangers on Saturday at Madison Square Garden.

"We know what to expect," captain Ryan Callahan said. "You realize how big the game is and how every little play matters."

In a series with little leeway in terms of scoring chances, open ice space and margin for error, the Rangers can expect the finale to follow suit.

But if that's what they can expect, here's what they can hope for:

Offense.

Of the teams still standing in the playoffs, the Rangers average the fewest goals per game -- a paltry 2.08 -- giving Hart and Vezina trophies finalist Henrik Lundqvist no cushion for anything but a superior effort.

"They've been playing pretty tight in their own end. It's tough for us to create scoring chances," Lundqvist said. "I hope that changes [Saturday] and we come out and play our best game of the year."

The Rangers have managed only 13 goals in six games against rookie netminder Braden Holtby and his stingy Capitals squad. And as much as the power play has underperformed of late (0-for-5 in Game 6, including a woefully disappointing four-minute opportunity), their even-strength production hasn't been much better.

The Rangers have been held without a true 5-on-5 goal in each of the past two games -- both markers in a stunning Game 5 comeback came on the power play; Marian Gaborik's late goal in Game 6 was scored with Lundqvist pulled for an extra attacker.

In practice Friday, rookie Chris Kreider and center Derek Stepan were promoted to the second line with Callahan, presumably a move to give the offense a jolt.

Despite personnel changes, alternate captain Brad Richards said the Rangers won't modify the team's overall approach.

"If we win 1-nothing it's the same as winning 5-1. We'd like to go out and score two or three in the first [period], but you play the game the way it's being played," he said. "We're not going to abandon our structure just because people are writing about lack of scoring. We've just got to win a game."

Surrendering only 13 goals in the six games of the series, Holtby doesn't seem to be fazed by much. With injuries to Washington's Tomas Vokoun and Michal Neuvirth, he transitioned into the Capitals' starting job with relative ease. Leading the Capitals past the defending Stanley Cup champion Boston Bruins and extending the Rangers to a seventh game, Holtby boasts a .935 save percentage and 1.95 goals-against average. Even in the wake of a life-altering event -- Holtby and his fiancée, Brandi, welcomed the birth of their first son Thursday -- he doesn't appear to be a player who wilts under the spotlight.

The Rangers hope to change that Saturday.

"He's pretty calm back there, he's positionally sound. He's a good goalie, there's no questioning that," Callahan said. "We just have to continue to work and believe and get some shots [on net]."
May, 11, 2012
5/11/12
1:43
PM ET
To say Caps goaltender
Braden Holtby
has experienced a lot in the past month would be an understatement.
Thrust into the starting job with injuries to Washington's top two netminders,
Tomas Vokoun
and
Michal Neuvirth
, the 22-year-old rookie led the Caps to a first-round upset against the defending Stanley Cup champion Boston Bruins. Surrendering only 13 goals in six games of Washington's second-round set against the Rangers, Holtby faces another Game 7 Saturday at Madison Square Garden.
Oh, and if that wasn't enough to fray anyone's nerves, he is a new father. On Thursday, Holtby and fiancée Brandi celebrated the birth of their first son, Benjamin Hunter Holtby.
"It was planned so it would be the least amount of a distraction to our team as possible," Holtby
told reporters
Friday. "It was a great day. Mom and baby are doing great. But now I'm focusing on hockey."
If the first month of the playoffs have been any indication, very little has been able to faze Holtby. The Rangers will try to change that Saturday.
"He's pretty calm back there, he's positionally sound. He's a good goalie, there's no questioning that," said Rangers captain
Ryan Callahan
. "We just have to continue to work and believe and get some shots [on net]."
May, 7, 2012
5/07/12
10:20
PM ET
At a glance:
In a stunning turnaround, the Rangers mounted a furious late-game comeback to top the Capitals
3-2 in overtime
and take an all-important 3-2 series lead heading into Wednesday's Game 6 in DC. Big-goal
Brad Richards
brought the team back from the brink of elimination, tying the game on a power-play goal with 6.6 seconds left in regulation. Defenseman
Marc Staal
then tallied the game-winner in sudden death to shock the Capitals and take the pivotal Game 5 at Madison Square Garden.
Crucial power play:
An anemic power play sapped essentially all momentum gained with the Rangers' one-goal lead but came through to deliver with time winding down in the third. New York failed to register a single shot on three power-play opportunities in the first two periods -- during a particularly frustrating sequence, the Rangers had three shots blocked in a matter of 10 seconds with Washington's
John Carlson
in the box for a delay of game penalty -- but scored on the fourth to send the game into overtime. Former Conn Smythe Trophy winner Richards tallied a man-up goal with 6.6 seconds left in regulation to send the teams to sudden death.
Carlson is clutch:
With veteran
Mike Rupp
serving a hooking penalty, Carlson beat
Henrik Lundqvist
with a long-range slap shot for a 2-1 Caps lead at 4:20 of the third.
Laich it or not:
Burying a puck that bounced off
Brian Boyle's
stick, Capitals forward
Brooks Laich
scored from the slot to tie the game at 8:15 of the second period. The Capitals entered Monday's game 0-4 when surrendering the game's first goal of the 2012 Stanley Cup playoffs.
Sharpshooter:
Defenseman
Anton Stralman
skated past Washington's
Matt Hendricks
to rip a sharp-angle shot from long range to beat Caps netminder
Braden Holtby
for a 1-0 Rangers lead at 10:44. Stralman now has three goals during the first 12 games of the playoffs.
Restless crowd:
The crowd at MSG couldn't wait until the eight-minute mark to jeer
Alex Ovechkin
, apparently. The taunts were already in full force less than five minutes into play and continued throughout the game.
Demotion:
Benched for almost the entire third period in Game 4 for a costly mistake, Rangers rookie
Chris Kreider
began Monday's match skating on the fourth line with Rupp and
John Mitchell
. He finished with 6:57 of ice time.
April, 7, 2012
4/07/12
3:46
PM ET
At a glance: With a Rangers win against Washington, the Bluehsirts would cap an outstanding regular season with the franchise's first Presidents' Trophy since the 1993-94 Stanley Cup-winning team. Should they snag the league's title, they'd also lock up the Capitals as their first-round opponent in the playoffs. Following a disappointing 5-2 loss to the Penguins on Thursday, the Ranger have plenty to play for in the season finale at Madison Square Garden.

Playoff preview: Saturday's match may well be a precursor to next week's playoffs, but the Rangers could potentially face Florida or Ottawa as an opponent as well. With an atrocious 2-3-5 record over their last 10 games, the Panthers are generally believed to be the weakest team heading into the postseason. But, Washington is battling through tough times as well with injuries to goaltenders Tomas Vokoun and Michal Neuvirth.

Net need: Without Vokoun and Neuvirth, the Capitals were forced to recall Dany Sabourin from the American Hockey League's Hershey Bears on Friday. The 31-year-old netminder has not started an NHL game in more than three years; his last game was a 5-3 loss to Colorado Jan. 10, 2009. Sabourin is expected to back up youngster Braden Holtby on Saturday.

Stepan's OK: Derek Stepan, whose injury on a knee-to-knee hit by Penguins defenseman Brooks Orpik set coach John Tortorella off on an epic rant, appears to be fine. The 21-year-old center did not practice with the team Friday, but will play in the team's season finale against the Caps. Orpik, who earned a five-minute major for kneeing and a game misconduct on the play, escaped any supplementary discipline.

Chunk of change: Following Thursday's expletive-riddled outburst, in which he blasted Orpik and the Penguins organization, Tortorella was docked $20,000 by the league. It was the second hefty fine assessed to the fiery coach; he was also hit with a $30,000 punishment earlier this season after criticizing the officiating in the Winter Classic in January.