New York Hockey:

Brandon Mashinter
February, 19, 2013
2/19/13
1:49
PM ET
At a glance:
Coming off a win against the Capitals on Sunday night, the Rangers close out a three-game homestand as they host the
Montreal Canadiens
on Tuesday at Madison Square Garden. After a middling start to the season, the Blueshirts are 4-0-1 in the past five games -- but they face a tough test against the Habs. Montreal (10-4-1) is on a four-game winning streak and enters Tuesday's game ranked second in the Eastern Conference.


Familiar face:
Tuesday marks the first time the Rangers will face their former beloved teammate,
Brandon Prust
, since he signed with the Canadiens. The gritty do-it-all forward, one of they key "glue guys" last season, earned himself a nice payday in free agency. The 28-year-old inked a four-year deal with the Canadiens worth $10 million in July.
Rangers debut:
Recently recalled forward
Brandon Mashinter
is expected to make his Rangers debut Tuesday. The physical 24-year-old was called up from the Rangers' AHL squad on Monday in the wake of a concussion to fourth-line forward
Darroll Powe
. Mashinter, who was traded to the Rangers from San Jose earlier this season, had 5 goals and 6 assists in 14 games this season for the AHL's Connecticut Whale. He also had 23 penalty minutes. Mashinter previously played 13 games for San Jose in the 2010-11 season.
Fists flying:
Might Prust try to prove where his allegiances lie? It wouldn't be a stretch to assume the rugged winger will drop the gloves against his old teammates. Should that happen, it would likely be tough guy
Arron Asham
or Mashinter who is forced to answer the bell. Prust is tied for second in the league with five fighting majors this season.
Hagelin getting hot:
With a goal in Sunday's 2-1 win against Washington, first-line winger
Carl Hagelin
extended his goal-scoring streak to four games. The speedy 24-year-old has 7 points during that span and is creating havoc with his legs while playing with center
Derek Stepan
and winger
Rick Nash
.
Price is right:
Habs netminder
Carey Price
is expected to be back in net for Montreal after backing up
Peter Budaj
in Budaj's shutout win against the Hurricanes on Monday night. Price will face reigning Vezina Trophy winner
Henrik Lundqvist
in net.
February, 18, 2013
2/18/13
4:28
PM ET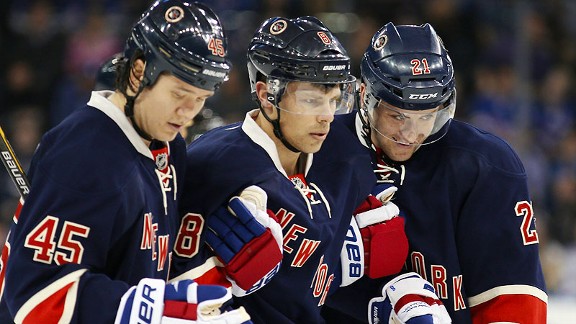 Bruce Bennett/Getty ImagesArron Asham and Derek Stepan help Darroll Powe (8) off the ice Sunday.
GREENBURGH, N.Y. -- It didn't take long for Rangers coach John Tortorella to miss versatile fourth-liner
Darroll Powe
.
Powe was helped off the ice after a frightening collision with Washington's
Matt Hendricks
early in the second period of Sunday's 2-1 win against the Caps.
"I missed him right away on the bench, especially protecting a lead," Tortorella said.
That's a challenge Tortorella will have to endure for the near future, after the Rangers put Powe on injured reserve with a concussion on Monday.
"I don't know how long he's going to be out," Tortorella said. "He doesn't have the stats, but it's not always about the stats. He's done a lot of good things in his role."
Powe was said to be feeling better a day after the collision -- he appeared to be unconscious after the hit and was down on the ice for several minutes looking dazed -- although the team is handling the injury with caution.
Down one of their best penalty killers, the Rangers recalled physical forward
Brandon Mashinter
from the team's AHL club, the Connecticut Whale. It is not yet clear whether Mashinter will make his debut or
Chris Kreider
will play in place of Powe in Tuesday's game against Montreal.
"I've been interested to look at Mashinter. He's an interesting one to me, but I'm not sure," Tortorella said. "I'm not sure what the lineup's going to be. A number of things come into play."
Both youngsters practiced with the team Monday and Tortorella said the club has yet to make any lineup decisions for Tuesday.
Mashinter, 24, has five goals and six assists in 14 games this season for the Whale. He previously played 13 NHL games for the
San Jose Sharks
in 2010-11.
February, 18, 2013
2/18/13
12:53
PM ET
GREENBURGH, N.Y. -- After a frightening collision that left him visibly shaken in Sunday night's 2-1 win over the Capitals,
Darroll Powe
has been placed on injured reserve with a concussion.
Powe, who had to be helped off the ice early in the second period, is said to be feeling better, but the Rangers are treating the injury with the utmost caution.
As expected, 22-year-old winger
Chris Kreider
remains with the team in wake of Powe's injury. The Rangers have also recalled physical forward
Brandon Mashinter
from the AHL.
February, 5, 2013
2/05/13
6:03
PM ET
Although it appeared Monday as if
Chris Kreider
would miss his sixth straight game, the 21-year-old winger may be making his return to the lineup Tuesday in the team's first rematch against the Devils since the 2012 Eastern Conference Finals.
Kreider practiced Monday in a yellow, non-contact jersey and said he was still working on regaining strength in his injured ankle, but signs indicate he may play in Newark. Kreider did not stay on the ice late with the fellow injured players and scratches and there is the curious case of
Brandon Mashinter
.
Mashinter was called up on Monday and was on the ice for the Rangers' morning skate Tuesday, but was sent back down in the afternoon. It is believed he was recalled as a precaution for another player testing an injury -- Kreider.
In midseason subterfuge fashion, coach John Tortorella did not reveal his lineup. He also did not rule out Kreider.
Should know soon enough. Puck drops at 7.
January, 16, 2013
1/16/13
10:16
PM ET
The Rangers made a deal with San Jose to acquire forward
Brandon Mashinter
in exchange for Tommy Grant and a conditional 2014 pick, the team announced.
Mashinter, a 24-year-old winger, has spent the past season-and-a-half with San Jose's AHL affiliate, the Worcester Sharks. He registered two goals, three assists and 44 penalty minutes in 30 games with Worcester this season.
The 6-4, 236-pound Mashinter played 13 games for San Jose in 2010-11.
The Rangers also made another depth move Wednesday, recalling forward
Brandon Segal
from Hartford, presumably to fill out the roster while
Arron Asham
serves his one-game suspension remaining from last season during Saturday's season opener in Boston.