New York Hockey:

Cory Schneider
October, 3, 2013
10/03/13
2:50
PM ET
Martin Brodeur
's impressive streak of starting 18 consecutive NHL season openers for the
New Jersey Devils
will come to an end Thursday night in Pittsburgh.
Brodeur was initially expected to get the nod, the four days he spent away from the team last week following the death of his father, Denis, changed the plans. In a somewhat surprising move, Devils coach Pete DeBoer opted to go with
Cory Schneider
in goal against the Penguins because New York is playing back-to-back games. The Rangers open at home Friday against the Islanders.
DeBoer felt Brodeur could use an extra day to prepare and the 41-year-old veteran agreed. The future Hall of Famer appeared in only two preseason games and knew he wouldn't be playing both games, regardless.
Click here for the full news story
.
September, 21, 2013
9/21/13
1:39
PM ET
At a glance:
Brooklyn gets a taste of NHL hockey Saturday in the first preseason game at Barclays Center -- the Islanders' future home come 2015 -- when the Isles and Devils meet up for their second tilt in three days. Already familiar foes, the two teams will square off again opening weekend, as the Devils host the Islanders in their home opener Oct. 4.
Last time around:
The Islanders beat the Devils in a scoring bonanza that featured two short-handed goals in the first period from
Josh Bailey
, a breakaway goal by Ex-Devil
Eric Boulton
and three fights between Devils enforcer
Krys Barch
and Islanders tough guy
Brett Gallant
. Devils rookie defenseman
Jon Merrill
also finished with a goal and an assist in his Devils debut.
Hello, Brooklyn:
The Islanders appear to be bringing their A-team for the first NHL game at Barclays, with the bulk of their opening day roster slated to play Saturday night. According to Newsday, the team's top line of
Matt Moulson
,
John Tavares
and
Pierre-Marc Bouchard
will play, as will Bailey,
Frans Nielsen
and
Kyle Okposo
. Veteran netminder
Evgeni Nabokov
is expected to start in goal.
Second shot:
After an impressive performance in his first game as a New Jersey Devil on Monday night,
Cory Schneider
will get the nod again Saturday. Schneider, who turned away all 22 shots faced in the Devils' 2-1 win over the Rangers, is expected to play the entire game, according to The Bergen Record.
Ailing veterans:
Two of the Devils' biggest offseason acquisitions --
Jaromir Jagr
and
Ryane Clowe
-- are already on the shelf due to injury. Jagr has not practiced with the team since suffering a lower-body injury the first day of training camp, while Clowe is out with a charley horse sustained in Thursday's loss. Coach Pete DeBoer said he is not concerned Clowe's injury will be a long-term issue, however.
Young guns:
The Islanders line of top prospects
Anders Lee
,
Brock Nelson
and
Ryan Strome
was a fun one to watch Thursday night. Now, keep an eye on the youngsters on their blue line. Both
Griffin Reinhart
and
Matt Donovan
will play Saturday as they look to compete for a roster spot.
September, 16, 2013
9/16/13
9:37
PM ET
What it means:
In the first game -- albeit a preseason one -- of the Alain Vigneault era in New York, the Rangers surrendered bragging rights in a 2-1 loss to the Devils at Prudential Center. Naturally, it wasn't pretty hockey, but more importantly it was a chance for Vigneault to catch a glimpse of his new charges in action. And let's not start on the impotent power play quite yet. Keep in mind the new guy hasn't had much time to work with the ailing unit, which, judging from Monday, still has plenty of room to improve.
Devils debut:
Devils goaltender
Cory Schneider
received a warm welcome in his first game since joining New Jersey in a shocking draft-day trade in June. Schneider made a terrific stick save to rob
Brad Richards
early in the second period and had the Prudential Center crowd chanting his name later on in the middle frame. The former Canuck, who is slated to back up
Martin Brodeur
during the regular season, turned away all 22 shots faced over two periods of play before being replaced by
Keith Kinkaid
.
Back in blue:
After missing all of last season following the death of his wife, Katie,
Dominic Moore
returned to action for his second tour as a Ranger, scoring a third-period goal that cut the Devils' lead in half. Moore backhanded a rebound past Kinkaid at 4:50 for the Rangers' lone goal of the night.
Teddy time:
Devils winger
Rostislav Olesz
set up linemate
Mattias Tedenby
with a sharp behind-the-back pass for the first goal of the game. Tedenby chipped the puck past
Henrik Lundqvist
from in front for a 1-0 Devils lead at 10:20 of the first period.
New addition:
Less than an hour before the puck dropped at Prudential Center, Devils general manager Lou Lamoriello announced the team had signed Swiss forward
Damien Brunner
to a professional tryout contract for training camp. The 27-year-old Brunner, who had 12 goals and 26 points as a Detroit Red Wing last season, will begin practicing with the Devils on Tuesday, Lamoriello said.
Drop the gloves:
Rangers forward
Brandon Mashinter
and Devils tough guy
Cam Janssen
sparked a response from the crowd in the second period as the two dropped the gloves for a heavyweight bout. Both players received fighting majors plus additional minors for taking off their helmets before tussling.
Up next:
Rangers at Flyers, Tuesday at 7 p.m. ET; Devils vs. Islanders, Thursday at 7 p.m.
September, 16, 2013
9/16/13
3:12
PM ET
At a glance:
The
New York Rangers
and
New Jersey Devils
open the 2013 NHL preseason with a clash between division rivals. Both teams are coming off disappointing seasons last year; the Rangers were unceremoniously bounced from the playoffs in the second round while the Devils missed the post-season entirely.


There will be some new faces added to the rivalry as well. Gone are the days of epic feuds between coaches John Tortorella and Pete DeBoer. The Rangers now have the much more affable Alain Vigneault behind the bench. Meanwhile, the Devils are now without their top forward in
Ilya Kovalchuk
, who bolted for the Kontinental Hockey League this summer, though they added former Ranger
Jaromir Jagr
.
First-line debut:
Chris Kreider
,
Brad Richards
and
Rick Nash
will comprise the Rangers' top line Monday night when they take a trip across the Hudson to face the Devils at Newark's Prudential Center. Kreider, who was inconsistent in 2013 after a sizzling NHL debut during the playoffs of 2012, has been impressive in the opening days of training camp while Richards is looking to turn the page on a devastating 2013 and start the year with a "clean slate."
They meet again:
Vingeault probably thought he'd never have to answer another question about
Cory Schneider
again, right? Not so fast. Despite escaping the never-ending goaltending saga in Vancouver, the two men will meet again Monday when Schneider suits up for his first game as a New Jersey Devil and gets the start against his former Canucks coach. Schneider was acquired by New Jersey in a surprising draft-day trade in June.
Keith Kinkaid
will back him up, according to the Bergen Record, while
Henrik Lundqvist
and
Cam Talbot
are expected to split time in nets for the Rangers.
Veterans out:
Neither veteran stars
Patrik Elias
nor Jagr will play Monday for the Devils. Though Elias told reporters Monday morning that he was uninjured and simply taking a day to rest, Jagr is battling a "lower-body" injury suffered in the first day of camp.
No time to Staal:
After a derailed attempt to return during the playoffs last spring, Rangers defenseman
Marc Staal
is back in the lineup after an off-season to recover from the harrowing eye injury that sidelined him for half of last season.
Staal, who was struck in the eye with a puck in a game against the Flyers in March, is aiming to play four of the six exhibition games during the preseason.
OK to play:
Rangers Defenseman
Stu Bickel
, who missed Sunday's scrimmage with a back injury, is expected to play. Should he be unavailable, the Rangers will use defensive prospect
Dylan McIlrath
to replace him in the lineup.
July, 31, 2013
7/31/13
1:20
PM ET
By
Greg Newman
| ESPNNewYork.com
ESPN Insider Craig Custance wrote a great piece
breaking down the brand-new Metropolitan Division
, home to the
New York Rangers
,
New Jersey Devils
,
New York Islanders
,
Washington Capitals
,
Pittsburgh Penguins
,
Philadelphia Flyers
,
Carolina Hurricanes
and
Columbus Blue Jackets
.
Custance argues that the Rangers are trending up, saying that
Henrik Lundqvist
is the best goalie in the division, better than reigning Vezina winner
Sergei Bobrovsky
, and the top four of
Dan Girardi
,
Ryan McDonagh
,
Michael Del Zotto
and
Marc Staal
stacks up with any defense in the East.
Custance says the Islanders have good, young talent but expects "a small step back may be coming after last season's big step forward." My big question about the Isles is, can
John Tavares
keep up his production after a breakthrough season? If so, this will be a fun team to watch.
After losing
Ilya Kovalchuk
,
David Clarkson
and
Henrik Tallinder
and adding
Cory Schneider
,
Ryane Clowe
,
Michael Ryder
and
Jaromir Jagr
, the Devils are a hard team to predict. Custance thinks Schneider will have a big impact in the crease and the team will be able to hold steady.
Read the
full piece here
(Insider).
Paul Grant
has expressed his displeasure over the new Metropolitan Division
. What do you think? Let us know in the comments section below.
July, 31, 2013
7/31/13
12:13
PM ET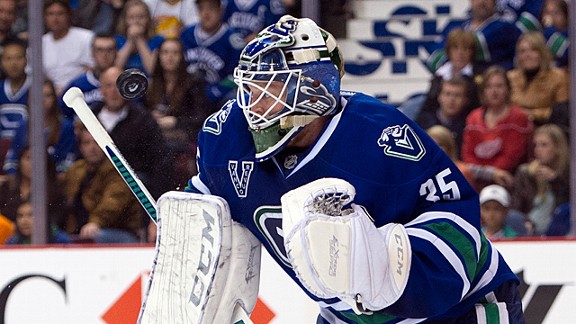 Rich Lam/Getty ImagesIt's a bit of a tricky situation, but Cory Schneider should play a big role for the Devils this season.
There's no question that the
New Jersey Devils
failed to build on their surprising 2012 Stanley Cup finals berth in 2013. But, for the first time in recent memory, few were surprised that they fell so hard so fast. After all, their best skater,
Zach Parise
, departed to free agency and wasn't replaced. Plus,
Martin Brodeur
's play, although he has proved to be superhuman and has had a glorious Hall of Fame career, was assumed to be a blaze of glory rather than a sign of revitalization. Last season, his aging body finally showed signs of wear and tear from all those years of extra games and sidelined him for a significant portion of the year, reminding everyone that he's been around since the days of
the Christmas tree jersey
.
After seeing the writing on the wall and, admittedly, acting a year later than he would have liked, GM Lou Lamoriello traded for budding superstar netminder
Cory Schneider
in a shocking draft-day deal. Which is all well and good on the surface, but it raises a whole host of questions.
OK, just who is the Devils' No. 1 goalie?
Gracefully easing a legendary goaltender into the background is going to be a challenge for Lamoriello. Actually, that's going to be coach Peter DeBoer's problem. Nonetheless, it won't be easy, especially considering Brodeur's stature with the team, the respect the fans have for him and the fact that he might have something left in the tank, even at 41. Hence, Lamoriello's cagey talk about Brodeur still being a No. 1 -- though not necessarily
the
No. 1 -- and Schneider's respectful comments, etc. But it will play out with Brodeur and Schneider being effectively co-No. 1s in 2013-14, a situation with which Schneider has great familiarity and apparently great tolerance. Unlike the situation in Vancouver, however, Schneider knows with certainty that he is going to be the man in short order; Brodeur is signed through 2013-14, and that's likely his last deal with the Devils. What makes this even more of a genius move by Lamoriello is that Schneider is signed through 2014-15, so if Brodeur does indeed retire after this coming season, Schneider will be in a contract year as the pure No. 1. And we all know how players play during a contract year.
But how good will the Devils be this year in front of these guys?
The Devils look to be mediocre to decent, depending on how some traditionally inconsistent players step up. Specifically, the team's top forwards, both returning and newly signed --
Travis Zajac
,
Patrik Elias
,
Ryane Clowe
,
Jaromir Jagr
,
Michael Ryder
and
Dainius Zubrus
-- have a big burden to bear. In Clowe, Jagr and Ryder, the Devils will be holding their collective breath to see how much these guys have left.
As for the blue line, well,
Anton Volchenkov
, 31, and
Marek Zidlicky
, 36, are the Devils' top-paid defensemen right now, and that should tell you all you need to know. (That's not a good thing, people.) The good news is that the Devils have almost
$8 million in cap space
, so Lamoriello most assuredly has something up his sleeve to address this shortfall. After all, the goaltenders will only be as good as the defense in front of them.
June, 30, 2013
6/30/13
8:23
PM ET
NEWARK, N.J. -- Steve Santini, who was born in Bronxville, N.Y., and raised in Mahopac, grew up a
New York Rangers
fan but will no longer be cheering for his favorite childhood team.
"That changed 20 minutes ago," Santini said in the moments after he was announced as the
New Jersey Devils
' second-round pick, 42nd overall.
The 18-year-old defenseman, who played for the USA Hockey National Team Development Program in Ann Arbor, Mich., said he is aware of how passionate New Yorkers are about their hockey and is thrilled to get the opportunity to play in the area.
"New York sports fans are the best. I know that," Santini said. "I'm very excited to hopefully have the opportunity to play in New Jersey."
Describing his game, Santini said, "I'm not a big point-getter, but I am a good shut-down guy."
The Devils made a
big splash early in the day
, acquiring goaltender
Cory Schneider
from Vancouver in exchange for the ninth overall pick.