New York Hockey:

Derek Dorsett
May, 25, 2013
5/25/13
10:58
PM ET
BOSTON -- Defenseman
Anton Stralman
, a vital contributor for the
New York Rangers
' back end in the 2013 playoffs, missed the past two games with a separated right shoulder, a source confirmed to ESPNNewYork.com.
[+] Enlarge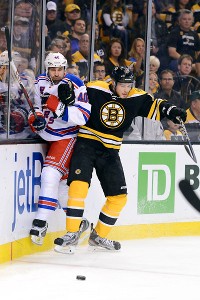 Brian Babineau/NHLI/Getty ImagesPlaying in place of Anton Stralman, Roman Hamrlik's turnover led to Gregory Campbell's go-ahead goal in the third period.
Stralman sustained the injury after taking a hard hit from the
Boston Bruins
'
Milan Lucic
late in the second period in Game 3 of the series. He also sustained a facial fracture on the play, though his shoulder injury is what prevented him from playing Games 4 and 5.
Stralman's injury only compounded the Rangers' already depleted defensive corps, which has played without
Marc Staal
for all but one game of the postseason.
"We don't have our
[Zdeno] Chara
in
[Marc] Staal
," Tortorella said, in discussing the team's depth. "All teams go through it, so please, I'm not using that as an excuse, but it hurts. It hurts our depth. It put people in situations that, right now, I don't think they're ready to handle those types of minutes that there is with those players."
In Stralman's absence, Tortorella dressed veteran
Roman Hamrlik
for the last two games of the series. Prior to his Game 4 appearance, Hamrlik had not played in almost two months.
That rust showed on Saturday, when his turnover led to
Gregory Campbell
's go-ahead goal at 13:41 in the third.
Derek dust-up:
Rangers antagonist
Derek Dorsett
went to the box three times throughout the course of the game, beginning with a tandem of roughing and unsportsmanlike penalties incurred after dropping the gloves with Bruins tough guy
Shawn Thornton
in the first period.
The scrap got so heated that the officials had to separate the two players on the ice, with Dorsett and Thornton continuing to jaw at each other from the box.
Dorsett also took slashing and tripping penalties later in the game.
Tortorella said he liked the intensity the chippy fourth-liner displayed.
"I'd rather have him at that level of not being able to control himself than a couple of other players on our team that I can't get them to [that] level," Tortorella said. "So, it's much easier to have a player that way and try to tame him than to try to build a player up. I think he's going to be an effective player for us as we move forward."
May, 17, 2013
5/17/13
1:10
AM ET
BOSTON -- John Tortorella may not be the most diplomatic, charming or verbose -- especially come playoff time -- but he has a true knack for diagnosing the team's shortcomings and he spelled it out after the
New York Rangers' 3-2 overtime loss to the Boston Bruins in Game 1
of the Eastern Conference semifinals Thursday night.
"We got spanked in overtime," he said.
He was right. For as much as the Rangers played a pretty well-rounded road game with the Bruins, they got absolutely pummeled in the overtime period.
[+] Enlarge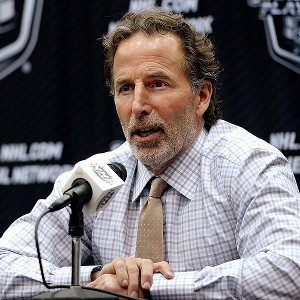 Patrick McDermott/Getty ImagesIt took only five words for John Tortorella to summarize the Rangers' overtime loss.
Well before
Patrice Bergeron
set up
Brad Marchand
on a rush for the game winner 15:40 into OT, the Bruins dominated the Rangers with an offensive onslaught that required goaltender
Henrik Lundqvist
to be nothing short of perfect.
An early power play that resulted from
Derek Dorsett
's interference penalty 2:20 into play allowed the Bruins to pelt the reigning Vezina Trophy winner with five shots and a post.
A strikingly different power play than the Rangers' abysmal unit -- 0-for-3 on the game, 2-for-31 in the playoffs -- the Bruins moved the puck and created a flurry of glorious chances.
New York couldn't recover.
"We never regrouped," Tortorella said.
Entering Thursday's series opener with back-to-back shutouts against the Washington Capitals in Round 1, Lundqvist proved he was indeed fallible.
After the game, he was left second-guessing himself on Marchand's winner.
"There was a 2-on-1 I guess and I thought I made a bad decision," Lundqvist said. "I mean it's a tough play, but I could play it better."
With Bergeron carrying the puck down the right wing, Marchand managed to manhandle diminutive forward
Mats Zuccarello
out of the way to get in front of Bergeron's pass and tip it in past Lundqvist for the win.
"I've got to see the guy in the middle. I was too focused on the puck," Lundqvist explained. "I kind of knew [Marchand] was coming in the middle, but I just was too locked in on the puck, and that's why I made a stretch move instead of coming with my pads together.
"Sooner or later when you face a lot of chances like that, you're going to make a mistake. It's not a mistake I'm going to sleep less over. I thought we played a solid game, but we just came up short here, in overtime, again."
Lundqvist, who made 45 saves, shouldn't be losing sleep. He shoulders the responsibility of the Rangers' saving grace night in and night out, but he needs help.
Overwhelmed by a furious Bruins attack -- one that included two posts and one crossbar late in the game -- the Rangers didn't do much to help stem Boston's surge.
"It makes it tough on our [defense], tough on everyone when we can't get it out of our zone," captain
Ryan Callahan
said.
Bruins captain
Zdeno Chara
was the first to find an opening against Lundqvist, who was an absolute wall in wrapping up the Rangers' first-round series against the Capitals.
Lundqvist lost track of the puck after Bruins defenseman
Dougie Hamilton
's drive in the first, but recovered to make up for the gaffe. He couldn't do the same on Chara's heavy blast the next period. Chara's shot trickled through and Lundqvist inadvertently knocked in the puck himself, ending his shutout streak at 152:23.
The Rangers tied the game with less than two seconds left in the second period on
Ryan McDonagh
's first career playoff marker, and tallied another quick one on
Derek Stepan
's goal 14 seconds into the third.
But, the home team responded with a power-play goal minutes later to knot the score at 2. Recently recalled defenseman
Torey Krug
, who drew into the lineup with a banged-up Bruins defense, unleashed a shot from the left point for the tying goal in his NHL playoff debut at 2:55.
In fact, it's worth mentioning that all three youngsters on the Bruins' back end -- Krug, Hamilton and
Matt Bartkowski
-- played well in filling in for injured veterans
Dennis Seidenberg
,
Andrew Ference
and
Wade Redden
.
"They did incredible tonight," said Marchand, who finished with a goal and an assist. "Obviously, we're really depending on those guys to step up and play big minutes, and they all did a great job tonight. We're very happy with them."
Bruins coach Claude Julien also praised Marchand for what he called "one of his better games so far in the playoffs."
"He skated well, made some great plays, he took pucks to the net and that's the Brad Marchand we know," Julien said. "It was nice to see him really bring his A-game to the table tonight."
Th Rangers needed a more stout defensive effort in their own end, but they couldn't prevent the deluge against Lundqvist, which left the reigning Vezina Trophy winner to mull what has become a worrisome Achilles' heel.
Lundqvist is now 3-11 in overtime playoff games.
Can those overtime losses pile up and plant some doubt?
"I've got to be really careful to ask myself the right question there, because have I played bad in overtime? No. Can I score? No. Is it frustrating? Yes," Lundqvist said. "My record is terrible in overtime, but I've just got to stick with it, play my game and hopefully turn it around."
May, 4, 2013
5/04/13
5:43
PM ET
With the game tied 0-0 and time winding down, the
New York Rangers
thought they'd have one more power-play opportunity in regulation when the puck deflected off
Washington Capitals
defenseman
Karl Alzner
's stick and sailed over the glass with less than 46 seconds left in the third period.
Despite a lengthy stoppage in play and what looked like some huddling between the officials, a delay of game penalty wasn't called on Alzner, leaving the Rangers puzzled.
Ultimately, it was determined that the penalty was not called because it was deflected. According to the rulebook, specifically rule 63.2, a player must shoot or bat the puck over the ice to be subject to a minor penalty. The play was not reviewable by the league's Situation Room.
"The puck was there and it wasn't shot out," Alzner said after the Capitals' 1-0 overtime win. "It was tipped out and that was all they said."
Coincidentally, Alzner said he was thinking about what the ruling on that type of play would be on Friday night.
"It's actually weird. I was thinking about that last night," he said. "I was thinking, if that play ever happened, what would the call be? And I guess it's discretionary, whatever they decide. So I was happy they decided that."
Asked his thoughts about the rule, coach John Tortorella didn't care to take issue with it.
"It's a rule," he said.
• • •
Both
Derek Dorsett
and
Brian Boyle
returned to the lineup for the Rangers and Tortorella said he was pleased with their play.
"They played well," he said. "We changed the lines to try to create some more offense and also due to some matchups."
Dorsett, who flanked former
Columbus Blue Jackets
teammate
Derick Brassard
for most of the game, set a physical tone with his play in his Rangers debut. It was the first game back for the gritty 26-year-old since suffering a broken collarbone back in March while still playing for Columbus, and he tried to test it early with contact against Caps defenseman
Steven Oleksy
during his first shift.
Dorsett finished with seven hits, two shots and two penalties in his first game as a Blueshirt, a match he had been anticipating ever since being traded to New York at the deadline in April.
"There were a lot of emotions going into the game. I was up early in the morning like a little kid at Christmas," Dorsett said.
Boyle started the game between
Darroll Powe
and
Arron Asham
but was later awarded some shifts between
Taylor Pyatt
and Dorsett.
The hulking centerman, who suffered a lower-body injury April 16 in Philadelphia, finished with one shot and six hits in 11:29 over 18 shifts.
May, 3, 2013
5/03/13
3:09
PM ET
WASHINGTON -- Rangers forward
Ryane Clowe
skated with the team Friday for the first time since suffering an undisclosed injury (believed to be a concussion) in the Rangers' playoff-clinching win in Carolina last Thursday.
Clowe said he felt "pretty good" and added that he may even be available to return to the lineup for Game 2 against the Capitals on Saturday.
"I'm not gonna rule out tomorrow," Clowe said after the Rangers' brief skate on Friday at the Verizon Center. "Tough to watch this time of year. Playoffs -- it's the time of year and the hockey I look forward to the most. So, it was hard to watch last night. But, I'll discuss it with the trainers and the proper people today and let them know how it felt. So we'll see."
Clowe sounded like the conditioning factor is not his biggest concern, given the anticipated adrenaline jolt the playoffs provide.
"I feel like that this time of year I can jump in every time, just because I've played a lot of hockey up to this point," Clowe said. I just feel like you can run on [adrenaline]. It's kind of like my first game in New York. I didn't really have any sleep but you run on adrenaline to get back into it. So, I don't think conditioning is that big of a factor."
Coach John Tortorella also confirmed that a player healthy enough to play will be in the lineup at this time of year, regardless of conditioning level.
"Because if we don't win, we're done," he said. "So I don't give a d*** about conditioning."
Clowe's return could lend a big boost to the Rangers offense. The rugged 30-year-old winger brings size and grit to the lineup, and he also adds experience. In his eight-plus seasons with the Sharks, Clowe had 18 goals and 45 points in 68 playoff games.
"It's good to see. I think everybody skated today. We have a lot of players out there and [you] hope for the best, that everybody's healthy," said fellow playoff veteran
Brad Richards
. "A lot of decisions to be made and everybody's chomping at the bit. I'm not a trainer or a doctor. I don't know exactly where everybody is, but it's good to have everybody out there."
In addition to Clowe, injured forward
Derek Dorsett
also appears to be nearing a return. For the first time Friday, Dorsett skated in a regular jersey -- he previously donned a non-contact jersey -- which presumably means he was cleared for contact.
Brian Boyle
and defenseman
Marc Staal
also practiced with the team, although it isn't clear when any of the four players will return. Tortorella said Thursday that he will not discuss any injuries or lineup questions during the playoffs.
April, 26, 2013
4/26/13
8:39
AM ET
It was not immediately clear exactly what forced
Ryane Clowe
from Thursday's game, but the 30-year-old winger's injury was serious enough that he had to be helped off the ice by two teammates in the second period of the Rangers' 4-3 playoff-clinching overtime win against the Hurricanes.
The Rangers did not specify whether the injury was an upper- or lower-body injury, nor did they give any indication of the severity.
But, almost immediately after the game, the team recalled
Kris Newbury
from Connecticut of the American Hockey League.
Granted, the Blueshirts were already down a forward Thursday night with
Arron Asham
flying home to New York for family reasons; defenseman
Matt Gilroy
slotted in at fourth-line right wing.
Should Clowe be lost for any significant amount of time, it would be a huge blow for the Rangers. The gritty winger's addition at the trade deadline has been a valuable one as Clowe provides size and grind to the Rangers' lineup.
In Clowe's absence,
Chris Kreider
skated on a line with second-line center
Derick Brassard
and
Rick Nash
.
It is possible, however, that the Rangers could have
Derek Dorsett
available soon. Dorsett, who racked up 53 penalty minutes in 24 games for the Blue Jackets this season before suffering a broken collarbone, is nearing a return to the lineup.
Though the Rangers clinched their third straight post-season appearance and the top eight teams in the playoff bracket have been determined, clubs will head into the final weekend vying for seeding as the final standings shake out. The Rangers can finish as high as sixth and as low as eighth.
April, 20, 2013
4/20/13
4:20
PM ET
GREENBURGH, N.Y. -- Over the course of about 24 hours, the Rangers tallied 14 goals in back-to-back games against the Panthers and Sabres.
It was the type of much-needed outburst glaringly absent for much of the season for the offensively-inconsistent Rangers, even if there were a handful of deflections and flukey bounces among the lot.
But if there's a time to be beneficiaries of some "puck luck," this is it, as the Rangers head into the last four games of the season on a 7-2-1 stretch.
"I think when you win, the players relax a little bit," coach John Tortorella said. "I think they're playing with more confidence right now. And they should."
Beating up on their opponents the past two games bestowed some confidence upon the Rangers, who control their own destiny in eighth place in the Eastern Conference standings.
"When offensive people put some number on the boards, score goals, it certainly makes them feel better," Tortorella said. "Hopefully, it will continue."
Alternate captain
Brad Richards
, held off the scoresheet in four straight games before Thursday's 6-1 rout of the Panthers, now has four goals and five points over the last pair of wins.
His hat trick in Friday's 8-4 drubbing of the Sabres was his first in 896 career games.
"You look at Brad; pucks are going in for him. Hopefully, that will relax him a little bit," Tortorella said. "Because, that's one guy that cares."
Fighting to hold on to that last playoff spot -- and hoping to climb to a higher seed -- the Rangers face four opponents outside of the playoff race to close out the regular season. The Rangers play the Devils twice, as well as the Panthers and the Hurricanes.
"It doesn't matter," Tortorella said. "One thing that's great about our league -- the league is full of pride and these teams are going to play hard, all the time. There are no easy games here."
• • •
Derek Dorsett
practiced with the team Saturday in a yellow non-contact jersey and continued to make progress as he participated in shooting drills.
The 26-year-old winger, who suffered a broken collarbone while playing with Columbus back in March, is expected to undergo an x-ray next week.
Dorsett, acquired from the Blue Jackets at the trade deadline, still needs to be cleared for contact before he can narrow in on a return date.
• • •
Injured defenseman
Marc Staal
, who has not played since being struck in the eye with a puck March 5, skated Saturday while trying out a tinted visor.
The visor is designed to eliminate glare from the ice, Staal said. He will continue wearing it as he skates and practices with the team until cleared to return.
April, 18, 2013
4/18/13
1:31
PM ET
GREENBURGH, N.Y. -- It's been a few weeks since
Chris Kreider
was last in the locker room for the Rangers. His stall is in a new spot as things got shuffled to accommodate a few new faces -- the result of multiple trade deadline acquisitions.
But for Kreider, much remains the same as he attempts to carve out a place on the Rangers' roster after being recalled by the team on Wednesday.
The 21-year-old forward, summoned form the minors in the wake of an injury to
Brian Boyle
, wants to make an impact. He has failed to do that throughout the course of the season, shuttling back and forth from the big club to the minors.
The last time he was sent down, after struggling for a stretch, he was given one particular area to work on with the AHL's Connecticut Whale.
"We talked about check-finishing a little bit," Kreider said. "When you're not on the scoreboard, still having an impact, that kind of thing, so I definitely focused on check-finishing, especially on the back-check.
Kreider's up-and-down season (two goals and one assist in 17 games) follows a spectacular NHL debut last spring, when he was one of the most effective players in the Rangers' run to the Eastern Conference finals.
He doesn't want to get lured in by the nostalgia, though.
"You look back and obviously [I] have fond memories, thinking this is around the time when I got this opportunity," Kreider said. "That being said, this is an entirely different situation and I'm looking forward to trying to seize that opportunity."
• • •
Injured forward
Derek Dorsett
skated on his own again Thursday, completing the Rangers' notorious conditioning test of timed, interval lap skating.
Dorsett, acquired from Columbus in a package deal at the trade deadline, is anxious to make his Rangers debut, but wants to make sure his fractured collarbone, sustained in March, is fully healed.
The 26-year-old forward has done some stick-handling but has yet to begin shooting. He expects to start shooting next week, after which he will need to participate in battle drills in practice before he is cleared to return.
• • •
Injured defenseman
Marc Staal
(eye) also skated Thursday morning, though he is not yet ready to return. There has been no official timetable for Staal, who has been sidelined indefinitely since being struck in the eye with a puck last month.
Staal will travel with the team to Buffalo and continue skating.
April, 15, 2013
4/15/13
11:26
AM ET
GREENBURGH, N.Y. -- Injured Rangers forward
Derek Dorsett
skated Monday before the team's practice, the first time he has skated since suffering a broken collarbone in March while playing for the
Columbus Blue Jackets
.
Dorsett, acquired in the
Marian Gaborik
trade at the deadline April 3, is unlikely to return before the end of the regular season but will likely be available at some point during the playoffs.
The rugged 26-year-old winger had three goals, six assists and 53 penalty minutes in 24 games for the Blue Jackets this season before he was shipped to New York.
Injured defenseman
Marc Staal
(eye) did not practice with the Rangers, though he may skate later this afternoon.
Practice lines from Monday:
Nash-Stepan-Callahan
Hagelin-Richards-Boyle
Zuccarello-Brassard-Clowe
Pyatt-Powe-Asham