New York Hockey:

Frans Nielsen
May, 12, 2013
5/12/13
12:46
AM ET
UNIONDALE, N.Y. -- What a fitting end to the Islanders' 2013 season, that they left the ice with the Nassau Coliseum crowd on its feet -- even after a
heartbreaking 4-3 overtime loss to the Penguins in Game 6
-- saluting the team's stellar effort in its first playoff appearance since 2007.
That should be the lasting image -- not
Brooks Orpik
's game winner -- that each player conjures up when looking back on the team's first-round series against the top-seeded Penguins.
[+] Enlarge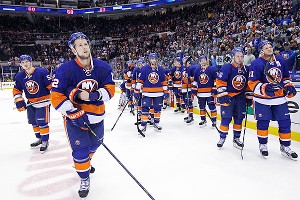 AP Photo/Kathy WillensThe Islanders should be proud of all they accomplished against the No. 1 seed Penguins.
Making it to the postseason was not enough for the Islanders, who surprised some doubters and captivated the league's attention with their plucky play, but it should be regarded as a monumental step forward for the organization.
The Islanders couldn't match Pittsburgh's depth or experience, but they had the grit, heart and desire in ample supply to push the Penguins in a six-game set.
For so many years, the Islanders have suffered the indignities of the down-trodden and the ridicule that comes with annual bottom-five finishes.
But that perception of the Islanders is bound to change after this.
"We've taken a lot of heat in the past three years since I've been here, a lot of criticism from the media, people looked at us as a laughingstock," said heart-and-soul grinder
Matt Martin
, who finished with a game-high 11 hits Saturday night. "Throughout this series, we showed we can play with anyone. We're excited about the future. We think we have something special here."
The Penguins acknowledged that, too.
After wrapping up their fourth win of the series -- a game that required them to erase three separate one-goal Islanders leads before Orpik's deciding goal 7:49 into overtime -- they had plenty of respect for the Islanders as they convened at center ice for the customary handshake line.
[+] Enlarge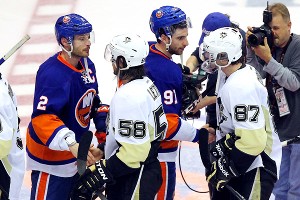 Brad Penner/USA TODAY SportsJohn Tavares said this experience will just serve to motivate the Islanders next season.
"Just walking through the line, they said so many good things, just that you guys have a really good team here. You know, I don't think this team has heard that in a long time," said rugged forward
Colin McDonald
, who gave the Isles a 2-1 lead with 37 seconds remaining in the first period. "That's one of the few positives you can talk about right now. I think as an organization, as players, maybe we gained some respect back, and I'm really glad the fans supported us the way they do. I hope this is just the start, a stepping stone looking ahead to next year."
The Islanders received the requisite secondary scoring Saturday from the likes of McDonald and
Michael Grabner
to build off
John Tavares
' wrist shot from the slot that gave the Isles a 1-0 lead 5:36 into play.
But the Pens showed resilience in a tough road test during which they were outshot 38-21 and superstar
Sidney Crosby
was held to one point. Each time the Isles gained momentum, the Penguins found a way to even the score. Less than six minutes from the Islanders forcing a winner-takes-all Game 7 in Pittsburgh, Pens defenseman
Paul Martin
unleashed a one-timer that deflected off
Frans Nielsen
to knot the score at 3 and send the game into overtime.
"I think we outshot them again today and created a lot of opportunities, but times that we could've gone up and taken a bigger lead, we just couldn't do it," said Tavares, who on Friday was named
one of three Hart Memorial Trophy finalists
for the league's annual MVP. "They stayed with it, and maybe that's why they're moving on."
"It was every bit of a battle in those six games," Penguins coach Dan Bylsma said after his team punched its ticket to a second-round matchup against the seventh-seeded
Ottawa Senators
.
Special teams hurt the Islanders and veteran goaltender
Evgeni Nabokov
failed to steal a game, but the Penguins were the team to come up with the big plays when it counted.
For that reason, the Islanders will pack up for the offseason, with the hunger to win even more intense now that they know what it takes and how it's done.
"It's what I'll be thinking about all summer," said Tavares, who finished the series with three goals and five points. "It's what pushes you every day, and you finally get to experience it. We got here and we weren't satisfied with getting here. I thought we competed real well, we played with them most of the series and dictated the play a lot of the series, too. They just took advantage of most of their opportunities."
The Penguins remained composed throughout the series, keeping doubt at bay even when the Islanders' Cinderella story seemed to be gaining traction. Bylsma made a bold but necessary goaltending change in replacing starter
Marc-Andre Fleury
with veteran backup
Tomas Vokoun
after a bafflingly bad performance in Game 4. That move paid dividends as the latter turned away 66 of 69 shots faced in his two starts to close out the series.
And in moving on, Pittsburgh managed to exorcise some demons from last spring's implosion when the team was upset in the first round by the
Philadelphia Flyers
.
"I think we fought it a little bit, that history, and we fought it in different ways," Bylsma said. "But again, we had to be excited to win and not thinking about the past."
The Islanders don't have that luxury, however. With their first taste of the playoffs also comes their first devastating sense of disappointment.
That won't abate any time soon.
"Right now, it's just tough, but in a couple of weeks when we look back at the season, I think we'll realize we took a big step in the right direction," Nielsen said. "But, we're definitely not satisfied with that. It's still a long way to go. It's not a success until we've got that Cup, but I think it's a step in the right direction."
May, 7, 2013
5/07/13
2:17
PM ET
UNIONDALE, N.Y. -- Despite trailing the
Pittsburgh Penguins
2-1 in the series, the
New York Islanders
are a confident bunch heading into Game 4 on Tuesday night at Nassau Coliseum.
Following a Game 1 rout in which the Isles were easily dispatched 5-0, they rebounded with a win in Game 2 and a strong performance in Game 3, despite falling in overtime.
But it's not just about their ability to compete with the top-seeded Penguins. The Islanders truly believe they can pull off the upset.
[+] Enlarge
Charles LeClaire/USA TODAY SportsFrans Nielsen and the Islanders can tie the series with a Game 4 victory on Tuesday.
"We know we can beat them," second-line center
Frans Nielsen
said. "We want this to go as far as possible. This series, too, we've felt they have a lot of guys on their team that can't skate with us. So we want this one to go to seven, because we want to get [it] as tough as possible."
According to Nielsen, speed has been the Islanders' biggest advantage.
"I think when we're moving our feet, they've got guys up front, on the [defense] that we can see are struggling a little bit," Nielsen said. "We've gotta skate with 'em. If we stop skating, we don't have a chance."
Even
Sidney Crosby
admitted the Islanders have created problems for the Penguins with their transition game and opportunistic style of play.
Pittsburgh enjoys the distinct advantage on special teams, but the Islanders have been solid at even strength.
"They've probably carried the play a little bit more," Crosby said. "They've had a little more zone time, I think. They're coming hard, but I think we've hurt ourselves with turnovers. ... I think that something we can definitely improve on."
PENGUINS UPDATE:
Brooks Orpik
and
James Neal
took part in the Penguins' morning skate, though it is not immediately clear whether they will return to the lineup Tuesday night.
The Penguins have adopted a playoff policy of declining to answer injury or lineup questions. That goes for coach
Dan Bylsma
and the players themselves.
Neither Orpik nor Neal committed to a return, though all indications are that both players are close.
Neal, who practiced with the team's first power-play unit during the skate, said he doesn't expect to be eased back into it, whenever he returns. The 25-year-old winger was forced from Game 1 with a lower-body injury and has not played since.
"It's playoffs," Neal said. "I'm not going to go back in unless I can help the team out and play my best."
Orpik could do nothing to help his team while watching from the press box during the nail-biter of a finish in Game 3, an experience he described as "the most nervous" he has ever been. The veteran defenseman suffered a lower-body injury during the last week of the regular season and has yet to make an appearance in the 2013 playoffs.
"At this time of year, you want to heal as quick as possible," Orpik said. "It never heals as quickly as you want it to, but you just try to be patient with it. That's tough."
April, 12, 2013
4/12/13
11:41
AM ET
With the Rangers and Islanders elbowing each other to gain an edge in the final sprint to the finish line, Saturday's clash between the division rivals promises to be an exciting one at Nassau Coliseum.
With a huge 2-1 win over the Bruins in Boston Thursday, the Islanders are in seventh place with 46 points, two points ahead of the 8th-place Rangers.
Let's face it, the rivalry has been relatively dull in recent years in part because of the lack of meaningful games, but times have clearly changed as both clubs are poised to compete for playoff spots.
With eight wins in their last 10 games, the Islanders are the hot team right now.
Josh Bailey
powered the Isles past the Bruins Thursday with a pair of goals, and the 23-year-old has thrived recently on a line with
Frans Nielsen
and
Kyle Okposo
. Bailey has seven points (four goals, three assists) in the last six games while Nielsen has added six en route to his fifth consecutive 20-goal season.
The Rangers are coming off a 3-2 shootout win over the Leafs at Madison Square Garden on Wednesday, a critical two points gained to remain among the top eight.
With two weeks remaining in the regular season, both teams would like to climb the standings as well, considering the potential match-ups that await. An eighth or seventh-place finish would mean drawing the top two teams in East -- Pittsburgh and Montreal, respectively, while the coveted sixth spot gets to square off against the winner of the Southeast -- widely regarded as the weakest in the entire league. Both the Washington Capitals and Winnipeg Jets are battling for the division title.
As of Friday morning, the game was sold out.
April, 9, 2013
4/09/13
12:23
PM ET
At a glance:
The Islanders are gearing up for what would be their first playoff appearance in six years and have the opportunity to firm up their chances. Currently tied with the Rangers at 42 points, the Islanders have the chance to pass their division rivals with a win at home over the Flyers. Coming off a 4-1 loss to Winnipeg on Saturday, the Flyers' playoff hopes are rapidly waning but they've won seven straight on Long Island heading into Tuesday's contest.
Strong stretch:
Instead of desperately clawing for points to avoid elimination, the Islanders have gone 6-1-1 in their last eight games to put themselves in position to play on. The Isles have a tough week ahead, though. Following Tuesday's game against the Flyers, the Isles travel to Boston to face the Bruins on Thursday before returning home to host the Rangers on Saturday.
Nabby in net:
Goaltender
Evgeni Nabokov
will make his 34th start of the season Tuesday against the Flyers. The 36-year-old netminder, who is 18-11-4 with a .906 save percentage and 2.64 GAA, squares off against Philly's
Steve Mason
. Mason was acquired by Philadelphia in a trade with Columbus last week.
Line to watch:
The Islanders' second line of
Josh Bailey
,
Frans Nielsen
and
Kyle Okposo
has been a productive one of late. Both Bailey and Nielsen have five points in the last four games, while Okposo has chipped in with a goal and an assist over the last two games.
Back in action:
After missing Saturday's game with the flu, Matt Moulson's ironman streak came to an end at 284 games. But he returns to action Tuesday after missing the first Islanders game of his career. His consecutive games played streak ranks third in team history.
Hello, Brooklyn:
The Islanders announced they will play their first game at Barclays Center, an exhibition match against the
New Jersey Devils
, on September 21, 2013.
February, 15, 2013
2/15/13
12:10
AM ET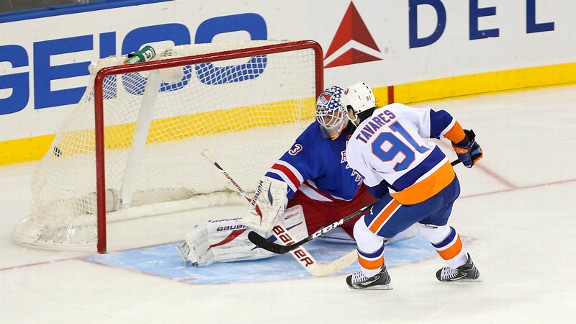 Anthony Gruppuso/USA TODAY Sports John Tavares scores on former teammate Martin Biron in the shootout to beat the Rangers.
The Islanders needed this one worse.
With every small hiccup that has snowballed into a slump and every skid that has become painstakingly magnified because of a lockout-shortened season, the New York Islanders were a desperate team.
And they played like it.
Teetering precariously on succumbing to an absolute free-fall, the Islanders rallied back from an early 2-0 deficit to beat their New York rivals 4-3 in the shootout and snap a dreadful five-game losing streak.
"It was a great character win, coming back from a five-game losing streak, down 2-0. Great win," said
Frans Nielsen
, who beat former teammate
Martin Biron
through the 5-hole to tally the deciding goal in the shootout against the New York Rangers. "And no better place to turn it around, either."
[+] Enlarge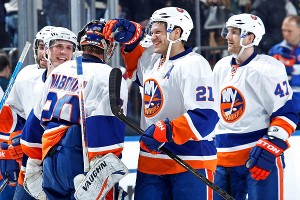 Scott Levy/NHLI/Getty ImagesIslanders' Kyle Okposo and Evgeni Nabokov celebrate the shootout win over the Rangers.
Both Nielsen and
John Tavares
scored against their former teammate in the shootout to earn the elusive two points that had escaped their reach since their previous win -- two weeks ago. Thursday's victory also marked the first time in nine games the Islanders knocked off the Rangers at Madison Square Garden.
Trailing 2-0 after a passive first period, the Islanders braced for an earful in the dressing room during intermission and received what they expected.
"We gave it to 'em pretty good," coach Jack Capuano admitted. "But it's not about what you say. … It's work ethic and desperation, and they had it."
The Islanders set a markedly different tone early in the second, employing a hard-checking, high-energy line of
Matt Martin
,
Casey Cizikas
and
Colin McDonald
to start the period. That move paid dividends as McDonald found the back of the net to cut the Rangers' lead in half only 29 seconds into play.
"Especially with the way we played in the first period, it was good to get one in right away," McDonald said. "Even if we didn't score that shift, I was confident we were going to play better. We had a good talk after the first and I thought guys made a good commitment in the second to get to our game."
Tavares and
Brad Boyes
also chipped in with a goal each to complete a three-goal period and wrest back momentum.
"You could see it in guys' eyes," said goaltender
Evgeni Nabokov
, who finished with 36 saves. "Guys were fired up and they were playing hard for each other. They did a hell of a job."
The Rangers answered back with
Carl Hagelin
's power-play marker in the third but the Islanders prevailed in the shootout -- their first of the season.
It was a necessary win to stop the bleeding and salvage some hope that they can put their season back together.
Entering Thursday night's game with the penultimate spot in the East, the Islanders climbed to 12th in the conference with 11 points. A small consolation for the points surrendered during the five-game skid -- all 10 of them -- but a building block to open a two-game homestand against division opponents in the
New Jersey Devils
and
Philadelphia Flyers
.
"Five losses is tough, but I think we understand how important each game is and more and more of what it takes," said Tavares, who extended his goal-scoring streak to four games. "The last couple of games we didn't play too bad -- we did some good things -- but there were just a lot of times when we just didn't handle the adversity as well."
That, Tavares hopes, is beginning to change.
"We know how to handle it. We've shown it before, we've all been in the league for a few years now so this was a great test for that, today again, and we stepped up to the challenge. We've got to expect more efforts like this."
September, 26, 2012
9/26/12
6:08
PM ET
Islanders forward
Frans Nielsen
has agreed to terms with European club Rauma Lukko of the Finnish SM-liiga, a source confirmed to ESPNNewYork.com.
The Danish centerman will fly to Finland by week's end and join his new team. The 28-year-old, who inked a four-year, $11 million extension with the Islanders in February, is among a bevvy of NHL'ers headed overseas to play in Europe during the lockout.
Before joining the Islanders, Nielsen played five seasons in the Swedish Elite League, four with Malmo and one with Timra.
March, 31, 2011
3/31/11
8:34
AM ET
By
Mike Hume
| ESPNNewYork.com
Mama said there'd be days like this, but that doesn't make them any easier for fans of the Blueshirts. Here's a quick rundown of the bad news the Rangers endured in their 1-0 loss to the
Buffalo Sabres
.
" The Sabres have now matched the Rangers with 87 points and moved into a seventh-place tie.
" The
Carolina Hurricanes
waxed the
Montreal Canadiens
, 6-2, to close within three points of the Rangers/Sabres and the final playoff seed, while the loss means the Rangers missed a chance to tie the Habs in sixth.
"
Henrik Lundqvist
's strong, one-goal-allowed effort was squandered in his 21st consecutive start, a number that matches his career high.
It looks like it will be a grind indeed for the final playoff spots in the East and the Rangers' bitter rivals will not make it any easier on them Wednesday night. Here's what to watch for when the Blueshirts battle the
New York Islanders
.
E Is For 'Effort'
After Wednesday's loss, head coach John Tortorella called the Rangers' effort in the first two periods "unacceptable." They were outshot 12-3 to start the first and never really mounted any serious pressure against Buffalo backup
Jhonas Enroth
, who recorded his first career shutout while filling in for all-star
Ryan Miller
. After a few whip-cracks from Tortorella, expect a rededicated effort from the Rangers tonight.
Who Put Out the Red Light?
After a three-game stretch that saw the Rangers average over five goals per game -- a span that started with a six-goal night against the Islanders March 15 -- they have averaged under a goal per game through the last four contests. That's largely been the story this season for the Rangers; the faucet is either flooding the apartment or trickling down the drain. After looking like he was about to catch fire with five goals and an assist from March 9 through 20,
Marian Gaborik
has disappeared. With 11 other forwards on the ice every night, it might be unfair to lay the blame entirely at his skates, but $7.5 million per season tends to make you ask, "what's going on?" when a star isn't producing.
The Isles' Outage
The Rangers aren't the only team struggling to score, as the Isles tallied more than one goal for the first time in two games Wednesday night in a 3-2 loss to the Devils. The drought didn't seem to bother
Frans Nielsen
, who notched both of the Islander goals Wednesday. With a career high 13 goals and 44 points, combined with his defensive contributions (plus-14 on a team with a minus-32 goal differential), Nielsen might be the most underrated player in the NHL. And he's a steal for the Islanders too -- he will remain under contract for just $525K next season. Cha-ching! Party on, Garth.
Feeling a Draft
The Islanders' decent stretch run has been encouraging for a struggling franchise, but it may also end up hurting their draft position. With Florida in a free fall (six straight losses) the Islanders are now tied for the fifth pick in the draft, pending the outcome of the lottery. As we discussed a little while back in this blog, you play to win, but that doesn't change the fact that most NHL scouts see this draft class as four-deep with elite NHL prospects. After that the future gets a little murkier. Ryan Nugent-Hopkins, Sean Couturier and Gabriel Landeskog are the top forwards in the class, with Swedish D Adam Larsson as the top D. After that, Insider's Gare Joyce ranks centers Ryan Strome (Niagara - OHL) and Jonathan Huberdeau (Saint John - QMJHL) as the next two talents. Both are strong players and could develop to be better than the top four -- the draft is always a crap shoot -- but right now, scouts seem to be convinced there's a clear upper crust ... and the Islanders may just miss out.
January, 31, 2011
1/31/11
9:49
AM ET
By
Mike Hume
| ESPNNewYork.com
Just prior to Sunday's All-Star game CBC
released the results
of an NHL player poll conducted in conjunction with the NHL Players Association, producing a load of debate fodder for the next few days.
As I shared on Twitter Sunday, the results were often interesting, but hard to weight as you wonder how much thought the players put in to their responses and many of the answers are certain to change from year to year. For example, the
New York Islanders
-- a team that hasn't advanced beyond the conference quarterfinals since 1993 and plays in the NHL's worst arena -- earned the dubious distinction of being the franchise with which players would least like to join. Hardly shocking considering the other teams on that list -- Edmonton, Atlanta, Toronto and Florida -- are all in rebuilding modes as well, even though Atlanta is in the thick of the playoff race this season.
On the flip side, the Rangers were among the top five teams players would most like to play for.
But it wasn't all bad news for the Islanders.
Frans Nielsen
was singled out as the league's second most underrated player, behind the Stars'
Loui Eriksson
. The Devils'
Travis Zajac
joined tied for third on that list as well.
A few Rangers were also held in high regard, with
Marian Gaborik
named the league's best and fastest skater by his peers. The Islanders'
Michael Grabner
, winner of All-Star weekend's fastest skater competition, was fifth on the fastest skater list.
Henrik Lundqvist
ranked fourth behind
Roberto Luongo
,
Ryan Miller
and
Tim Thomas
as the goalie skaters see as toughest to beat.
Derek Boogaard
meanwhile was the runaway winner for the NHL's toughest player.
On the coaching front, players picked the Devils'
Adam Oates
as one of the top five current NHL assistants who should get a shot at head coach. With Jacques Lemaire saying he'll step aside at the end of this season, Oates will certainly have his name thrown around, but I wonder if GM Lou Lamoriello will consider another first-time head coach after the team's struggles under rookie bench boss
John MacLean
.
John Tortorella, known for his tough-love reputation, was dubbed the league's most demanding coach, earning 28 percent of the vote. Unsurprisingly, that helped land him at the No. 2 spot when players were asked which coach they'd least like to play for.
MSG was a winner and a loser in the poll, named as the second favorite arena to play in, but also knocked as having the second worst ice in the NHL.
December, 30, 2010
12/30/10
8:53
AM ET
Friend of the blog Doug Mittler was out at Nassau Wednesday, what follows is his write-up after the Isles' upset of the NHL's top team, the Pittsburgh Penguins.
The Islanders took one of the storylines away from Saturday's Winter Classic, stopping Sidney Crosby's scoring streak at 25 games in a 2-1 shootout win Wednesday night at Nassau Coliseum.
Three days before the NHL's showcase event at Heinz Field featuring Crosby and Washington's
Alex Ovechkin
, Crosby saw his string of success, the longest in the NHL since 1992-93, snapped by the unlikeliest of opponents.
The Penguins superstar entered the game with 18 goals and 44 assists in 32 career games against the Islanders. The 62 points ties for his most points against an opponent along with Philadelphia.
"Obviously they have a lot of great players so you can't just focus on him. We wanted to watch him and Franzie (
Frans Nielsen
) was on him all night," said the Islanders
Josh Bailey
, who opened the scoring with a second-period goal. "Obviously there is some motivation there. You want to be the one to stop the streak when a few dozen other teams didn't."
Crosby, who had 26 goals and 24 assists during the streak, was held without a point for the first time since Nov. 3 at Dallas.
Rob Schremp
, who scored the first shootout goal, says the Isles had a blueprint for Crosby.
"We didn't give him much room and did a good job of closing the gaps. We kept him in tight corners and we kept him on the outside," Schremp said. "When you give him room, he gets those quick shots off and that's when he's most effective."
In goal for the Islanders was
Rick DiPietro
, who hadn't played since Dec. 16 due to swelling on his surgically repaired knee and finished with 37 saves through overtime.
"This was a big spot for us. When you play against a club with that much talent it has to be a full team effort," DiPietro said. "We did a good job in the neutral zone and blocked a lot of shots."
Crosby's best scoring chance came late in the first period when he was left wide open on the left side and hit the crossbar off a pass from
Tyler Kennedy
. In the second period,
Evgeni Malkin
was stopped by DiPietro from point-blank range.
The Islanders had been torched for seven goals in a loss to the Rangers Monday and entered the night allowing 3.26 goals per game, the second highest total in the NHL. But the Islanders have looked a lot better in recent weeks, allowing a combined three goals in the three-game winning streak that ended Wednesday.
In addition, coach Jack Capuano was forced to modify his defense after GM
Garth Snow
traded
James Wisniewski
to Montreal for draft picks earlier this week. Wisniewski was tied for the team lead with 21 points, but was also a minus-18.
Wednesday's highly entertaining game attracted a season-high 14,345 fans to Nassau Coliseum, marking the first time in five home games the team drew as many as 10,000. At least a portion of the crowd was there to see Crosby, and the Isles clearly took pride in shutting him down.
"He's a great player," Capuano said. "We'll be known as the team that snapped the streak, but I'm sure they'll be another."
November, 1, 2010
11/01/10
9:08
AM ET
By
Mike Hume
| ESPNNewYork.com
It's safe to say the Islanders' hot start is officially over. Four straight losses mar their most recent stretch of schedule and the team's solid starting record of 4-1-2 has now ballooned to 4-5-2. Once-sizzling
Blake Comeau
has registered just two points in the last seven games and hasn't scored a goal since his pair against the Rangers on Columbus Day.
Josh Bailey
has scuffled since enduring a hip pointer and even when
John Tavares
records a hat trick, it's not enough to get the Isles a win.
Safe to say the boys from the Island can use this three-day respite before suiting up for consecutive road games Wednesday in Carolina and Thursday in Ottawa. After that they'll return home to take on the Philadelphia
Face Checkers
Flyers in a game that promises to feature more than a few gloves hitting the ice.
In the meantime, here's some reading to get you caught up on the Isles' situation.
Morning Links
September, 20, 2010
9/20/10
8:02
AM ET
By
Mike Hume
| ESPNNewYork.com
Just a few days into training camp and we're already getting a clearer picture of how the team plans to handle promising rookie defensemen Travis Hamonic and Calvin de Haan. Head coach Scott Gordon says that both blueliners will need to crack the team's top four in order to stay with the Islanders this season.
The move makes sense since skating on the third pairing will drastically limit their playing time, which doesn't exactly help development.
Chris Botta, who reported Gordon's comments,
has more
.
Morning Links
August, 31, 2010
8/31/10
8:50
AM ET
By
Mike Hume
| ESPNNewYork.com
Rangers
Islanders
Devils
Top prospect Mattias Tedenby will take part in the NHLPA Rookie Showcase, according to Tom Gulitti. Calvin de Haan of the Islanders and Mats Zuccarello Aasen of the Rangers will also participate.
The Star-Ledger writes a round-up of all things Devils yesterday, including the Kovalchuk waiting game and owner Jeff Vanderbeek taking part in the NASDAQ closing bell ceremony.
Puck Daddy's Greg Wyshynski chisels the faces of the four people most important to the Devils onto Mount Puckmore.