New York Hockey:

Glen Sather
June, 30, 2013
6/30/13
11:00
AM ET
Without a pick in either of the first two rounds of Sunday's 2013 NHL draft, the Rangers may be in store for a pretty quiet rest of the day following the acquisition of depth defenseman Justin Falk Sunday morning.
Even with some marquee names bandied about as trade talk intensifies --
Tyler Seguin
,
Kris Letang
,
Jeff Skinner
-- the Rangers lack the salary cap space to make a major splash on the draft day floor.
With the announcement that the team will not exercise its one existing compliance buyout this summer (granting struggling center
Brad Richards
a one-year reprieve, at least), the Rangers have very little room to maneuver.
Team president and general manager Glen Sather could try and package some of his three third-round picks (the Rangers gave up a first-rounder in the trade for
Rick Nash
, a second-rounder in the acquisition of Ryane Clowe) to move up in the order, but a significant trade seems highly unlikely.
Richards' cap charge of $6.67 million, and the status of restricted free agents
Carl Hagelin
,
Ryan McDonagh
and
Derek Stepan
, seems to squash any hope of a significant upgrade from last year's personnel.
As
speculated at season's end
, it is possible the Rangers could dangle promising young defenseman
Michael Del Zotto
as trade bait, though the concern is being able to find a capable defenseman to replace him at the right price.
The team
did add
a depth defenseman in Falk , acquiring the 24-year-old from the Minnesota Wild in exchange for minor-league forward Benn Ferriero and a sixth-round pick in 2014.
The team's relative state of inactivity will likely carry over into the free agency period as well, when the market opens on July 5.
Though the Rangers are interested in adding depth down the middle (Matt Hendricks is an enticing option as a pending unrestricted free agent) and still desperately need a right-handed defenseman who can man the power play (Letang, anyone?) they will likely move forward with the same group that made it to the Eastern Conference semifinals this spring.
There were plenty of fireworks once the Rangers made a hasty exit from the second round as the team dismissed polarizing coach John Tortorella and replaced him with the affable, gentlemanly Alain Vigneault, but, save for the critical contract negotiations for franchise goaltender
Henrik Lundqvist
, there is unlikely to be much by way of headlines for the rest of this summer.
Sather's not shy about big-game hunting, of course, but with the salary cap's significant reduction and the Rangers' money already tied up in players like Richards, Lundqvist and Rick Nash, expect the next few weeks to be pretty anticlimactic.
June, 15, 2013
6/15/13
3:51
PM ET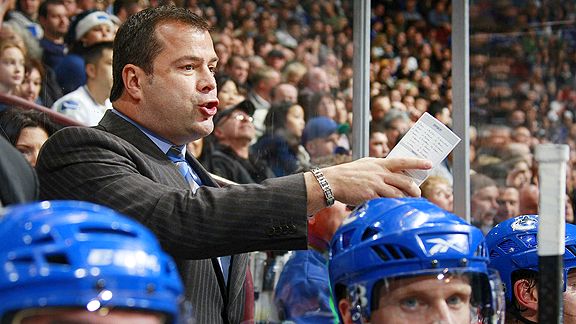 Jeff Vinnick/NHLI/Getty ImagesAlain Vigneault will be the Rangers' next head coach, a source confirmed to ESPNNewYork.com.
Knowing he had competition for the coach he coveted, Rangers general manager Glen Sather moved quickly
to secure Alain Vigneault
.
With the
Dallas Stars
also in hot pursuit of the 52-year-old Quebec native, Sather made what must have been a difficult choice to give Vigneault the nod over the Rangers' own
Mark Messier
.

Vigneault agreed to terms with the Rangers after Friday's meeting with Jim Dolan, prior to informing the Stars he was out of the running.
Though the details are still being finalized with Vigneault still under contract with the Canucks, the hiring is imminent.
So what type of hire is this for Sather?
An important one, for sure, considering the Rangers are at a critical juncture following the dismissal of John Tortorella.
The brash, bombastic Tortorella was given the boot after the team's second-round exit from the playoffs a few weeks ago. Sather didn't explain why, but Tortorella's tough-love coaching style was believed to have worn thin with his players.
The Rangers entered the season with high expectations following a trip to the Eastern Conference finals last spring but suffered from an underwhelming performance both in the regular season and the postseason.
In need of a new message, not to mention a new tone, Sather selected Vigneault as the guy to lead the Rangers. The former Canucks coach -- fired after Vancouver was swept by the
San Jose Sharks
in the first round of the playoffs -- is known to be a strong communicator who is skilled at identifying key roles for players within his system.
That will likely be a breath of fresh air for a group of veterans that had grown weary of Tortorella's stubborn, demanding style. Vigneault may also have an upper hand in determining the best way to use top offensive talents like
Rick Nash
,
Derek Stepan
and struggling center
Brad Richards
, assuming he is not bought out.
It is unclear whether Vigneault will have the opportunity to choose his own assistants or whether Sather would rather keep current assistant Mike Sullivan to maintain some continuity from the last regime.
What's also unclear is what the fallout may be, if any, from Sather's decision to choose Vigneault over Messier.
Messier, who led the Rangers to a Stanley Cup championship in 1994, also interviewed for the job this week. He is currently an executive with the team, serving as special assistant to Sather.
January, 10, 2013
1/10/13
3:48
PM ET
GREENBURGH, N.Y. -- The unmistakable barking of coach John Tortorella and the sharp chirps of his unrelenting whistle were both missing from the ice, but there was otherwise nothing else that separated Thursday's "informal" session from a regular midseason practice at the Rangers' facility in Westchester.
All 23 players who are expected to be in training camp when it opens (tentatively) Sunday were on the ice Thursday for an up-tempo, intense double session. Rather than bask in the silver lining of the lockout -- that a shortened training camp means less time for Tortorella's grueling conditioning tests -- players battled hard in the corners and put themselves through a taxing course of skating drills.
Why?
"That's really part of the identity we've been trying to establish the past three years, a team that works hard and is in good shape," captain
Ryan Callahan
said. "With a five-day camp, that would've been tough."
With a union vote expected to ratify the tentative agreement reached Sunday between the NHL and NHLPA, players are slated to open camp this Sunday. However, they must first complete physicals and medicals, which realistically only leaves Monday through Friday to conduct a significantly shortened training camp.
After 113 days of enduring a long and bitter lockout, players had waited long enough. So Callahan and alternate captain
Brad Richards
huddled together, threw around some names and reached out to their teammates to suggest hiring a guest coach -- NYU's Chris Cosentino -- and getting a jump-start before camp began so the team can hit the ground running when the puck drops Jan. 19.
"Only one week with Torts, we didn't want to ease into it, and we knew he wouldn't want to ease into it, either," Richards said. "We'd rather be practice-ready -- we can't be game-ready because that's kind of impossible -- but at least we won't be shocked Sunday."
With a truncated 48-game season comes unpredictability -- which teams will benefit, and which will falter? -- but Richards and his teammates wanted to control at least one variable.
"It's the one area that's going to be unknown -- conditioning," Richards said.
Conditioning, both mental and physical, has always been a primary component and strength of the Rangers during Tortorella's tenure as head coach.
The lockout will not change that.
"People from the outside might think it's a big deal, but for us it's just the way our team [has] developed an identity," said young defenseman
Ryan McDonagh
, whose conditioning was tested on a nightly basis last season when he averaged 24:44 minutes per game.
Oh, and Tortorella wasn't missing entirely. He was merely watching from a perch above the ice with assistant coach Mike Sullivan and Rangers brass Glen Sather, Jeff Gorton and Jim Schoenfeld.
The pressure to be in midseason form wasn't a mandate from the top, however; rather, it was an expectation from within.
"It's for us. We're going to feel better for it. I think everybody realized that. It's not punishment or anything like that," Richards said. "It's more about self-preservation."
September, 15, 2012
9/15/12
1:48
PM ET
Despite the avalanche of signings in the days leading up to the impending lockout, it does not appear
Michael Del Zotto
will be joining the ranks of players reaching agreements with their respective clubs at the 11th hour.
According a to a source familiar with the situation, no deal is expected between the Rangers and the 22-year-old defenseman before Saturday's deadline.
The NHL intends to lock the players out if no deal is reached at midnight, when the current collective bargaining agreement expires.
Del Zotto, a restricted free agent coming off his entry-level deal, led all Rangers defensemen last season with 10 goals, to go with 31 assists. He also chipped in with two goals and eight assists in 20 playoff games.
He is believed to be seeking a significant raise in the form of a multiyear deal worth $3 million in average annual value.
When reached at the Rangers' charity walk in Manhattan last weekend, GM Glen Sather said he believed Del Zotto would "come to his senses" soon.
February, 28, 2012
2/28/12
3:01
PM ET
By
Mike Hume
| ESPNNewYork.com
As the NHL trade deadline passed yesterday, Columbus GM Scott Howson sat before the media and explained the reason he held on to star winger
Rick Nash
-- despite a trade request from Nash -- was because no team met Howson's high asking price. What we didn't know was how high that price really was. Tuesday, the New York Post's Larry Brooks gave us an indication by
providing the details
of what was believed to be the Rangers' final offer for Nash:
Brandon Dubinsky
,
Tim Erixon
,
J.T. Miller
,
Christian Thomas
and a 2012 first-round draft pick.
Now that's just one version we've heard and there have been other packages discussed as well throughout the process. Whatever the actual final package was, we're left with two questions: Would the Rangers really up the ante this summer? And what's the right price to pay for Nash?
Perhaps Rangers GM
Glen Sather
would be less reluctant to tinker with the NHL roster if the Rangers fall short of the Stanley Cup this spring. And perhaps the potential acquisition of a free agent defenseman like the Predators'
Ryan Suter
could make one of the Rangers' current Top 4 D expendable. That said, just as the Blue Jackets could have more trading partners at the June draft and beyond, the Rangers will likewise have more options to add to their offense.
The Devils'
Zach Parise
headlines what figures to be a decent crop of free agent forwards this summer. And there's no reason the Rangers
must
add a star of Parise's or Nash's caliber. They could seek a more affordable alternative and see how top forward prospect
Chris Kreider
shows in the fall. If the Rangers see more desirable options this summer, options that weren't available to them at the trade deadline, they'd likely see no reason to pay Howson's premium asking price.
So what's the right price to pay? There's plenty of time to speculate, so we'll let the fans have the first crack in the comments.
July, 28, 2011
7/28/11
9:54
PM ET
Rangers President and Glen Sather released a statment today urging fans to help keep the New York Islander in New York when there is a vote on a new arena on Aug. 1. Here's the statement released by the Sather:

"The rivalry that has existed between the Rangers and Islanders for almost 40 years is one of the best in hockey and in all of sports. The intense passion and emotion involved in these games is something we cherish and would like to see continue for generations to come. We urge Rangers fans, Islanders fans and all hockey fans in Nassau County to vote yes for the referendum on Monday, August 1".
July, 1, 2011
7/01/11
2:48
AM ET
Free agency in the NHL begins at noon Friday and the Rangers tend to view the day like Black Friday: they're the first in line with a handful of cash, ready to give it away as quickly as possible.

This year is sure to be no different, as the Rangers are reported to be heavily interested in Brad Richards, the 30-year-old Stars center that is widely considered to be the top free agent on the market.

With free agency ticking closer and closer, Rangers coach John Tortorella met with the media at the Rangers prospect developmental camp at the MSG Trainer Center in Greensboro, N.Y., discussing adding free agents to the team's core and the buyout of former captain Chris Drury in a video posted on Blueshirtsunited.com.

"It's an important day for us because I think it's a day where you have an opportunity to improve your team. I think we're at a situation with our club right now where I think the past couple of years we've kept our assets, and developed our assets, and stay with it here. Then there's a point in time where you have to say they're growing, we have a good solid foundation, now you start looking at some other areas where you add from maybe outside the organization, free agency, trade, whatever it may be," Tortorella said in a video on Blueshirtsunited.com. "Then I think we're there. I really like the way (GM) Glen (Sather) has stayed with it as far as allowing us with our kids to grow and I think we have a really strong foundation. I think we're at a different stage in the process and July 1 certainly comes into play."

Tortorella also spent plenty of time discussing the buyout of Drury, who had one year remaining on his contract after playing the previous four seasons with the Rangers. In his time with the Rangers, which spanned 264 games, Drury scored 62 goals and added 89 assists. He played just 24 games this season, scoring one goal and tallying four assists.

By buying out Drury, the Rangers helped themselves in the cap, giving them extra money that could be used to try to lure Richards to New York.

"We love the guy, but you still have to make decisions for what you feel is best for your hockey club. Obviously when you get into a situation where there is a buyout, we're trying to keep ourselves flexible and our cap and to look at other things along the way," Tortorella said in the video on Blueshirtsunited.com. "I'll speak for myself, I wish nothing but the best for him and I'll just leave it at that right now. That's just the way this works here as far as when you are looking to go in a direction, we're trying to stay with the plan here and as Dru has gone along the way here, we felt this is a decision we needed to make for our club."
June, 25, 2011
6/25/11
10:13
PM ET
Rangers GM Glen Sather said he does not expect the team's restricted free agents to be signed before July 1, the opening of free agency, according to the team's twitter page. Sather spoke with the media following the 2011 NHL Entry Draft.

Forwards Ryan Callahan, Brandon Dubinsky, Artem Anisimov, Brian Boyle and Matt Gilroy, defender Mike Sauer and goalie Chad Johnson are all restricted free agents for the upcoming season. The team's twitter feed also says that Gilroy was not given a qualifying offer, but given another offer.

While this doesn't mean the Rangers won't sign any of their restricted free agents, as it's likely that most of that list of players will be playing for the team next season, they are not going to rush to get those contracts done before free agency begins.

"I've had a lot of conversations with those guys, but it's hard to predict when it's going to happen or not," Sather told Blueshirtsunited.com.

Sather also told Blueshirtsunited.com that it's a matter of priorities in determining whether to re-sign forward Ruslan Fedotenko, who is an unrestricted free agent.
March, 1, 2011
3/01/11
8:21
AM ET
By
Mike Hume
| ESPNNewYork.com
With the
New York Rangers
in the heat of the playoff race, it's doubtful too many fans were content to see the NHL's trade deadline pass with 26-year-old
Toronto Maple Leafs
center
John Mitchell
the only name added to the roster.
With two goals and an assist in 2010-11 with the Leafs before being sent to the AHL, Mitchell's best asset is probably his ability to win faceoffs. He posted a 55.7 faceoff percentage before his demotion. Though his role with the Rangers remains to be determined, that's an area the team could use some help with
Chris Drury
unlikely to return this season.
For fans keen to obtain
Dallas Stars
C
Brad Richards
, the top name on the trade market and one linked to the Rangers throughout Monday, Mitchell is a rather poor substitute. But a look at the big picture should temper that disappointment.
First, there's the break from the usual Broadway "seize the back page" playbook that demands grandiose (and often irrational) action. In the wake of the Knicks' trade for Carmello Anthony, and the city's ensuing love affair with the hoops star, there could have been pressure for Glen Sather to follow suit and sacrifice a deliberate (and so far fruitful) internal rebuilding plan for the quick fix. Rather than chase headlines, the Rangers showed restraint.
Second, the Rangers will now still have the assets they didn't trade away. Looking at this roster, the Blueshirts were probably not going to be a serious Cup contender this season, and have probably overachieved given their injury situation and the down year by
Marian Gaborik
. That speaks to the job John Tortorella has done installing a system and a mentality that the Rangers' room has bought into. If you have a good thing going for you, you don't want to mess with it if the cost is too great ... which brings us to point No. 3.
There's always this summer. Richards hits free agency July 1 and the Stars' ownership situation may very well still be in flux. The Rangers should have plenty of cap space to sign the Star and based on yesterday's buzz that New York was the only team to which Richards would accept a trade, you'd have to think he has interest in coming here. In that case the Rangers can nab him for cash alone, even if he can't help with a cup run this season.
There was a report yesterday that the asking price for Richards consisted of
Artem Anisimov
, a pick and a prospect. One person familiar with the situation said the cost was much steeper however. So steep, the Rangers were apparently unwilling to pay it.
In the short term, it seems that reluctance will cost them a strong shot at the Cup. In the long term however, it could be the decision that leads to a hard charge at the hardware for years to come.
February, 28, 2011
2/28/11
6:47
PM ET
Rangers President & General Manger Glen Sather said he does not expect injured center Chris Drury to return this season during a conference call on Monday. Drury, who has missed 41 games this season, has missed the Rangers past 10 games after arthroscopic knee surgery on Feb. 11.

"He's a question mark. He's probably the biggest question mark of all of (the injured players). I don't think he will be back."

Drury, in his fourth season with the Rangers, missed the first two games of the season and then fractured his finger on Oct. 15 and missed the Rangers following 29 games. He has just four assists on the season with no goals.

While Sather's outlook on Drury was bleak, he expects the other sidelined Rangers to make returns at some point this season, including forward Marian Gaborik. Gaborik has missed the Rangers past three games with concussion-like symptoms.

"I met with him today and he said he felt good all day today and he'll wait to see what he feels like tonight," Sather said. "He's been getting some headaches at night but they've been less and less and I think he'll be back before too long."

Sather added that he doesn't expect Martin Biron (collerbone) back until the end of the season, Derek Boogaard (concussion) is starting to work out and feel better and will probably return and Marc Staal (knee strain) will return. While Ruslan Fedotenko (shoulder) was inactive Sunday against Tampa Bay, he played Friday against Washington.

Said Sather: "I expect all of them to be back at some point in time."
February, 28, 2011
2/28/11
5:13
PM ET
Rangers backup goaltender Marin Biron will be out indefinitely after fracturing his collarbone during practice Monday, the team announced. The Rangers will call up goalie Cam Talbot from the Greenville Road Warriors of the ECHL in the meantime.

"It's a big loss for our team, he was a big part of it," Rangers President & General Manager Glen Sather said during a conference call Monday. "Very enthusiastic, upbeat, positive guy and we're sorry to lose him. But we've got some young goaltenders in the organization...we'll see how things lay out in the future after this."

Sather said the injury happened when Biron was hit with a shot in his collarbone. With time remaining before Monday's 3 p.m. trade deadline, Sather looked around to see if there were trade possibilities for a backup goalie, but couldn't find a deal that was to his liking. The Rangers only trade ended up being for Toronto forward John Mitchell in exchange for a 2012 seventh-round draft pick.

"We did look into a (trade) and there were some possibilities," Sather said. "When you're looking for something with short notice like that it gets very expensive to find a backup NHL goaltender that has the experience. We didn't want to just lay a lot of things on the line and I know it's risky, but at the same time, I know that Henrik (Lundqvist) loves the work and loves to play and he's had lots of time off this year and he's going to have some days between the game that we have coming up. We think he's going to be able to get through this very well."

Biron, 35, signed a two-year deal with the Rangers in the summer to be Ludnqvist's backup and effectively spell their All-Star goalie, as Lundqvist played in 73 of the team's 82 games last season. This season, Biron has played in 17 games for the Rangers while going 8-6 with a 2.13 goals against average. Sather said he doesn't think Biron will be back until the end of the season and will likely miss the rest of the regular season.

Sather said he doesn't envision the backup goalie having to start more than twice the rest of the season with the Rangers having just three back-to-back games in their final 18 games to finish the season. He's also not worried about the heavy load being placed on Lundqvist, who has played in just 50 games this season and is on pace for his lowest games played total since his rookie season in 2005-06.

"He's had a lot of time of this year already," Sather said. "Henrik likes to play. He likes to play every day if he can. We've got time off between a lot of these games. The toughest part of schedule is really behind us."
September, 9, 2010
9/09/10
8:42
AM ET
By
Mike Hume
| ESPNNewYork.com
Defenseman
Marc Staal
and the Rangers may have closed the gap on a potential contract and could soon have a deal. Though GM Glen Sather earlier labeled the distance between the two sides a "chasm," the Bergen Record's Andrew Gross writes that two NHL sources now say progress has been made in contract talks with the restricted free agent and a deal
could come as early as Thursday
.
According to the report, money is the biggest sticking point. Gross says the Staal camp is seeking about $4.5 million per season. That would put him just outside
the top 20 highest-paid defensemen
in the league this season.
Term could also be an issue as Staal is seeking a shorter-term deal to get him to unrestricted free agency while the Rangers want to lock him up for as long as they can. Seems like a middle ground could be a deal that covers the first year or two Staal is eligible for unrestricted free agency.
Morning Links