New York Hockey:

Jason Arnott
February, 22, 2011
2/22/11
9:18
AM ET
By
Mike Hume
| ESPNNewYork.com
Few details have emerged concerning the status of winger
Marian Gaborik
. To date there's still no clear cause for the injury -- John Tortorella initially said he didn't think Gaborik sustained the concussion during Sunday's 4-2 loss to the
Philadelphia Flyers
-- and his return is not yet known.
To fill the void in the Rangers forward corps, the team recalled C
Kris Newbury
from Hartford. Newbury has been up and down throughout the season, posting one assist in eight games with the Blueshirts.
The Deadline Cometh
Once rumored to have interest in
Edmonton Oilers
/Hershey Bears D
Sheldon Souray
, the Rangers did not place a claim on the hulking D with the smoking slap shot by Monday's noon deadline, nor did any other NHL team.
ESPN's Pierre LeBrun
reported yesterday
the Rangers were turned off by the extra season remaining on his contract.
That's not to say the Rangers will continue to sit on their hands before the Feb. 28 league trading deadline. While the talented, but very, very young, blueliners have held their own since the trade of
Michal Rozsival
for
Wojtek Wolski
, it was thought GM Glen Sather may attempt to bring in a more veteran D to steady the group come playoff time. According to
ESPN's Rumor Central
,
Bryan McCabe
has had his name mentioned in conjunction with the Rangers.
But now that Gaborik is down and his return is uncertain (see
Sidney Crosby
for just how iffy concussions can be) it seems more imperative than ever that the Rangers try to improve their offense. The only problem is that it's seemingly a weak market for forwards and particularly centers.
If made available, and healthy,
Brad Richards
of the Stars would headline the class -- but also carry a huge price tag. While the Rangers' system is better stocked than it has been (No. 9 according to
Hockey's Future
), it doesn't quite trump the prospects boasted by the
Los Angeles Kings
and
Washington Capitals
, two teams also in desperate search for a boost to the front line.
Ales Hemsky
,
Stephen Weiss
(availability unclear) and
Tim Connolly
have also had their names emerge in trade rumors. Across the Hudson, Jason Arnott's name has also surfaced.
Time will tell if any of them will be wearing a blue sweater before the start of March, but my bet is the Rangers will try to make a deal of some kind.
January, 28, 2011
1/28/11
11:08
AM ET
By
Mike Hume
| ESPNNewYork.com
As I make my way to Raleigh, N.C. for the All-Star game, I thought I'd leave you with a few key storylines to watch as the season unfolds down the stretch run.
Will the Devils Deal?
Just today, E.J. Hradek listed
Jason Arnott
as one of
five players that need to be dealt
before the Feb. 28 trade deadline. Even with their recent winning streak, the playoffs seem a bit far fetched for New Jersey at this point. It looks like the final spot in the Eastern Conference will again be about 90 points (the Thrashers are on pace for 89.88 over 82 games). Barring a miraculous stretch run in which the Devils put up 55 points in 33 games, that's not going to happen. So what do the Devs do to prepare for next season? Could
Martin Brodeur
actually be on the trade block? Those are questions GM Lou Lamoriello will have ask and answer in the next month.
Pursuing Parise
The latest word I've heard about the talented winger's return is that he won't even start skating until the first week of March. Figuring he'll need time to get back up to speed, you wonder if it's even worth suiting him up this season and risking the chance he could re-injure himself. But the intrigue will certainly carry into the offseason if the Devils can't ink him to an extension. You can bet there are a number of teams out there with an offer sheet already drawn up for the restricted free agent and the Devils don't have a ton of cap flexibility. Given the outcome of this season, you have to think that if Lamoriello is unable to re-sign Parise the
Ilya Kovalchuk
contract goes from "bad" to "unmitigated disaster."
What's Next In Long Island?
The
New York Islanders
started their all-star break by locking down one of their top scorers, signing
Matt Moulson
to a
three-year deal worth $9.4 million
. That's a nice bargain if Moulson continues to score in the 30-goal range each season. (He's on pace for 28 in 2010-11.) But that's likely just the first of what figures to be a slew of signings before free agency opens July 1. As of right now, the Islanders have 12 players under contract for next season. Okay, 14 if you count
Alexei Yashin
and
Brendan Witt
. That leaves the futures of
Kyle Okposo
,
Josh Bailey
,
Michael Grabner
,
Blake Comeau
and more up in the air. Who will the Isles earmark as their cornerstone guys and who will they let walk away?
Getting Gaborik Going
On Broadway, the Rangers made the most of an injury-plagued first 52 games, currently sitting sixth in the East. And they've done it largely without the usual production of
Marian Gaborik
. (Thank you,
Brian Boyle
.) Gaborik has just 16 goals on the season and has recorded goals in back to back games just once. In fact, 10 of those goals came in just three games. Those explosions sure are fun to watch, but a little more consistency would carry the Blueshirts a long way.
January, 3, 2011
1/03/11
1:01
PM ET
By
Don La Greca
| ESPNNewYork.com
Make some deals.

Jamie Langenbrunner, Patrick Elias and Jason Arnott are players that can be productive on winning teams. No sense keeping them when it appears that this year and next could be rebuilding years for the New Jersey Devils. It is true that these players have no trade clauses in their contracts but it doesn't hurt to ask. It's tough to let great players of the past go. But if you hold on to them, and don't acquire any prospects, then you will never turn things around.

Work with the defense on offense.

Larry Robinson has to work harder to get the D-men to be stronger on offense. It may be easier said then done but, something has to give. The Devils defense has produced just 8 goals this season and 21 assists. That's just 29 points! Come on Larry. Show them how to do it.

Get to work on Parise.

Devils fans can live with a bad year. It's the first really terrible year since '88-89. There is one thing that fans can't stand to think about -- losing Zach Parise. He might be one of the best forwards in team history. To lose him would set this franchise back to the dark ages. Lou Lamoriello needs to make sure a plan is place to get him signed. If not, the Ilya Kovalchuk deal will be even worse.

Figure it out with Marty.

Martin Brodeur was the best goalie in the league. Now he's a shell of himself. If this is what he is, then he can't play every night. Just because he was great doesn't mean he should play every night.

Get Ilya Kovalchuk scoring.

Hey Kovalchuk, there's the net. Score!
December, 17, 2010
12/17/10
8:26
AM ET
By
Mike Hume
| ESPNNewYork.com
For the second straight game the Devils face a defensive-minded hockey club when the Predators skate into Newark Friday night. Here are three factors to monitor when the action starts.
Kovalchuk Breakout Coming?
Considering star free agent acquisition
Ilya Kovalchuk
was on pace for 14 goals this season heading into Wednesday's game against Phoenix, his two-goal outburst was very welcome. Be it the pressure, the system or something else entirely, the Russian winger had not lived up to his superstar billing in his first 28 games with the club. Wednesday however, he looked every bit the part, tallying twice -- once on the power play -- for the winning side. He now has six points in his last five games (although he's still minus-five over that span). Talent will out over the course of a season, so you have to expect some kind of a surge from Kovalchuk. This could be the start of a nice streak. And boy, do the Devils need it.
Rolston Rolling Out?
Brian Rolston
suited up against Phoenix after clearing waivers, but a few statements made at practice Thursday, and
reported by the Star-Ledger's Dave Hutchison
, suggest he's ready to leave New Jersey for good. It's tough to say what that means in the long term, since the Devils may be loathe to send him to the minors and recall him, allowing teams to claim him for half price (a little over $2.5 million) and stick the Devils with the rest of the bill. The trade market for a player of his age making over $5M per season is also thin. In the short term though, it likely means the Devils will enjoy Rolston's best effort as he tries to win over visiting scouts in attendance. Expect him to come out full throttle against the Preds.
Familiar Faces
Jason Arnott
should be able to provide the Devils with all the details they can handle of tonight's opponent, as the center skated with Nashville for four seasons before returning to New Jersey. Arnott says there are no hard feelings against the franchise after it dealt him back to the Devils this summer. The center does have a history of making his former teams pay, however. Since leaving for Dallas in the 2002-03 season, he averaged a point per game against the Devils through the 2009-10 campaign in Nashville.
December, 1, 2010
12/01/10
8:02
AM ET
By
Don La Greca
| ESPNNewYork.com
Mattias Tedenby is a player.

This 20-year-old, 5-foot 10-inch spitfire has appeared in just nine games and already has three goals and three assists. He tallied a penalty-shot goal and has shown that he can take a beating, and keep on skating and making plays. He has given the New Jersey Devils some hope.

Thank heaven for Johan Hedberg.

At the start of the season, Hedberg looked like a huge mistake. But he won four games in November and has been solid since Martin Brodeur's injury. He was flat-out awesome against the Flyers on Nov. 27. Since the return date of Marty is still unknown, Hedberg may be pressed into action even more.

Ilya Kovalchuk has been a bust.

I know it's early, both in season and contract. Four goals and one assist in November. Really? Are you joking? That is a major problem. In a season with many pitfalls he has been the biggest. This start has made the Devils the laughingstock of the league. The Devs may have the last laugh in the end, but it may not come this year.

The road power play stinks.

One goal in 13 road games. It's hard to win when you waste power-play chances on the road. That has to change if the Devils have any shot.

Jason Arnott wasn't bad.

Arnott looked like a bust early on. But five goals in November has been encouraging. With the injuries and Kovalchuk in this fog, Arnott needs to keep it going for the Devils to stay afloat.
November, 23, 2010
11/23/10
4:18
PM ET
By
Michael Mazzeo
| ESPNNewYork.com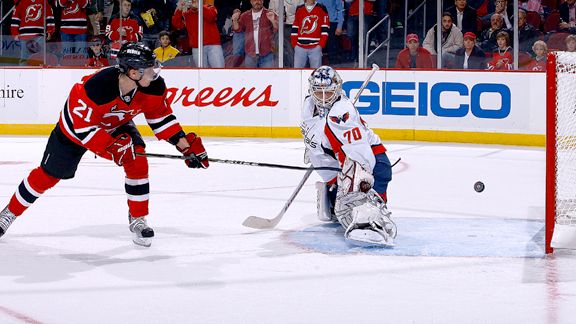 Photo by Andy Marlin/NHLI via Getty Images
Mattias Tedenby puts the puck past the Capital's Braden Holtby for a penalty shot goal at the Prudential Center
NEWARK, N.J. -- In just two weeks time,
Mattias Tedenby
's life has changed faster than he can skate.
Ever since his debut on Nov. 10, the 20-year-old has been living out of a West Orange hotel room 15 minutes from the Prudential Center, thousands of miles away from his parents and his girlfriend. He's also had to adjust to a more controlled style of hockey than he's been accustomed to while growing up and playing in his native Sweden.
But the 20-year-old winger, who represents a ray of hope for a Devils team in need of wins, has taken it all in stride. After all, ever since the Devils called him up, Tedenby has been fulfilling a childhood dream he had when he was six.
"It was my goal," Tedenby said in his best broken english. "Ever since I was a kid. My father [Robert] played hockey in the Swedish Elite League so I grew up going to practices and games and wanting to do what he did."
To his teammates -- especially his veteran linemates,
Jason Arnott
and
Patrik Elias
-- he is still a kid. A kid who possesses all the talent in the world. And that talent was on display Monday night as the rookie scored his third goal of the season on a penalty shot and added an assist as the Devils routed the league's top team, the Washington Capitals, 5-0.
"He's a spark plug," Devils head coach
John MacLean
said. "He's confident when he has the puck. He enjoys playing. It's a learning process with him as far as the overall game. But I like his energy right now, he's done a really good job."
Tedenby's energy -- and speed -- was the reason MacLean decided to put him alongside Arnott and Elias, a pair of Devils playoff legends. And the three have flourished playing together ever since. In fact, they combined for four goals and two assists in New Jersey's thrashing of Washington.
"He uses his speed well and it adds another dimension to our line," Arnott said of Tedenby. "He just wants to go, go, go all the time. He's improved every game. And that's a great sign. He's shown more confidence to drive to the net, and he's not afraid to get in there."
Tedenby, the Devils' first-round pick in the 2008 NHL Draft, is generously listed at 5-foot-10 and 175 pounds. Maybe it's because he plays that tall, making up for his lack of size by playing with heart and determination.
But despite his stature -- he looks about 5-foot-5, maybe 5-foot-7 and claimed he weighted 172 pounds -- Tedenby overcame the odds, persevered through juniors and made it.
"A lot of people told me I was too small to play at every level I played at," Tedenby said. "But I don't care what everyone says."
He may now that everyone is calling him a star in the making. Still, for that to happen, he's going have to continue to learn and develop his game.
"For him it's playing in a smaller rink and not getting lost out there, going all over," MacLean said. "You've still got to play positional hockey. And he's been conscious of that. He's a good kid, willing to learn. Sometimes we want him to slow it down a bit, but at the same time you don't want to slow him down too much. He's exciting at times."
Tedenby gave fans a glimpse of what they can expect for years to come when he skated in, deked and beat Capitals goaltender Braden Holty with a well-placed backhander after being awarded a penalty shot with 1 minute, 46 seconds left in the first period. The goal gave the Devils a 3-0 lead.
"That's my move," Tedenby said of his patented forehand to backhand deke. "But I can mix it up a bit."
Given his myriad of moves, it's hard to fathom that Tedenby didn't make the team out of training camp. But with the injuries -- and losses -- piling up, he was given a chance.
And so far, he's made the most of it.
"It's been fun playing with him," Arnott said. "He certainly keeps our legs going, that's for sure."
November, 11, 2010
11/11/10
9:01
AM ET
By
Mike Hume
| ESPNNewYork.com
One point is better than nothing, but given the Devils' slow start to the season the shootout loss to the
Buffalo Sabres
Wednesday night feels rather disappointing.
Game Story | Box Score
On the positive side, the vets stepped up (two goals by
Jason Arnott
and another by
Jamie Langenbrunner
) and a fresh face made a solid impact (Mattias Tedenby earned his first NHL point with an assist on Arnott's first goal). Still it wasn't enough to earn a badly needed win.
The Devils enjoyed a 4-3 lead in the third period when everyone on the ice decided to stare at the puck-carrier behind Johan Hedberg's crease and leave
Tyler Ennis
all alone on the doorstep for the slam dunk tying goal.
The end of the shootout poured about a gallon of salt into the Devils' sizeable early-season wounds, as
Ilya Kovalchuk
flubbed Jersey's final attempt to tie it without even mustering a shot. Instead the puck trickled off his stick as he skated in on back-up netminder
Jhonas Enroth
. If nothing else it was a tidy metaphor for the Devils' struggles to this point.
Morning Links
November, 4, 2010
11/04/10
9:13
AM ET
By
Mike Hume
| ESPNNewYork.com
Rejoice! The Devils are no longer in the NHL cellar. A 5-3 victory over the reigning champion
Chicago Blackhawks
spurred by Brad Mills' first NHL goal has finally given the Devs some sunshine to conclude a very gloomy six-game road trip.
Game Story | Box Score
Up 2-0 in the second period, it seemed as though the hockey gods would again crush the beleaguered Devils when
Martin Brodeur
left the contest with a bruised elbow. With backup
Johan Hedberg
between the pipes, the Blackhawks knotted the score at 2 and seemed fated to claim a comeback victory, given the Devils' early-season script. But Mills and Co. flipped it Wednesday night, as New Jersey got goals from five different players in the win.
Jason Arnott's fourth goal of the season started New Jersey's scoring, a scarce commodity to this point on the schedule, and a pair of empty netters from
Jamie Langenbrunner
and
Andy Greene
capped the win. And even better news: X-rays on Brodeur's elbow came back negative and he says he believes he will be in net for the Devils' next game against the Rangers Friday at Prudential Center.
That the Devils didn't roll over and let the game slip away after the Blackhawks tied it told me a lot about this team. That's the kind of resiliency you don't get from a team that has quit in the face of mounting hardship. Come Friday night, Wednesday's effort will mean nothing. But now there's something to build off of and a feeling that better days are ahead.
Here's some more reaction to the win.
Morning Links
November, 2, 2010
11/02/10
4:57
PM ET
By
Mike Hume
| ESPNNewYork.com
The Devils' record stands at 3-9-1. They have the fewest goals in the NHL. Their goal differential of minus-22 is almost twice as bad as the NHL's second-worst mark (Anaheim at minus-13).
Zach Parise
is
preparing for exploratory surgery
. Veterans are raising questions about their playing time and their playoff chances. Oh, and the Stanley Cup champion
Chicago Blackhawks
lie in wait Wednesday to cap the Dev's six-game road trip.
These be some dark days for Devils fans. Considering all news has been bad news for the Jersey boys lately, Tuesday has been mercifully quiet, but some postgame quotes from Monday's loss to Vancouver have raised some ominous questions.
For starters, just how upset is
Jason Arnott
over his limited playing time? The veteran center took just three shifts in the third period Monday night and
told the Star-Ledger's Rich Chere
that he had "no idea" why his ice time was reduced. Arnott says he's not injured and didn't recall doing anything that would merit the benching. In reference to playing time, Arnott added, "It's been a little weird this season."
You can infer what you like from that quote about the team's early comfort level under rookie head coach
John MacLean
. (MacLean said he "didn't really notice how much [Arnott] sat," according to Chere's report.) More obvious is the growing sense of concern in the New Jersey locker room that this team will be playoff-worthy.
Within the
Star-Ledger's game recap
, Arnott and his teammates voiced some doubts. "We're at the botom right now. If we don't turn this around, it's going to be real hard to (make the playoffs)," Arnott said.
Martin Brodeur
's two cents: "It's one thing to slide, but now we're putting ourselves so far behind the eight ball." But, Brodeur doesn't think the team is behind repair just yet.
When asked if he really thinks the team would miss the playoffs for the first time since 1995-96, the stellar stopper stated: "No, I don't think so. I don't see that at game 13. But it gets tiring mentally and physically."
With players under-performing and injuries, tension and losses mounting, New Jersey sure could use a few wins to staunch the bleeding. However, between the injury bug, no-movement clauses and a shortage of cap space, it likely will be up to the ragged remaining roster to redouble their efforts and earn those elusive victories. With that bleak reality, it's easy to see why optimism is in such short supply.
October, 27, 2010
10/27/10
2:43
PM ET
By
Mike Hume
| ESPNNewYork.com
The Devs begin their five game Western Conference road swing with Wednesday night's trip to the Shark Tank. Here are three keys to watch for when New Jersey skates into San Jose.
The Power Play
The Devils are 0-15 on the road when skating with a man up. 'Nuff said. Their 7.1 percent overall conversion rate just barely outpaces the
Montreal Canadiens
(6.9 percent). With all of the offensive talent on this team, there's no reason for the Devils to struggle on the power play. New Jersey will snap out of it if they can keep it simple. Go to the net. Screen the goalie. Put the puck on goal.
Loosen Up
It feels like the Devils have been really tight lately, which is understandable given the pressure to perform and get in the win column. But that tension can force players to try to do too much or to be too tentative, trying hard not make a mistake instead of, as the cliché goes, letting the game come to them. Ultimately New Jersey has to trust in their systems and their ability. An early goal or two would go a long way and help take some heat off three rookie D-men who have been thrown into the fire.
Veteran Leadership
Jamie Langenbrunner
,
Jason Arnott
and
Patrik Elias
are a combined minus-22. It goes without saying that the Devils need the trio to improve. Heck, Arnott has skated under 12 minutes three times in the last five games, including just 11:06 Sunday against the Rangers. I have to believe the Devils were hoping for more when they traded for him this summer.
With a roster full of rookies, these guys need to step up and lead the charge against a very talented Sharks squad. If they get bogged down or look indifferent on the ice, this could become a very long road trip.
October, 26, 2010
10/26/10
9:01
AM ET
By
Mike Hume
| ESPNNewYork.com
New head coach
John MacLean
received the dreaded vote of confidence from GM Lou Lamoriello yesterday, who stated that firing MacLean
has not yet crossed his mind
.
If Lamoriello isn't blaming the coach, then it seems to me that the fault must lie with the players. With that in mind I thought we should take a look at some of the Devils' individual performances via CORSI to see how dismally the Devs are really playing.
(To any advanced metricians out there, please let me know if I've screwed something up. After all, I'm an English major who hasn't had his morning coffee yet.)
All of these stats are courtesy of Gabriel Desjardins at BehindTheNet.ca. You can find
the Devils stats I'm referencing here
.
Blame Not These Men
According to CORSI, which measures even-strength shots-for minus even-strength shots-against while a player is on the ice,
Travis Zajac
and
Dainius Zubrus
have been the team's best players thus far, posting marks of 15.54 and 14.18 respectively. When they're off the ice, the team struggles mightily. Relative CORSI measures the difference between a player's performance when he's on the ice and the team's performance when he's off it. When this pair sits, the Devils foes smile. They're generating almost nine more shots than New Jersey when Zajac sits on the bench and about 7.5 when Zubrus takes a rest.
Those numbers seem to show that Zubrus is more than earning his time on the top line and deserves to stay there for the time being.
Just below them sits
Zach Parise
with an 8.52 CORSI rating and a 14.2 relative score. Nothing wrong with that.
Brian Rolston's CORSI rating appears to be phenomenal (21.49) but keep in mind he's appeared in just two games this season before going down with an injury.
The Rookie D-men
With little cap space, as well as injuries to
Bryce Salvador
and
Anton Volchenkov
, the Devs have had to lean on a trio of rookie blueliners: Matt Corrente,
Matt Taormina
and, most recently, Oliver Magnan-Grenier. Taormina has performed quite admirably with the increased expectations, with a CORSI rating of 5.12 and a Relative CORSI rating of 9.1, the best among defensemen. Corrente, who's been on board for four games, has been less impressive (-3.13 CORSI) while Magnan-Grenier has been rather lousy (-8.23) in his three games with the club.
To give this some context, heralded rookie D-man
John Carlson
of the Washington Capitals currently owns a 12.14 rating, while top vet
Chris Pronger
, has posted a 33.59 mark. Former Devil
Paul Martin
sits a little below Pronger with a rating of 18.85.
The disparity between the Devs' rookie D shows how tough it is to break in three fresh faces at the same time. Almost always, one of that group will be going up against an undesirable matchup.
The $100 Million Man
Ilya Kovalchuk
was controversially courted by the Devils and finally won over after much labor and hardship. Thus far, according to CORSI, he hasn't been worth the investment.
Among Devils who have played more than five games, Kovalchuk has posted the third-worst CORSI rating (-10.20), just ahead of
Jason Arnott
(-12.30) and
Jamie Langenbrunner
(-18.07). When these three are off the ice, the Devils have performed far better at generating shots and limiting those against
Martin Brodeur
.
To hone in a little further on Kovalchuk, consider that fellow Russian NHL stars
Alex Ovechkin
and
Evgeni Malkin
have CORSI ratings of 13.32 and 14.13 to date.
We're still only a 10th of the way through the season, so it's not time to panic yet, but Kovalchuk needs to turn it around to make his contract seem like merely an okay investment. But with all the hurdles the Devils had to clear to ink him, and all of the juggling they've had to do to fit his salary under the cap, a statistical performance like this one shows the signing to be nothing short of disastrous in the early going.
October, 19, 2010
10/19/10
3:21
PM ET
By
Mike Hume
| ESPNNewYork.com
September, 20, 2010
9/20/10
8:47
AM ET
By
Mike Hume
| ESPNNewYork.com
Devils' camp opened with a surprise, as
Ilya Kovalchuk
started by
skating on the right wing
with
Travis Zajac
and
Zach Parise
. Guess that answers
our previous question
about the seemingly strange statement of head coach
John MacLean
that
Patrik Elias
would remain on the left wing.
Two quick reactions: First, it's true that wings move around a lot in the offensive zone and positions don't really matter as much as you might think. That said, as a right-handed shot, one of Kovalchuk's favorite moves is to skate down the left-wing boards, cut across the faceoff dots and snap off a wrister. If he's flying down the other side of the ice, that's a very different maneuver.
Second, even if the move doesn't last and Kovalchuk shifts back to the left, it shows the Devils' players that the team isn't putting Kovalchuk on a pedestal and catering to his every preference. Had the team moved Parise to right wing to open camp after moving heaven and earth (and soon a pair of players) to get Kovalchuk, the reaction from the players and the media may have been very different. Plenty more below.
Morning Links