New York Hockey:

John Moore
May, 3, 2013
May 3
12:26
AM ET
With the Rangers down 3-1 and trying to claw their way back into the game late in the third, defenseman
John Moore
came about as close as possible to whittling the Capitals' lead with 3:56 remaining in regulation.
Although Moore's short-side attempt was initially ruled a no goal, play was stopped for several minutes as officials reviewed the play.
Caps netminder
Braden Holtby
managed to snag Moore's attempt with his blocker, which appeared to be in the net, but there was no clear view of the puck crossing the line.
"I thought it went in," Moore said, "[but] I haven't seen a replay or anything."
Moore sounded resigned to the call, however, and vowed to put it away next time.
"I'm no expert on the rulebook, but there has to be a definitive puck across the line and there's a lot of equipment and bodies right there at the net," Moore said. "Again, it was a bang-bang play. It was tough for me to see it. It's probably even tougher for the official to see it, but hindsight is 20-20 with the luxury of slow-motion and everything. I've just got to put it through the net next time."
• • •
Alex Ovechkin
's second-period power-play marker was his first playoff goal of 2013 but the 31st of his career, a franchise record for Washington. Ovechkin entered Thursday's game tied with
Peter Bondra
.
• • •
Birthday boy
Jason Chimera
, who turned 34 Thursday, tallied his eighth career playoff goal. Of those eight, six have come against the Rangers.
April, 18, 2013
Apr 18
11:03
PM ET
It seemed hard for
John Moore
to suppress a smile when he returned to the Rangers' bench after serving five minutes in the penalty box for fighting. The 22-year-old defenseman looked just as surprised as his teammates, who went wild at the surprising third-period scrap that pitted him against Florida's
Jack Skille
and patted him on the back when he emerged the decisive winner.
The unlikely pugilist dropped the gloves for his first NHL fight and his teammates followed suit, beating up on the Panthers for a
critical 6-1 win at Madison Square Garden
Thursday that keeps the Rangers in the driver's seat for the postseason.
A spark for the team?
"Absolutely," coach John Tortorella said. "You should've heard our bench."
Moore, acquired in a trade with Columbus at the deadline, fought in his first training camp when he was 18 years old -- "I don't think it went as well" -- but he showed no reluctance to step up for his new team, which was leading 3-1 in the third.
"It's kind of a new thing for me," Moore said, still smiling. "I'm definitely not gonna quit my day job, but I'm glad I got it out of the way and I'm happy I was able to handle myself."
Moore wasn't the only new addition to provide the team with some fight, an element that seemed to be lacking in the club's 4-2 loss to Philadelphia Tuesday night.
Both
Mats Zuccarello
, brought over from the KHL on a one-year deal last month, and
Derick Brassard
, acquired with Moore in the deal with Columbus that sent back
Marian Gaborik
, led the way with two goals each.
"We just made plays tonight," said Brassard. "We played a fast game and we just executed and guys finished. It's a big win and a big two points for us."
Veterans chipped in as well, with star winger
Rick Nash
finishing with a goal and two assists and
Ryan Callahan
and
Brad Richards
finishing with two points apiece.
With two nice plays at the end of the third period -- an assist on Zuccarello's second goal of the night and a wraparound goal with 1:24 to play -- Richards won the Broadway Hat for the team's MVP performance.
Prior to Thursday, Richards had been held off the score sheet for the past four games.
"I don't give a crap who contributes, as long as they contribute," Tortorella said. "I don't give a crap whether new, old, veteran, rookie, as long as we get contributions from everybody. That's the only way we're going to find a way."
The Blueshirts needed to find a way Thursday with action percolating both ahead and behind them in the standings.
The Islanders beat the Leafs to maintain a three-point edge in seventh place. The Senators dispatched the streaking Capitals to remain in sixth. And, the
Winnipeg Jets
edged the Hurricanes in overtime to tie the Rangers with 48 points.
The Rangers, however, remain in eighth place with a game in hand against the Jets.
What does that mean?
With five games left to play, the Rangers control their own destiny while facing a fairly easy schedule.
"The main thing you can ask for is that it's in our hands," Richards said. "We can do what we need to and it will be on us if something doesn't happen, but we plan on being there and moving up."
Facing a quick turnaround against the Sabres in Buffalo on Friday, the Rangers then wrap up the regular season with four games against nonplayoff opponents -- New Jersey twice, the Panthers once more and the downtrodden Hurricanes for good measure.
Tortorella wants his club to embrace that control as an opportunity, not a trap.
"You shouldn't feel pressure and shy away from it," Tortorella said. "Enjoy it, don't think it's going to kill you. Enjoy it and test yourself."
April, 4, 2013
Apr 4
12:21
AM ET
The Rangers aren't going to miss
Marian Gaborik
if their newest acquisitions continue to play like the did in their Rangers debuts Wednesday.
Just hours after the Rangers traded away Gaborik, their trio of newcomers led the way in a
6-1 rout of the Penguins
at Madison Square Garden. New acquisitions
Ryane Clowe
,
Derick Brassard
and
John Moore
combined for four goals and eight points, with Brassard leading the way with a career-best four points.
It's the first time in team history that three players scored a goal while making their debut, according to the Elias Sports Bureau.
[+] Enlarge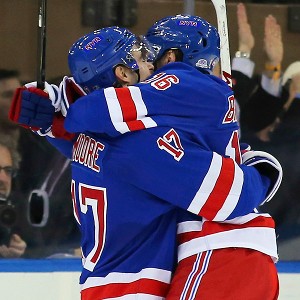 Bruce Bennett/Getty ImagesJohn Moore and Derick Brassard had a combined five points in their Rangers debuts.
"That's crazy," Clowe said while donning the Broadway hat, awarded by the team to a top player after a win. "It was wild."
Before the 3 p.m. trade deadline Wednesday, the
Rangers shipped off one of their top offensive players
, Gaborik, in a deal with Columbus that netted them Brassard, Moore,
Derek Dorsett
and a draft pick.
The
Rangers acquired Clowe from San Jose
for three draft picks Tuesday night.
While Gaborik has great offensive potential, he struggled this season after his hot start, with just four goals the past two months. He scored five in the first month of the season before cooling off, and will join several former Rangers in Columbus.
In adding four players prior to the deadline, the Rangers beefed up their depth while adding ruggedness. The Rangers have been extremely thin on their bottom lines, especially up the middle, and needed more toughness after some of their grittier players left this offseason.
While Clowe made it to the morning skate, Brassard and Moore arrived right before pregame warmups. They got dressed quickly, introduced themselves to their teammates, shook hands with their new coach, and headed out to the ice for an important game against Pittsburgh.
"Sometimes you play your better games when you don't worry about anything," Brassard said. "The guys made us feel very comfortable when we got here and it was a great win."
Clowe, Brassard and Moore managed to play a role in every Rangers goal as the had a season-high six goals. Brassard had an assist on the first goal and Clowe the second. Clowe then followed up with his first goal of the year to make it 3-0 in the first. In 28 games with the Sharks, the veteran had been held without a tally, but he scored one less than 15 minutes into his Rangers tenure.
"Kind of get the monkey off coming here and get the monkey off overall," Clowe said.
Brassard tallied his first goal with the Rangers in the second, and Clowe added his second goal less than 10 minutes later to give the Rangers a 5-1 advantage. Moore, a defenseman, made it a perfect night for the newcomers when he scored his first goal of the season in the third period. The eight points tallied by the three players matched what Gaborik had produced in his last 18 games.
"It was a lot of fun obviously tonight," Rangers center
Brad Richards
. "Great for the organization with all of the new guys coming in and do what they did. It's exciting for everybody. They just got here about 10 minutes before warmups and went out and scored a goal and fit right in perfectly."
April, 3, 2013
Apr 3
10:19
PM ET
Marian who?
Hours after trading veteran forward
Marian Gaborik
to the Blue Jackets, the New York Rangers notched their season high in goals by defeating Pittsburgh 6-1 on Wednesday night at Madison Square Garden.
The Rangers received eight points from three players they acquired before the trade deadline.
PLAYOFF UPDATE:
With the win, the Rangers are now in a three-way tie with the Devils and Islanders for seventh place in the East. The Rangers currently own the tiebreaker over both teams because they've played one less game than the Islanders, and have won more games in regulation than the Devils. The teams all have 39 points.
RYANE'S HOPE:
Ryane Clowe
hadn't scored a goal in 28 games with the Sharks this season, but it only took him 15 minutes as a Ranger to notch one. The veteran forward, acquired Tuesday night for draft picks, had a memorable MSG debut as he scored two goals and added an assist. The Rangers acquired him to add depth and ruggedness, but on Wednesday he gave them an offensive lift.
NOT THE ONLY NEW STAR:
As part of the Gaborik deal, the Rangers acquired
Derick Brassard
,
Derek Dorsett
and
John Moore
. Brassard led all the newcomers with four points as he notched a goal and three assists Wednesday. The four-point night marked his best game of the season.
AND THERE'S MOORE!
Moore added a goal in the third period to make sure that all the new Rangers acquisitions, aside from the injured Dorsett, scored a goal. It marked Moore's first goal of the year and third in his young career.
POWER PLAY:
So this is what an efficient power play looks like? The Rangers were a stunning 3-for-4 on the power play Wednesday night. Normally, the Rangers are awful with a man advantage, and they had just three goals on the power play in their last 13 games. The Rangers received power-play goals from
Brian Boyle
, Brassard and Clowe, with all the goals coming in the first.
HOT FIRST:
The Rangers had their best first period of the year, scoring three goals.
FINALLY BEAT 'EM:
Pittsburgh has been a thorn in the Rangers' side lately, winning all three of the games this year by a combined score of 12-3. The Rangers finally cracked Pittsburgh on Wednesday, taking advantage of a weakened Pittsburgh lineup without
Sidney Crosby
.
UP NEXT:
The Rangers conclude this home-and-home series with a trip to Pittsburgh on Friday.
April, 3, 2013
Apr 3
7:08
PM ET
As the Rangers prepared for their first game with their new-look lineup, coach John Tortorella couldn't say whether his revamped team is better today after making two deals than it was 24 hours ago.
"I have no idea," Tortorella said. "I need to see them play. I can't answer that question."
Over the last 24 hours, the Rangers have acquired four players, three of which will be in the lineup in Wednesday's game against Pittsburgh. The Rangers added forward
Ryane Clowe
in exchange for draft picks Tuesday, and secured forwards
Derick Brassard
and
Derek Dorsett
and defenseman
John Moore
for
Marian Gaborik
on Wednesday. Dorsett is the lone player in that group who isn't available as he has a broken collarbone.
"I believe the [Gaborik] deal will work for both teams because I believe he's going to play really well and we get a number of assets and depth onto our team moving forward in trying to sign [Derek] Stepan and players like that. It gives us a little flexibility there also," Tortorella said. "I think it's going to be a good deal for both teams."
The new Rangers won't have any time to get acclimated to their new team as they get thrust into the lineup in what will be an important game for the Rangers against the Penguins. Over the final weeks of the season, Tortorella said the team won't overload the players with new information, instead giving them a foundation to work from and working off that.
"I think sometimes it's best that they just go play and then as we go through we'll try to give them bits and pieces as we go through," Tortorella said. "This is just the nature of the beast when you make deals, deadlines, you're going to be playing every other night, that's just the way it is. We need to find a way to win and we're hoping they are going to help us."
Tortorella didn't have much information about his new crop of players, wanting to see them play before dissecting their games. The report he received on Moore is that the 22-year-old is a fantastic skater who is continuing to learn the game, while he likes the grit that Clowe and the others will bring. Tortorella mentioned several times that he believes the trades improved the team's ruggedness while strengthening them at center and on defense.
"[Clowe's] a guy that certainly brings some jam to our lineup, hasn't scored this year but has been able to score plus bang, a good leader, good size," Tortorella said. "I think him and what I think we get with Dorsett, it gives us a little bit of the grind we're missing right now, a little bit different from last year. I think Brassard and Moore you get some skills skating, and then we'll see how it goes. I'm anxious to see them play and then we can answer the questions together."