New York Hockey:

Karl Alzner
May, 9, 2013
5/09/13
12:29
AM ET
All of a sudden, it seems this series has taken a turn.
It didn't happen right away for the Rangers, who were outplayed in the first two games of their first-round matchup against the Capitals. But, since falling behind 2-0 after a disheartening trip to D.C., the Rangers have steadily regained traction in this best-of-seven set.
With a 4-3 win over the Caps at Madison Square Garden on Wednesday, the Rangers evened the series, 2-2, and tilted momentum in their favor heading into Game 5.
[+] Enlarge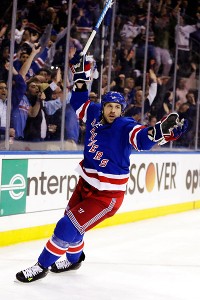 AP Photo/Kathy WillensThe Rangers beat the Caps to tie the series at two games apiece.
"So far, we're just taking care of business at home. That's what we need to do." said
Henrik Lundqvist
, who finished with 27 saves. "Coming back home, being down two games, we had a lot of pressure, but we stepped up there. So far we just tied the series. We still need to do whatever we can to get the next one."
Carl Hagelin
led the team with a goal and two assists,
Derick Brassard
chipped in with another masterful multi-point performance, and the Rangers held
Alex Ovechkin
off the score sheet for the second straight game.
It was the best complete effort this series for the Rangers, who asserted themselves on the forecheck, defended well in their own zone, and didn't surrender the special-teams battle.
"They were working harder. They were coming harder," Caps defenseman
Karl Alzner
said. "They made some adjustments so we'll have to adjust now."
With the Capitals trailing the Rangers by two goals in the third period, Alzner's shot that deflected off
Mathieu Perreault
at 7:31 pulled the Capitals within one, 4-3, but the Rangers refused to let another two-goal lead dissolve.
After building a 2-0 advantage earlier in the game on goals from Hagelin and
Brad Richards
, the Rangers let the Capitals climb right back into it during the middle frame. In fact, it was Washington that sapped the life out of Madison Square Garden with
Troy Brouwer
's backhander that beat Lundqvist and knotted the score at 2 with 17.1 seconds to play.
Caps veteran
Jason Chimera
essentially nullified that surge, however, with an interference penalty as the second period expired, giving the Rangers a power play to start the third.
Brassard made a deft backhanded dish to find defenseman
Dan Girardi
all alone at the left point for a slap shot that beat
Braden Holtby
59 seconds in and re-ignited a restless home crowd.
Brassard made a brilliant cross-ice feed to set up Hagelin's goal earlier in the game.
"It's incredible," defenseman
Ryan McDonagh
said of Brassard's game. "His playmaking ability is so crucial."
After an underwhelming start to the series, Brassard has been impressive in the past two games, during which he has registered one goal and five points.
"The first two games, I was a little bit nervous, but when I'm in my game, I make plays," said Brassard, who was awarded the team's MVP Broadway Hat. "I just wanna take that game [into] Washington."
The No. 6 seed Rangers now face a best-of-three against the No. 3 seed Capitals, who have home-ice advantage with both Games 5 and 7 (if necessary) at the Verizon Center.
After giving up the first pair of games in hostile territory, the Rangers know they are in line for a tough test.
"I think our resiliency has really shown in these last two games and we're going to need that when we go to Washington, because they'll surge there," coach John Tortorella said. "We've just got to find a way to keep our head above water and try to win a game."
Wednesday's win wasn't without its bumps, but the Rangers managed the swings and surges better than they have all series. To best the offensively loaded Capitals, especially on the road, the Rangers need to stick to that blueprint.
"We felt our first two games weren't consistent enough," McDonagh said. "If there's something we can take out of our success these past two games, it's more of the same."
The Capitals will be ready.
"It's a three-game series now," said Holtby, who finished the night with 30 saves. "We still have home-ice advantage, Like I said before, we knew it was going to be a tough series. We learned last year that this team that we are playing doesn't give up and we don't either. Coming in, we didn't care how many games it took to win as long as we won four out of seven."
May, 4, 2013
5/04/13
5:43
PM ET
With the game tied 0-0 and time winding down, the
New York Rangers
thought they'd have one more power-play opportunity in regulation when the puck deflected off
Washington Capitals
defenseman
Karl Alzner
's stick and sailed over the glass with less than 46 seconds left in the third period.
Despite a lengthy stoppage in play and what looked like some huddling between the officials, a delay of game penalty wasn't called on Alzner, leaving the Rangers puzzled.
Ultimately, it was determined that the penalty was not called because it was deflected. According to the rulebook, specifically rule 63.2, a player must shoot or bat the puck over the ice to be subject to a minor penalty. The play was not reviewable by the league's Situation Room.
"The puck was there and it wasn't shot out," Alzner said after the Capitals' 1-0 overtime win. "It was tipped out and that was all they said."
Coincidentally, Alzner said he was thinking about what the ruling on that type of play would be on Friday night.
"It's actually weird. I was thinking about that last night," he said. "I was thinking, if that play ever happened, what would the call be? And I guess it's discretionary, whatever they decide. So I was happy they decided that."
Asked his thoughts about the rule, coach John Tortorella didn't care to take issue with it.
"It's a rule," he said.
• • •
Both
Derek Dorsett
and
Brian Boyle
returned to the lineup for the Rangers and Tortorella said he was pleased with their play.
"They played well," he said. "We changed the lines to try to create some more offense and also due to some matchups."
Dorsett, who flanked former
Columbus Blue Jackets
teammate
Derick Brassard
for most of the game, set a physical tone with his play in his Rangers debut. It was the first game back for the gritty 26-year-old since suffering a broken collarbone back in March while still playing for Columbus, and he tried to test it early with contact against Caps defenseman
Steven Oleksy
during his first shift.
Dorsett finished with seven hits, two shots and two penalties in his first game as a Blueshirt, a match he had been anticipating ever since being traded to New York at the deadline in April.
"There were a lot of emotions going into the game. I was up early in the morning like a little kid at Christmas," Dorsett said.
Boyle started the game between
Darroll Powe
and
Arron Asham
but was later awarded some shifts between
Taylor Pyatt
and Dorsett.
The hulking centerman, who suffered a lower-body injury April 16 in Philadelphia, finished with one shot and six hits in 11:29 over 18 shifts.
May, 4, 2012
5/04/12
5:03
PM ET
While the Rangers split into two groups for Thursday's off-day activities -- one went to see "The Hunger Games" movie in IMAX, the other visited Arlington National Cemetery -- the Capitals hunkered down at home to re-charge and re-fuel after Wednesday's grueling 114:41-minute triple-overtime stunner.
Catching up with the Capitals at their practice facility Friday, Scott Burnside found a myriad of interesting items on the menu. Center
Jay Beagle
, who played 30:15 in Washington's heartbreaking 2-1 loss, gobbled up protein-rich snacks in attempt to re-gain some of the weight dropped in the epic match.
"Ate a lot of beef jerky and steak and bison burger. I went over to Karl's for some bison burgers -- a lot of good fats, avocados, nuts. Even made a couple of nasty shots of olive oil and avocado oil, stuff like that," Beagle said, referring to teammate Karl Alzner, who was in charge of grilling up bison burgers for some teammates.
Read more about Washington's day of recuperation in Burnside's Cross Checks blog
here.
April, 11, 2011
4/11/11
9:17
AM ET
By
Mike Hume
| ESPNNewYork.com
The playoffs start Wednesday for the
New York Rangers
when they take on the No. 1 seed in the East, the
Washington Capitals
at 7:30 p.m. in D.C. All told, the Rangers probably couldn't have asked for a better first-round matchup. Here are several key factors to keep an eye on throughout the series.
Grind vs. Glitz
After the Caps spent the 2010-11 season remaking their image into that of a squad better suited for playoff success, the contrast between the playing styles of the two teams isn't quite as stark. Still the Rangers' grinding style presents a particular problem for a skill-based team like the Caps.
If the Rangers get into a shootout-style game with the Caps, the Blueshirts will likely be on the losing end. Washington's offensive weapons simply outnumber New York's. But, a blue-collar, hard-hitting game with little room to maneuver could be the ticket to a first-round upset.
Even more than the play of
Henrik Lundqvist
, I believe the make-or-break aspect of this series will be the Rangers' forecheck. The Caps' blueline has problems getting the puck out of its own end at times and with
Dennis Wideman
likely out for the first round (leg hematoma) and
Mike Green
not up to game speed (out with concussion since Feb. 25), Washington may need to rely on third-pairing D types
John Erskine
and
Tyler Sloan
more than they would like.
Also, keeping the puck deep in the Washington zone will require the Caps' forwards to come back closer to their own net to help out, eliminating stretch passes and keeping one of the NHL's best transition games grounded.
Hank the Tank
When these two teams met in the 2008-09 playoffs, Lundqvist nearly stole the first round from the Caps, pushing the series to seven games before a
Sergei Fedorov
blast from the glove-side faceoff circle provided the difference in a 2-1 game.
There was talk at the end of that series that Lundqvist's glove wasn't as quick as it normally was due to fatigue. And that year Lundqvist was only coming of seven consecutive starts. This season, he's started three fewer games than 2008-09, but enters the playoffs having gotten the call in 26 straight since Feb. 11. That's a career high for Lundqvist and even though he's maintained that he wants to be playing and he doesn't feel tired whenever he sits in front of his locker after games, you have to wonder if fatigue will be a factor.
The schedule could help though. The Rangers and Caps will get two days off between Games 3 and 4 and Games 4 and 5.
The Caps' Kid Keepers
While the Rangers have no doubt who their netminder will be, for the Capitals' it remains an open question. Washington's trio of
Michal Neuvirth
,
Semyon Varlamov
and
Braden Holtby
has been very good for them this season. While Varlamov (.924) and Holtby (.934) have posted better save percentages, Neuvirth (.914) has seen more action this season and is expected to get the nod as the series opens. But I'm not sure how comfortable Bruce Boudreau is with that decision and the hook could be a quick one if Neuvirth gets torched early. Remember, Neuvirth was the goalie the Rangers burned for six goals on 28 shots the last time these clubs met. A few quick goals in Game 1 could create a crisis of confidence in the Caps' crease, just like it did in 2008-09 when
Jose Theodore
got yanked for the series after giving up four goals in the first game.
Staal and Girardi vs. The Great 8
Bruce Boudreau will try to keep his top offensive threat away from the Rangers' best blueline tandem, but frankly, he hasn't done a very good job controlling matchups in the past. Oh, and
Alex Ovechkin
didn't score a goal against the Rangers during the regular season. If
Marc Staal
and
Dan Girardi
can again keep him under wraps, the media will start talking, Ovechkin could start pressing and the pressure will start rising on a team that absolutely, positively cannot lose in the first round without major repercussions. More on that later.
Green Blue Liners
With Mike Green shelved for most of the season the Caps have had to rely on
Karl Alzner
and
John Carlson
as their top pairing this season. Never mind that they had just 237 games of combined experience. They have been very effective though, with Alzner sporting a plus-14 and Carlson at plus-21 despite seeing the opposition's top scorers every night. They don't fluster easily and they almost always make the simple play, which keeps them out of hot water. They don't, however, clear the crease that well. If the Rangers can plant
Brian Boyle
or
Brandon Prust
in front of the cage to bother the Caps' netminder, that could generate some chaos and lead to some dirty opportunities for the Blueshirts.
Pressure
Somebody cue Billy Joel. This is perhaps the single greatest advantage the Rangers will have this series. As I mentioned briefly after they clinched this berth, there are no more expectations for New York. They're a young, improving team and against the top squad in the East there should be no expectations for an upset, particularly without
Ryan Callahan
. The Caps, on the other hand …
The scuttlebutt around the league is that it's a Cup or a pink slip for Boudreau, so if his team should again falter in the first round he may not make it to the postgame press conference podium. If the Rangers can steal a game or two in D.C. they can trigger all sorts of mind games for their opponents, and when the opposition starts pressing against the Blueshirts, that's when the Rangers are the most dangerous. Quick goals and early wins will go a long, long way in this series for both teams.
In closing, a few links for you:
Scott Burnside presents his
series preview
.
For ESPN Insiders, here's a scouting report on
how to beat the Caps
from former NHL scout and GM Craig Button.
The Washington Post chats with both teams about
the upcoming series
. It includes a bit about how the Rangers 7-0 pummeling of the Caps in December actually helped. (Apparently that's when the Caps learned how to grab their ... never mind.)
Blueshirt Banter provides a
statistical preview
.
Andrew Gross provides some quotes from a
Chris Drury teleconference
.
And here's another look at the series via
Jesse Spector
.