New York Hockey:

Marc Savard
February, 14, 2011
2/14/11
5:51
PM ET
By
Mike Hume
| ESPNNewYork.com
I promise we'll stop after this, but the holier-than-thou comments from
Mario Lemieux
may have put a bit of a burr in the saddle of Islanders fans ... and, well, fans of anyone who plays the Penguins.
So in honor of Monday's holiday, we dug up an, um, anti-Valentine from
Don Cherry
to
Matt Cooke
. Summary: Not a fan.
As you may know, Cherry champions physicality (aka "truculence") rather frequently, but believes it also should adhere to some kind of code of conduct. In this clip, as a montage of rather dirty hits from Cooke rolls in the background, Cherry gives his rather pointed opinion of the pest, and also recounts an anecdote of a post-game meeting between the two.
Take a look
.
In case you want to take a closer look at some of that dubious highlight reel, here's some more research for you:
Cooke shatters Fedor Tyutin from behind
.
Cooke scrambles Artem Anisimov's head
.
Cooke knocks Marc Savard unconscious
.
Cooke crosschecks Andrei Markov into the boards
.
Cooke tries to ninja kick Chris Osgood in the face
.
Cooke goes knee to knee on Erik Cole
.
Cooke reenacts the above incident for (former teammate) Alex Ovechkin
.
Now, Mario, about the state of the league? Yeah ...
With those images fresh in your mind, it's probably no wonder why
Evander Kane
made a lot of folks smile
last April.
Can't you just feel the love?
February, 14, 2011
2/14/11
12:02
PM ET
By
Mike Hume
| ESPNNewYork.com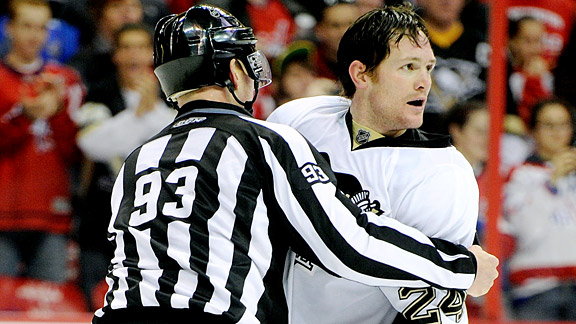 By now you've likely heard about
Mario Lemieux
's reaction to the
foil-rich
,
brawl-tastic game
between the
New York Islanders
and
Pittsburgh Penguins
last Friday.
Via a statement issued Sunday, Lemieux griped to the media that, "If the events relating to Friday night reflect the state of the league, I need to rethink whether I want to be a part of it."
While the actions of
Matt Martin
-- who sucker-punched
Maxime Talbot
-- and
Trevor Gillies
-- who flattened
Eric Tangradi
with an elbow before throwing several punches -- aren't particularly defensible, Lemieux may want to look to his own pond to gauge the "state of the league."
Over the past three seasons, the Penguins' have taken a steadily increasing number of major penalties. Last season, their 51 major infractions ranked them 17th in the NHL. But that number has ballooned to 63 through Feb. 14, by far the most in the NHL. (The
Boston Bruins
and
St. Louis Blues
are tied for the second most with 56.)
Granted there's some context lacking there. Since a fighting major is applied regardless of who starts the fracas, the Pens could have just been responding when their opponents dropped the gloves. Still, it takes two partners to dance.
There's also the rather hypocritical matter of Lemieux's continued employment of one
Matt Cooke
. Cooke has been suspended in each of the past three seasons -- twice for checking a player in the head (2008-09:
Scott Walker
of the
Carolina Hurricanes
; 2009-10:
Artem Anisimov
of the
New York Rangers
) and most recently for annihilating
Fedor Tyutin
of the
Columbus Blue Jackets
from behind on Feb. 9.
What's ironic about those incidents? Well, the Pens and captain
Sidney Crosby
have been railing against the NHL for the lack of protection the NHL gives its players, particularly concerning concussions. Meanwhile, Cooke is cashing Lemieux's checks while
targeting player's skulls
. His
hit on Tyutin (video)
was far, far worse than the hit by
Victor Hedman
(video)
that may have caused -- or worsened -- Crosby's concussion. (For the record, Hedman was not suspended for his hit.)
Pot, kettle, Penguins ... you see where I'm going with this.
Lemieux isn't wrong to complain about the NHL needing to do a better job protecting its players. It does. In fact, head shots of all kinds should be banned. (A concussion from the blindside or the front is still a concussion.) But the punishment meted out by the NHL this weekend is not the problem. The
repeated antics (Marc Savard says, "hi")
by players like Matt Cooke are.
And don't expect much sympathy for Lemieux on this one within the NHL. From this morning's edition of
NHL Rumor Central
, one league governor told Sportsnet's John Shannon: "If Mario would like to change the game, maybe he should show up at the meetings."
September, 3, 2010
9/03/10
7:58
AM ET
By
Mike Hume
| ESPNNewYork.com
A few days back, Rangers goalie
Henrik Lundqvist
said the acquisition of backup netminder
Martin Biron
would be huge in
helping him stay fresh
for the playoffs. Whether the Blueshirts can get back to the second season is another issue, but his assessment about regular-season heavy lifting and playoff fall-off is right on the money.
For the past two seasons, ESPN Insider has teamed with
Puck Prospectus
to serve up a Hot Goalie Index heading into the playoffs. The idea was to see if we could find a way to predict which goalies were most likely to stand on their head and steal a series. The formula for the index is based on several factors, but one of them is fresh legs. Author, and formula creator, Timo Seppa
explains in the 2009 article
:
"It's not a long-term trend, but over the past four postseason tournaments, there is a strong indication that a greater workload may decrease a goalie's chances of winning a playoff series. Over that period, the average playoff series-winning goalie played in six fewer regular-season games and faced 170 fewer shots on goal than his opponent. As a case in point, a well-rested Chris Osgood posted a .930 save percentage last postseason [2008], after facing only 976 shots over 43 games during the regular season."
Here's what the index
looked like last season
. For non-Insiders, the top four are
Ilya Bryzgalov
,
Jaroslav Halak
,
Tuukka Rask
and
Antti Niemi
. I think we all remember how well those last three netminders carried their teams in the postseason. And it seems more than a coincidence that none of those three started more than 43 games last season.
Lundqvist isn't going to sit for half a season, but giving him a few extra nights' rest could go a long way in the playoffs. Now the Rangers just have to, you know, get there.
Morning Links