New York Hockey:

Matt Martin
May, 12, 2013
5/12/13
12:46
AM ET
UNIONDALE, N.Y. -- What a fitting end to the Islanders' 2013 season, that they left the ice with the Nassau Coliseum crowd on its feet -- even after a
heartbreaking 4-3 overtime loss to the Penguins in Game 6
-- saluting the team's stellar effort in its first playoff appearance since 2007.
That should be the lasting image -- not
Brooks Orpik
's game winner -- that each player conjures up when looking back on the team's first-round series against the top-seeded Penguins.
[+] Enlarge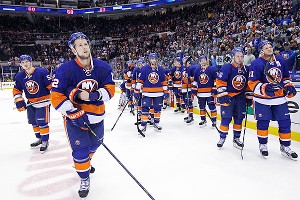 AP Photo/Kathy WillensThe Islanders should be proud of all they accomplished against the No. 1 seed Penguins.
Making it to the postseason was not enough for the Islanders, who surprised some doubters and captivated the league's attention with their plucky play, but it should be regarded as a monumental step forward for the organization.
The Islanders couldn't match Pittsburgh's depth or experience, but they had the grit, heart and desire in ample supply to push the Penguins in a six-game set.
For so many years, the Islanders have suffered the indignities of the down-trodden and the ridicule that comes with annual bottom-five finishes.
But that perception of the Islanders is bound to change after this.
"We've taken a lot of heat in the past three years since I've been here, a lot of criticism from the media, people looked at us as a laughingstock," said heart-and-soul grinder
Matt Martin
, who finished with a game-high 11 hits Saturday night. "Throughout this series, we showed we can play with anyone. We're excited about the future. We think we have something special here."
The Penguins acknowledged that, too.
After wrapping up their fourth win of the series -- a game that required them to erase three separate one-goal Islanders leads before Orpik's deciding goal 7:49 into overtime -- they had plenty of respect for the Islanders as they convened at center ice for the customary handshake line.
[+] Enlarge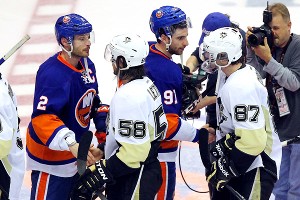 Brad Penner/USA TODAY SportsJohn Tavares said this experience will just serve to motivate the Islanders next season.
"Just walking through the line, they said so many good things, just that you guys have a really good team here. You know, I don't think this team has heard that in a long time," said rugged forward
Colin McDonald
, who gave the Isles a 2-1 lead with 37 seconds remaining in the first period. "That's one of the few positives you can talk about right now. I think as an organization, as players, maybe we gained some respect back, and I'm really glad the fans supported us the way they do. I hope this is just the start, a stepping stone looking ahead to next year."
The Islanders received the requisite secondary scoring Saturday from the likes of McDonald and
Michael Grabner
to build off
John Tavares
' wrist shot from the slot that gave the Isles a 1-0 lead 5:36 into play.
But the Pens showed resilience in a tough road test during which they were outshot 38-21 and superstar
Sidney Crosby
was held to one point. Each time the Isles gained momentum, the Penguins found a way to even the score. Less than six minutes from the Islanders forcing a winner-takes-all Game 7 in Pittsburgh, Pens defenseman
Paul Martin
unleashed a one-timer that deflected off
Frans Nielsen
to knot the score at 3 and send the game into overtime.
"I think we outshot them again today and created a lot of opportunities, but times that we could've gone up and taken a bigger lead, we just couldn't do it," said Tavares, who on Friday was named
one of three Hart Memorial Trophy finalists
for the league's annual MVP. "They stayed with it, and maybe that's why they're moving on."
"It was every bit of a battle in those six games," Penguins coach Dan Bylsma said after his team punched its ticket to a second-round matchup against the seventh-seeded
Ottawa Senators
.
Special teams hurt the Islanders and veteran goaltender
Evgeni Nabokov
failed to steal a game, but the Penguins were the team to come up with the big plays when it counted.
For that reason, the Islanders will pack up for the offseason, with the hunger to win even more intense now that they know what it takes and how it's done.
"It's what I'll be thinking about all summer," said Tavares, who finished the series with three goals and five points. "It's what pushes you every day, and you finally get to experience it. We got here and we weren't satisfied with getting here. I thought we competed real well, we played with them most of the series and dictated the play a lot of the series, too. They just took advantage of most of their opportunities."
The Penguins remained composed throughout the series, keeping doubt at bay even when the Islanders' Cinderella story seemed to be gaining traction. Bylsma made a bold but necessary goaltending change in replacing starter
Marc-Andre Fleury
with veteran backup
Tomas Vokoun
after a bafflingly bad performance in Game 4. That move paid dividends as the latter turned away 66 of 69 shots faced in his two starts to close out the series.
And in moving on, Pittsburgh managed to exorcise some demons from last spring's implosion when the team was upset in the first round by the
Philadelphia Flyers
.
"I think we fought it a little bit, that history, and we fought it in different ways," Bylsma said. "But again, we had to be excited to win and not thinking about the past."
The Islanders don't have that luxury, however. With their first taste of the playoffs also comes their first devastating sense of disappointment.
That won't abate any time soon.
"Right now, it's just tough, but in a couple of weeks when we look back at the season, I think we'll realize we took a big step in the right direction," Nielsen said. "But, we're definitely not satisfied with that. It's still a long way to go. It's not a success until we've got that Cup, but I think it's a step in the right direction."
May, 7, 2013
5/07/13
11:33
PM ET
UNIONDALE, N.Y. -- The Islanders are not simply happy to be here.
Proving that they can be more than just competitive with the
Pittsburgh Penguins
, the Islanders edged the top seed in the East
6-4 in a wild romp at Nassau Coliseum
Tuesday night to even the series 2-2.
Scoring six goals against a supremely shaky
Marc-Andre Fleury
, the Isles might also have planted some serious doubt within the Penguins' room about their starting goaltender.
[+] Enlarge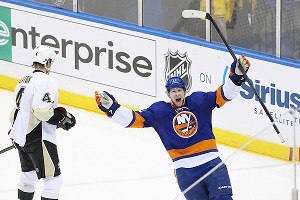 Anthony Gruppuso/USA TODAY SportsThe Islanders evened up the series at two games apiece on Tuesday.
Fleury has now given up 14 goals in four games this series, leading many to wonder whether veteran backup
Tomas Vokoun
will get the start in goal for Game 5 on Thursday in Pittsburgh.
Penguins coach Dan Bylsma declined to say who would start, but he didn't rule out Vokoun as a possibility.
"We're not going to talk about our starting goaltender for Game 5 right now," Bylsma said.
It wasn't just Fleury who gave up questionable goals -- Isles netminder
Evgeni Nabokov
has a few he'd probably like back as well -- in what turned out to be a wildly entertaining game between two teams trading scoring chances at a frenetic pace.
After seeing leads quickly evaporate in the first two periods, the Islanders rattled off three goals in the final frame. Captain
Mark Streit
, who finished with three points, tied the game at 3 with his second goal of the game early in the third, and superstar center
John Tavares
snapped a 4-4 draw to score what would hold up as the game-winner midway through the period.
Tavares stick handled his way to the doorstep and chased his own rebound to beat Fleury's outstretched pad for a 5-4 lead at 10:11. Fourth-line sparkplug
Casey Cizikas
(1G, 2A, +4 rating) added an insurance goal with less than two minutes remaining -- the final display of Fleury's frustrating night.
Before that bizarre play, in which he was out of position and slow to react to Cizikas cutting to the net, Fleury gave up a real softie to
Kyle Okposo
in the second period.
Okposo threw the puck at the net from behind the goal line and banked it in off Fleury's pads at 18:36.
The handful of blunders was eerily reminiscent of last year's meltdown in the first round of the playoffs, when Fleury surrendered a dizzying 26 goals over six games to the
Philadelphia Flyers
.
"We know how he played last year against Philly, but we just want to go get traffic in front of him, get shots, shoot the puck," Okposo said. "We didn't shoot the puck enough in the second. We came out in the third, peppered him and got in his kitchen a little bit."
Rugged forward
Matt Martin
said the team let Fleury off too easy in Game 1 when he recorded a 5-0 shutout. Since then, they've amped up the pressure.
"Game 1, we didn't test him enough. He had a shutout. Luckily, Game 2 we were able to get some on him and since then, we've been able to capitalize on our opportunities," Martin said. "I think if you take away any goalie's confidence, it's hard to make saves."
By contrast, the Islanders confidence seems to be soaring after Game 4's victory, one that ensures they'll get another game at home in front of a raucous Nassau Coliseum crowd.
"Game 3 was heartbreaking and we found a way to put it behind us, so the nice thing is that we get another game at home here," Martin said. "The crowd's been fantastic for us."
Even without top-pair defenseman
Andrew MacDonald
, who was forced from the game with an upper-body injury in the second period, the Islanders seem encouraged by their chances from here on out.
They'll take momentum into Game 5 and the knowledge that these Penguins are a beatable team.
Although an inexperienced squad, the Islanders have matured, both from earlier this season and maybe even earlier this series, into one capable of managing the momentum swings and surges within a game.
"We put so much effort into getting here, there was no doubt we wanted to make the most of this opportunity," Tavares said. "We weren't just satisfied being here. We believe in this room, obviously. ... There are a lot of guys stepping up for us here and that's what we need."
February, 15, 2013
2/15/13
12:10
AM ET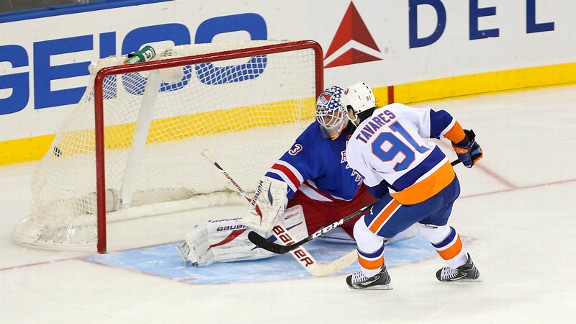 Anthony Gruppuso/USA TODAY Sports John Tavares scores on former teammate Martin Biron in the shootout to beat the Rangers.
The Islanders needed this one worse.
With every small hiccup that has snowballed into a slump and every skid that has become painstakingly magnified because of a lockout-shortened season, the New York Islanders were a desperate team.
And they played like it.
Teetering precariously on succumbing to an absolute free-fall, the Islanders rallied back from an early 2-0 deficit to beat their New York rivals 4-3 in the shootout and snap a dreadful five-game losing streak.
"It was a great character win, coming back from a five-game losing streak, down 2-0. Great win," said
Frans Nielsen
, who beat former teammate
Martin Biron
through the 5-hole to tally the deciding goal in the shootout against the New York Rangers. "And no better place to turn it around, either."
[+] Enlarge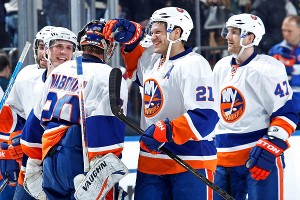 Scott Levy/NHLI/Getty ImagesIslanders' Kyle Okposo and Evgeni Nabokov celebrate the shootout win over the Rangers.
Both Nielsen and
John Tavares
scored against their former teammate in the shootout to earn the elusive two points that had escaped their reach since their previous win -- two weeks ago. Thursday's victory also marked the first time in nine games the Islanders knocked off the Rangers at Madison Square Garden.
Trailing 2-0 after a passive first period, the Islanders braced for an earful in the dressing room during intermission and received what they expected.
"We gave it to 'em pretty good," coach Jack Capuano admitted. "But it's not about what you say. … It's work ethic and desperation, and they had it."
The Islanders set a markedly different tone early in the second, employing a hard-checking, high-energy line of
Matt Martin
,
Casey Cizikas
and
Colin McDonald
to start the period. That move paid dividends as McDonald found the back of the net to cut the Rangers' lead in half only 29 seconds into play.
"Especially with the way we played in the first period, it was good to get one in right away," McDonald said. "Even if we didn't score that shift, I was confident we were going to play better. We had a good talk after the first and I thought guys made a good commitment in the second to get to our game."
Tavares and
Brad Boyes
also chipped in with a goal each to complete a three-goal period and wrest back momentum.
"You could see it in guys' eyes," said goaltender
Evgeni Nabokov
, who finished with 36 saves. "Guys were fired up and they were playing hard for each other. They did a hell of a job."
The Rangers answered back with
Carl Hagelin
's power-play marker in the third but the Islanders prevailed in the shootout -- their first of the season.
It was a necessary win to stop the bleeding and salvage some hope that they can put their season back together.
Entering Thursday night's game with the penultimate spot in the East, the Islanders climbed to 12th in the conference with 11 points. A small consolation for the points surrendered during the five-game skid -- all 10 of them -- but a building block to open a two-game homestand against division opponents in the
New Jersey Devils
and
Philadelphia Flyers
.
"Five losses is tough, but I think we understand how important each game is and more and more of what it takes," said Tavares, who extended his goal-scoring streak to four games. "The last couple of games we didn't play too bad -- we did some good things -- but there were just a lot of times when we just didn't handle the adversity as well."
That, Tavares hopes, is beginning to change.
"We know how to handle it. We've shown it before, we've all been in the league for a few years now so this was a great test for that, today again, and we stepped up to the challenge. We've got to expect more efforts like this."
September, 15, 2012
9/15/12
11:38
PM ET
Add
Matt Martin
to the mix of players who signed multi-year deals in the 11th hour before the lockout went into effect.
The gritty 23-year-old power forward agreed to terms on a four-year deal with the Islanders worth $4 million, a source confirmed to ESPNNewYork.com.
Martin, a restricted free agent who led the team and set a single-season NHL record with 374 hits this past season, inked a deal less than an hour before the league-imposed deadline at midnight, when the current collective bargaining agreement expires.
Other players who signed Saturday before the work stoppage commenced included
Evander Kane
,
Cam Fowler
,
Tyler Ennis
and
Milan Lucic
.
February, 14, 2011
2/14/11
12:02
PM ET
By
Mike Hume
| ESPNNewYork.com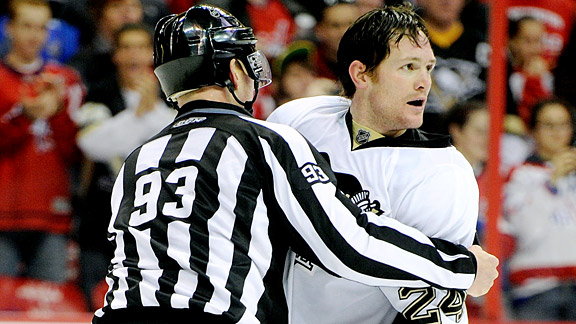 By now you've likely heard about
Mario Lemieux
's reaction to the
foil-rich
,
brawl-tastic game
between the
New York Islanders
and
Pittsburgh Penguins
last Friday.
Via a statement issued Sunday, Lemieux griped to the media that, "If the events relating to Friday night reflect the state of the league, I need to rethink whether I want to be a part of it."
While the actions of
Matt Martin
-- who sucker-punched
Maxime Talbot
-- and
Trevor Gillies
-- who flattened
Eric Tangradi
with an elbow before throwing several punches -- aren't particularly defensible, Lemieux may want to look to his own pond to gauge the "state of the league."
Over the past three seasons, the Penguins' have taken a steadily increasing number of major penalties. Last season, their 51 major infractions ranked them 17th in the NHL. But that number has ballooned to 63 through Feb. 14, by far the most in the NHL. (The
Boston Bruins
and
St. Louis Blues
are tied for the second most with 56.)
Granted there's some context lacking there. Since a fighting major is applied regardless of who starts the fracas, the Pens could have just been responding when their opponents dropped the gloves. Still, it takes two partners to dance.
There's also the rather hypocritical matter of Lemieux's continued employment of one
Matt Cooke
. Cooke has been suspended in each of the past three seasons -- twice for checking a player in the head (2008-09:
Scott Walker
of the
Carolina Hurricanes
; 2009-10:
Artem Anisimov
of the
New York Rangers
) and most recently for annihilating
Fedor Tyutin
of the
Columbus Blue Jackets
from behind on Feb. 9.
What's ironic about those incidents? Well, the Pens and captain
Sidney Crosby
have been railing against the NHL for the lack of protection the NHL gives its players, particularly concerning concussions. Meanwhile, Cooke is cashing Lemieux's checks while
targeting player's skulls
. His
hit on Tyutin (video)
was far, far worse than the hit by
Victor Hedman
(video)
that may have caused -- or worsened -- Crosby's concussion. (For the record, Hedman was not suspended for his hit.)
Pot, kettle, Penguins ... you see where I'm going with this.
Lemieux isn't wrong to complain about the NHL needing to do a better job protecting its players. It does. In fact, head shots of all kinds should be banned. (A concussion from the blindside or the front is still a concussion.) But the punishment meted out by the NHL this weekend is not the problem. The
repeated antics (Marc Savard says, "hi")
by players like Matt Cooke are.
And don't expect much sympathy for Lemieux on this one within the NHL. From this morning's edition of
NHL Rumor Central
, one league governor told Sportsnet's John Shannon: "If Mario would like to change the game, maybe he should show up at the meetings."