New York Hockey:

Mike Richards
May, 28, 2012
5/28/12
4:35
PM ET
By
Mike Mazzeo
| ESPNNewYork.com
NEWARK, N.J. -- Devils coach
Peter DeBoer
will always have a bond with Kings center
Mike Richards
.
DeBoer used to coach Richards in juniors, and the two won a Memorial Cup together in 2003 with the Kitchener Rangers of the Ontario Hockey League.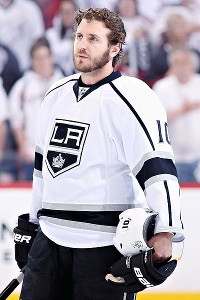 Christian Petersen/Getty ImagesMike Richards
DeBoer and Richards have exchanged texts throughout the postseason -- just not lately.
And certainly not during the Stanley Cup finals, which begin Wednesday at the Prudential Center.
"He grew up as a player and a young man in the organization I was running in Kitchener," DeBoer said of Richards. "Winning follows him around. We won a Memorial Cup together and a World Junior championship together. So obviously he's a special kid and I'm very happy to see what he's done. I'm not surprised.
"But I also know Mike Richards would run you over with his car to win the Stanley Cup. He'd visit you in the hospital after, but ..."
Richards also has the utmost respect for DeBoer -- even if he wants to beat him.
"He's such a smart hockey coach, not only X's and O's, but knows how to get the most out of his players," Richards told the Los Angeles Times. "In games, he's very smart at matchups and stuff like that. I'm not really surprised by (his success)."
October, 13, 2011
10/13/11
2:22
PM ET
By
Mike Hume
| ESPNNewYork.com
The Devils would love to build some early momentum with a win over one of the West's best teams. Here's what to watch for when the puck drops at The Rock tonight.

A familiar face

Mike Richards is no stranger to the Garden State. Richards already has a goal and an assist in two games with his new team, but in his former life as a Flyer, Richards never really tormented the Devils in their own lair. In fact, the last time he scored a goal in New Jersey's barn was a little over two years ago, Oct. 3, 2010. He'll have a little extra help tonight however as Dustin Penner will make his season debut alongside Richards and Dustin Brown.

That doesn't mean Richards won't make his presence felt though, and the biggest beneficiary may be Anze Kopitar. The fledgling star found the back of the net three times during the Kings' trip across the pond. While its only two games, Kopitar has been enjoying more time in the offensive zone, taking 64 percent of his draws in the O-zone, about a 12% increase over last season.

Early-season sit-rep

As the Devils know from last season, "early" can become "late" mighty quick, so it has to be encouraging that both Zach Parise (back from injury) and Ilya Kovalchuk (back from a season of underperformance) are off to fast starts with multiple points in their first two games.

It would be more encouraging if the Devils could get some more rubber on the net as a team, topping out at 26 shots on goal through first two games, but if L.A. holds true to its form from a season ago that could be tough. The Kings allowed just 27.9 shots against per game, the third best mark in the league in 2010-11.

Late legs

While the Devs have largely been able to hang at home since the start of training camp, the Kings have been flying all over Europe in the early going. In theory that should give the Devils a little edge in the fatigue department late in the game. That will be good to have, but a lead after two periods would be better. It's a different team in 2011-12, but last season's Devs won 22 of 24 games in which they led entering the third period. Conversely, they rallied just four times in 39 opportunities when trailing after 40 minutes.

March, 6, 2011
3/06/11
4:57
PM ET
By
Mike Hume
| ESPNNewYork.com
When the Rangers bring their A game, you had best respond in kind, lest you end up like the
Philadelphia Flyers
on Sunday, victims of a 7-0 mauling by New York. Perhaps resting a little too comfortably on their laurels atop the Eastern Conference standings, the Flyers could never meet the Rangers' intensity and were simply run over in the score column. Here's how it all went down at the Garden.
What It Means
There have been several instances when the Rangers have showed their true potential (including 7-0 and 6-0 wins vs. the
Washington Capitals
). It's these types of games that impart hope into the Ranger faithful that this team not only can make the playoffs, but do some damage while they're there. But they still have to get in first, and while the Rangers have pocketed four points in their past two games the
Buffalo Sabres
hover close behind. The Sabres have picked up 10 points in their past six games and trail the Rangers by just four points with four games in hand heading into Sunday night's matchup against the Wild.
White Knights
Perhaps hoping to harness some of their road chi and halt their recent home woes (where the Rangers were 14-16-3 entering today), the Blueshirts sported white shirts this afternoon and certainly performed to their Sunday best. The win ended a string of five straight losses to the Flyers and marked the Rangers' first win over their rivals this season. And the Garden crowd loved every second of it. Broadcast nationally on NBC, the game had a playoff feel, with plenty of penalties, a slew of big hits and highlight-reel goals that whipped up the fans and put the Mad in Madison Square Garden.
That Didn't Take Long
New York wanted to establish the forecheck early and did one better.
Ryan Callahan
netted his 17th goal of the season off assist from
Brandon Dubinsky
and
Artem Anisimov
less than a minute into the game to stake the Rangers to a 1-0 lead. That lead ballooned to 2-0 on a PP goal from Callahan and stayed that way through the first period thanks to a sensational save by Henrik Lunqvist in the final minute to halt a 2-on-1 Flyer rush. The Rangers finished the first with a 14-7 edge in the shots department.
Flying Fists, Flying Start
Brian Boyle
was banished for a questionable instigating call (a two minute penalty, plus a 10-minute misconduct) after standing up for a teammate who got trucked by
Jody Shelley
near the Flyer blue line. It could have gone horribly for the Rangers (and the fight did go horribly for Boyle), but instead it resulted in Callahan's second goal, this time on the PP, when a slash by
Mike Richards
negated the Flyers' man advantage and put the Rangers a man up for about a minute midway though the first. The fight card got a little longer at the start of the second when Richards went toe-to-toe with Dubinsky and ended up on his knees. Dubinsky earned the decision after he started throwing with his left hand, leaving Richards tied up in his sweater and unable to defend his face.
After Further Review
A potential goal by
Sean Avery
was waved off at the 1:48 mark of the second. A video review showed Avery used a kicking motion to guide the puck between Boucher's pads and the marker was disallowed. The reprieve prevented the game from getting out of hand early for Philadelphia. Of course, that reprieve didn't last long.
Zuuuke
The Rangers finally got their third goal at the 5:06 mark of the second when
Mats Zuccarello
beat Boucher with a wrist shot as he came down the right wing on a 3-on-1. Suddenly everything was clicking for the Rangers and the Flyers continued reeling.
Four Score …
Seconds after a horrible Flyer turnover in their own slot, Callahan sent a shot to top shelf for his third of the game and send the hats streaming towards to the ice. The caps were a cruel parting gift for Boucher who was pulled for
Sergei Bobrovsky
while the cleanup crew collected the fans' tokens of appreciation. Callahan simply piled on during a third period power play, redirecting a sensational feed from Gilroy with his skate. After a brief review it was determined there was no kicking motion and the goal stood as the Flyers continued to fall. With a little over five minutes remaining Anisimov broke in uncontested for the Rangers' sixth goal of the game and Zuccarello notched another to conclude the landslide win.
Hank The Tank Keeps Truckin'
Oh yeah, and
Henrik Lundqvist
recorded his league-leading ninth shutout of the season. No big deal.
Gabby's Back
Marian Gaborik
(concussion) returned to the lineup today, as did
Ryan McDonagh
(knee). The return of the Slovakian winger, out since Feb. 20, against the physical Flyers should tell you something about the heated race the Rangers find themselves in for the final few playoff spots in the East. It was a gamble, particularly in a game filled with big hits. Early in the second, Gaborik traded some shots and glove-on jabs with Kris Versteeg, a sequence that earned both matching roughing minors. Gaborik finished with four shots on goal in 14:28 and looked solid overall. He would have had an assist (and Callahan another goal) had Bobrovsky not made a stellar kick save on one Ranger power play.
What's Next
The Rangers will look to extend their win streak to three in a row when they head west to face Anaheim March 9 before heading north to take on San Jose March 12.