New York Hockey:

NHL Draft 2013
June, 30, 2013
6/30/13
9:26
PM ET
NEWARK, N.J. -- Without a pick in the first two rounds of the 2013 NHL Entry Draft, the New York Rangers selected a promising young center with a well-known hockey pedigree as their third-round pick at No. 65.
Adam Tambellini, 18, is the son of former Edmonton Oilers general manager Steve Tambellini and the younger brother of former New York Islander
Jeff Tambellini
. But even with two family members to prepare him for what to expect come draft day, Adam said he was so excited he "blacked out" when his name was called.
[+] Enlarge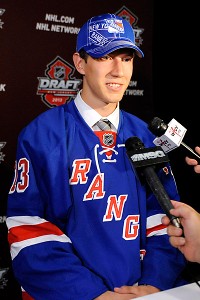 AP Photo/Bill KostrounAdam Tambellini meets the New York media on draft night.
"It was an unbelievable feeling and I'm very happy," said Tambellini, a University of North Dakota commit.
The native of Port Moody, British Columbia, finished with 14 goals and 27 points for the Surrey Eagles of the British Columbia Hockey League. He will enter his freshman season with UND in the fall.
UND head coach Adam Hakstol is already high on his future player and his potential moving forward.
"Adam's entire path has put him in position to succeed. This year, in his first year out of high school, he was a key player on the best team in the BCHL. Now he has the opportunity to step in and contribute with us right away," Hakstol said in a statement provided to reporters Sunday.
"He's really talented, and the offensive side of his game is outstanding. Where he's excited to keep working and improving is to become that reliable, responsible two-way forward, and he's going to be in great position to do that."
Tambellini was the Rangers' first pick of the day, with both first- and second-round picks previously given up to acquire Rick Nash and Ryane Clowe, respectively.
According to Rangers director of player personnel Gordie Clark, the dearth of picks was brutal to endure in such a deep draft.
"I've just never sat there and watched so much talent just walk through the tables to get to the podium, even in the second [round]. There were a lot of real good names," he said. "I would never give Nash back … and Ryane Clowe was such a big part of our March … so I wouldn't have done a different thing."
Quick hits on the rest of the Rangers' draft picks:
Third round, 75th overall:
Pavel Buchnevich, an 18-year-old Russian winger, is currently playing in the Kontinental Hockey League with the Severstal Cherepovets. He is committed to playing two more years in the KHL, according to Clark, who likened him to former Rangers draftee Alexei Cherepanov, who passed away from a heart condition in 2008.
Third round, 80th overall:
Anthony Duclair, a 17-year-old winger, averaged almost a point per game with 20 goals and 50 points in 55 games for the Quebec Remparts of the WMJHL. Duclair, a native of Quebec, said he was surprised that the Rangers drafted him since he had no contact with them at the NHL combine. His father is happy, however, as he is a "big-city guy" and a huge Rangers fan.
Fourth round, 110th overal:
Ryan Graves, a 6-foot-4, 220-pound defenseman, adds size and snarl to the Rangers' crop of defensive prospects. Graves finished with three goals, 16 points and 90 PIM for the Prince Edward Island Rocket of the QMJHL. Clark said his second-half of the season was a dramatic improvement from the first half.
Sixth round, 170th overall:
Mackenzie Skapski, a 6-foot-3 goaltender from Kootenay of the WHL, also had a down first half, according to Clark, but improved over the course of the year.
June, 30, 2013
6/30/13
8:23
PM ET
NEWARK, N.J. -- Steve Santini, who was born in Bronxville, N.Y., and raised in Mahopac, grew up a
New York Rangers
fan but will no longer be cheering for his favorite childhood team.
"That changed 20 minutes ago," Santini said in the moments after he was announced as the
New Jersey Devils
' second-round pick, 42nd overall.
The 18-year-old defenseman, who played for the USA Hockey National Team Development Program in Ann Arbor, Mich., said he is aware of how passionate New Yorkers are about their hockey and is thrilled to get the opportunity to play in the area.
"New York sports fans are the best. I know that," Santini said. "I'm very excited to hopefully have the opportunity to play in New Jersey."
Describing his game, Santini said, "I'm not a big point-getter, but I am a good shut-down guy."
The Devils made a
big splash early in the day
, acquiring goaltender
Cory Schneider
from Vancouver in exchange for the ninth overall pick.
June, 30, 2013
6/30/13
6:35
PM ET
NEWARK, N.J. -- Following the Islanders'
big news
of the day -- a trade that sent
Nino Niederreiter
to the
Minnesota Wild
in exchange for
Cal Clutterbuck
-- the team used the 15th overall pick in the 2013 NHL draft to select defenseman Ryan Pulock from the Brandon Wheat Kings of the Western Hockey league.
Pulock (6-0, 210), who finished with 14 goals and 45 points in 61 games for the Wheat Kings, is known for his bomb of a shot.
[+] Enlarge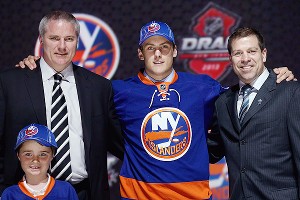 Bruce Bennett/Getty ImagesIsles GM Garth Snow and assistant Doug Weight welcome Ryan Pulock (center) to the NHL.
"That's his biggest asset," a scout told ESPNNewYork.com after the selection. "He's got great character, but still needs some time to develop."
Pulock, 18, who hails from Grandview, Manitoba, said his shot has served him well through his junior career, something he hopes can continue at the professional level.
"Especially on the power-play, whether I can get a shot away or take a guy that's focused on me and open up other areas on the ice, I think the more I use the shot the more effective it is and it's something that can really help me," he said.
Pulock said he emulates the game of
Phoenix Coyotes
defenseman
Keith Yandle
and tries to contribute on both ends of the ice.
The newest Islander has also shown grace in handling adversity over the past few years following the death of his younger brother, Brock, in a car accident in March 2010. Pulock said his little brother was one of the first things on his mind when his name was announced Sunday afternoon.
For a great read on Pulock from Winnipeg Free Press columnist Gary Lawless,
click here
.
And for a breakdown of the entire Islanders draft day, here's a brief summary of their haul via team release:
The seven selections included three forwards, two defenseman and two goaltenders. After drafting defenseman Ryan Pulock with the 15th overall pick, the Islanders did not select again until picks 70 and 76 in the third round.

With the 70th pick, the club selected goaltender Eamon McAdam. A 6'2, 185-pound netminder from Doylestown, PA, McAdam appeared in 31 games this past season with the Waterloo Black Hawks of the United States Hockey League. He posted a 17-9-3 record with a 3.45 goals-against average (GAA) and .896 save percentage (SV%).

Six picks later, the Islanders selected McAdam's teammate, Waterloo forward Taylor Cammarata. The Minneapolis, MN, native led the Blackhawks in scoring with 93 points (38 goals, 55 assists) in 59 USHL games this past season.

The Islanders added their second goaltender of the 2013 Draft in the fourth round, selecting Minnesota State-Mankato's Stephon Williams with the 106th overall pick. A 6'1, 194-pound netminder from Fairbanks, AK, Williams posted a 21-12-2 record with a 2.00 GAA and .924 SV% in 35 games this past season with the Mavericks.

In the fifth round, 136th overall, the Islanders selected forward Viktor Crus Rydberg. A 5'11, 190-pouind forward from Voxjo, Sweden. Rydberg scored 35 points (12 goals, 23 assists) in 35 games this past season with Linkoping's Under-20 club in Sweden's junior league.

Forward Alan Quine was then taken in the sixth round, 166th overall. A 5'11, 178-pound center from Belleville, ON, Quine scored 67 points (23 goals, 44 assists) in 74 games this past season with both the Peterborough Petes and Bellevile Bulls of the Ontario Hockey League.

With their final pick in the Draft, the Islanders selected defenseman Kyle Burroughs in the seventh round, 196th overall. Burroughs, a 5'11, 182-pound rearguard from Vancouver, BC, recorded 33 points (five goals, 28 assists) in 70 Western Hockey League games this past season with the Regina Pats.

Pulock, a native of Dauphin, Manitoba, scored 45 points (14 goals, 31 assists) in 61 games this past season with the Brandon Wheat Kings in his third Western Hockey League campaign. The 6'0, 211-pound defenseman served as team captain as an 18-year-old.
June, 27, 2013
6/27/13
7:55
PM ET
By
Greg Newman
| ESPNNewYork.com
NEW YORK -- Born in a family of football stars, Darnell Nurse ended up playing hockey.
"I tried [to persuade my parents to let me play football] couple of years in a row to get them to budge, but they wouldn't," said Nurse, whose uncle is former NFL quarterback
Donovan McNabb
. "They said, 'Just stick to hockey.' I look at it now and I'm real thankful for that decision."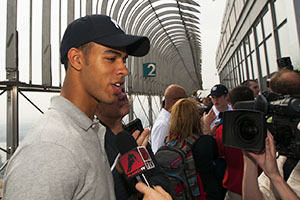 Jeff Skopin/ESPN New YorkDarnell Nurse, an admitted Blue Jays fan, wore a Yankees hat in New York.
Nurse went on to say that his father, a college and former CFL player, was the most adamant about Nurse staying on the ice.
But even in a different sport, Nurse got plenty of help and advice from "Uncle Donovan."
"I started working out with him when I was in grade eight," Nurse told reporters at a pre-draft meeting at the observation deck of the Empire State Building. "The way he took me in and showed me the ropes, it doesn't get much better. ... His basic advice was enjoy it all. This is the fun part."
Nurse shared the stage with Jonathan Drouin, Nathan MacKinnon and Seth Jones, son of former NBA player and
Brooklyn Nets
assistant coach Ronald "Popeye" Jones.
In the
latest mock draft
, Grant Sonier predicts MacKinnon will be picked by the
Colorado Avalanche
with the overall No. 1 pick. He has Drouin going second to the
Florida Panthers
, Jones falling to No. 4 to the
Nashville Predators
and Nurse at No. 11 to the
Philadelphia Flyers
.
Jones, a potential top pick, said he would not begrudge the Avalanche if they did not select him with the No. 1 pick.
"I didn't have it in my mind that I was for sure going No. 1. I'm not going to take it personal," Jones said. "I'll be happy wherever I go."
How did the prospects enjoy New York?
"I have never been to New York City, so it's obviously a pretty new experience for me here, seeing all the people, constant traffic, the taxis everywhere," Jones said. "It's just like the movies."
Added Nurse: "This is an unbelievable experience, something we all dream about as kids. This is the fun part, all the media stuff. But it comes down to putting in the work; the real work starts July 1. It really sunk in today, even just coming up in the elevator -- I'm in New York now."